Politics
John Tyler, 10th President Of The United States
John Tyler succeeded to the U.S. Presidency in the wake of William Henry Harrison's 1841 death.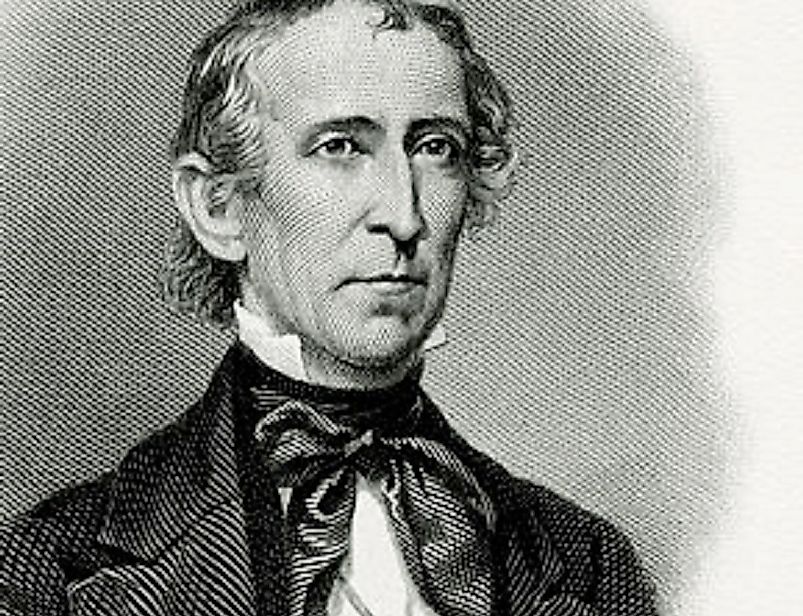 Roles of the U.S. President
The American Constitution gives the President several powers and privileges. Under the constitution of the US, the President is both head of government and the state and is the highest political office in the country. He is also the commander in chief of the US armed forces. Since an amendment of the Constitution in 1951, the President can only be elected up to a maximum of two terms of four years each. The ratification of US constitution took place in 1789 since then the country has had a total of 44 Presidents including the current sitting President, Barrack Obama, whose term will end in November of 2016. George Washington was the first US President to have ascended to the office in 1789, while William Henry Harrison spent the shortest time in office, serving 32 days only. John Tyler was the United States' tenth President.

Early Life
Former US President John Tyler was born on March 29th, 1790 to an eminent Virginia family hailing from Charles City County. His father John Tyler Sr was a judge and later served as a governor. Mary Marot was the mother of Tyler, and she died when he was still a child aged seven. John Tyler together with his seven siblings was raised in a Greenway Plantation growing tobacco, corn, and wheat. John Tyler Sr prioritized education for his children and paid high amounts to tutors who could offer quality education to his children. Growing as a small boy, John Tyler was a thin unhealthy child. At the age of 12, he joined an elite preparatory college and graduated in 1807 at the age of 17. After graduation, he studied law together with his father and was admitted to the bar at the age of 19 against the set rules because at his admission he was never asked his age. He was married to Christian Tyler and together they had eight children
Political Career
At the age of 21, John Tyler was elected to the Virginia State House of Delegates and served for five terms. He also served on the court and justice committee in Charles City County. In 1816, he vied for a seat as US Representative, and he won due to his campaigning skill and political connections. He also served as US senator before being elected as the Vice President in 1840. In April of 1841, the then sitting President William Harrison passed on just after 32 days in office and John Tyler effectively took charge without elections being conducted. He is the only President who has served the US the longest without being elected into the office. He served from April 4th, 1841 until March 4th, 1845. During his time in office, John Tyler faced several oppositions and even an impeachment attempt in 1842 due to his strong opinion. His successor was James Polk the 11th President of the US
Life After the Presidency
After his term in office, Tyler went back to his Virginia Plantation in Charles City County and ventured into farming. He ultimately withdrew from politics and concentrated on his farming. As he aged his health deteriorated and on January 18th, 1862 he passed on. Washington did not officially recognize his death because of his connection to the Confederacy.
Who Was John Tyler?
John Tyler was the 10th president of the United States. John Tyler succeeded to the U.S. Presidency in the wake of William Henry Harrison's 1841 death.
John Tyler, 10th President Of The United States
| Party Affiliations | Democrat; Whig |
| --- | --- |
| Birthplace | Charles City County, Virginia |
| Date of Birth | March 29th, 1790 |
| Date of Death | January 18th, 1862 |
| Start of Term | April 4th, 1841 |
| End of Term | March 4th, 1845 |
| Vice President | None |
| Major Conflicts Involved In | Second Seminole War |
| Preceded by | William Henry Harrison |
| Succeeded by | James K. Polk |
| First Lady | Letitia Christian Tyler |
About the Author
Benjamin Elisha Sawe holds a Bachelor of Arts in Economics and Statistics and an MBA in Strategic Management. He is a frequent World Atlas contributor. 
This page was last updated on April 25, 2017.
Citations
Your MLA Citation
Your APA Citation
Your Chicago Citation
Your Harvard Citation
Remember to italicize the title of this article in your Harvard citation.