James Abram Garfield – the 20th President of the United States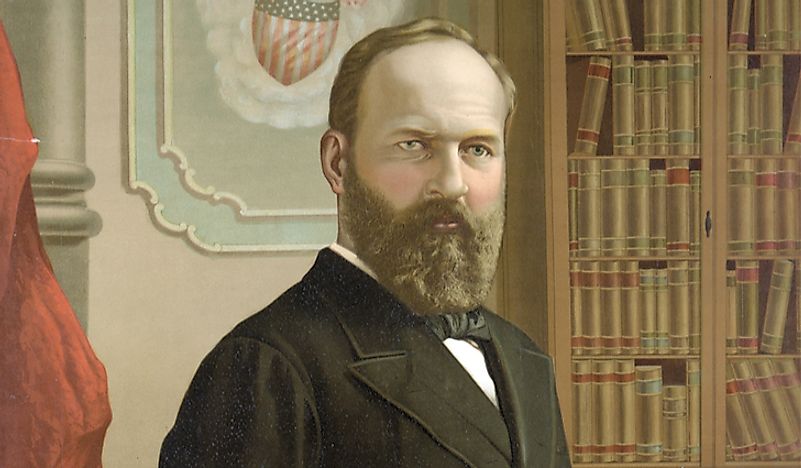 The 20th, President of United States, James Abram Garfield was born on November 19, 1831, in Moreland Hills, Ohio, His presidential term started on March 4, 1881, and ended on September 19, 1881, a period of only six months. His term as a president was however short-lived since he was assassinated in the same year he entered the presidential office. James A. Garfield, the son of Abram Garfield and Eliza Ballou Garfield, came from a humble background and was brought up by his widowed mother on a farm in Ohio. While still in his youth, Garfield undertook many jobs including working on a boat canal. He was the last born of five children and his love for reading was evident. He excelled in academics.
Education
Garfield attended several schools in Ohio from the age of 17. He enrolled at the Western Reserve Eclectic Institute (renamed later to Hiram College) in 1851 and completed his studies there in 1854 and then went on to study at the Williams College in Williamstown, Massachusetts where he graduated in 1856. He joined the Republican Party as he opposed slavery.
Garfield's Career
Garfield returned to Hiram College after finishing his studies where he was made the professor of ancient languages. In 1987, he was appointed as the president of the college. All this while, he has developed a liking for politics, and he started studying law and in 1861, he was admitted to the bar. In 1858, he married Lucretia Rudolph.
In 1859, he was elected to the Ohio Senate where he served until 1861. When the American war broke out in 1861, Garfield assisted in recruiting the 42nd Ohio Volunteer Infantry and went on to become Colonel. In 1862, he was elected to the US House of Representative. After the Battle of Chickamauga, Garfield was got a promotion to major general. Garfield was chosen as the Republican presidential nominee to vie for Presidency in 1880.
Garfield ran for the presidency against Winfield Scott Hancock, who was a Democrat and won the election. He was sworn in as the 20th president of the US on March 4, 1881, with Chester A. Arthur as the vice president, and his predecessor was Rutherford B. Hayes.
Garfield's Legacy
After marrying his wife Lucretia Rudolph, who was a former classmate, they had five children (one daughter and four sons). Garfield was shot by Charles Julius Guiteau on July 2, 1881, and later succumbed to death on September 19, 1881. Chester A. Arthur succeeded him. The James A. Garfield monument was dedicated to him in Washington in 1887.
James A. Garfield, 20th U.S. President
| Party Affiliation | Republican |
| --- | --- |
| Birthplace | Moreland Hills, Ohio |
| Date of Birth | November 19th, 1831 |
| Date of Death | September 19th, 1881 |
| Start of Term | March 4th, 1881 |
| End of Term | September 19th, 1881 |
| Vice President | Chester A. Arthur |
| Major Conflicts Involved In | U.S. Diplomatic Interventions in the Pacific and South America |
| Preceded by | Rutherford B. Hayes |
| Succeeded by | Chester A. Arthur |
| First Lady | Lucretia Randolph Garfield |