Economics
Exports By Country
World's top export countries that have shipped the highest US dollar value in exports during 2014.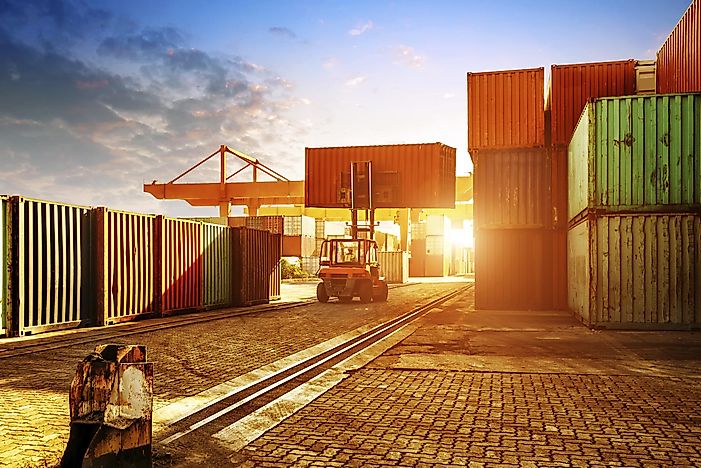 In 2014, China was by far the world's leading exporter, exporting goods valued at a total of $2,342,310,000 USD in the year. To put this in perspective, consider how much the rest of the top five exporters shipped to international markets in the same year. The second place United States exported only 69% of this amount in 2014, while Germany, Japan, and the Netherlands exported around 64%, 29%, and 28.7% of the Chinese total, respectively. Only China, the U.S., and Germany managed to export more than a Trillion US dollars' worth of goods in 2014, with rest of our list registering much smaller numbers.
China's Growing Pains
While China's explosive economic expansion has been a front-page financial story over the last few decades, China's economy is not the only one worth noting. Today, more and more of what have long been considered third-world economies are seeing rapid commercial development within their own countries and on the international scene alike. Large economies are not always the fastest growing and most developed, as income inequality, political instability, corruption and low levels of per capita gross capita product still can hinder even the largest of markets.
The Chinese government, administering control over an exporting powerhouse with a vast economy, is facing many problems as of late despite the continued Chinese prosperity. The country's growth has expanded consistently, but China is transitioning into a consumption-based economy, which may change the overall undercurrents of the Chinese economy in the near future. Despite its economic growth continuing to head in positive directions, China's per capita income is still below world average, which can be attributed in part to the country's sometimes unstable political climate and disconnect between its common people and authorities within the government regime. Whether China's economy can become greater and more prosperous still will likely depend upon the Chinese government's ability to allow, and even facilitate, the public's ability to prosper economically.
Export Dynamics in Africa
In stark contrast to the extensive coverage given to the rising star of the Chinese economy, development in Rwanda as a major exporter has largely flown under the radar, and most people do not realize how rapidly this country has been on the upswing in terms of economic growth. Ninety percent of the country works in the mining, mineral- and agro-processing, and subsistence agriculture sectors which, combined with tourism and exports of tea and coffee, have made the Rwandan economy more whole and well-rounded. Despite being in recovery from political turmoil since the national tragedy of the 1994 genocide, surprisingly only 45% of the populace lives below the poverty line.
Tanzanians have also experienced increased prosperity as of a late, despite traditionally being a very poor nation. Both tourism and gold production have boosted growth rates and, in addition to the Tanzanian economic bases of banking, mining, energy, agriculture, and telecommunications, have contributed to economic improvements that promise hope for what still remains one of the poorest countries on the planet.
Along the southeast African coast, Mozambique has attracted large investment projects, both foreign and domestic, to more fully develop their natural resource utilization, allowing the nation to experience a marked economic upswing that is expected to continue for years to come. Economic analysts anticipate that the country will increasingly generate revenue from coal and natural gas, raising the quality of life for a population where the majority work in subsistence agriculture and over half garner incomes below the poverty line. The economic growth potential in Mozambique is encouraging to many, both within the country and abroad.
A Shifting Exports Scene in Asia and the Pacific
The economic prosperity the small Asian nation of Bhutan has experienced is yet another bright spot in the contemporary world economy. For the Bhutanese economy, largely dependent on hydropower, forestry and agriculture, the nearby economic giant of India is a primary business partner projected to continue to spur growth in coming years. If Bhutan can improve the engineering and construction of its hydropower infrastructure and other natural resource strengths, its economic future will likely be a bright one.
India itself has had marked economic growth recently. This is no surprise to many, as the country has vast access to human and natural resources and the country has always been more or less self-sufficient. India's service industry increasingly fuels its economic growth, registering high levels of output from a very small portion of its labor force. Nonetheless, the country must tackle poverty, ongoing discrimination, and bureaucratic corruption, while getting the most out of its natural resources, in order to reach its full economic potential.
Papua New Guinea's economic growth perhaps stands out the most in terms of countries that have emerged in recent years as surging economic powers. Most of the Papuan population works in exports and agriculture, forming a solid economic base that reaps huge returns to the nation's GDP. Still, the government is facing challenges in gaining investor confidence and security as it attempts to restore integrity to state institutions and further expand its GDP growth by diversifying the economy.
As Uzbekistan has slowly transformed and separated itself from its Soviet roots and past history into a self-sufficeient, modern market economy, its recent economic growth has surprised many external analysts and encouraged its own citizens and business owners. Uzbekistan, a little known nation to most outsiders, is the fifth largest cotton exporter globally, and has extensive gold and natural gas reserves that serve its economy well. On the humanitarian side of things, the country's vigilant efforts to enforce bans on child labor in cotton harvesting have continued to help increase international confidence in those conducting business dealings with the country.
While Papua New Guinea has had higher relative GDP increases than bigger countries with more well-developed infrastructures and access to resources such as China and India, these smaller economies are nonetheless experiencing surprising growth that is evident in the political landscape and economic scene alike. Many developing countries have began to use their resources more effectively, and have generated higher levels of GDP as a result. The growth trends occurring in these countries the past fiscal year are likely to continue, as these countries attempt to build on their past successes and investors from other countries are increasingly allured by the promise afforded by recent economic growth.
Exports By Country
View information as a:
List
Chart
| | | |
| --- | --- | --- |
| 1 | China | 2,342.31 |
| 2 | United States | 1,620.53 |
| 3 | Germany | 1,507.59 |
| 4 | Japan | 683.85 |
| 5 | Netherlands | 672.13 |
| 6 | France | 582.59 |
| 7 | Korea, Republic of | 572.66 |
| 8 | Italy | 528.74 |
| 9 | Hong Kong, China | 524.06 |
| 10 | United Kingdom | 505.84 |
| 11 | Russian Federation | 497.76 |
| 12 | Canada | 474.71 |
| 13 | Belgium | 471.38 |
| 14 | Singapore | 409.77 |
| 15 | Mexico | 397.51 |
| 16 | United Arab Emirates | 360.00 |
| 17 | Saudi Arabia, Kingdom of | 353.84 |
| 18 | Spain | 324.86 |
| 19 | India | 321.60 |
| 20 | Chinese Taipei | 313.70 |