Did You Know That The Canary Islands Are Named After Dogs?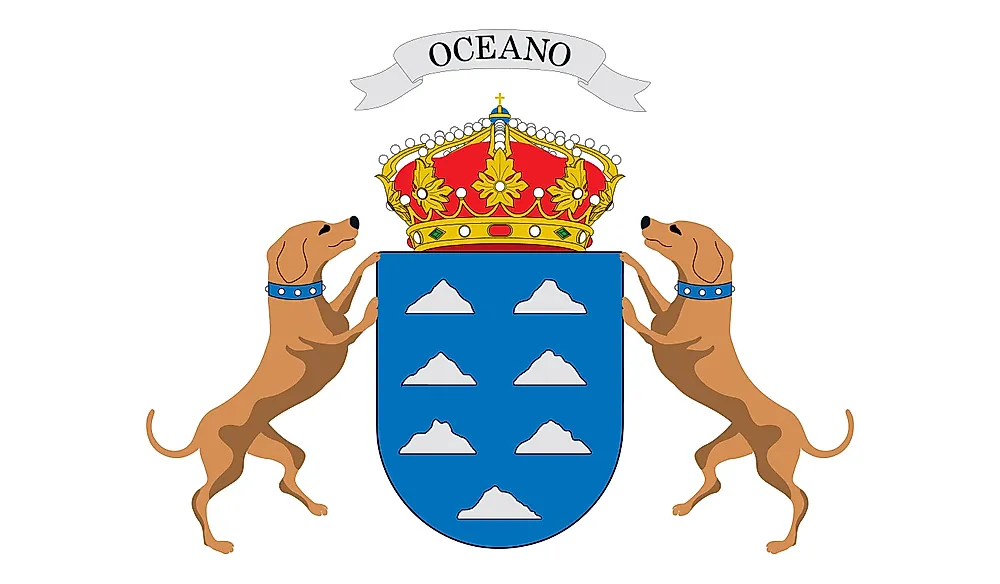 The Canary Islands is a Spanish autonomous community that is situated in the Atlantic Ocean, about 62 miles from Morocco. The archipelago has been known as the "island of dogs" since ancient times. The connection between the islands and dogs is depicted on the coat of arms of the Canary Islands.
Geography
The Canary Islands is the southernmost autonomous community of Spain which occupies an area of about 2,893 sq miles. It is the most populous and the biggest archipelago of Macaronesia. The Canary Islands is composed of seven large and numerous smaller islands. The largest and most populous island in this archipelago is Tenerife covering 2,034.38 sq km and home to 904,713 people. Tenerife is the most populous and second largest Spanish island. Gran Canaria is the second most populous island of the Canary Islands with over 865,070 inhabitants. The second biggest island by area in the archipelago is Fuerteventura with an area of 1,660 sq km.
Etymology
The archipelago's Spanish name Islas Canarias is derived from the Latin phrase Canariae Insulae which means the "island of dogs." King Juba II of Mauretania, an ancient Kingdom in the Maghreb, is thought to have named the island of Grand Canaria named the island Canaria due to the presence of many large dogs on the island. Eventually, the entire archipelago became referred to as the Canary Islands.
Another possible theory is that the name was derived from the Guanches who were the original inhabitants of the Canary Islands. The Guanches treated dogs as holy animals, worshipping and mummifying them. There is thought to be a connection between the dog-worship of the Guanches and Anubis, the dog-headed Egyptian god. 
Volcanic Activity
The Canary Islands is the only part of Spain which has experienced some volcanic eruptions in the modern period. The world's third highest volcano and the tallest in Spain is the Mount Teide. The 12,198 ft high Mount Teide is situated in Tenerife Island. All the islands on this Spanish archipelago except La-Gomera have recorded some volcanic activities in the last million years.
Demographics
The Spanish archipelago was inhabited by over 2,127,685 people in 2018. The Canary Islands have a population density of about 740 individuals per square mile. It is the eighth most highly populated autonomous community of Spain. Out of the 2,098,593 residents of the Canary Islands in 2009, 1,799,393 were Spanish. Aside from the Spanish, the Canary Islands has large populations of Africans (51,136) many of which are from Morocco, as well as Colombians (34,210), Venezuelans (31,468), Cubans (11,098), and Dominicans (10,159). Over 82% of the residents were born in Spain in 2014.