Society
Cricket World Cup History
From 1975 to 2015, 11 Cricket World Cup Games have been hosted in cricket-playing countries around the world.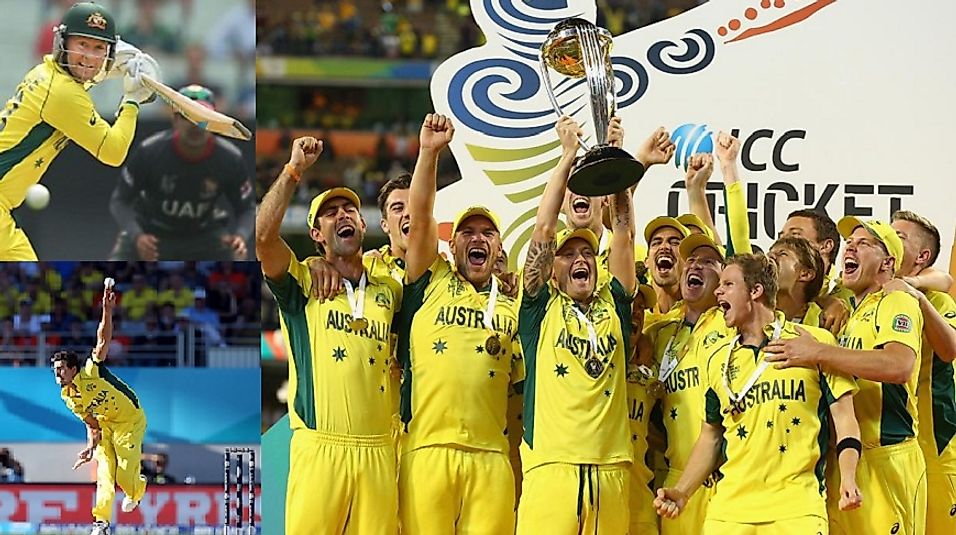 Cricket
The sport of Cricket is a popular game played with a bat, a ball, and wickets on a cricket field. Two teams with 11 players each take turns batting and playing the field. The batting team attempts to hit the ball from a 22-yard rectangular pitch located in the center of the field. The objective is to score runs, which is done by movements of players on the batting team across the field when the ball is in play after a batsmen has struck a ball which was bowled at a wicket. Teams switch places after 10 batters have been dismissed or after a certain number of overs have been played. The winning team is the one with the most runs at the end of the game.
Cricket World Cup and Its History
The International Cricket Council (ICC) holds the Cricket World Cup every four years. As with most sporting finals, there are preliminary qualification rounds prior to reaching the finals. The first three World Cups were held in England, beginning in 1975. Currently, the host country is determined by a rotation system among ICC members and affiliates. Since 1975, eleven World Cups have taken place with 20 teams competing.
1975 Cricket World Cup
From June the 7th until the 21st in 1975, the world witnessed the first ever Cricket World Cup. Eight countries participated, including England, Australia, New Zealand, India, the West Indies, Pakistan, Sri Lanka, and East Africa. The preliminary rounds began by dividing the 8 countries into 2 groups of 4. Each team played the teams within their group and the winning 2 teams from each group moved on to the semi-finals. Semi-finals players included Australia, New Zealand, England, and the West Indies. The 2 winners of the semi-finals, Australia and the West Indies, went on to the final round. The West Indies beat Australia by 17 runs, making them the world's first Cricket World Cup winners.
2015 Cricket World Cup
The 2015 Cricket World Cup was hosted by both Australia and New Zealand from February 14th until March 29th. Of the 49 matches, 26 were played in Australia and 23 in New Zealand, both countries offered various sites. This time, 14 national teams participated in the qualifying rounds, namely England, India, Australia, South Africa, West Indies, Bangladesh, Pakistan, Sri Lanka, New Zealand, Zimbabwe, United Arab Emirates, Scotland, Ireland, and Afghanistan. Throughout the tournament, the average audience size was 21,175. The semi-final round was played by South Africa against New Zealand and Australia against India. Sydney hosted the semi-finals. In the end, Australia and New Zealand faced each other in the finals, played in Melbourne. The crowd attendance reached a record-breaking 93,013. Australia defeated New Zealand by 7 wickets as they claimed their 5th World Cup title.
Australia - Leader in Cricket World Cup Championships
Australia has won the highest number of Cricket World Cups of any country in the world. Five times they have been named the champions of cricket. Their first win was in the 1987 games hosted by India and Pakistan. In the finals, held in India, they beat England by 7 runs. This was followed by their 1999 win, hosted in London, England. Australia defeated Pakistan by 8 wickets. They went on to win again in 2003 when the beat India by 125 runs. These finals were held in South Africa. Their fourth win was in 2007 at Kensington Oval in Bridgetown, Barbados. During this game they won against Sri Lanka by 53 runs. Their 5th win came in 2015, as was mentioned above.
Evolution of the Games
Over time, the Cricket World Cup has seen some changes to the structure and nature of the games. The first took place in the 1987 finals when India and Pakistan hosted. This was the first time the games were played outside of England. Because of the summer daylight hours in India, the games were shortened from 60 to 50 overs per inning. Fifty overs has remained the standard.
The second significant change took place during the 1992 Cricket World Cup, which was hosted by Australia and New Zealand. During these games, colored clothing and white balls were permitted in contrast to traditional white clothing and red balls. Games were also played at night for the first time. Notably, South Africa joined the games for the first time having previously been boycotted due to their apartheid regime.
The list below provides information for all 11 of the Cricket World Cup games.
Cricket World Cup : 1975 To 2015
| Rank | Year | Host nation(s) | Final venue | Winner | Result | Runner-up |
| --- | --- | --- | --- | --- | --- | --- |
| 1 | 1975 | England | Lord's, London | West Indies 291/8 (60 overs) | West Indies won by 17 runs | Australia 274 all out (58.4 overs) |
| 2 | 1979 | England | Lord's, London | West Indies 286/9 (60 overs) | West Indies won by 92 runs | England 194 all out (51 overs) |
| 3 | 1983 | England | Lord's, London | India 183 all out (54.4 overs) | India won by 43 runs | West Indies 140 all out (52 overs) |
| 4 | 1987 | India, Pakistan | Eden Gardens, Kolkata, India | Australia 253/5 (50 overs) | Australia won by 7 runs | England 246/8 (50 overs) |
| 5 | 1992 | Australia, New Zealand | MCG, Melbourne, Australia | Pakistan 249/6 (50 overs) | Pakistan won by 22 runs | England 227 all out (49.2 overs) |
| 6 | 1996 | India, Pakistan, Sri Lanka | Gaddafi Stadium, Lahore, Pakistan | Sri Lanka 245/3 (46.2 overs) | Sri Lanka won by 7 wickets | Australia 241/7 (50 overs) |
| 7 | 1999 | England, Wales, Ireland, Scotland, Netherlands | Lord's, London | Australia 133/2 (20.1 overs) | Australia won by 8 wickets | Pakistan 132 all out (39 overs) |
| 8 | 2003 | Kenya, South Africa, Zimbabwe | Wanderers, Johannesburg, South Africa | Australia 359/2 (50 overs) | Australia won by 125 runs | India 234 all out (39.2 overs) |
| 9 | 2007 | West Indies | Kensington Oval, Bridgetown | Australia 281/4 (38 overs) | Australia won by 53 runs | Sri Lanka 215/8 (36 overs) |
| 10 | 2011 | Bangladesh, India, Sri Lanka | Wankhede Stadium, Mumbai, India | India 277/4 (48.2 overs) | India won by 6 wickets | Sri Lanka 274/6 (50 overs) |
| 11 | 2015 | Australia, New Zealand | MCG, Melbourne, Australia | Australia 186/3 (33.1 overs) | Australia won by 7 wickets | New Zealand 183 all out (45 overs) |
About the Author
Amber is a freelance writer, English as a foreign language teacher, and Spanish-English translator. She lives with her husband and 3 cats.
This page was last updated on April 25, 2017.
Citations
Your MLA Citation
Your APA Citation
Your Chicago Citation
Your Harvard Citation
Remember to italicize the title of this article in your Harvard citation.