Countries With the Most Vacation Days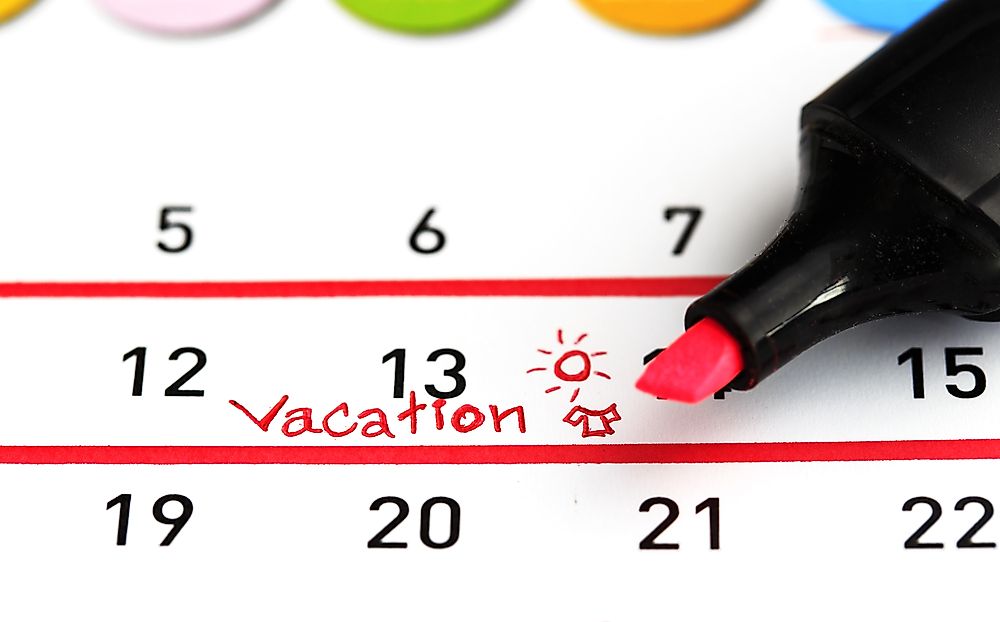 Advancements in employee relations have led to the introduction of legal agreements for many entitlements for employees to enjoy paid vacation and public holidays. Some companies offer more days off for employees depending on which sector they work. Similarly, different organizations may differ with the law on whether or not public holidays are to be considered part of the minimum leave. In a majority of the countries, workers get paid during public holidays and the days are not part of the minimum vacation days.
Countries With the Most Vacation Days
Kuwait
Workers in Kuwait are entitled to the most days of paid leave in the world. Workers in Kuwait are entitled to 30 vacation days per year, when working a 5-day week. Workers also receive 13 paid public holidays, bringing the total paid leave to 43 days. In addition, after 2 continuous years of work with the same employer, workers are entitled to an additional 21 days of paid leave to perform Haj riturals, should it be the first time they are doing so.
Cambodia
Cambodia ranks second on the list with 42 paid days of leave. Workers in Cambodia are given 27 days of paid public holidays throughout the year. In addition to this, all workers receive a minimum of 15 vacation days, bringing the minimum paid leave to 42 days every year. The amount of vacation days is then increased by seniority, with one additional vacation day per 3 years of continuous employment.
Austria
Austria ranks fourth on the list, with employees in Austria receiving thirteen paid public holidays and a further twenty-five days of annual leave. There are numerous conditions however that can see an employee receiving more leave days. Employees with over twenty-five years of working experience, for example, get thirty days off every year. Other employees who get additional days are those who work strenuous jobs during the night. People who work on public holidays are given extra vacation days or twice their daily wage.
Syria
Syria falls eight on the list with a minimum of 37 paid days of leave. All employs are entitled to 13 days of public holidays. After 1 year of continuous employment, all workers are entitled to an additional 24 days of paid vacation. The amount of vacation days increases until the worker reaches either 10 years of employment or the age of 50 years old, at which point they are entitled to 30 days of vacation.
France
France falls 14th on the list with a standard of 36 days of paid leave. However, there are some exceptions that allow workers to accumulate a significant amount of vacation days. The workers are also allowed to take an additional thirty days of vacation every year. The thirty days are inclusive of Saturdays, although Saturday is not counted as a holiday, making the recess a total of five working weeks. Employees who chose to work more than thirty-five hours per week receive an additional twenty-two days of reduction of work. The maximum working hours per week is thirty-nine hours. Workers who exceed this limit are compensated monetarily rather than receiving additional leave days. A bonus leave day is added for every three days of annual leave taken outside the summer months. It is possible therefore, that employees in some organizations end up with a total of 9.5 paid vacation weeks. In addition to these weeks of vacation, all workers in France are entitled to eleven paid public holidays every year.
Vacation Days in Other Countries
In countries where public holidays are bound to calendar dates, they may get 'lost' if they fall on a Saturday or Sunday, leading to a lower number of leave days per year depending on which day the holiday falls. Other countries, on the other hand, move the holidays falling on Sundays and Saturdays to the nearest Monday or Friday. Over and above the leave mentioned above days, other paid leave benefits such as sick leave and parental leave are also recognized in most of the countries.
Countries With the Most Vacation Days
| Rank | Country | Total Days of Paid Leave |
| --- | --- | --- |
| 1 | Kuwait | 43 |
| 2 | Cambodia | 42 |
| 3 | Georgia | 39 |
| 4 | Austria | 38 |
| 5 | Malta | 38 |
| 6 | Mauritius | 38 |
| 7 | Burkina Faso | 37 |
| 8 | Syria | 37 |
| 9 | Tanzania | 37 |
| 10 | Yemen | 37 |
| 11 | Andorra | 36 |
| 12 | Bahrain | 36 |
| 13 | Finland | 36 |
| 14 | France | 36 |
| 15 | Iceland | 36 |
| 16 | Spain | 36 |
| 17 | Afghanistan | 35 |
| 18 | Dijibouti | 35 |
| 19 | Luxembourg | 35 |
| 20 | Madagascar | 35 |
| 21 | Portugal | 35 |
| 22 | Slovakia | 35 |
| 23 | Azerbaijan | 34 |
| 24 | Cyprus | 34 |
| 25 | Gabon | 34 |
| 26 | Ivory Coast | 34 |
| 27 | Lithuania | 34 |
| 28 | Niger | 34 |
| 29 | Peru | 34 |
| 30 | Sao Tome and Principe | 34 |
| 31 | Sweden | 34 |
| 32 | Algeria | 33 |
| 33 | Angola | 33 |
| 34 | Benin | 33 |
| 35 | Croatia | 33 |
| 36 | Cuba | 33 |
| 37 | Czech Republic | 33 |
| 38 | Dominian Republic | 33 |
| 39 | Guinea | 33 |
| 40 | Hungary | 33 |
| 41 | Poland | 33 |
| 42 | Romania | 33 |
| 43 | Zimbabwe | 33 |
| 44 | Albania | 32 |
| 45 | Armenia | 32 |
| 46 | Bulgaria | 32 |
| 47 | Italy | 32 |
| 48 | Panama | 32 |
| 49 | Russia | 32 |
| 50 | Senegal | 32 |
| 51 | South Sudan | 32 |
| 52 | United Arab Emirates | 32 |
| 53 | Estonia | 31 |
| 54 | New Zealand | 31 |
| 55 | Oman | 31 |