Society
Biggest Pharmaceutical Markets In The World By Country
The United States has the largest pharmaceutical market in the world with a value of $339.694 million, followed by Japan and China.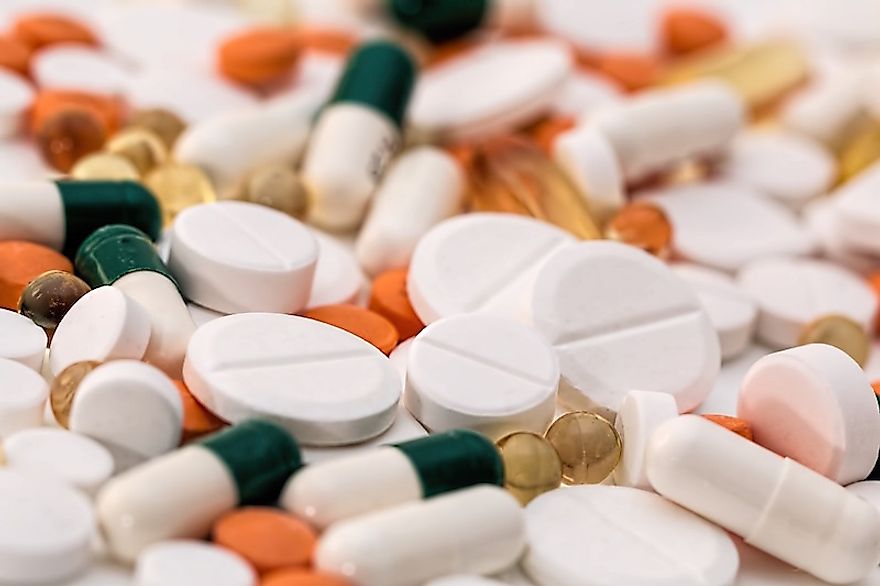 From native apothecaries producing drugs derived from botanicals to wholesale production of drugs today, pharmaceuticals have become a big global sector in the world economy. In short, the industry has been in the forefront of the discovery, development, production, and marketing of drugs. The pharmaceutical companies have also been involved in charitable causes that have allowed drug donations in developing countries where the need for their medications is great. Most of these causes are for cancer, aids, malaria, tuberculosis, parasitic and other tropical diseases. These drugs may be branded or generic.
The global pharmaceutical industry is an important aspect of the world economy today, providing about one trillion US dollars in revenues annually. The American pharmaceutical industry accounts for about 40% of these revenues. However, China is fast catching up as having the fastest growth in the industry. European pharmaceuticals have also shown high revenues in prescription sales.
Biggest Global Pharmaceutical Markets Companies
In the US, Pfizer leads in sales revenues of about $45 billion USD in 2013 while Johnson & Johnson realized a revenue of $70,074 million USD in 2015. In Switzerland, Novartis made $47,101 million in revenues in 2014 while Roche realized $39,120 million USD in the same year. In France, Sanofi made $36,437 million USD in 2014 while in Japan, Takeda made $20,446 million USD in 2014. Bayer in Germany made $15,486 million USD in 2014.
Biggest Global Pharmaceutical Markets Markets
The US has the largest pharmaceutical market in the world with a value of $339,694 million USD followed by Japan ($94,025 million USD) and China ($86,774 million USD). In Germany, the value of its pharmaceutical market is about $45,828 million USD and in France, it is about $37,156 million USD. In Brazil, the value of its pharmaceutical market is about $30,670 million USD. In Italy, the value is about $27,930 million USD. In the UK, it is about $24,513 million USD while in Canada it is about $21,353 million USD. In Spain, it is about $20,741 million USD.
Monitoring The Pharmaceutical Industry
Monitoring of the pharmaceutical industry involves several aspects such as environmental monitoring in drug production; decontamination; microbiological testing; storage; and waste water management. These processes involve meeting regulatory rules for product safety and marketing. The issue of adverse drug effects has been the initiative behind strict regulations of the pharmaceutical industry worldwide. These complaints have reached 1000 or more cases a year for every key marketed drug product sold in the market in recent decades.
Pharmacovigilance has become important in the industry as well in monitoring unrecognized drug risks, recognition of pre-disposing factors, and refuting spurious safety claims of drugs. In recent decades, pharmaceutical companies themselves have established their monitoring units to further the safety of their products. Pharmacovigilance has its origins in clinical medicine, clinical and pre-clinical pharmacology, immunology, toxicology, and epidemiology. Physicians and other closely-related sources are the usual information regarding adverse drug reactions (ADRs).
Different methods of reporting of ADRs are practiced in different nations which account for the actions taken by the pharmaceutical companies. In the US, patient reporting stands as the most source of ADRs while in the UK and Sweden, reports come from physicians through medical representatives. The reporting of rare ADRs however, would take more examinations. Many ADRs are published in medical journals, but disadvantages come as not many patients are readers of these publications. Every major country in the world today have their own national regulatory body and also several international organizations that investigate ADRs.
Which Countries Have the Biggest Pharmaceutical Markets?
The United States has the largest pharmaceutical market in the world, worth around 339,694 million dollars.
Countries With The Biggest Global Pharmaceutical Markets In The World
| Rank | Country | Value of Pharmaceutical Market (in millions of $) |
| --- | --- | --- |
| 1 | USA | 339,694 |
| 2 | Japan | 94,025 |
| 3 | China | 86,774 |
| 4 | Germany | 45,828 |
| 5 | France | 37,156 |
| 6 | Brazil | 30,670 |
| 7 | Italy | 27,930 |
| 8 | UK | 24,513 |
| 9 | Canada | 21,353 |
| 10 | Spain | 20,741 |
This page was last updated on April 25, 2017.
Citations
Your MLA Citation
Your APA Citation
Your Chicago Citation
Your Harvard Citation
Remember to italicize the title of this article in your Harvard citation.