Countries With The Smallest Teacher to Student Ratio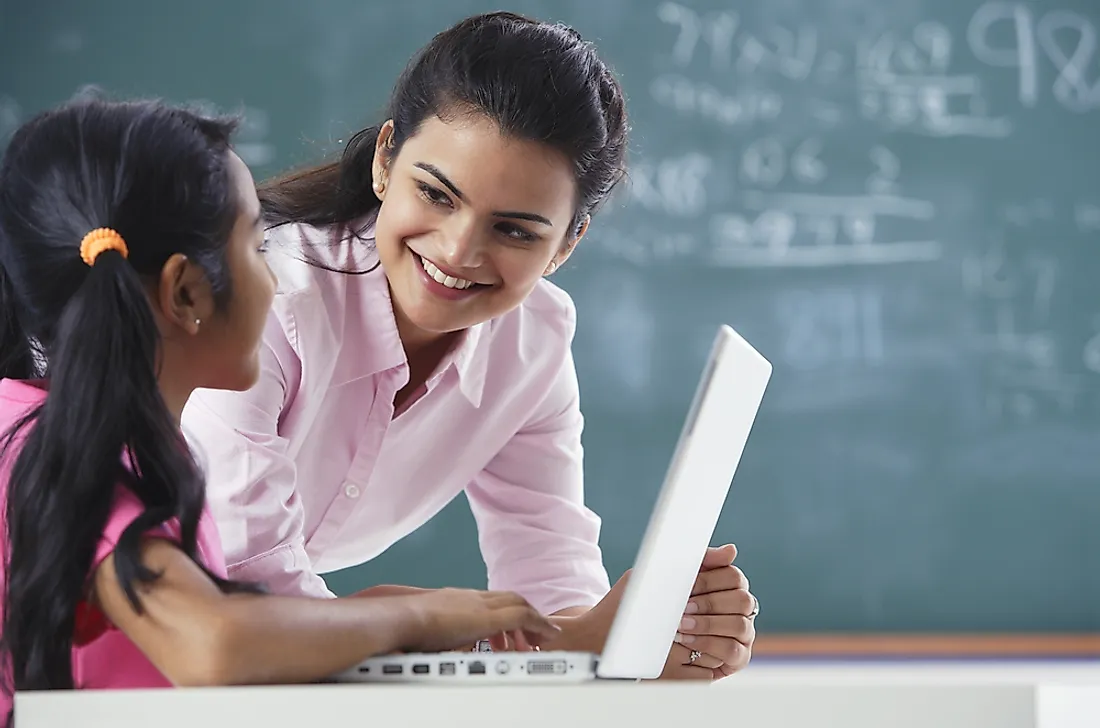 In some countries, overcrowding, lack of qualified teachers, and inadequate educational funding serve as major setbacks inhibiting early childhood education. This is not the case in the countries listed below, wherein educational opportunities are easily accessible to all, virtually all of the population is literate, and there are as few as between 6 and 10 primary school pupils for every teacher. Having more qualified teachers means that teachers are less strained to give each and everyone of their young scholars the attention they need and deserve in order to fully unlock their academic potentials and foster success in education and life thereafter.
10. Poland (10 pupils per teacher)
Almost every adult in the European country of Poland is literate, as the country has 99.8% literacy rate per UNESCO estimates from 2015. For every 10 primary school students in Poland, there is a single teacher. The country thus has a very well developed education system, and one wherein every child in primary school receives proper attention and encouragement.
9. Iceland (10 pupils per teacher)
Iceland has a very high standard of education and literacy. The primary school pupil to teacher ratio there is 10:1. School attendance is compulsory for children aged 6 to 16 in this country. In Iceland, every child, irrespective of place of origin, sex, economic status, or religious beliefs, is afforded the opportunity to enjoy the right to free and fair education.
8. Sweden (10 pupils per teacher)
Sweden has a highly developed educational system, and a consequently high literacy rate. This Scandinavian country ensures that every child receives optimal early grade education in the schools here, and a well-rounded, overall development of each child is also striven for. That is why schools in Sweden have a large number of teachers, with every 10 pupils in primary education enjoying the representation and attention from a qualified teacher.
7. Andorra (9 pupils per teacher)
The adult literacy rate of Andorra, a sovereign, landlocked, micro-state in Southwestern Europe, is nearly 100%. Since education between the ages of 6 and 16 is compulsory in this country, the education is also provided for free up to the secondary level in an effort to ensure that every child attends school. Three types of schools are present in this country in terms of languages of instruction predominately used. Namely, these are Andorran, French, and Spanish schools, with around 50% of Andorran children attending French primary schools. Education in this country is not just free, but every child's needs are met as there is one teacher to attend to their needs for every 9 primary school pupils in Andorra.
6. Cuba (9 pupils per teacher)
As per UNESCO estimates from 2015, Cuba has a literacy rate of 99.7%. The country has a top ranking education system which is maintained by the government's allocation of 10% of the national budget towards the maintenance and improvement of the nation's education system. Primary school education is compulsory here, and there is an average of 9 pupils in primary school per every teacher in this Caribbean country.
5. Luxembourg (9 pupils per teacher)
Luxembourg, a landlocked country in western Europe, has a well organized education system wherein school attendance is a must between the ages of 4 and 16. The majority of the schools in the country offer free education to their students, and primary school students in this country are quite lucky to enjoy the attention of their teachers. No more than nine pupils are seen for every one teacher here, ensuring that every child's needs are attended to efficiently.
4. Kuwait (9 pupils per teacher)
In Kuwait, a West Asian country with an adult literacy rate of 96% (as per 2013 World Bank data), primary and intermediate education is compulsory by law. Children with Kuwaiti citizenship in this country are also eligible to attend its many state-run schools for free. The primary school pupil-to-teacher ratio in this country is 9 pupils per teacher.
3. Liechtenstein (8 pupils per teacher)
Liechtenstein, a German-speaking micro-state in central Europe, has a literacy rate to truly boast about. IN fact, essentially 100% of the adult population of this nation is literate. The country is well known for its excellent education system, including high schoolteacher salaries. With a population of only 36,925 (as per a 2013 census), no more than a dozen pupils comprise the average primary school class size in this country, a statistic supported by the fact that in Liechtenstein there is one qualified teacher per every 8 pupils.
2. Bermuda (7 pupils per teacher)
The Caribbean Island of Bermuda is also at the forefront in terms of literacy, and has an adult literacy rate of 98%. Education in Bermuda is compulsory between the ages of 5 and 18. 60% of students here attend its state-run schools, which are found offering free education up through the age of 18. Primary schools in the country have one teacher for every 7 pupils, a figure that is quite praiseworthy.
1. San Marino (6 pupils per teacher)
In San Marino, an enclaved micro-state surrounded by Italy, the literacy rate of the adult population is as high as 98%. The primary education student-to-teacher ratio there, standing at 6 pupils per teacher, is the highest in the world. The education system of San Marino is based on the Italian curriculum, and includes five years of primary education.