Society
Countries Where Women Are Most Likely To Work In Industry
More than one-fourth of working women in Macedonia and Mauritius are employed in the manufacturing and other industry sectors.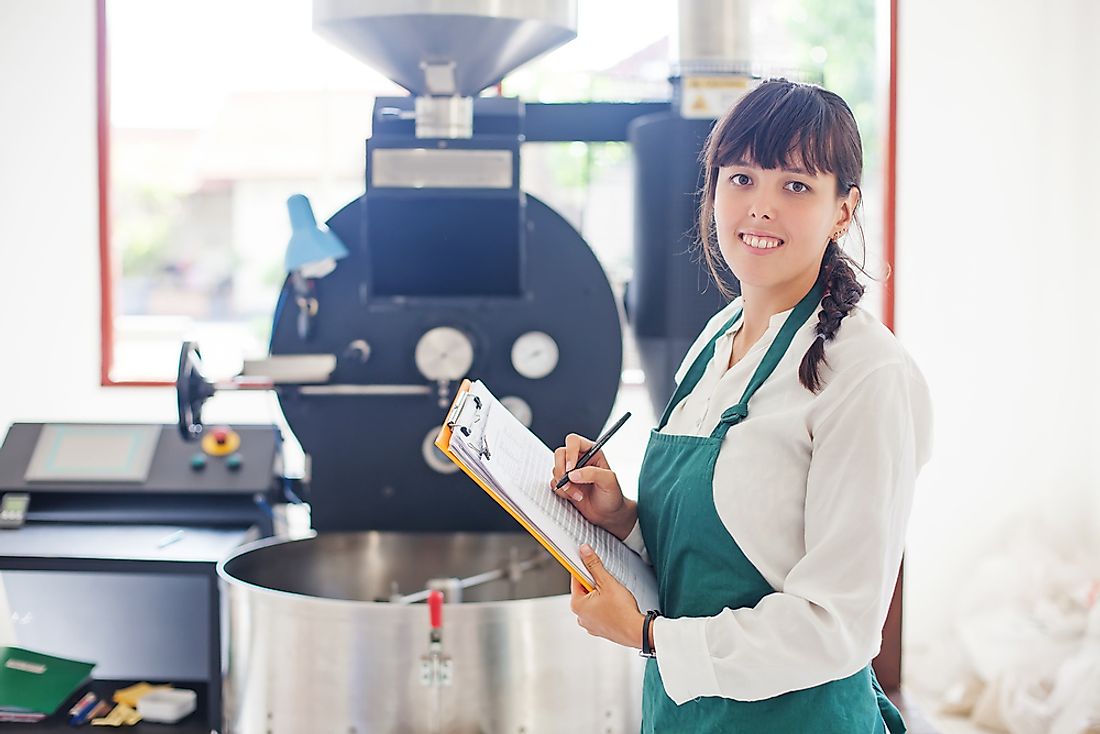 Men and women both work in the economic sectors, but the disparity in the workforce is still very high between them. Culture and tradition have contributed to gender inequality in employment and other areas of the economy. Women mostly take care of the family and are mostly a source of unpaid farm labor. Very few women work in industries compared to their male counterparts. An average of 13% of employed women operates in industry compared to 24% of men working in industry. However, there are countries where more women are more likely to work in industry. Some of these countries include;
Macedonia
Macedonia's textile industry opened up employment for the majority of the people. Most of the employed women working in the industry are employed in the textile industries. Initially, textile industries were characterized by discrimination, inequality, and mistreatment of women but the conditions have significantly improved, and the situation is more favorable for women. The improved working conditions in the textile industry have attracted more female workers. Currently, 26% of working women are employed in the industry however inequality is still high in the industrial sector.
Mauritius
Trade liberalization has brought a lot of changes in Mauritius' labor market. The trade policy in Mauritius aims to bridge the large gap between men and women being employed today. Female workers in the industry have increased significantly. Currently, 26% of the employed women in Mauritius work in industries. Export-oriented industries, in particular, employ more women because women are less unionized compared to men. The setting up of the export processing zone has led to the employment of women. The negative perception of women working in the industry has reduced significantly and thus more women are now accepted to work in the industries.
Iran
Women employment in Iran is one of the issues that have drawn interest from both government and international organizations. Like any other developing country, women unemployment is still high in Iran. However, over the last decade, the level of unemployment among women has significantly reduced. With more women having access to technical education and training more women are being employed in sectors that were once exclusively male dominated like in the industries. Cultural perception of the role of women in the society has significantly changed with more women being allowed to work together with men and in an area that was reserved for men. 24% of all employed women in Iran work in the industries across the nation. Better working conditions and better pay in industries are some of the motivating factors for women working in the industry.
Conclusion
Countries like Sri Lanka, Czech Republic, Bulgaria, Romania, Slovakia, Hungary, and Slovenia are also some of the countries where more than 18% of the employed women work in the industry. The changing cultural perception of women working in industries, improved working conditions, and access to technical training are some of the factors that have led to most of the women seeking employment in the industry. More women working in the industries have contributed positively towards fighting gender disparity in the jobs and treatment of workers.
Which Country Has the Most Women Working in Industry?
More than one-fourth of working women in Macedonia and Mauritius are employed in the manufacturing and other industry sectors.
Countries Where Women Are Most Likely To Work In Industry
| Rank | Country | % of Working Women Employed in Industry |
| --- | --- | --- |
| 1 | Macedonia | 26% |
| 2 | Mauritius | 26% |
| 3 | Iran | 24% |
| 4 | Sri Lanka | 24% |
| 5 | Czech Republic | 24% |
| 6 | Bulgaria | 23% |
| 7 | Romania | 22% |
| 8 | Slovakia | 20% |
| 9 | Hungary | 19% |
| 10 | Slovenia | 18% |
About the Author
Benjamin Elisha Sawe holds a Bachelor of Arts in Economics and Statistics and an MBA in Strategic Management. He is a frequent World Atlas contributor. 
This page was last updated on April 25, 2017.
Citations
Your MLA Citation
Your APA Citation
Your Chicago Citation
Your Harvard Citation
Remember to italicize the title of this article in your Harvard citation.