Society
Countries Where Women Are Most Likely To Work In The Services Sector
Several EU and Persian Gulf nations see most of their working women enter into their well-developed service economies.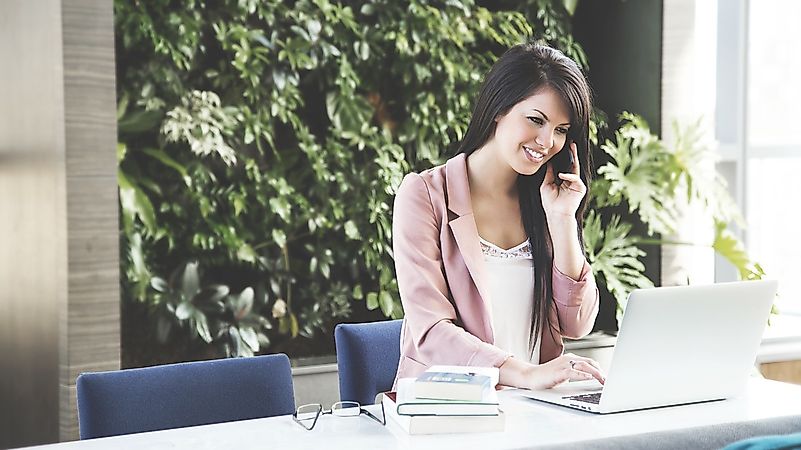 Over the last twenty years, the global labor trend has shifted from being primarily agricultural in nature to industry based activities, and then to the services sector. This shift has created employment in the services sector with a high number of beneficiaries being women. In countries with a well-developed service economy, the percentage over the last twenty years has risen to make up 90-98% of working women participating in the service sector. The service sector includes wholesale and retail trade, restaurants and hotels, insurance, real estate, financing, business services, community, social, storage and personal services.
A combination of socioeconomic factors has also contributed to this trend and the resulting implications. These are the countries that have a large share of female population being engaged in the services sector.
Kuwait
Kuwait has 98% of the female population being engaged in the service sector. This fact has hugely decreased the country's unemployment rate over the last couple of years. It also increased the overall labor force participation to 72% in 2014.
Saudi Arabia
Saudi women account for about 38% of employees in government institutions with 98% of them working in the services sector. This fact represents an increase of 48% according to the country's Central Department of Statistics and Information. The service sector where women are mainly engaged includes education, hospitality, health and social services. Recently, Saudi women have risen in the financial sector despite opposition. The rise is attributed to the increase in the number of educated women since universities have enrolled more females compared to previous regimes.
Cayman Islands
The Cayman Islands has 98% of working women employed in the services sector. This large number of women in service economies is due to social assumptions that they are suited to certain jobs more than men. This type of employment includes cleaning, the teaching of younger children and social work.
Macao
Women in the service economies represent 95% of all working women in Macao. The food industry is the biggest in Macao, and hence more women find opportunities here. Others include recreational services, cultural, games, storage, communication, hotel, restaurants, health and social welfare, and manufacturing.
Qatar
In Qatar, 95% of working women are in the service economy. Qatari women are on average better educated than men and are entering the labor force in increasing numbers. The consistent number of women in the service sector is attributed to their commitments even through child-bearing years. For this reason, Qatar is home to the highest proportion of employed women in the Gulf.
Norway
For the working women population, 91% of them are engaged in the service sector. Norway has a well-developed service economy that has experienced a tremendous change in women participation. Since the beginning of 1970's, women involved in employment has risen from 44% to 76%. This is because of the continued decrease in the idea of homemakers which was traditionally very strong. This fact has allowed more women to participate in the economy.
Sweden
Sweden has 91% of working women engaged in services. After various social reforms in the 1970s, there was a need to match the rising need for labor with the growing economy. As a result, women were gainfully employed and provided with equal opportunities as men. As the economy continues to grow, women have primarily settled in the service sector.
Cyprus
Like several other Middle Eastern countries, 91% of working women in Cyprus are working in the service sector. Cyprus has a high employment rate of 68.7%, of which women are at 58.5%. The Cyprus government has included socioeconomic policies which have created equality for both men and women. These policies have allowed a significant participation of women in the economy.
Belgium
As one of the most developed economies in EU, the service sector of Belgium is dominated by women who make up 91% of the total. As women employment in the service sector continued to grow, the number of employed men decreased. This trend also led to more unemployment among men since 2014, especially the ones over their fifties.
Argentina
The lone South American nation in this list, Argentina's working women population is made up of 91% in the service economy. While Argentina has a lower participation rate at 32% for women, most of them are engaged in part-time service jobs. The number has however increased over the last few years, with better welfare for working women which has encouraged them into the service economy.
Countries Where Women Are Most Likely To Work In The Services Sector
| Rank | Country | % of Working Women Employed in the Services Sector |
| --- | --- | --- |
| 1 | Kuwait | 98% |
| 2 | Saudi Arabia | 98% |
| 3 | Cayman Islands | 98% |
| 4 | Macao | 95% |
| 5 | Qatar | 95% |
| 6 | Norway | 91% |
| 7 | Sweden | 91% |
| 8 | Cyprus | 91% |
| 9 | Belgium | 91% |
| 10 | Argentina | 91% |
This page was last updated on April 25, 2017.
Citations
Your MLA Citation
Your APA Citation
Your Chicago Citation
Your Harvard Citation
Remember to italicize the title of this article in your Harvard citation.