Cities With The Most Expensive Taxi Fares In The World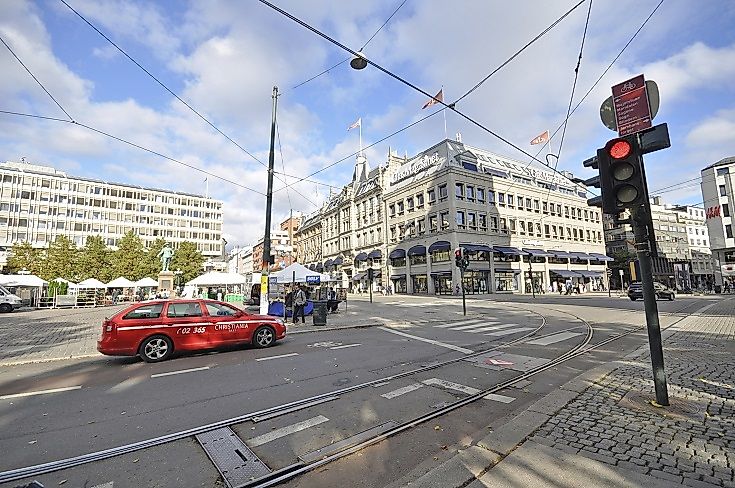 Taxis can be a great way to get around in large metropolises, where parking is often prohibitively expensive and dealing with traffic can be more trouble than it is worth. However, in some cities of the world, especially affluent Western ones where costs of living in general are through the roof, taxi drivers also take the opportunity to jack up their fares to cash in on the transportation needs of urban populaces whose average incomes sit well above global norms. Below, we have listed the 10 cities in the world with the highest taxi fares today. We briefly delve into the financial and economic environments inherent to these cities, and how they might explain cabbies therein charging such high rates per mile. On this list, two cities are found in Canada and one in New Zealand, while the other seven lie in affluent European countries.
10. Toronto, Canada ($5.29/mile)
Toronto is the largest city in Canada, with a population of over two million people. As a so-called "global city", Toronto plays a major role in the nation's economic system, as well as being a significant player in regards to international monetary policies. The city not only serves as the headquarters for many of Canada's most important and influential companies, but is also home to Bay Street, which lies at the heart of the city's financial district. Sometimes referred to as "Toronto the Good", the urban center is also the location of the Toronto Stock Exchange and five of the nation's largest, and most powerful. financial institutions. Due to Toronto's global importance and vital role as a commercial and economic power base. the city has one of the highest costs of living in Canada. According to a 2013 report by The Economist, the average cost of a home in the city comes in at almost half a million dollars.
9. Amsterdam, the Netherlands ($5.41/mile)
Amsterdam is the capital of the Netherlands, as well as its financial and commercial center. A report by Forbes noted that seven out of the world's top 500 international companies have established their headquarters in the city. In keeping with its role as a center for economic activity, The Amsterdam Stock Exchange has the distinction of being the world's oldest such institution, and in 2000 merged with the Brussels and Paris stock exchanges to form Euronext (London and Lisbon joined not long thereafter). According to Expatisan.com, depending upon the specific area of the city, a resident of Amsterdam will pay an average monthly rent of between $1706 and $2,142 (U.S. dollars) for a furnished 900 square foot home. A monthly public transit pass totals about $100 (US) dollars, and a five mile cab ride will cost approximately $27.
8. Milan, Italy ($5.76/mile)
The picturesque city of Milan is the second most populous city in Italy, with over one million residents living within its urban core. In terms of gross domestic product (GDP), Milan has one of the largest economies of any city in Europe. The city is also home to Borsa Italiana, Italy's main stock exchange, as well as the headquarters for a number of major banks, media outlets, and international businesses. Milan is also renowned for its vibrant fashion industry, which is made up of an estimated 12,000 companies and six thousand stores. The city also plays a pivotal role in the automobile manufacturing industry. Because of Milan's rich culture, history, artistic traditions, and variety of high end businesses, the city is an expensive one to call home, and its cab fares are no exception.
7. Montreal, Canada ($5.86/mile)
Montreal is the largest city in the Canadian province of Quebec. Besides its cultural and historical importance, the city also serves as the industrial and trading hub that fuels the regional economy. Although French is the official language of Montreal, the city is home to an ethnically diverse population, which, according to a 2011 study conducted by Statistics Canada, numbers in at approximately three million within the urban area. One institution which symbolizes the economic importance of the city is the Montreal Exchange, a derivatives exchange founded in 1832 which is presently housed in the Tour de la Bourse, one of the city's tallest buildings. Montreal's taxi industry has recently been in the news due to concerns over the arrival of the Uber drive-sharing service. Local cabbies view this new competition (and the lower fares it offers) as stealing their business revenues, and are demanding that the company not be allowed to operate within their city.
6. Stockholm, Sweden ($6.19/mile)
Stockholm is the capital of Sweden. This Nordic nation, founded in 1252, is home to an array of corporations, and cultural and educational institutions, as well as the seat of the country's government. A significant portion of Stockholm's residents are employed in the service industry, including transportation. Large technology companies such as Ericsson and IBM play important roles in contributing to Sweden's overall economy by providing local citizens with high-paying jobs and stable work environments. Stockholm is known as a city with a high cost of living as well. According to Expatistan.com, monthly expenses for a 900 square foot furnished residence can range from $1,577 to $2,184 USD, depending on the part of the city one chooses to live in.
5. Auckland, New Zealand ($6.58/mile)
Auckland is located on the North Island of New Zealand, and is the country's most populous city with over a million residents living within the urban area. Auckland is also home to more people of Polynesian decent than anywhere else on Earth. The city has been named one of the world's most livable cities, as well as being classified as a "global", or "world", city. Auckland serves as the economic center of New Zealand, as well as the home base for numerous domestic and multinational businesses and financial institutions. Due to its economic importance and high quality of life, it should come as no surprise that living in Auckland comes with a hefty price tag. Despite monetary considerations regarding cost of living expenses, the city's residents have benefited from high median income rates, and Kiwi cab drivers have cashed in on Aucklanders' discretionary incomes.
4. Geneva, Switzerland ($6.86/mile)
Switzerland is a European country well known for quality-made products, such as chocolate and watches, as well as its prominent banking industry (specifically in regards to private assets management). Geneva is the nation's second largest city, and has earned the status of being deemed a "global" and an "alpha" city. The city not only serves as a center for finance, but is also the headquarters for many well known international companies, such as Procter & Gamble, DuPont, and Hewlett Packard. Geneva is also home to many international agencies such as the United Nations and the Red Cross. In a 2009 report by the consulting firm Mercer, Geneva was ranked as having the third highest quality of life of any city in the the world. With a good deal of affluence to go around, taxi rides also are the fourth highest in the world, with a five-mile trip costing in excess of $34 USD.
3. Luxembourg City, Luxembourg ($7.45/mile)
Luxembourg City is the capital, and most populous, of Luxembourg's 105 communes, or districts. In a 2011 study conducted by the International Monetary Fund, Luxembourg had the second highest per capita gross domestic product in the world. That same year, out of over two hundred cities, a Mercer survey named Geneva as ranking first in terms of personal safety, and 19th for quality of life. Because of its high standards of living, Luxembourg is an expensive city to call home. According to Expatistan.com, the monthly rental for a 900 square foot furnished residence ranges in price from $1,631 to $2,052 (US). Average monthly utility rates cost about $225 per couple, and such a basic product as a dozen eggs will set you back $5.21, while laundry detergent sells for $13 per one hundred ounces. A five-mile cab ride through Luxembourg, on average, costs $37.25.
2. Zurich, Switzerland ($9.20/mile)
Zurich is the largest city in Switzerland, with an estimated metropolitan population of over one million residents. The urban center has a long and storied history which dates back to 15 BC, when it was founded by the Romans. In modern times, this European city has become a European transportation hub, especially in relation to air and rail travel. In numerous studies Zurich has been named as being one of the world's most livable cities, and one with a high quality of life. Perhaps in part due to the fact that the successful and influential Swiss Stock Exchange is located in Zurich, the city also holds the distinction of being the richest urban center in Europe. Zurich also ranks high in terms of citizen satisfaction, in such varied areas as housing, employment conditions, and educational facilities, as well as public safety. A five-mile cab ride in Zurich averages around $46 USD.
1. Oslo, Norway ($10.70/mile)
Oslo is the capital and largest city in the northern European country of Norway. The Nordic city was founded in 1040, and has always played a crucial role as a center for trading activities. Modern day Oslo plays a key role in Norway's economy and government, as well as being a vital shipping hub and the home base for a number of important maritime-related companies. In a 2011 study conducted by the consulting firm ECA International, Oslo was rated as being the city with the second most costly average living expenses in the world. Two years later, in the Economist Intelligence Unit's Worldwide Cost of Living study, Oslo tied for fourth place as the costliest place in which to live. Despite these statistics, in recent years the population of Oslo has been increasing steadily due to a combination of high birth rates (relative to other major European cities) and immigration. A five-mile taxi jaunt through Oslo averages around $53.50 USD.