Environment
Biggest Islands In Indonesia
These are the largest islands that are controlled in whole or in part by the nation of Indonesia.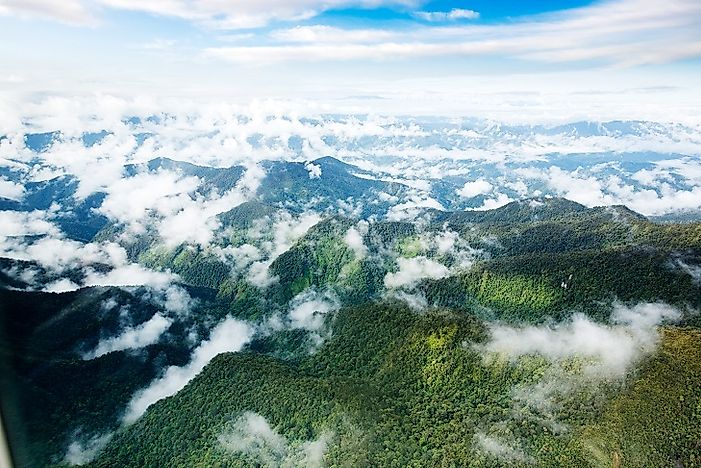 Indonesia is a republic with a Muslim majority in Southeast Asia. It is flanked on either side by the Indian Ocean and Pacific Ocean. More than half of its population of 258 million people reside in one of its islands, that of Java. The Javanese are its largest ethnic group. Agricultural production is about rice, coffee, tea, rubber, and spices. It also has natural resources such as gold, tin, copper, natural gas, and oil. Its Gross Domestic Product as of 2015 estimate is $11,135 per capita in Purchasing Power Parity, with a total national GDP of $2.840 trillion. It uses the Indonesian rupiah (IDR) as its currency.
The Islands of Indonesia
Indonesia is the biggest archipelagic (consisting of a chain of islands) country in the world. It is comprised of 13,466 islands and islets, of which only 6,000 islands are inhabited. It has a total land area of about 741,050 sq miles. It has about 150 active volcanoes that erupt form time to time creating earthquakes and tsunamis of giant proportions that have affected its population. Its climate is tropical although it has mountain glaciers in some of its highest mountains. Indonesia has the world's second highest level in biodiversity, supported by its vast tracts of wilderness and coral reefs.
Listed below are the largest islands that are controlled either in whole or in part by the nation of Indonesia.
New Guinea
New Guinea is the largest islands on this list at 303,381 square miles. New Guinea is shared by Papua New Guinea in the east and Indonesia in the west. New Guinea is home to Indonesia's highest mountain, the Puncak Jaya.

Borneo
Second is Borneo with a land of area of 288,869 square miles. Its governance and territory is shared with Brunei and Malaysia. Indonesia owns 73% of the island while Malaysia owns 26%, and Brunei owns 1% of the island. The Indonesian portion of the island is often referred to as Kalimantan.
Sumatra
Third is Sumatra with 184,954 square miles of land area. It is known for its monster flower the Rafflesia arnoldii, and the 2004 Indian Ocean Tsunami that devastated and caused the death of thousands of islanders.
Java and Other Major Islands of Indonesia
Next in order in the list are Sulawesi with 69,761 square miles, Java at 53,589 square miles, Timor (shared with East Timor) at 10,972 square miles, Halmahera at 6,865 square miles, Seram at 6,621 square miles, Sumbawa at 5,554 square miles, and Flores at 5,464 square miles. Java tops the list as the most populous among Indonesia's many islands. Java has a land area of 53,589 square miles, packed with a population of 141 million as of 2015. It figures in Indonesia's history politically, culturally, and economically. The island has come into the modern age, yet only about 75% of its people have electrical power. Jakarta and Bandung act as the two cosmopolitan centers of Java.
Socioeconomic Significance Of Modern Indonesia
In the Nineteenth Century, Indonesia was a colony of the Netherlands and was known as "the Netherlands' Indies." Only in 1945 did Indonesia declare independence after seemingly 350 years of foreign domination of oppression and violence. The many islands of Indonesia contributed to the socioeconomic advances in the country with raw materials exports that eventually resulted into high aspirations of state formation, economic integration, and globalization. Industrialization also became a central focus from the 1930s in the island of Java. Modern economic recovery began in 1966 with President Soeharto, but ended with the 1977 financial crisis.
Today, there is a continuous migration of workers being seen moving from rural to urban regions in the country, but 64% are concentrated in Bali and Java. Despite, a population increase in the workforce, a lack in skilled workers has created a deficiency in the corporate area. English language skills, business skills, and communication abilities are seen as inadequate in the new graduates entering the professional world. However, digital entrepreneurship has been maintaining a clear bright future.
The Biggest Islands Of Indonesia
| Rank | Island | Area |
| --- | --- | --- |
| 1 | Java (shared with Papua New Guinea) | 303,381 square miles |
| 2 | Borneo (shared with Brunei and Malaysia) | 288,869 square miles |
| 3 | Sumatra | 184,954 square miles |
| 4 | Sulawesi | 69,761 square miles |
| 5 | Java | 53,589 square miles |
| 6 | Timor (shared with East Timor) | 10,972 square miles |
| 7 | Halmahera | 6,865 square miles |
| 8 | Seram | 6,621 square miles |
| 9 | Sumbawa | 5,554 square miles |
| 10 | Flores | 5,464 square miles |