Canada's population in 2020 is 37.8 million, and considering it is the second-largest country in the world at 3.8 million square miles (9.9 million square km), that is not a lot. The northern country is roughly 294 million people fewer than their neighbour to the south, the United States.
The overall population is not evenly distributed across the country, but rather is higher in particular regions. Ontario is the most heavily populated province with 14.6 million people, while the French province of Québec comes in at second with 8.5 million. British Columbia, Canada's westernmost province, is third with 5.1 million.
The prairie provinces—Alberta, Manitoba, and Saskatchewan—come in fourth, fifth, and sixth, although the former is significantly more populated at 4.4 million, with the latter two at 1.3 and 1.1 million, respectively. The four eastern provinces come next, Nova Scotia, New Brunswick, Newfoundland and Prince Edward Island, all of which have populations under a million. Canada's three northern territories come in last, neither one surpassing 50,000 residents.
Canada's Five Largest Cities
1. Toronto, Ontario - 6.2 million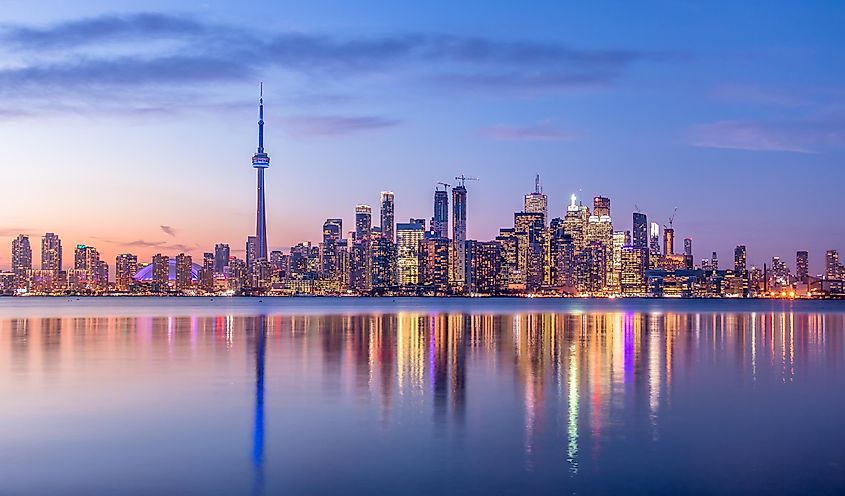 Toronto is the most populated city in Canada with approximately 6.2 million people. This number includes the surrounding suburban areas, also known as the Greater Toronto Area (GTA). Within the past decade, it became the fourth-largest city in North America. Since the 1950s, Toronto has grown in numbers, developing into one of the urban hubs of Canada. This is in part due to the rise in immigration and the creation of pocket communities: Greek Town, Little Jamaica, China Town, etc. Over the years, these neighbourhoods have transformed Toronto into an attractive destination for immigrants and their families. 
2. Montréal, Québec - 4.2 million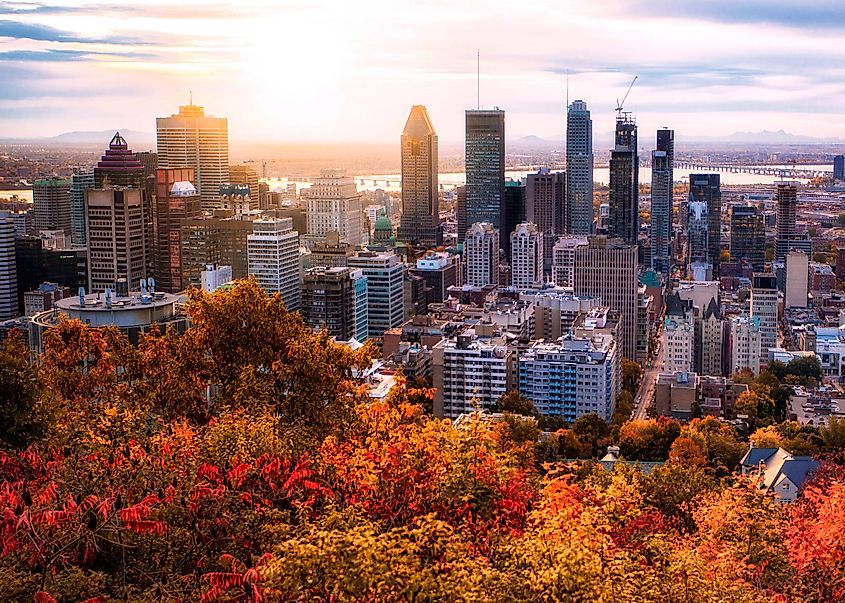 At 4.2 million people, Montréal is the most populated city in Québec and second-most in the country. For a while, it outpaced Toronto in numbers, but in the 1970s, the latter pulled ahead. This is in part because a wave of pro-sovereignty that occurred during this decade led many institutions to relocate headquarters to Toronto, bringing many workers with them. Its population has not been growing as fast as it used to, falling behind the national growth rate. Contributing factors include inter-provincial and national migration. Regardless, it has remained an important Canadian city, particularly as a center for French culture.  
3. Vancouver, British Columbia - 2.6 million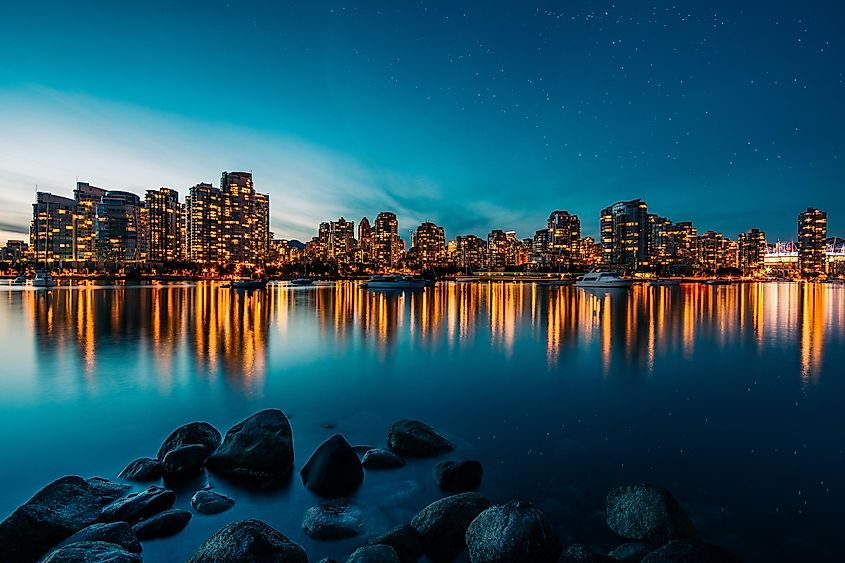 The coastal city of Vancouver in British Columbia has the third-highest population in Canada at just under 2.6 million people. It is also the most densely populated city in the entire country with roughly 13,590 residents per square mile (5,249 per square km). Its development as an urban hub is mainly due to large waves of immigration, particularly those from Asian countries across the Pacific Ocean. Coming for any number of reasons including geographical proximity and newly planted familial roots, these individuals have transformed the city into a melting pot of ethnic diversity over the past several decades.
4. Calgary, Alberta - 1.5 million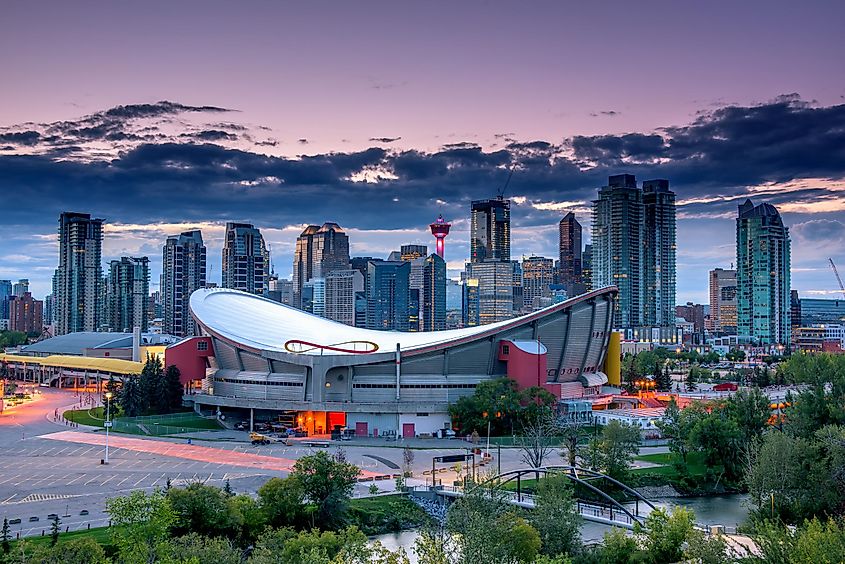 At approximately 1.5 million people, Calgary is the fourth most populated city in Canada. Its development as an agricultural center can be traced back to the late 1800s, when the Canadian Pacific Railway cut through the region. Its population, however, didn't spike until the government granted free "homestead" land in 1914 as an incentive to potential ranchers and farmers as a means of growing the local economy. Calgary experienced another boom with the discovery of oil at the beginning of the 20th century, another resource crucial to its development.  
5. Edmonton, Alberta - 1.4 million
Rounding out the top five is Edmonton, the capital of Alberta, at just over 1.46 million people. The city originally evolved out of the last of five local trading posts for the Hudson's Bay Company. Similar to Calgary, its population began to grow in earnest after the Canadian Pacific Railway reached the area. It decreased dramatically after World War I, but has since recovered and continues to grow. In fact, between the years 2006 and 2011, Edmonton's total population grew by more than twelve percent, a number significantly higher than the national growth rate for that time, which was 5.9%.
Future Population Trends
While population growth is expected to occur, the ranking of each province is probably not going to change over the next twenty years. But what about on a city level?
As of 2018, approximately 26.5 million people lived in census metropolitan areas. According to recent projections, experts are anticipating that this urban growth will continue, vastly outpacing the rest of the country. For example, Toronto proper (excluding the GTA) is expected to rise from 2.81 million to 3.2 by the mid-2030s. Additionally, Vancouver is supposed to surpass Montréal, while Edmonton is going to grow at such a rate that it will need more land to sustain population increases.
Nonetheless, statistics show that the five fastest-growing urban areas are not the five cities that appear in this article. For starters, they are all located in the central province of Ontario. Peterborough tops the list, while the Ottawa-Gatineau region—also known as the national capital region—comes in at number three. Edmonton is the only city out of the most populated to appear in the top ten fastest-growing, and even then, it clocks in at number nine.  
Populations are fluid and always subject to change over time. Several factors that have influenced the status of the cities listed here as being the five most populous in the country include immigration patterns, better transportation, and the economy. While they are projected to continue increasing in numbers, they are not the fastest-growing, so we will have to see what this list looks like a hundred years from now.