Winnipeg is the heart of central Canada, located equidistant from the Atlantic and Pacific oceans at the meeting point of the Red and Assiniboine Rivers. Because of Winnipeg's extreme climate of scorching summers and chilly winters, the variety of activities to do in Winnipeg changes by season. But there's always something to do here. 
Geography Of Winnipeg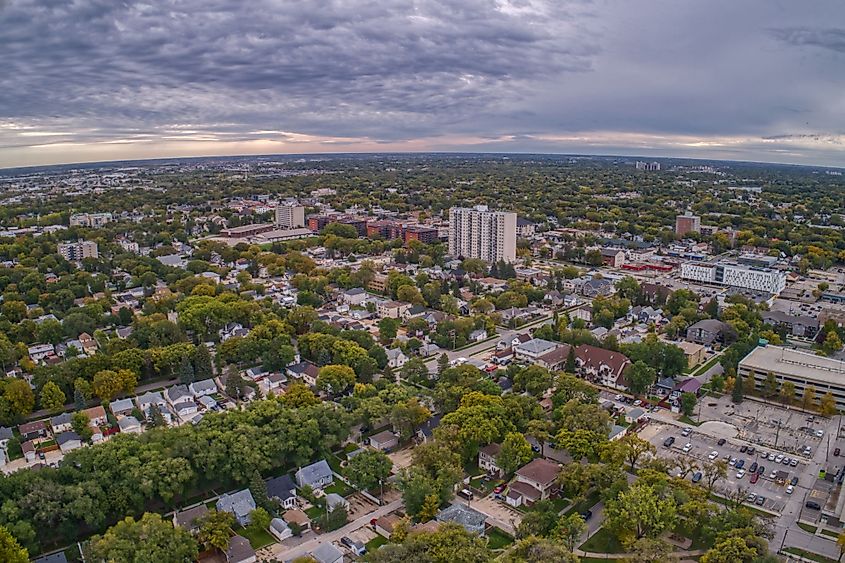 Winnipeg is situated at the base of the Red River Valley, a flood plain with relatively flat terrain. It is renowned as the "Gateway to the West" due to its location on the eastern end of the Canadian Prairies in Western Canada. The Red River, which is 885 kilometers long, passes through much of Winnipeg, which is beneficial to the city but has also produced numerous difficulties such as floods. Winnipeg is considered Canada's railway center with its railway ties to the Canadian Pacific Railroad. The railroad has assisted the city in growing into the province's largest city and living up to its designation as Manitoba's capital. Winnipeg has rich soils due to its rivers, yet the city center is primarily made up of concrete buildings, concrete highways, and skyscrapers.
Climate Of Winnipeg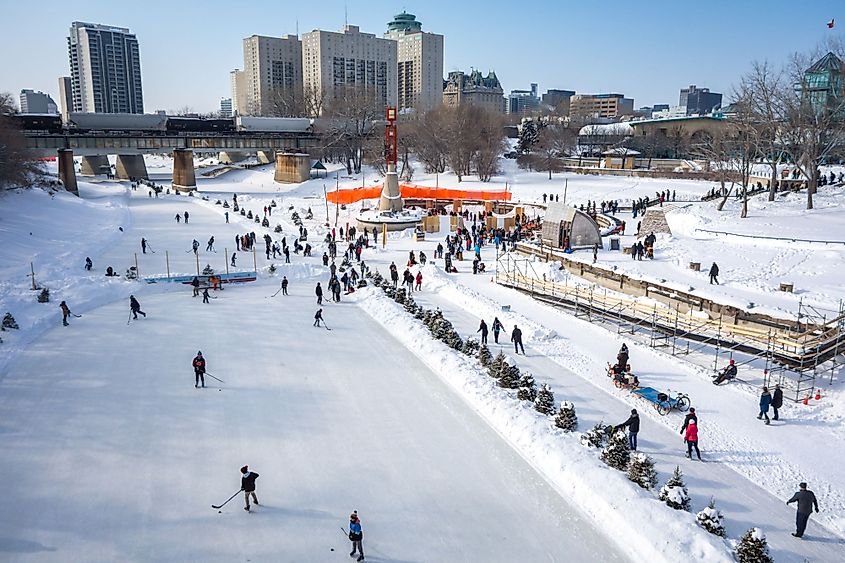 Winnipeg experiences a cold continental climate, with a brief, very warm summer and long, severe winter. Despite the cold, Winnipeg's skies are among the clearest in Canada, and the city receives plenty of sunlight throughout the year. Winnipeg's coldest winter evenings include lows of -30 °C. The city has 13 nights on average every year, almost half of which is in January when the temperature falls to that level. In Winnipeg, temperatures remain freezing all day from October to April. The city typically has 113 days a year where the temperature does not get above 0 °C. July is the warmest month in Winnipeg, with an average temperature of roughly 26°C. However, temperatures can reach as high as 28°C on the hottest days of summer.
History Of Winnipeg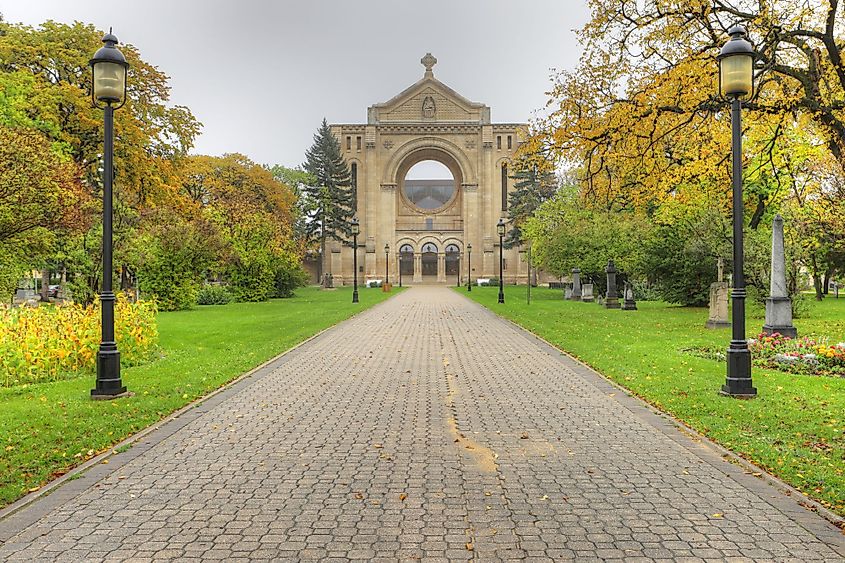 Winnipeg is located at the meeting point of two rivers, and its name is derived from local terms that imply murky waters. In 1738, the French established Fort Rouge as a fur trade station on the location. The fort, however, was subsequently abandoned. Winnipeg became a city in 1873, with a population of 1,869 people. The introduction of the Canadian Pacific Railway in 1885 ushered in a 30-year period of unprecedented expansion and wealth in Canadian urban development. An influx of immigration, high wheat prices, sufficient money, and improved agricultural practices all contributed to Winnipeg becoming Western Canada's wholesale, administrative, and financial center. Following World War I, economic stagnation and the Depression lingered long into the 1940s due to low wheat prices.
Population And Economy Of Winnipeg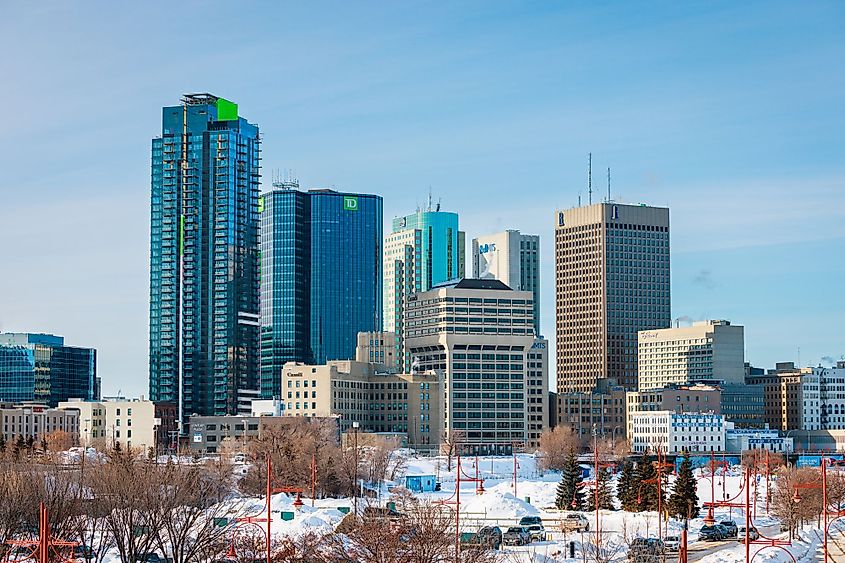 Winnipeg has a population of 749,607 people. It is now the sixth-largest city in Canada and the largest city in Manitoba. The population of the Winnipeg Metro Area as a whole is 834,678, which includes the city and its surrounding areas. In total, the city of Winnipeg accounts for more than half of the population of Manitoba (1.3 million people) and 2% of the population of Canada (36 million). Because Winnipeg's census metropolitan area of 811,874 people is home to about 62 percent of Manitoba's population, the city dominates the provincial economy in a way that few other Canadian cities do. Winnipeg dominates Manitoba's economy, generating the bulk of the province's produced products and accounting for most of its retail sales. It is still a transportation hub, with substantial rail and airline connections, the headquarters of numerous major Canadian trucking companies, and a Canadian Forces Base. The public sector is a crucial employer, and in recent years, the life sciences, information and communication technology, innovative manufacturing, and aerospace industries have all contributed to economic growth. Retail Trade, food services, customer service, etc., are also some other popular occupations.
Attractions In Winnipeg
The Forks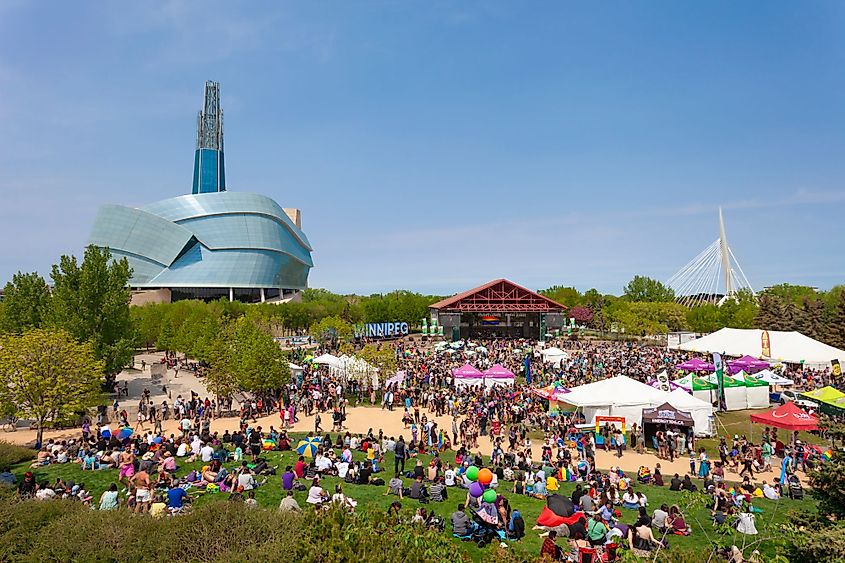 The Forks is a year-round destination attracting locals and tourists, offering indoor and outdoor activities. The Forks, located where the Red and Assiniboine Rivers meet, is a commercial and entertainment center housed in various historical structures. The site was previously a railway maintenance station, and the many buildings have been expertly refurbished over the years to contain a variety of intriguing shops, restaurants, and museums.
Canadian Museum for Human Rights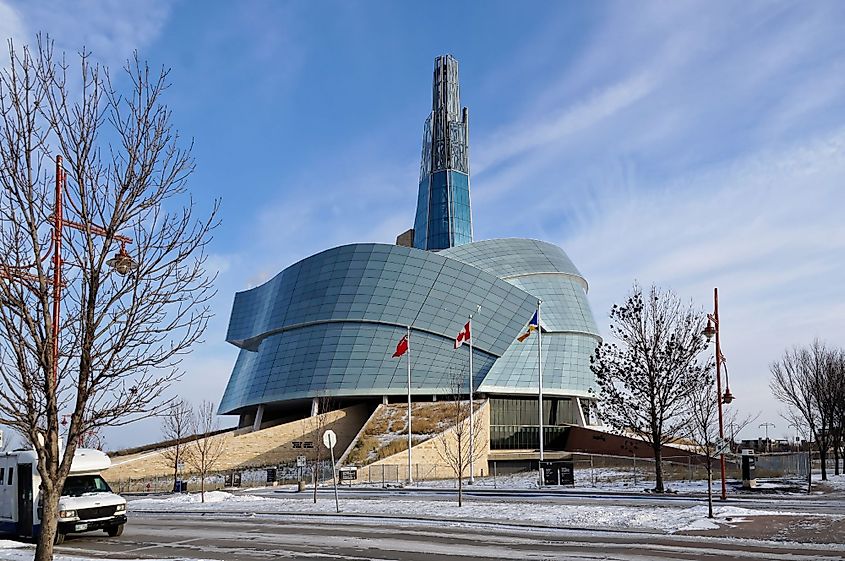 This new addition to Winnipeg's cultural landscape has become a cutting-edge monument, representing human rights in Canada and around the world. The museum is well-known for its magnificent physical architecture as well as its novel approach to conveying human rights issues.
The Manitoba Museum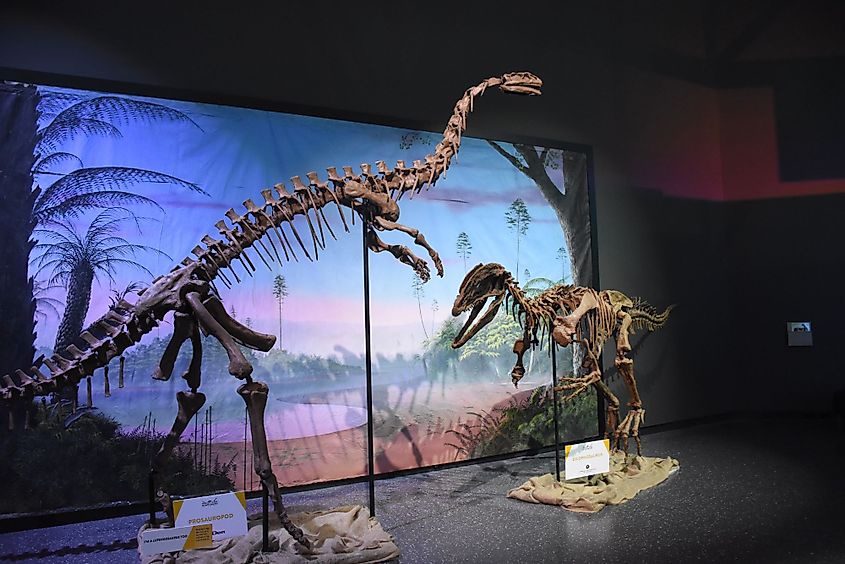 The Manitoba Museum is primarily concerned with the province's people and natural history. The province's best is showcased in the nine permanent galleries, while the fully interactive Science Gallery and Planetarium reveal the immensity of the night sky on its domed screen. The museum's highlights have included a 95-million-year-old Pliosaur fossil, an exhibit that replicates the Northern Lights, and a replica of a Hudson Bay fur trade station. The Nonsuch, a 17th-century model ketch sailing ship, is one of the most famous displays.
Assiniboine Park and Zoo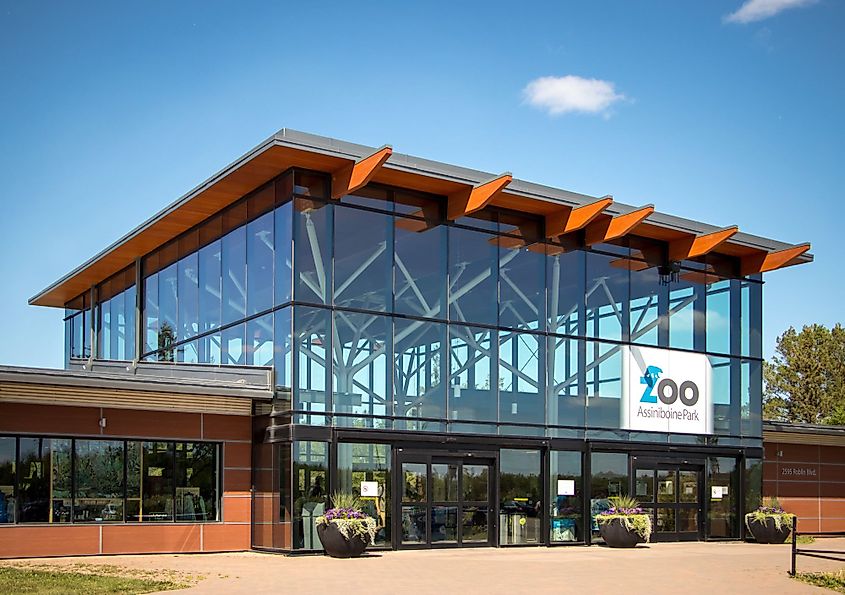 Assiniboine Park, Winnipeg's oldest park, spans 445 hectares of green lawns, mature trees, cultural amenities, and an English garden. Within its grounds lies the Assiniboine Park Zoo, which is home to a vast range of animals, flora, and wildlife. There is a special emphasis on creatures of the northern latitudes, including many polar bears, but there are also some exotic species, including Siberian tigers and red kangaroos.
Legislative Building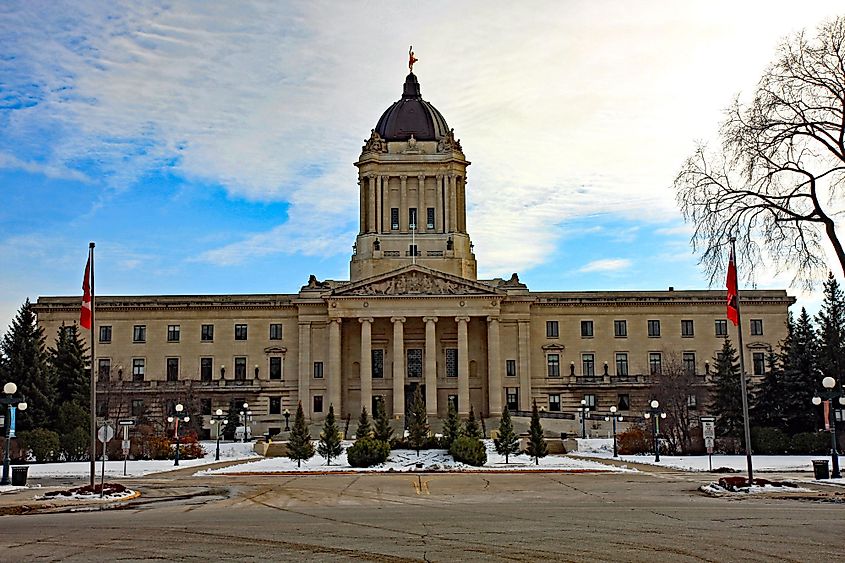 The majestic Neoclassical Legislative Building in Winnipeg, built of native Tyndall stone and Italian marble, was built in 1919. Hidden hieroglyphics, Freemason symbols, and secret number codes are among the building's unique characteristics. Tours are given weekly and are led by an architectural historian. Statues, monuments, and manicured gardens adorn the opulent grounds. A four-meter-high bronze figure weighing five tons and coated with 23.5-carat gold atop the 72-meter dome is known as the Golden Boy. Manitoba's continuous agricultural success is symbolized by a torch in his right hand and a sheaf of wheat on his left arm.
Festival du Voyageur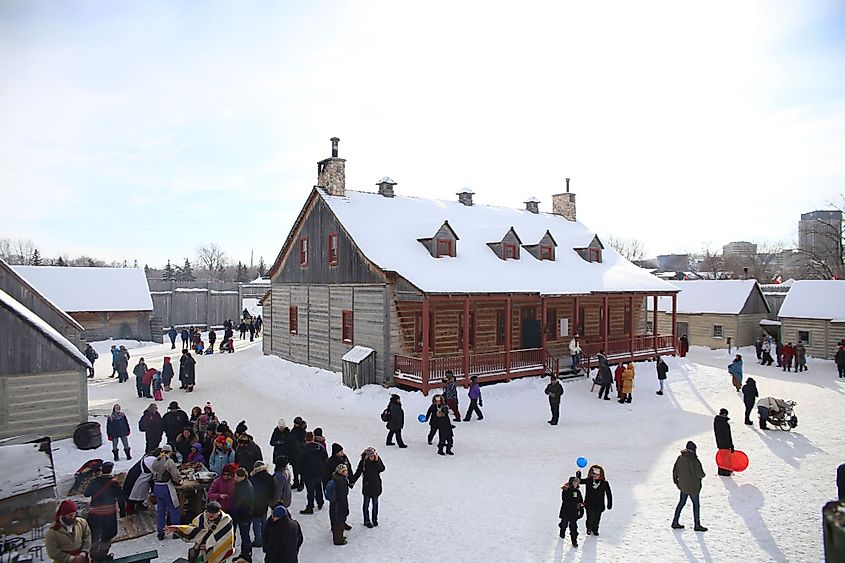 Winnipeg's most popular winter celebration is the Festival du Voyageur. This celebration, held in February, honors the traditions of the French Voyageurs, or early Canadian fur traders. The festival offers activities and entertainment for both children and adults, as well as activities in both French and English. Large tents are put up outdoors in Voyageur Park and various locations across the city, with live music, food, dancing, and other activities. The beard-growing competition is another festival tradition. Participants have ten weeks before the event to grow the greatest beard they can.
Winnipeg Art Gallery
The Winnipeg Art Gallery, housed in a modern structure designed like the bow of a ship, has 25,000 works of classic and contemporary art by Canadian, American, European, and Inuit artists. It is Western Canada's oldest art gallery and routinely holds events and a diverse spectrum of artists, from poets to jazz performers.
Manitoba Children's Museum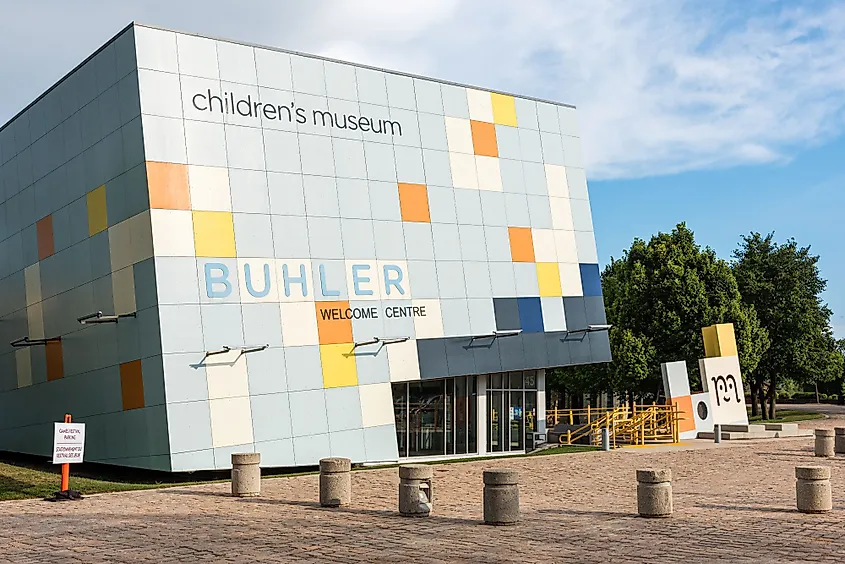 Established in 1986, the Manitoba Children's Museum is situated in The Forks at Winnipeg. Visitors to this one-of-a-kind structure will find 12 permanent interactive galleries that appeal to youngsters of all ages. Aside from the permanent galleries, the museum frequently conducts traveling exhibitions and special activities during major holidays such as Halloween and Christmas.
Winnipeg, located in the heart of the country, has long been a layover spot for visitors traveling the length of Canada. Winnipeg, one of Canada's most undervalued cities, is bustling and dynamic, cultural and attractive, with a dash of up-and-coming charm.