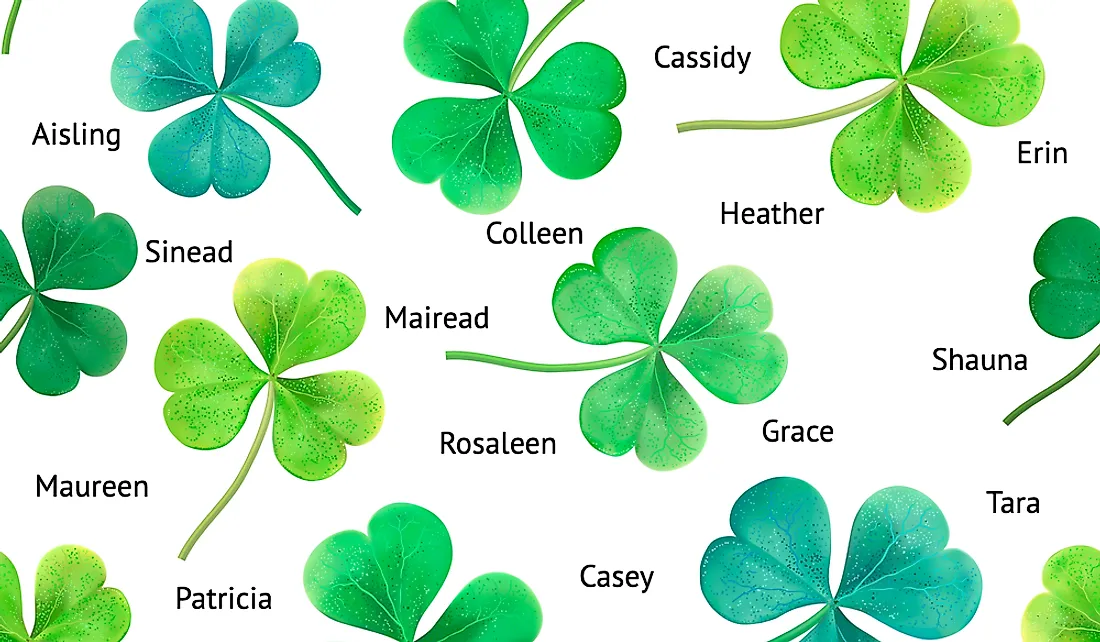 Ireland is a place of beautiful names thanks to the Celtic language. In the 19th century, Irish immigrants flooded the United States and introduced traditional Irish names that were adopted by the non-Irish. Parents are attracted to Irish names due to the wide range of selections to choose from, their similarity to English, strong and inspiring meanings, and unique pronunciation. Some parents turn to Irish names when looking for unique names that won't be replicated in classrooms or the playground. The following are some of the popular Irish girl names.
Popular Irish Girl Names and Their Meanings
Aisling
Aisling means "vision" or "dream." The name was developed as a poetic genre in the 17th and 18th century but adopted as a given name in the 20th century. Anglicized variants of the name include Aislin, Ashling, Aislene, and Aislinn. Aisling was among the top 50 names for female newborns in Ireland in the early and mid-2000s.
Bridget
The name Brigid or Bridget is derived from the Irish noun brígh meaning virtue, strength, vigor, or power. The popularity of the name is attributed to Saint Brigid of Kildare, also known as "Mary of the Gael." The Saint was named after the Celtic goddess Brigid; the goddess of healing, agriculture, fire, and poetry. The name remains popular in Ireland, but its popularity in the United States has faded since the 1970s.
Casey
Casey is derived from the Irish Gaelic word cathasaigh, meaning "watchful," or "vigilant." It is also a nickname for the name Cassandra. Casey is used for both boys and girls in the United States and the United Kingdom. It became popular outside Ireland in the 1970s and 80s. Variants of the name include Kasey, Kaysee, Caicey, Kaci, Kacee, and Kasie.
Erin
Erin is a derivative of the Irish word Éirinn. It was initially used as a female personification of Ireland but has since been adopted as a given name. According to Irish folklore and mythology, the name was used by the Milesians to refer to the island. It was adopted by the Scots to refer to Ireland and the westerly direction since Ireland lies west of Scotland.
Tara
Tara is a name that is used in different cultures, especially in Australia and Ireland. The Irish derived the name from the Hill of Tara which mythology believes to be the seat of the High King of Ireland. Tara has been accepted as a female name in the West since the late 1960s although some men have adopted it. Tara also represents a goddess in Hinduism and a female Buddha in Buddhism.
Irish Names Outside Ireland
Irish names have become part of the Western culture that you no longer need an Irish heritage to adopt an Irish name. Celebrities with Irish names including Claire Danes, Bridget Moynahan, Saoirse Ronan, Kerry Washington, and Oona Chaplin have contributed significantly to the popularity of the names in North America.
40 Irish Girl Names
Girl Names of Irish Origin
Adele
Aisling
Amber
Bridget
Bronach
Caoimhe
Casey
Cassidy
Cathleen
Charlotte
Chloe
Colleen
Danielle
Daphne
Diana
Edna
Erin
Fidelma
Flann
Gemma
Georgia
Grace
Harper
Heather
Helena
Imelda
Mairead
Maureen
Mor
Patricia
Pegeen
Petunia
Roisin
Rosaleen
Shauna
Sinead
Sorcha
Tara
Valerie
Veronica