World Facts
15 Countries With The Fewest Trained High School Teachers
Sub-Saharan Africa is rife with secondary school instructors lacking proper training.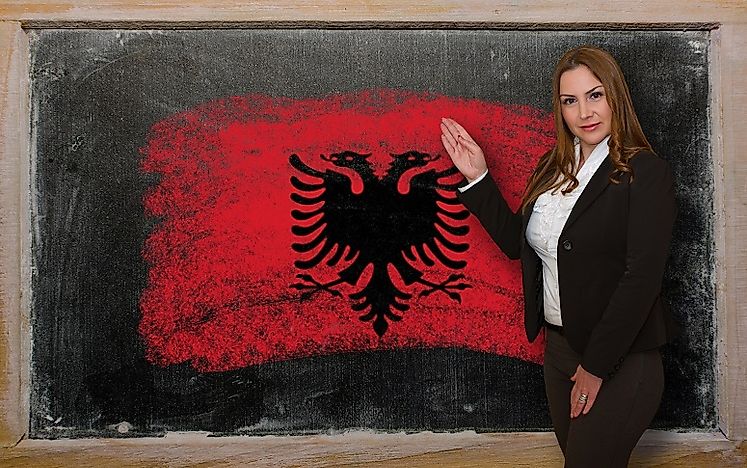 The world has made significant progress in improving education for children; between 2000 and 2008, millions of children enrolled in primary and secondary school and began the path to literacy. However, school enrollment began decreasing in 2008. This trend is unfortunate because literacy an important first step in breaking the cycle of poverty. Although, simply having children enroll in school and attend classes is not enough. The education provided must be of quality and come from well-trained teachers and this is not the reality for the many countries in the world. This article will take a look at which countries have the lowest rates of trained teachers and why.
Lowest Rates of Trained Teachers
Albania
The very lowest rate of trained secondary school teachers, per World Bank data, is found in Albania where only 6% of the teachers have actually received proper training. This country suffered political turmoil beginning in 1991 and rioting left school buildings in ruins. Teachers began leaving rural areas and moving to urban centers thus leaving rural schools with an educator shortage. Two thousand teachers left the country. Today, that chaos has stopped and the country is progressing. There are a few basic requirements for teacher training, however, the teacher training programs are not standardized, and different institutions will have a different curriculum and testing. When compared to the English International Teacher Training (ITT) system, Albania met with 6 of 11 minimum requirements. The country is currently restructuring its educational system.
Seychelles
Following Albania with only 8% of its secondary school teachers considered qualified is Seychelles. The education system here has no policy for introducing newly trained teachers. This means that when a new teacher joins a school, there is no support system in place to ensure their success during the first year. Without a mentor program, teachers are not able to develop professionally. The government of Seychelles recognizes its lack of qualified teachers and has recently reached out to Botswana for assistance. They have reached an agreement that students from Seychelles may attend the University of Botswana and the Seychelles will employ teachers from Botswana where there is a surplus of trained educators.
Benin
Number 3 on the list is Benin where only 9% of its secondary school teachers are qualified. The government of Benin allocates 4.6% of the GDP for education which adds to the severity of the problem. It means very low pay for teachers and little to no investment in infrastructure which provides an uncomfortable working environment. This country has faced such political, economic, and social problems that it even completely closed down Teacher Training Institutions from 1987 to 2006 as an economic readjustment requirement. Currently, the student-teacher ratio is 44 to 1. Communities have a heavy reliance on untrained volunteer teachers.
Other Nations Lagging Behind
Following these countries and with less than 30% of secondary school teachers being qualified are Suriname with 14% of its secondary teachers being adequately trained, Niger at 16%, Madagascar (21%), and the Democratic Republic of the Congo (24%). Other countries with surprisingly low percentages (less than 50%) of trained secondary teachers are Belize at 45%, Burkina Faso (47%), and Sao Tome and Principe (48%). A more complete list can be found below.
The Need for Improvements in Teacher Training
Only with quality trained teachers will children have a chance at learning. Research has shown that this variable, proper teacher training, has the most pronounced effect on student test scores. Well-trained teachers are also better equipped to manage diversity in age, to maintain positive disciplinary action, and to support the participation of girls in class. Therefore, investing in teachers is extremely important for the advancement of society. Countries on this list should, despite obstacles, consider education and training of teachers as a top priority.
15 Countries With The Least Trained High School Teachers
| Rank | Country | % of Secondary School Teachers That Are Trained |
| --- | --- | --- |
| 1 | Albania | 6% |
| 2 | Seychelles | 8% |
| 3 | Benin | 9% |
| 4 | Suriname | 14% |
| 5 | Niger | 16% |
| 6 | Madagascar | 21% |
| 7 | DR Congo | 24% |
| 8 | Belize | 45% |
| 9 | Burkina Faso | 47% |
| 10 | Sao Tome and Principe | 48% |
| 11 | St. Vincent and the Grenadines | 50% |
| 12 | St. Kitts and Nevis | 51% |
| 13 | Cameroon | 54% |
| 14 | Liberia | 55% |
| 15 | Antigua and Barbuda | 55% |
This page was last updated on April 25, 2017.
Citations
Your MLA Citation
Your APA Citation
Your Chicago Citation
Your Harvard Citation
Remember to italicize the title of this article in your Harvard citation.