World Facts
10 Countries With The Highest Rates Of Cell Phone Subscriptions
On the Arabian Peninsula and parts of South Asia, cell phone subscriptions far outnumber people.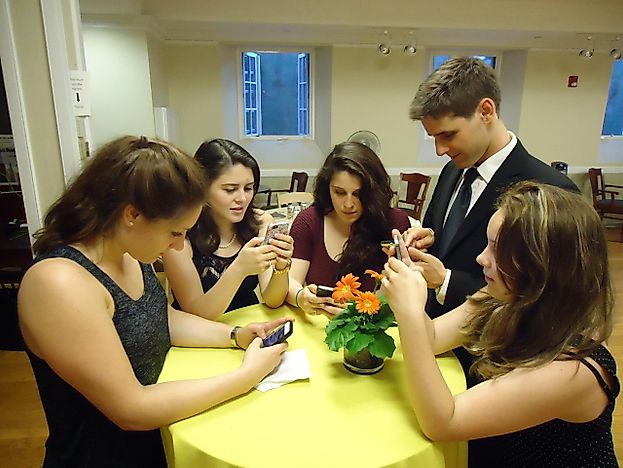 Cell phone subscriptions are paid services that allow customers to use a mobile telecom company's telephony services plus text messaging, email, MMS, internet access, applications, games, and other cell phone services. These services are accessed over a radio frequency carrier and by internet access. China Mobile is the leader among the individual mobile operators in the world with more than 806 million subscribers as of December 2014 and is a state-owned enterprise with total assets of $203 billion.
The growing Trend of Cell Phone Subscriptions
The year 2000 witnessed the founding of the United Nations Millennium Development Goals (MDGs) which was the catalyst for the ICT revolution that would enable and power social and economic development worldwide especially in the developing countries. According to the International Telecommunication Union-World Telecommunication/ICT Development Report of 2015, there has been an increase of mobile phone subscriptions from 738 million to 7 billion since the year 2000. Internet access, as of 2015, has reached 3.2 billion people. About 2 billion of the mobile internet service subscribers are in the developing countries of the world. Cell phone ownership is high among smaller countries like Hong Kong, Maldives due to foreign workers and tourist purchase of phones for family members. On the Arabian Peninsula and parts of South Asia, cell phone subscriptions far outnumber people. The following statistics show mobile cellular subscriptions per 100 people. Here are the countries with the highest cellphone subscriptions in the Middle East and Southeast Asia. Macao ranks number one with 323 cell phone subscriptions per 100 people. An amazing figure due to a large number of Chinese registering their mobiles in Macau. Second on the list is Hong Kong with 234 cell phone subscriptions per 100 people. Being a global business and trade hub, it is quite understandable why Hong Kong ranks second on the list Third is Kuwait with 218 cell phone subscriptions per 100 people. Fourth is Maldives with 189 cell phone subscriptions per 100 people. As mentioned before, the popularity of the island nation as a major tourist spot necessitates the need of extensive means of telecommunication. Saudi Arabia comes in at fifth with 180 cell phone subscriptions per 100 people. The luxurious lifestyle of the citizens of this country often allows them to own more than one cell phone of reputable brands. Other countries leading the world in cell phone subscriptions are United Arab Emirates, Bahrain, Kazakhstan, Gabon, and Suriname.
The Value of Cell Phone Subscriptions
According to a report generated by the Cologne Institute for Economic Research, mobile telephony, and increased phone subscriptions have allowed a higher economic growth in many countries. The advancement in gender equality, education, and more political participation have been a significant result of this modern convenience. There is also evidence that mobile technologies have contributed to GDP increases in some countries. Developing countries have especially profited with this modern innovation where it is a major form of communication. In many economically weak countries, where news often moves at a snail's pace, mobile phone access and communication is the only way to communicate information on natural calamities and disasters, saving people and property.
10 Countries With The Highest Rates Of Cell Phone Subscriptions
| Rank | Country | Mobile Cellular Phone Subscriptions Per 100 People |
| --- | --- | --- |
| 1 | Macao | 323 |
| 2 | Hong Kong | 234 |
| 3 | Kuwait | 218 |
| 4 | Maldives | 189 |
| 5 | Saudi Arabia | 180 |
| 6 | United Arab Emirates | 178 |
| 7 | Bahrain | 173 |
| 8 | Kazakhstan | 172 |
| 9 | Gabon | 171 |
| 10 | Suriname | 171 |