World Facts
Countries By Smartphone Penetration
A survey by Pew Research Center conducted in 40 nations exhibited that smartphone penetration is highest in South Korea.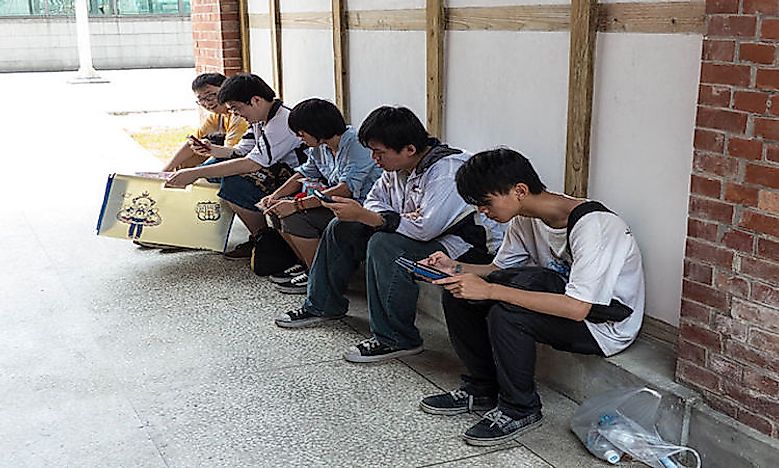 The Increasing Demand For Smartphones
Over the last few decades, technology has brought the world together both socially and economically. In fact, technology has become the foundation of progress. Because of its increasing importance, people all over the globe have also increased their use of technology in order to keep up with the changing times. This is particularly true in countries with developing and emerging markets, where technology use is defined by the number of people who use either the internet or a smartphone. In other words, technology users in these countries are catching up to countries with more developed economies.
Smartphone Use
In 2013, approximately 45% of the population in developing and emerging market countries reported either using the internet occasionally or owning smartphones. In just two years, this percentage increased to 54%. Some of the biggest jumps in usage and ownership were documented in Brazil, Malaysia, and China. In developed countries, this percentage reaches 87%, which means a 33-point difference in internet usage and smartphone ownership between developing and developed nations.
Focusing only on smartphone ownership, the data indicated a 31 point difference between these two types of economies. This difference is sometimes referred to as the digital divide. Smartphone ownership appears to be increasing faster than internet use. In fact, developing and emerging economies reported a 21% ownership rate in 2013 and 37% in 2015. Countries with the greatest increase in smartphone ownership since 2013 include: Brazil (26%), Chile (26%), Malaysia (34%), and Turkey (42%).
Future Trends
As the economies continue to grow in developing and emerging countries, smartphone ownership is expected to grow as well. This is also true of individuals with higher incomes and educational levels. Additionally, people between 18 and 34 years of age are more likely to own a smartphone than older individuals. This is true across all economies and this is the group expected to increase its smartphone ownership at the fastest rate.
Countries By Smartphone Ownership
South Korea
South Korea has the highest instance of smartphone ownership in the world. Reportedly, 88% of its population owns a smartphone. Additionally, 100% of individuals between 18 and 34 years of age have smartphones, which contrasts with 83% of those over the age of 35. There is a 15 point difference between those with lower educational attainment (80%) and higher educational levels (95%). The same pattern is true of income, with lower income levels at 79% and higher income at 95%.
Australia
The second highest smartphone ownership can be found in Australia, where 77% of the population reports owning this device. Here, the age difference is more significant than in South Korea. Approximately 95% of individuals between 18 and 34 years old report being owners whereas only 70% of those over 35 own smartphones. Income appears to have a greater influence over ownership with a 26 point difference. Of those individuals with lower income, only 62% have smartphones. Higher income earners report an 88% ownership rate.
Israel
Israel is number 3 on the list, where 74% of the population is a smartphone owner. Age demonstrates a 20 point difference; 87% of those aged between 18 and 34 own smartphones and 67% of those over the age of 35. A similar gap is seen in income. Approximately 63% of low income earners report owning a smartphone. That number is 83% for higher income earners. Educational attainment has a 12 point difference, lower education levels at 68% ownership and higher levels at 80%.
The chart published below displays a more complete list of countries by rates of smartphone ownership.
Countries By Smartphone Penetration
| Rank | Country | % of population owning a smartphone |
| --- | --- | --- |
| 1 | South Korea | 88 |
| 2 | Australia | 77 |
| 3 | Israel | 74 |
| 4 | United States | 72 |
| 5 | Spain | 71 |
| 6 | New Zealand | 70 |
| 7 | United Kingdom | 68 |
| 8 | Canada | 67 |
| 9 | Chile | 65 |
| 10 | Malaysia | 65 |
| 11 | Germany | 60 |
| 12 | Italy | 60 |
| 13 | Turkey | 59 |
| 14 | China | 58 |
| 15 | Palestine | 57 |
| 16 | Lebanon | 52 |
| 17 | Jordan | 51 |
| 18 | France | 49 |
| 19 | Argentina | 48 |
| 20 | Venezuela | 45 |