United States Timezone Map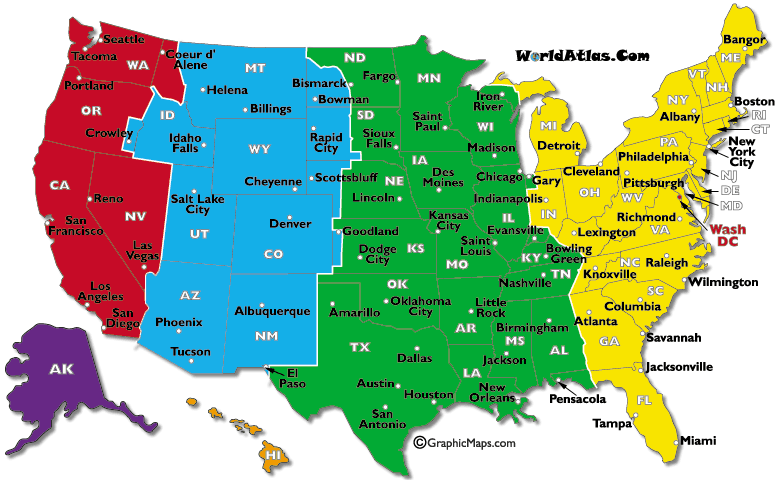 (Match the time bar color to the map color)
Print this map
View time zone clocks
UTC at Greenwich, England

HAST -10 hours from UTC

AKDST - 9 hours from UTC

PDT - 8 hours from UTC

MDT - 7 hours from UTC

CDT - 6 hours from UTC

EDT - 5 hours from UTC
Timezone Abbreviations
HST:Hawaii-Aleutian Standard Time
AKDST:Alaska Daylight Time
PDT:Pacific Daylight Time
MDT:Mountain Daylight Time
CDT:Central Daylight Time
EDT:Eastern Daylight Time
DST:Daylight Saving Time
Current Dates and Times across USA
Across the United States of America, Daylight Savings Time is now in effect.
Daylight Saving Time is not observed in Hawaii, and by most of Arizona. In summer, local time in Arizona is the same as Pacific Daylight Time DT). In the winter Arizona is on Mountain Standard Time (MST)
Alaska (AK) 90% of Alaska is (1 hour) behind the Pacific Time Zone, while the far reaches of the Aleutian Islands use Hawaii-Aleutian time.
Important (current time) Exceptions: Parts of Florida, Idaho, Indiana, Kansas, Kentucky, Michigan, Nebraska, North Dakota, Oregon, South Dakota, Tennessee and Texas are in two time zones.
UTC and GMT
The UTC Time (shown directly below) is the standard time zone upon which all other worldwide time zones are based. It never observes daylight saving tim
Additional details on world timezones