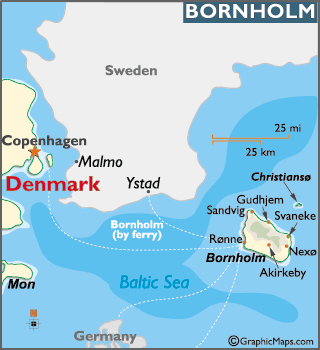 In the 10th century Danish Vikings established bases on the island, and it eventually became one of the most important stops along the Baltic Sea trade route.
Once under both German and Swedish rule, after the Germans were defeated in World War II, the island returned to Denmark's control in 1946 and today is included in Denmark's Hovenstaden Region.
To its immediate north stands the Ertholomene Archipelago, a group of three tiny islands that includes Christianso, Denmark's eastern most point.
Bornholm is blessed by the temperate Baltic Sea climate, as summer, fall and winter months on the island are much milder than most of Denmark, and the Scandinavian countries to the north. In fact, fall days are famous for being sunny and warm.
The island is replete with castles and church ruins from the Middle Ages, and is easily reached from Copenhagen, and by ferry from other Baltic Sea ports.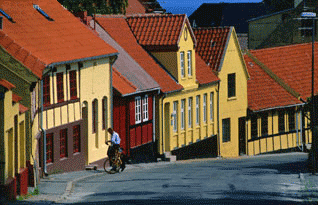 Street Scene, Bornholm Island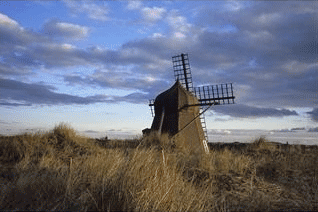 Danish Windmill
This page was last updated on July 12, 2016.