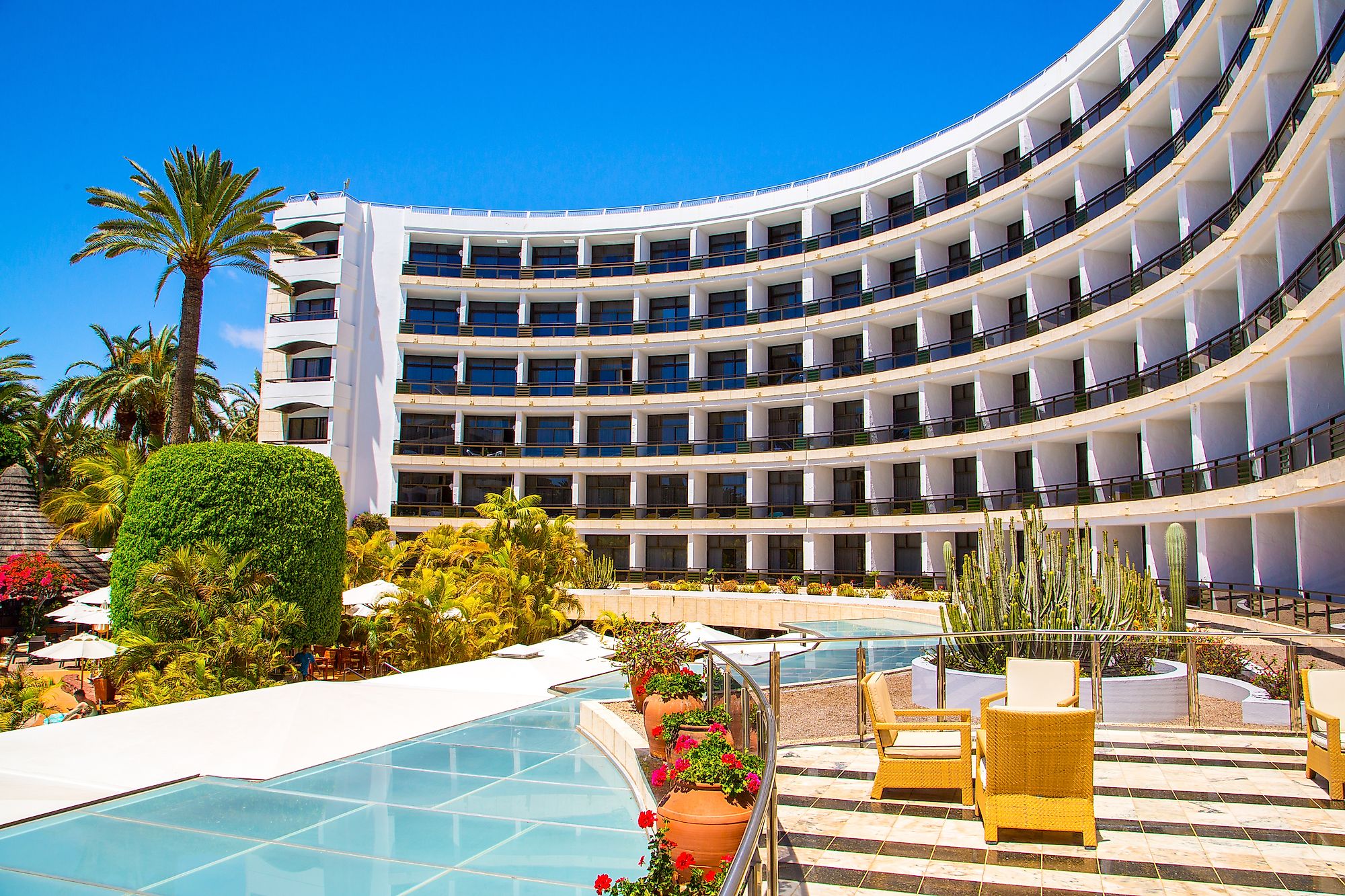 The Largest Hotel Chains In The World
These largest hotel chains in the world (by number of properties) started as humble spots with big visions to make a difference in the world of hospitality. By continuing to build on the ageless classics with modern components, they brought their legacies into the present. Continuously evolving within and caring about social issues around, they proudly deliver on the promise to provide quality stays around the globe.
Contents:
1. Wyndham Hotel & Resorts - 8,941 properties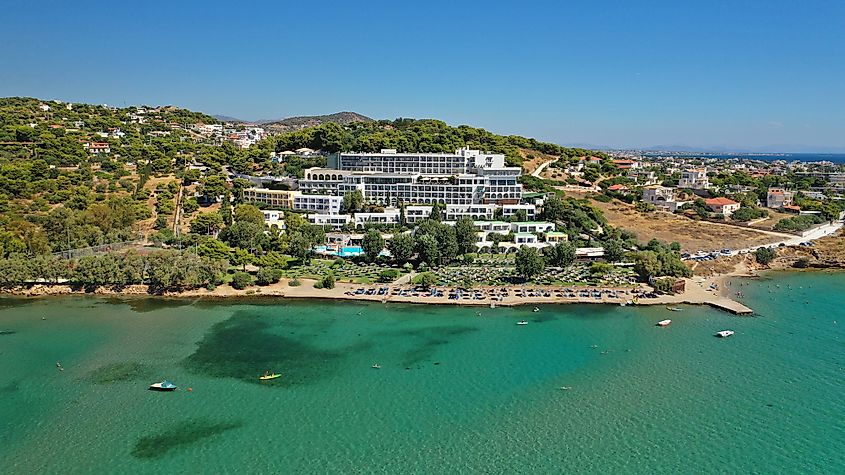 Born in 1981 in Dallas, Wyndham is a newer player in the game with headquarters in New Jersey. Still boasting the most properties, spread throughout 95 countries, its 22 famous hotel brands include Ramada, Super 8, Days Inn, and Baymont. Marketing itself as "making travel possible for all," the chain is easily found in big cities, small towns, and beachfront resorts. Wyndham also takes pride in diversified travel experiences, such as its highway with thoughtful amenities targeted at the everyday traveler. The chain's comparatively smaller revenue, choosing to satisfy a wide range of customers with a quality experience, is represented in the majority by the Wyndham Worldwide properties. Its great loyalty rewards program is known for gifting frequent guests with gift cards, free nights, and even airline tickets. 
2. Marriott International - 7,662 properties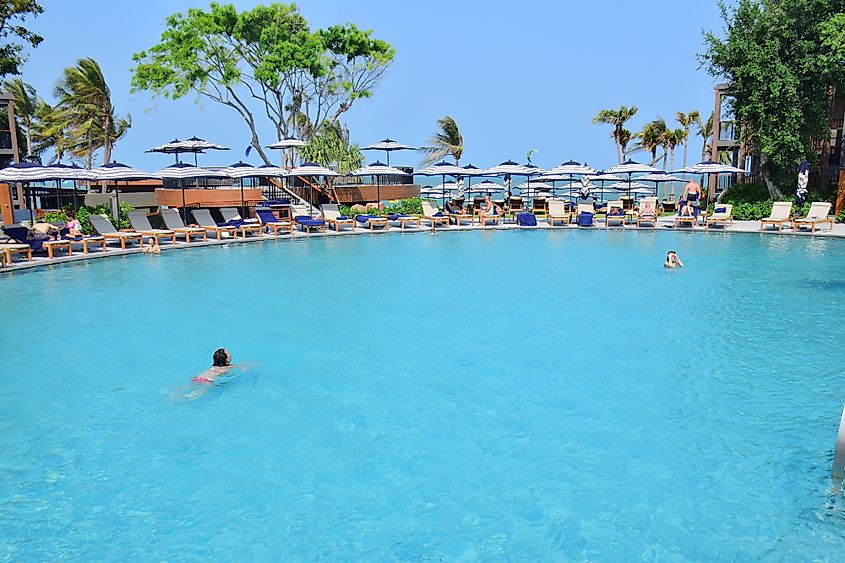 Marriott was founded in 1927 as a humble A&W root beer stand in Washington, DC, by J. Willard Marriott and his wife, Alice. Soon expanding into a chain of Hot Shoppes restaurants, they laid the foundation for Marriott's legacy in hospitality. In 1957, the family purchased its first motor hotel in Arlington, Virginia, tasking their son, J.W. "Bill," to strategize their future as a lodging company. Diversifying itself under a single company banner in the late 80s, its 30 brands today include the JW Marriott Hotels, The Ritz-Carlton hotels, the St. Regis Hotels and Resorts, and the Bulgari Hotels and Resorts. Along with providing hospitality and luxurious stays for the middle and upper classes, the brand also promotes diversity, community development, sustainability, and poverty eradication. Passing the 90-year-old family legacy onto Arne Sorenson in 2012, the Chairman and CEO Bill Marriott with his family still owe 25 percent of the company. Present in some 130 countries, the chain's 2019 revenue comprised $20 billion, with $1.27 billion of pure profit. 
3. Choice Hotels International - 7,111 properties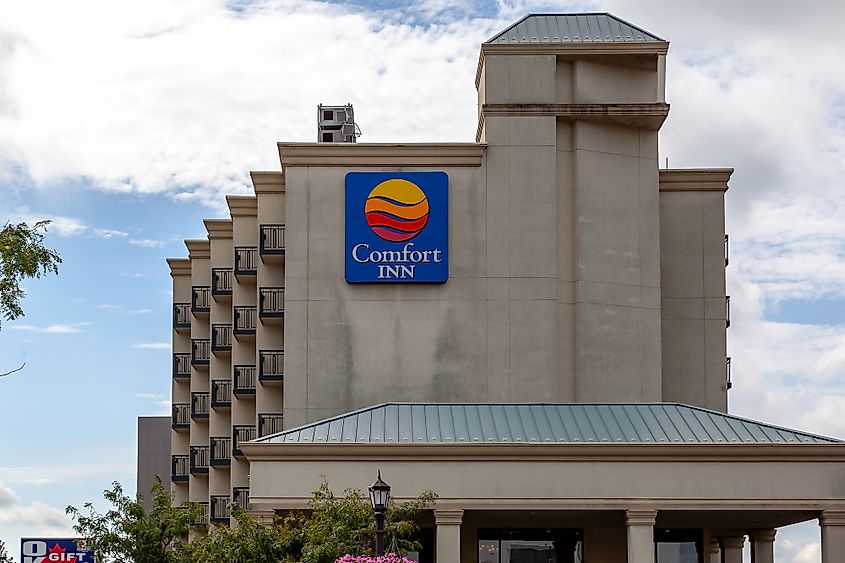 Founded in 1939 with headquarters in Maryland, Choice Hotels is an umbrella chain with 12 brands. With the logo "Our business is you," its popular brands include EconoLodge, Comfort Hotels, Quality Inn, and Cambria Hotels, geared to satisfy business travelers, vacationers, and those traveling on a budget. The American Choice Hotels showed growth of 1.2% since getting overtaken by Huazhu, the largest hotel company in China, founded in 2005 and headquartered in Shanghai. Earning over $1 billion in revenue in 2019, Choice Hotels International boasts some 600,000 rooms in its 7,100 properties spread around more than 40 countries. The chain has recently announced that its next threshold involves expanding by 1,000 more properties with over 85,000 rooms. 
4. Hilton - 6,619 properties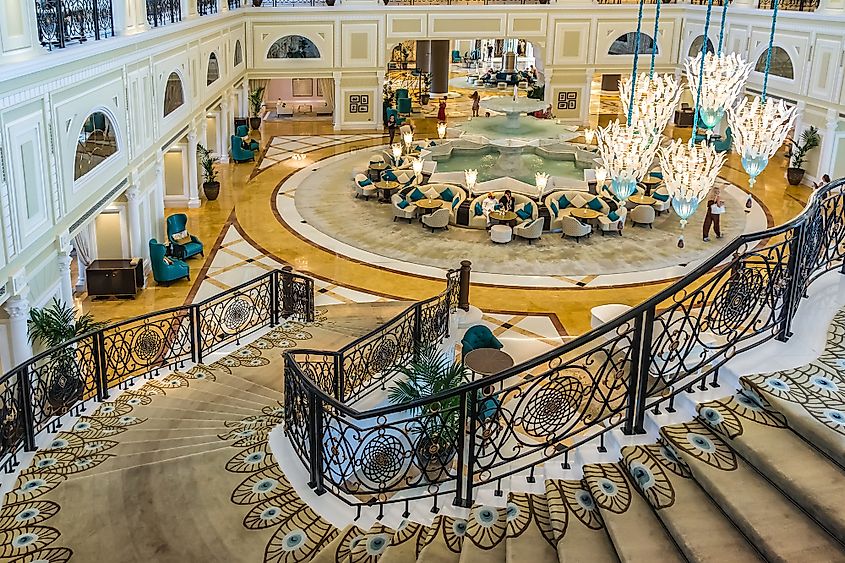 Conrad Hilton bought his first property in 1919, named the Mobley Hotel in Cisco, Texas. Six years later, Dallas Hilton opened the first hotel under the iconic name that would become the first international hotel chain in the world in 1949 with Caribe Hilton Hotel in Puerto Rico. Now headquartered in McLean, Virginia, Hilton operates 14 brands, including DoubleTree, Embassy Suites, Hampton, and Waldorf Astoria Hotels & Resorts, comprising over 6,000 properties with 838,000 rooms in 118 countries and territories. Known as one of the best places to work in the U.S., it has topped the 2012 list of the "Happiest Companies in America." Hilton is known for many luxurious and lifestyle-focused properties with amenities geared to the jet set, as well as those appealing to business travelers with locations in major cities, near airports, and convention centers. Completing the founder's mission of international expansion, Hilton Worldwide opened locations in Bangladesh and Serbia in 2018, followed by Burma and Estonia. Its $9.45 billion revenue in 2019 was a 6% increase from the year prior. 
5. IHG Hotels & Resorts - 5,959 properties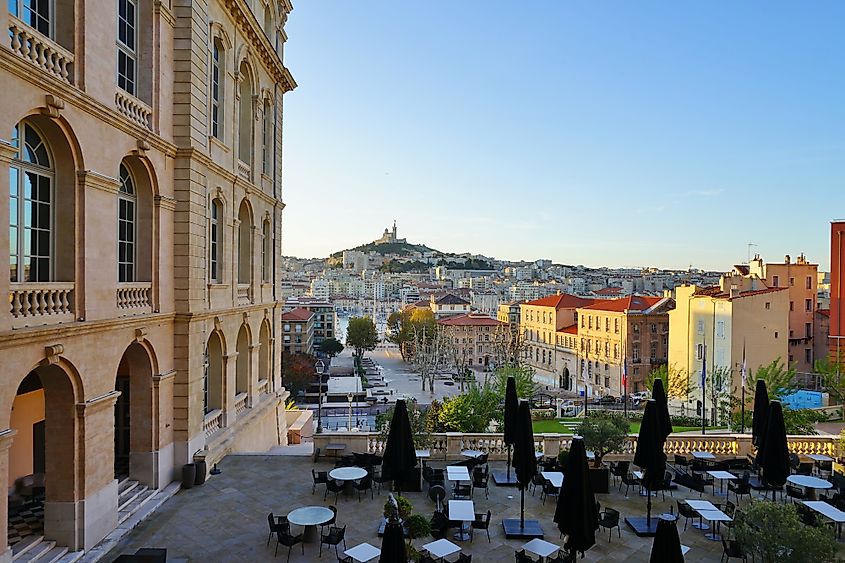 Intercontinental Hotels Group was established with the founder of Pan American Airways, Juan Trippe's vision to provide luxury accommodation at the end of every flight. Opening its first hotel in 1946 in Belem to eventually branch out into various brands, the chain proudly carries the motto of delivering "True Hospitality for Good" into the present day. Known for reliable mid-level hotels, IHG features nearly 6,000 properties with over 700,000 rooms under 18 brands, spread through some 100 countries. About three-quarters of its locations are in the Americas, while the Holiday Inn / Express also comprises three-quarters of all its properties. The Holiday Inn is one the most demanded hotels worldwide, geared at the middle-upper class with full services, restaurants, and many amenities. The Holiday Inn Express and the extended stay hotels are also considered mid-level but come with limited service offerings, such as a nice room, a breakfast, and some amenities, geared at casual travelers. Known for a strong reservation system and a powerful loyalty program, the company's easy-to-earn rewards is one of its biggest perks.
6. Best Western Hotels & Resorts - 4,037 properties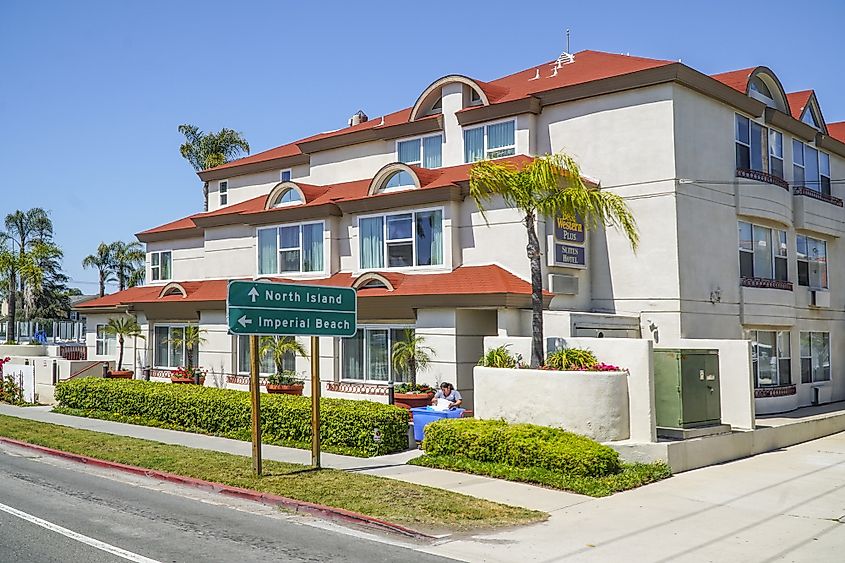 Founded in 1946 and headquartered in Phoenix, Best Western is present in over 100 countries under various brands. Franchising more than 4,700 locations, half of its properties are concentrated throughout North America. The less imaginative approach of diversifying its branches works in the chain's favor as a memorable moniker where one has probably once stayed at. Its brands include Best Western, Best Western Plus, and Best Western Premier, offering tourists and business travellers a linear approach at determining expectations and the amount of amenities to meet their needs. Having been levelly making over $6 billion in annual revenue, Best Western was not spared by the COVID-19 pandemic's destructive powers, but stays unfaltering in its goal to become a prominent player on Middle East's and Asia's markets. 
7. Radisson Hotel Group - 1,615 properties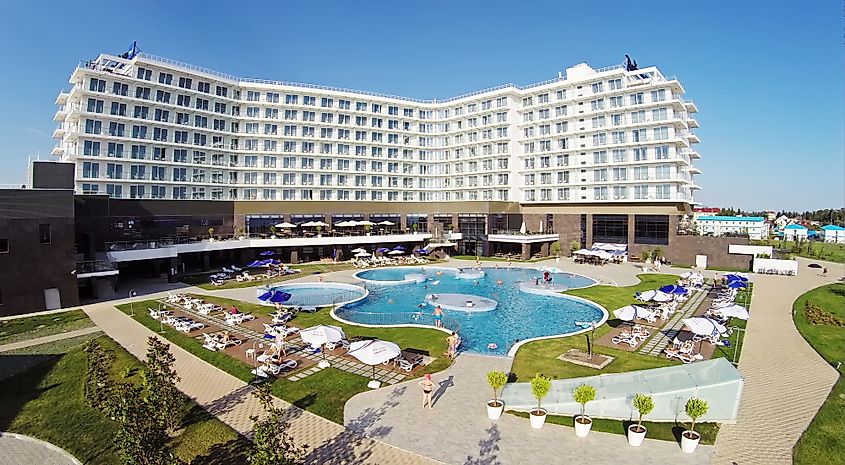 Based in Belgium, the Carlson Rezidor Hotel Group, rebranded as the Radisson Hotel Group features nine distinctive brands including Radisson, Radisson Blue, Radisson Red, and Park Inn by Radisson. With over 1,500 properties in more than 120 countries on five continents, the chain is known for the ongoing development of new extraordinary hotels through generation of synergies. With a motto, "Every Moment Matters", the chain strives for perfection in everything from amenities to services geared at the middle-upper class to be a consistent first choice in the mind of guests. Comprising a team of over 100,000 members playing the role of ambassadors, aside from delivering amazing hotel experience, the chain is also involved in targeting social issues regarding diversity, community, ethics, and the planet.
8. G6 Hospitality - 1,393 properties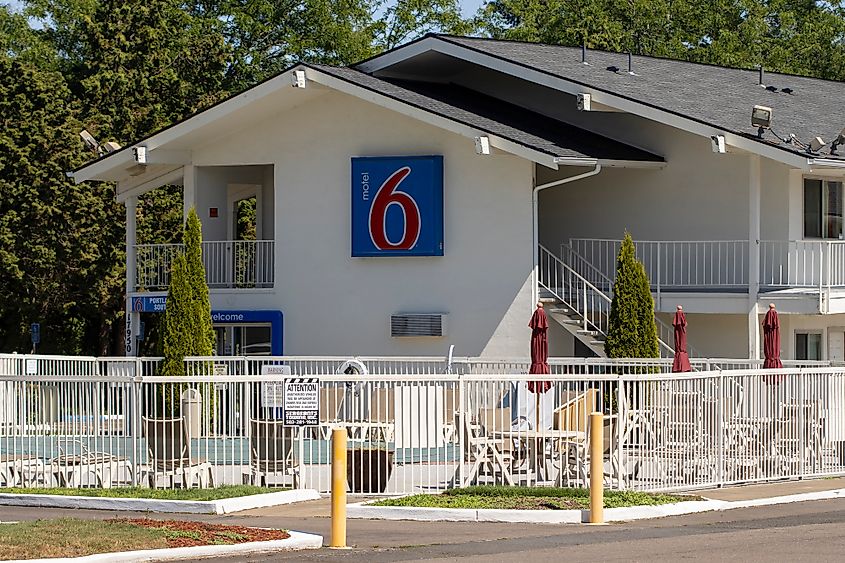 The company was started by two construction company owners, William Becker and Paul Greene with a vision to find an effective and reliable option for their employees and families while working on cross-country projects. Conceiving the Motel 6 economy lodging segment, they opened the first hotel in Santa Barbara in 1962. G6 operates in the United States and Canada under two brands known for its economy lodging locations, Motel 6, and Studio 6. In 2020, Motel 6 was named the "Best Budget-Friendly Hotel Brand" in USA TODAY's 10 Best Readers' Choice Awards, as well as ranked first in 2020 Military Friendly Employer survey and named "Best for Vets" employer by Military Times. Offering the best place to find a clean, comfortable room with great service at a fair price for over 55 years and counting, the brand calls itself synonymous to travel value. G6 also takes pride in its ability to satisfy anyone, from finding a few hours rest on a layover, to a convenient option for a business traveller, to long stays, while saving everyone money. The company continues to innovate, while building on the classic, such as the fresh new Studio 6 with more contemporary options. 
9. Aimbridge Hospitality - 1,380 properties
Formerly known as Interstate Hotels and Resorts, the chain launched in 2003 with eight properties, headquartered in Virginia. Aimbridge Hospitality is now a Dallas-based, award-winning, full-service hotel management, investment, and advisory services company. Despite being the newest chain, it is already leading as a global hospitality company featuring nearly 1,500 properties with some 82,000 rooms, spread through 50 states and 23 countries. Offering best-in-class hotel management services across the board, guests get a spectrum of choices, including full service, select service, luxury hotels, destination resorts, convention centers, and lifestyle hotels. The company prides itself on being a corporate citizen by engaging internally and externally to make a positive difference around, from within. In 2021, the chain expanded into Mexico upon acquiring Prism Hotels & Resorts (Grupo Hotelero Prisma).  
10. Hyatt Hotels Corp. - 1,020 properties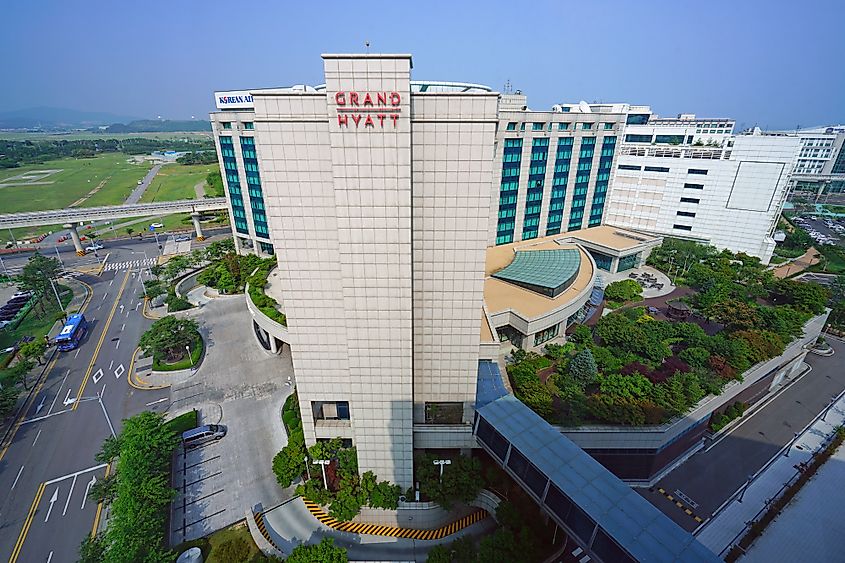 One of North America's largest management and hotel ownership companies started as a humble Hyatt House motel, bought by Jay Pritzker in 1957, adjacent to the Los Angeles International Airport. Grown with the help of his brother, Donald, the family business expanded over the years, both organically and through major acquisitions, such as the AmeriSuites. The family-owned hospitality came under a single entity in 2004, rebranding itself as the Hyatt Place. The original founder's son, Thomas Pritzker, plays the only active role today as the chain's executive chairman, while many of the Pritzkers still save stakes in the hotel group. Operating 14 brands and over 1,020 properties in more than 70 countries across six continents, the Hyatt hotels, resorts, and properties include brands like Hyatt, Park Hyatt, Andaz, Grand Hyatt, Hyatt Regency, Hyatt Place, and Hyatt House.
With varying staying options from highway hotels to luxury resorts, these chains are known for their giant footsteps in the field of hospitality. Vision and determination have brought them into the present day, and despite the COVID-19 pandemic, they strive to continue growing and expanding through innovation, evolution, and improvement.