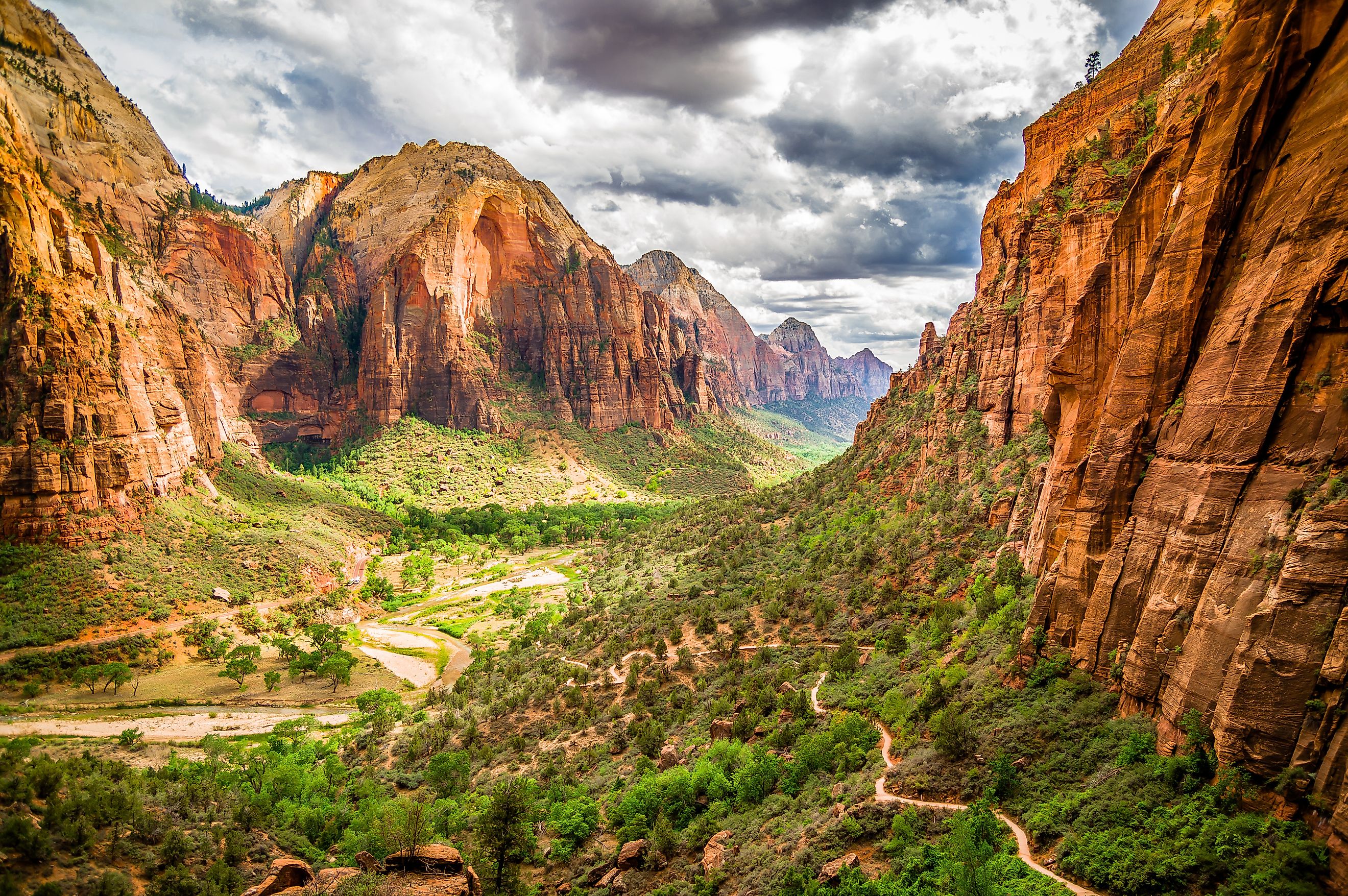 8 Ideal Destinations For A 3-Day Weekend In The Colorado Plateau
Any trip with the word "Colorado" in it will never be a hard sell. Nicknamed Centennial State because it officially became a state a hundred years after the signing of the Declaration of Independence, Colorado boasts more than 50 peaks that tower above 14,000 feet. Yet, the Colorado Plateau is not just confined to the state of Colorado. Instead, this vast expanse is anchored on the four corners area of the Southwest — and includes much of Arizona, Utah, Colorado, and New Mexico. Anyone who doubts that nature can be insanely wild should fill his car tank and head to these eight destinations in the Colorado Plateau. Not only is this vast expanse home to the country's highest concentration of national parks, but it also boasts unearthly beauty, heart-melting shapes, and intense colors. 
Desert Pearl Inn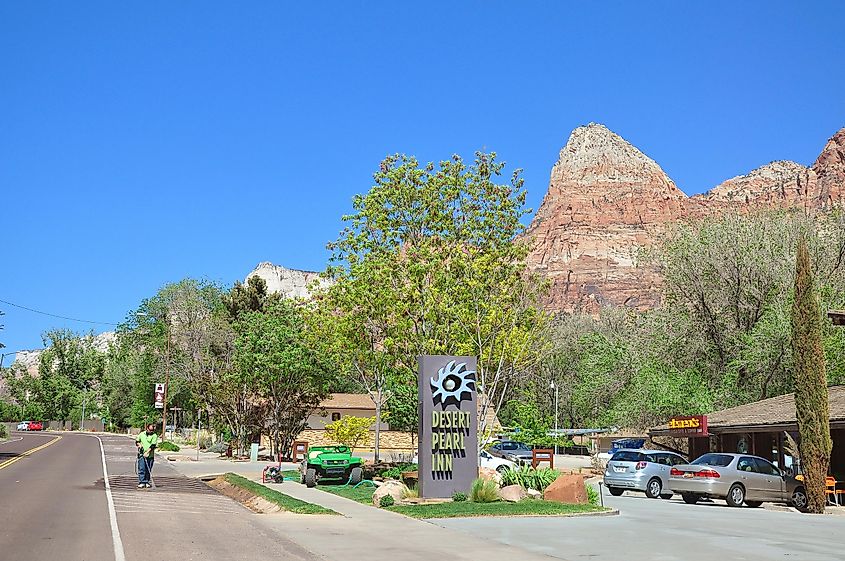 Hugging the Virgin River on the neck of Zion's heart-stopping cliffs, Desert Pearl Inn is located in a setting that is straight from a movie. Impossibly spectacular views, starry nights, and nature's finely-wrought handiworks await a first-time visitor to this hidden gem. Conveniently located right in the heart of Springdale, Utah— a speck of a town in southwest Utah, Desert Pearl Inn is 159 miles northeast of Las Vegas. A holder of Trip Advisor's Traveler's Choice Award, Desert Pearl Inn maintains a no-smoking policy that applies to all rooms, suites, terraces, and the pool area. Guests will enjoy strolling through the stone walkways that are framed by beams of old-growth Douglas fir. But here is the clincher. Desert Pearl Inn is less than a mile from Zion National Park.
Zion National Park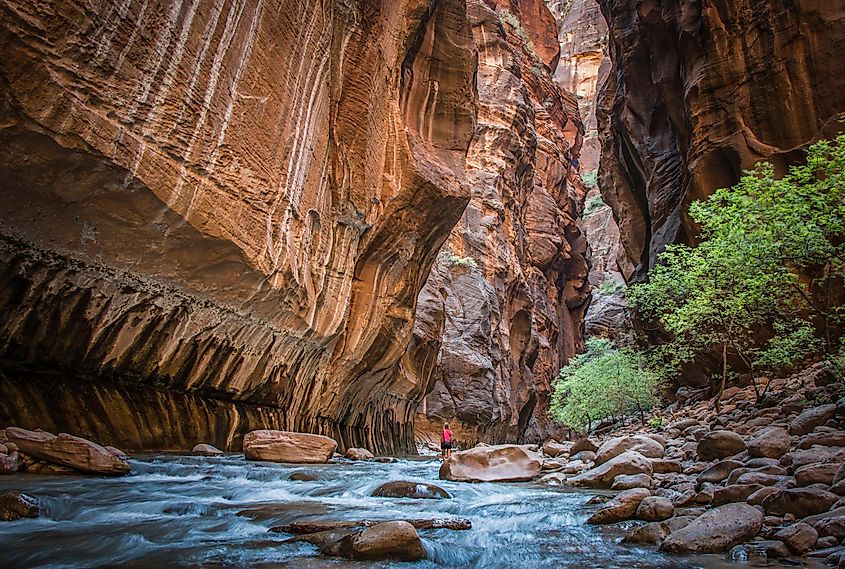 Wanderlust and desert dust. That is a short description of Zion National Park. Featuring deep-toned sandstone cliffs that can go as high as 2,000 feet, this Utah stunner is an outdoor lover's paradise. Think of suntanned canyons. Think of unbelievably scenic trails and overlooks — including Angels Landing. Then think of such animals as bighorn sheep, mule deer, and the California condor, one of the largest flying birds on Earth. A visit to one of the world's finest places for canyoneering will reward any type of adventurer. Besides Angels Landing, first–time visitors may want to explore Observation Point, an alternative overlook that offers some of the best views of the entire valley. As to the best time to visit, well, just work with cooler seasons.
Coral Pink Sand Dunes State Park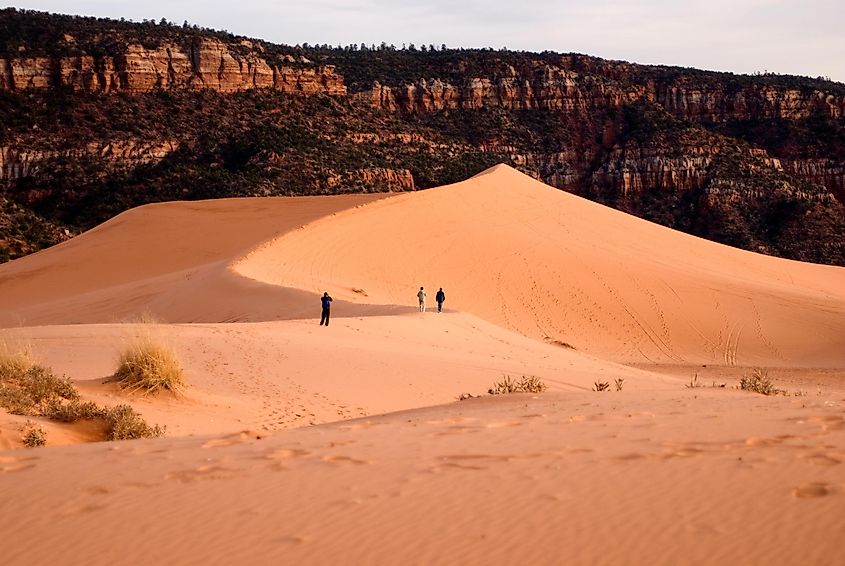 Here is the truth. It will be inexcusable to miss the only major dune field on the Colorado Plateau. Yet this overwhelming attraction is not a must-see just because it is the only major dune field on the Colorado Plateau. Here is also the only place on Earth where you can spot the Coral Pink tiger beetle. This park spans 3,730 acres, every inch of which is a delicious visual feast. As its name implies, this park is home to one-of-a-kind pink sand dunes colorfully framed by red sandstone cliffs. And if you are traveling from Desert Pearl Inn, you will be thrilled to learn that this under-the-radar spot is just about an hour away. Then again, you will want to go in the morning— and to leave your shoes in the car. There is something exciting about the feel of warm sand on the feet.
Vermillion Cliffs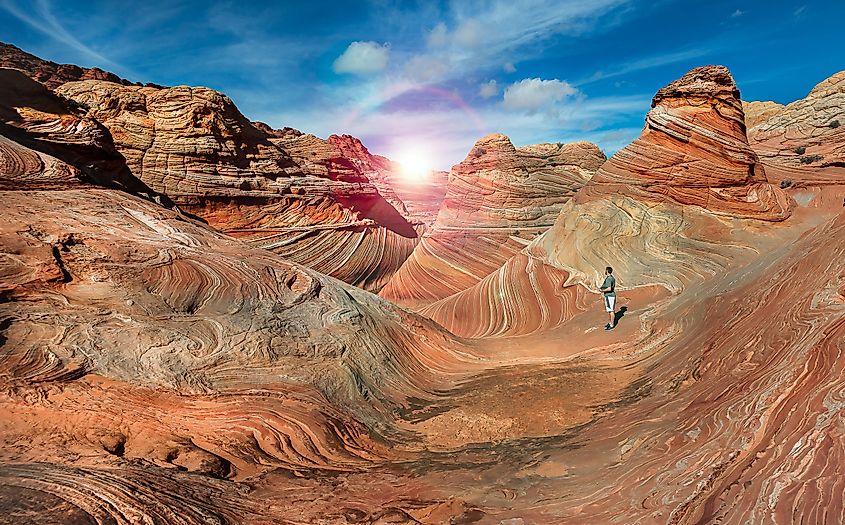 If you are already at Coral Pink Sand Dunes State Park, you will want to max out on all nearby attractions. That is the reason Vermillion Cliffs should be next on your itinerary. Located just about 10 miles from Coral Pink Sand Dunes Park, Vermillion Cliffs are a spellbinding geological formation whose raw beauty and multicolored cliffs may not be like anything you have encountered in nature. Scientists attribute the cliffs' stunningly red hue to the abundance of iron minerals in the rock sediment. Located in an unforgiving terrain that features spectacular slot canyons, no photo can do justice to this astounding landscape. If you can squeeze in some time, you will want to check out The Wave, a one-of-a-kind natural cathedral that simply has no peer on Earth.
Navajo Bridge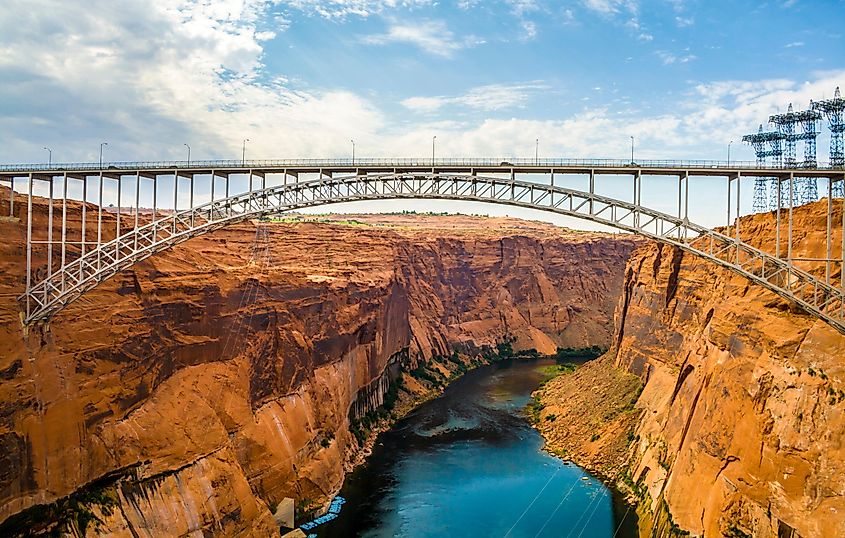 Imagine walking 470 feet above the Colorado River, the sixth-largest river in America, and on a bridge that is 750 feet in length. That is the Navajo Bridge. Yet it was not always this easy. Even after its completion in 1929, it was still the only spot to cross the Colorado River for an energy-sapping 600 miles. Previous to its completion, Lee's Ferry river crossing offered a pathway across the Colorado River. However, the ferry was not reliable, and months before the bridge's completion, it sank in an accident, taking in three men with it. The completion of the Navajo Bridge would later see ecstatic celebrations across the country. And why not? At the time, it was the highest steel arch bridge on Earth.
Horseshoe Bend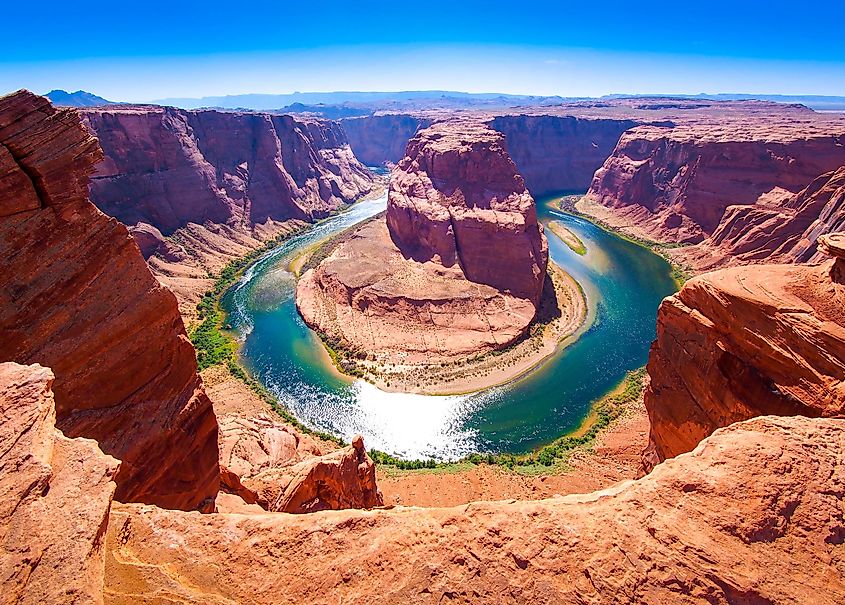 You will not come to the Colorado Plateau and then miss checking out an Instagram-worthy show-stopper, one of the most sought-after attractions in the Glen Canyon National Recreation Area. Shaped like a horseshoe, and hence the name, Horseshoe Bend is an intriguing 270-degree curve the Colorado River makes — as it creates a path through some unwilling sandstone rocks. For the views alone, this incised meander is spectacular and very much worth a pair of stupefied eyes. As a heads-up, this place can be overcrowded. But then again, this just speaks to the splendid appearance of a top Arizona gem. If you are wondering where Horseshoe Bend is located, turn your car toward Page, Arizona. From Navajo Bridge, you will cover 15 miles to Bitter Springs via US 89A— then cruise northeast for about 21 miles on US-89 S.
Lake Powell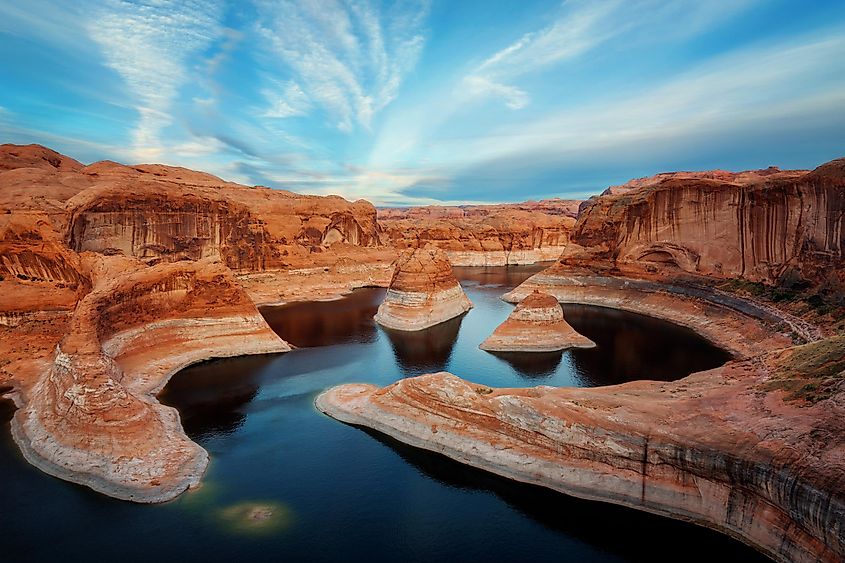 Since you are already in the Glen Canyon Recreation Area, a mind-boggling 1.25 million-acre expanse that is choke-full of heart-ravishing pleasure spots, you will not want to go back without setting eyes on the area's landmark attraction. It is no mistake that the Glen Canyon Recreation Area is almost synonymous with Lake Powell, the second-largest human-made lake in the United States. The largest, of course, is Lake Mead, Nevada. Yet Lake Powell is not all about size. It is not enough to write that this lake is beautiful. You must set your eyes on its shimmering waters, frames of breathtaking red rock canyons, and spectacular natural arches, especially the appropriately-named Rainbow Bridge, one of the world's largest known natural bridges. 
Desert View Watch Tower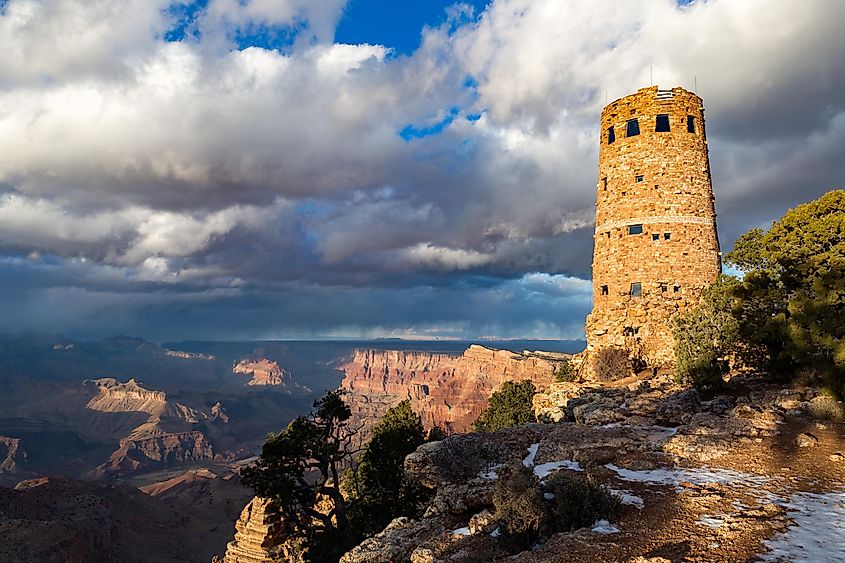 From the Beehive State, turn south to Arizona, home to what has been considered among the Seven Wonders of the Natural World. The Grand Canyon is just where a trip to the Colorado Plateau should end, especially if you want to end it on a high note. You may already know that the Grand Canyon is a mind-blowing 277-mile meander. You may also already know that the average depth of the Grand Canyon is 4,000 feet, the height of Dubai's Burj Khalifa and New York City's Empire State Building — combined. And that some sections are deeper and can go up to 6,000 feet deep. Here is the truth. You will not see every side of this heart-stopping marvel. A good piece of advice, therefore, is to pick a spot from where you can inhale its panoramic vistas. And Desert View Watch Tower, just two hours from Lake Powell, is just such a spot.
The Takeaway
It is no exaggeration that there is no geographical expanse in the United States that abounds with numerous natural marvels as the Colorado Plateau. Obviously, you may not be able to set eyes on all of the area's top attractions, especially in a 3-day adventure. However, the destinations mentioned above offer some of the most exciting and memorable experiences in this marvelous landscape.