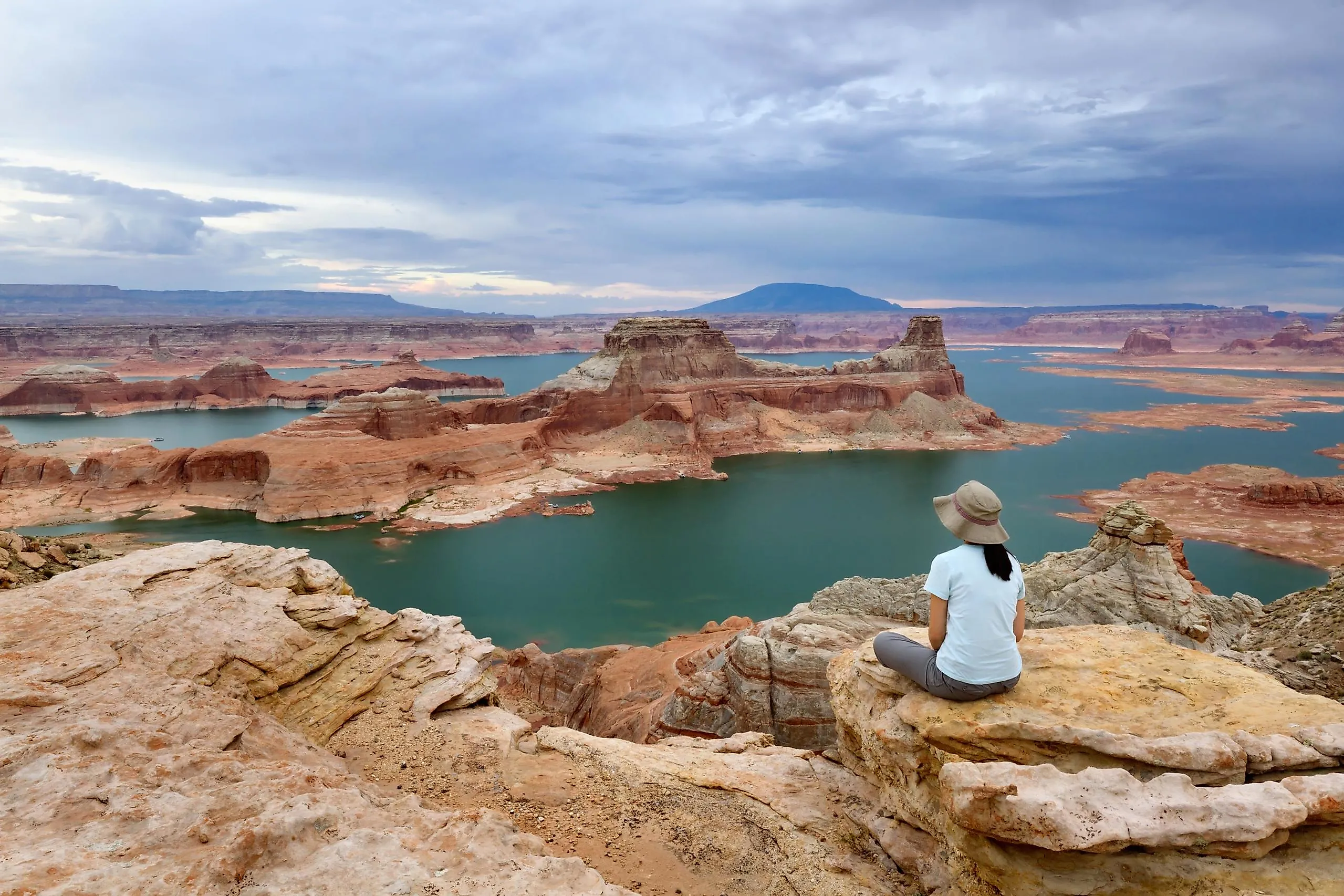 Situated on the Colorado River in Utah and Arizona, Lake Powell is the second-largest artificial reservoir in the United States, with Lake Mead being the largest one. With a surface area of 653 sq. km and a maximum depth of 177.6 m, the reservoir can hold up to 31,041 million cubic meters of water. It is a popular spot for tourists because of its natural beauty and stunning landscape, but climate change has caused great concern among environmentalists about its future. Here are some more facts about the Lake.
Lake Powell's Origin Story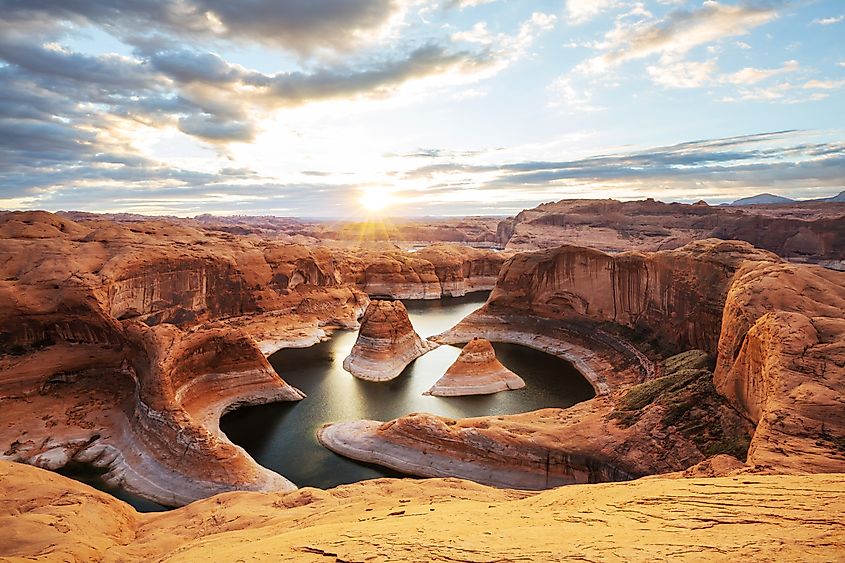 Lake Powell gets its name from explorer and army man Major John Powell, who led a three-boat expedition down the Green and Colorado Rivers in 1869. It came into being after the building of Glen Canyon Dam, which flooded Glen Canyon and created this reservoir to provide a consistent supply of water to the Lower Basin (Arizona, Nevada, and California) along the Colorado River. Its creation also resulted in the decision to build Glen Canyon National Recreation Area ten years later. This made the Lake a popular tourist spot that sees millions of tourists annually.
Controversy About The Lake
Initially, the United States Bureau of Reclamation wanted to build the dam in Echo Park, now Dinosaur National Monument in Colorado. A group of environmentalists opposed this, arguing that the area's history and scenery were too valuable and they could not lose it to flooding. They agreed to the Glen Canyon Dam as an alternative because the area was remote, and no one knew of it as much. They regretted this decision later, as do many environmentalists even today because they believe submerging a geological marvel like Glen Canyon, with all its historic value, was a travesty.
Building The Lake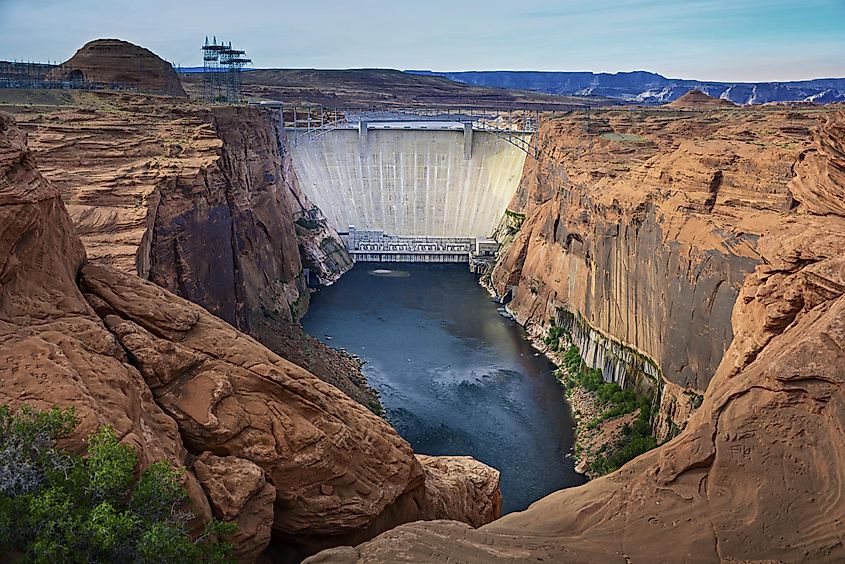 The Glen Canyon Dam's construction began with the push of a button. In 1956, President Dwight D. Eisenhower pressed a button from the Oval Office, which led to the first demolition blast to create tunnels. This would divert waters and allow work on the dam to begin. Construction took seven long years and cost $155 million and 18 lives. In 1963, the Colorado River was no longer restricted by tunnels, so it started to flood the canyon, and thus Lake Powell was born. It took another 16 years until it filled to its 3,700 feet capacity, though.
Geological Facts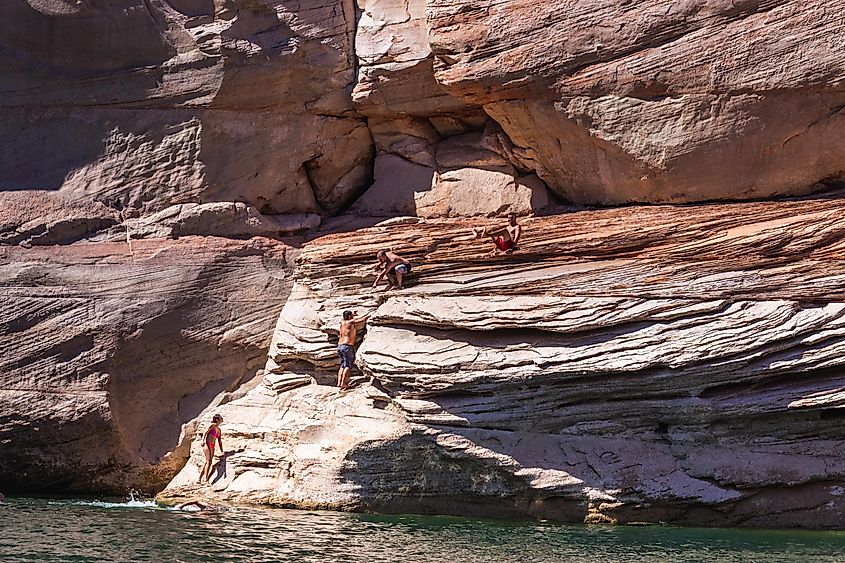 Lake Powell's turquoise water cuts through a maze of brilliant red-walled canyons. While it mainly spreads over Glen Canyon, it covers many, maybe up to 100, side canyons as well. The county's highest landform, the triangular-shaped Kaiparowits Plateau, rises above, with Lake Powell at its base. The area mostly remains undeveloped, and perhaps that is Lake Powell's greatest achievement: it makes the local scenery of Kane and San Juan Counties accessible to millions, as the area was too remote and inaccessible previously. 
Wildlife In The Lake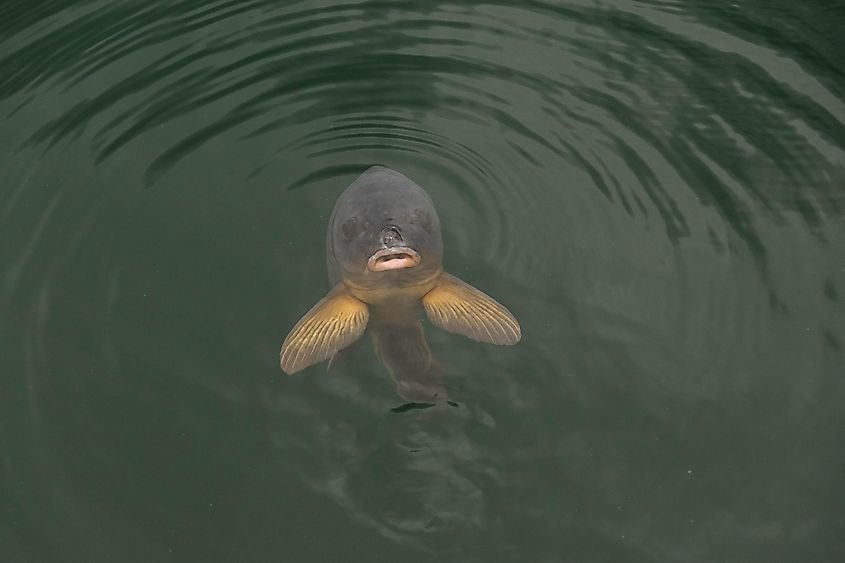 Fishing is one of the most popular activities for people visiting Lake Powell. The waters are home to several fish species, such as smallmouth and largemouth bass, striped bass, walleye, channel catfish, crappie, and bluegill. Unfortunately, authorities have also detected the presence of non-native quagga and zebra mussels at the lake since 2012. There are invasive species that harm the ecological and economic environment of space because they multiply rapidly, spread quickly, and encrust and clog boat engines and pipes. They also threaten the presence of the local fish population by removing algae and zooplankton in the water. 
A Tourist Destination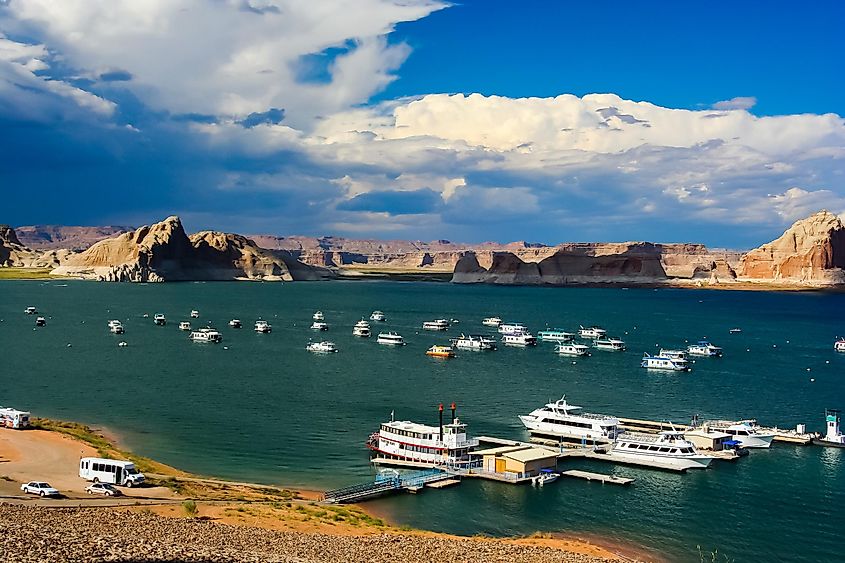 There is no denying that Lake Powell's creation resulted in a space that around two million people visit every year. The astounding scenery and the serenity of the location, with its beautiful turquoise water and breathtaking cliffs, make it a very desirable tourist destination. There is also a lot to do, from renting houseboats to kayaking, boating, swimming, fishing, hiking, camping, and rafting. Visitors can book tours to see the landmarks in the area, including Rainbow Bridge, the largest natural stone bridge in the world, Antelope Canyon, and other Secret Canyons. 
The Lake at Risk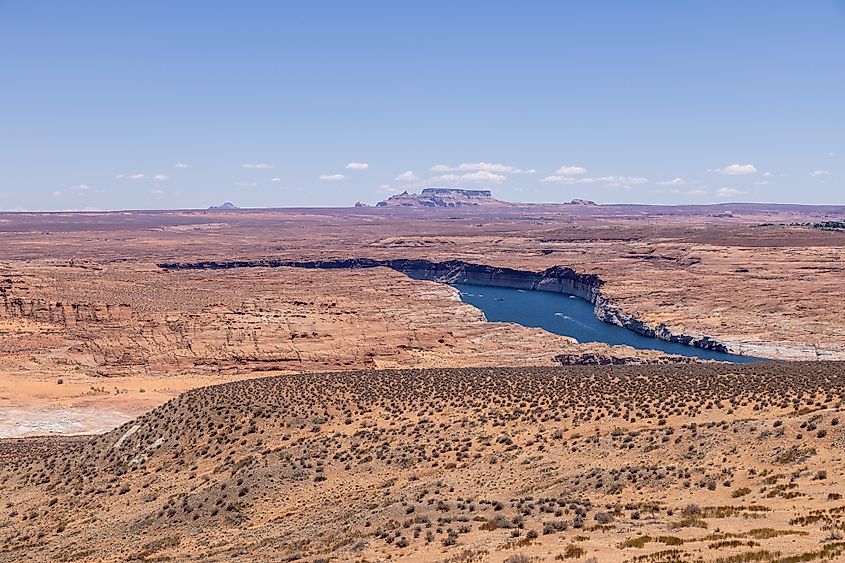 Climate change is real, and Lake Powell has also felt its impact. Colorado River has had lower-than-usual water levels since the beginning of this century, and this 20-year period has seen Lake Powell's water levels drop significantly as a result. What does that mean for the lake? For now, it means the shoreline has changed, and boat ramp access points, the landscape, and on-lake facilities have all been affected. Although researchers believe that the area has gone through droughts before, there is a high expectation that global warming will lead to more frequent droughts that last longer. Such conditions cannot be good for anyone.
Lake's Future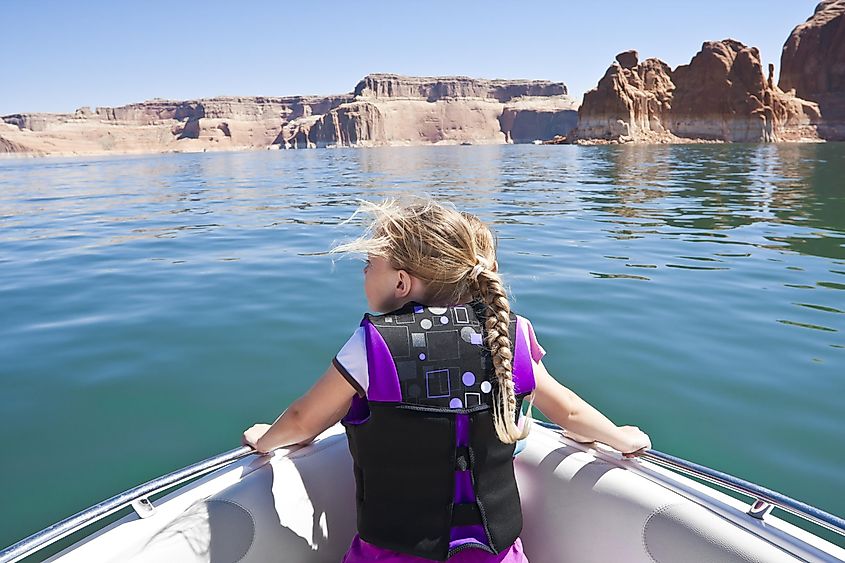 There have been calls to drain Lake Powell and allow it to become a "dead pool" so Glen Canyon could slowly come back to life. Environmentalists put this proposal forward with the suggestion to "fill Mead first" in the 90s. At the time, Lake Powell was filled to capacity, so this suggestion was more of an exercise to open up a conversation on Glen Canyon's importance and cultural significance. Since water levels of both Lake Powell and Lake Mead have dropped so dramatically in the past twenty years, it seems that sooner or later, experts will have to consider options to ensure all states along the Colorado River get a fair share of water. 
There are divided opinions on Lake Powell, with some environmentalists lamenting the historic decision of its creation but other people firmly supporting it. In either case, it is hard to deny that the Lake is an iconic landmark and has delighted and awed millions of people since its creation.