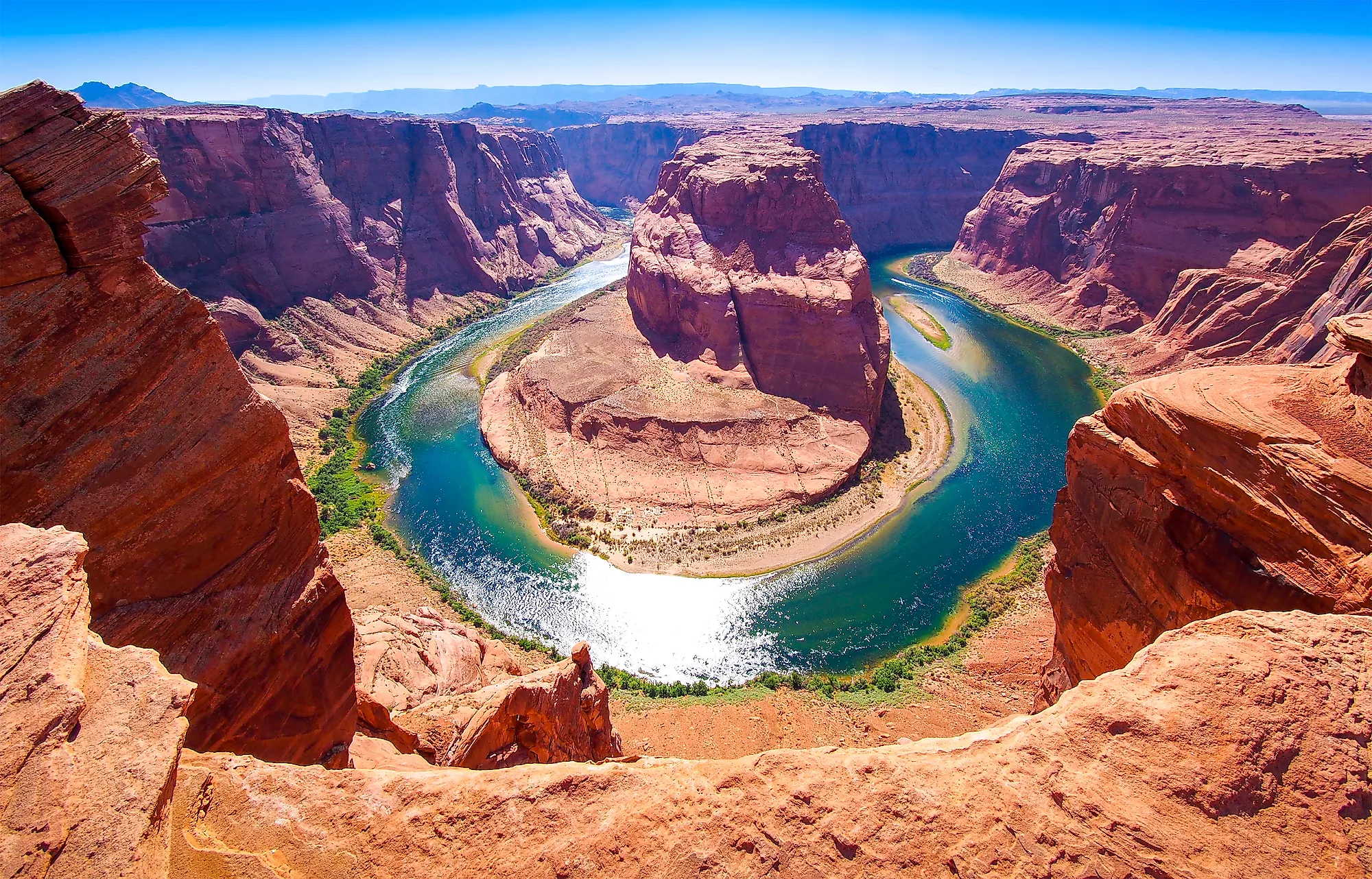 The 270-degree horseshoe-shaped curve, carved into the Arizona bedrock by the Colorado River, is one of the state's most photogenic landforms. Approximately 2-million annual visitors flock to hike, fly, or float around this geological marvel. This makes Horseshoe Bend a worthy rival to the nearby Grand Canyon (or a synergistic companion) for Arizona road-tripping. 
Geography Of Horseshoe Bend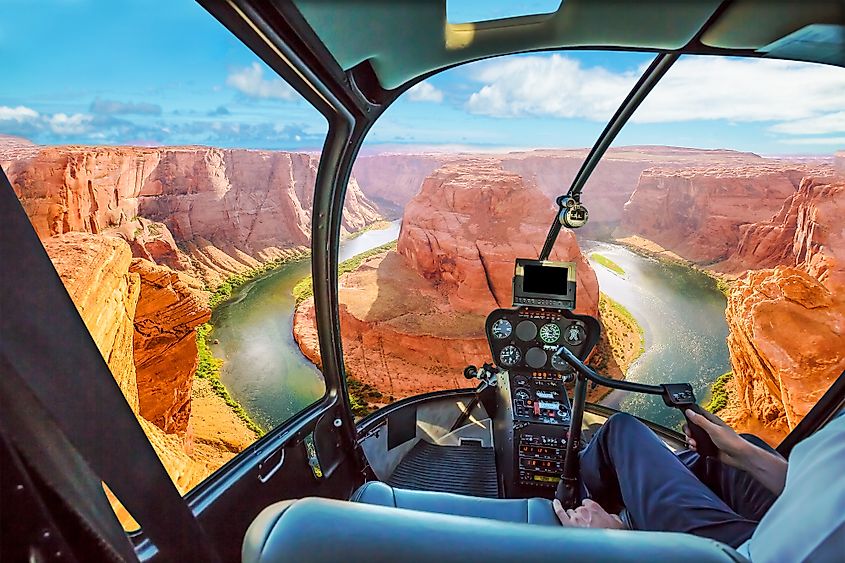 Horseshoe Bend is located within Glen Canyon National Recreation Area in Northern Arizona, United States, near the Utah border. This places it just 9-miles upstream from the Grand Canyon National Park boundary, though the visitor center/village is about 133-miles to the Southwest. The Utah-based Zion National Park is also within shouting distance, lying approximately 119-miles to the West. The closest city to Horseshoe Bend is Page, Arizona, a mere 5-miles North on US Route 89. The closest major city is Flagstaff, Arizona, which sits about 130-miles South, also down 89. 
Important Landmarks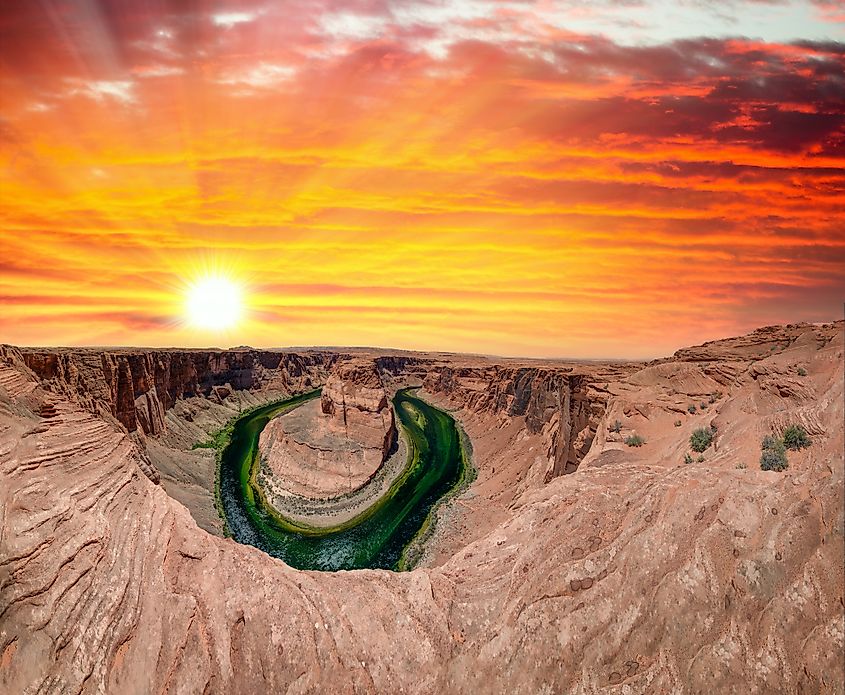 The famed, meandering Colorado River and the 1,000-foot striated Navajo Sandstone cliffs together form the majesty of Horseshoe Bend. No one entity can be singled out as the primary feature, as they have worked cohesively over millions of years to create this popular landmark. That being said, the sustained tenacity of the principal river can certainly capture one's attention and admiration for a prolonged moment. However, as sure as the sun will set (which is quite a coveted sight at Horseshoe Bend), one's gaze will inevitably shift to the alluring red hue of the surrounding cliffs and the 5-million years' worth of stratified erosion that they reveal. 
The Climate Of Horseshoe Bend
The climate of Horseshoe Bend can be ascertained by looking at the data for the adjacent city of Page, Arizona. Page experiences an average annual temperature of 60 degrees Fahrenheit. This ranges from a high of 95 - 97 degrees in July to a low of 26 - 28 degrees in December and January. This region sees an average of about 6.76 inches of precipitation per year. The wettest month is typically October, which averages 0.98 inches of total precipitation. The driest month is typically June, which registers a mere 0.16 inches of rain. The average annual humidity comes in at a dry 35%. Horseshoe Bend is open year-round, and the best time to visit depends on one's subjective weather preferences. Either way, always bring lots of water and protection from the sun. 
Attractions At Horseshoe Bend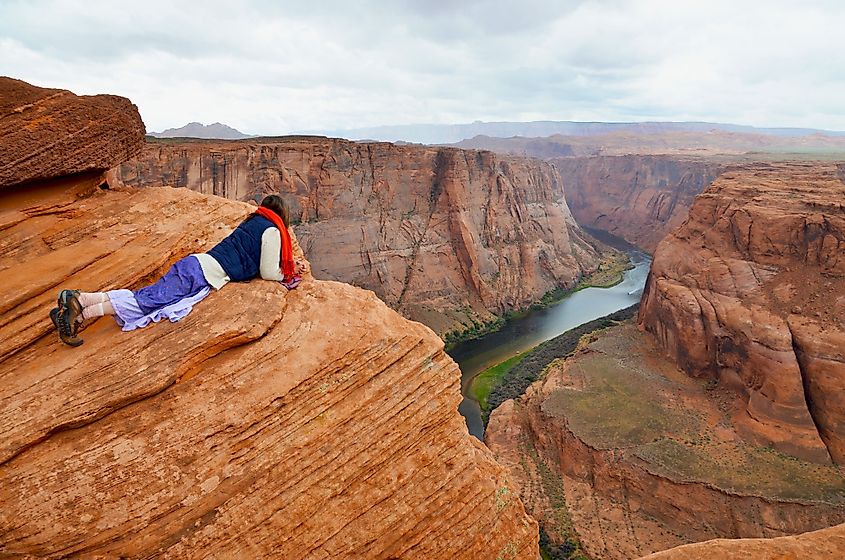 Horseshoe Bend can be explored from many angles. One may first wish to hike the 1.5-mile (round-trip) wheelchair-accessible path to the impressive overlook. This is the quickest and easiest way to take in the full expanse of the canyon and snap some of those practically mandatory pictures. Next, to get more up close and personal, consider taking the half-day rafting tour down the Colorado River, starting at the base of the Glen Canyon Dam. Finally, those lucky enough to take an aerial tour will get a bird's-eye view of Horseshoe Bend and a full appreciation of the region's vastness and geological time. You will surely gawk at the red rock stretching to the horizon, as well as the snaking river that winds its way incorrigibly through. 
Any trip to Glen Canyon National Recreation Area must also include a trip to the Descending Sheep Petroglyph Panel. This ancient rock art is believed to have been carved, over separate periods, between 3,000 - 6,000 years ago (but possibly even older) by the Indigenous Anasazi/Ancestral Puebloans. This site underwent a voluntary closure for January and February 2020. This was done to protect against vandalism and as a sign of respect to the affiliated Native American Tribes. It is wonderful that we get to visit these places and appreciate the history of the planet and our ancestors. Please, be aware of the impact of your actions so that future generations can continue to enjoy the same phenomena.  
A visit to Horseshoe Bend in Northern Arizona will not soon be forgotten. It is a fabulous place to observe the forces of nature, which somehow, and seemingly randomly, forge immensely beautiful forms. Perhaps inspired by the Colorado River, our ancestors did some rock carving of their own. This makes it an all-around wonderful place to appreciate this planet's natural and artificial interplay. Given the recent surge in popularity, expect to share this glory with many of your peers.