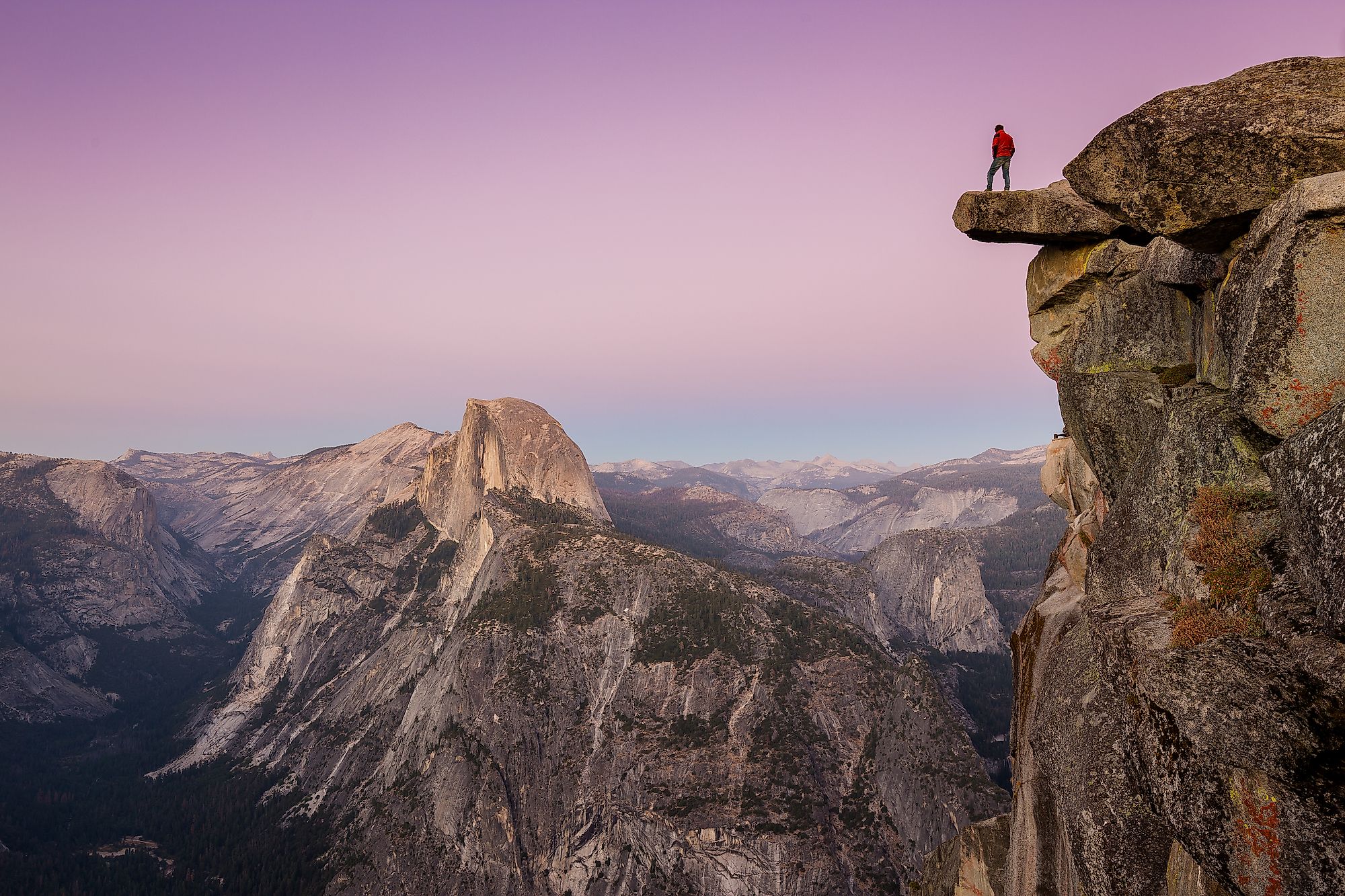 13 Most Breathtaking Hikes In US National Parks
The United States is home to some of the most spectacular hikes anywhere in the world. The options are endless and diverse. There are long-distance treks that exceed hundreds and even thousands of miles. There are also single-day outings to historic sites, curious natural formations, steep grunts to sweeping viewpoints, etc. Some of these hikes are in remote regions of various mountain ranges or deserts, and some are interwoven into urban settings. This list is all about highlighting some of the most breathtaking hikes in the country. Whether the feeling comes from a hard-earned grind, or moments after leaving the parking lot, these hikes all display some of nature's divine wonder. 
John Muir Trail, California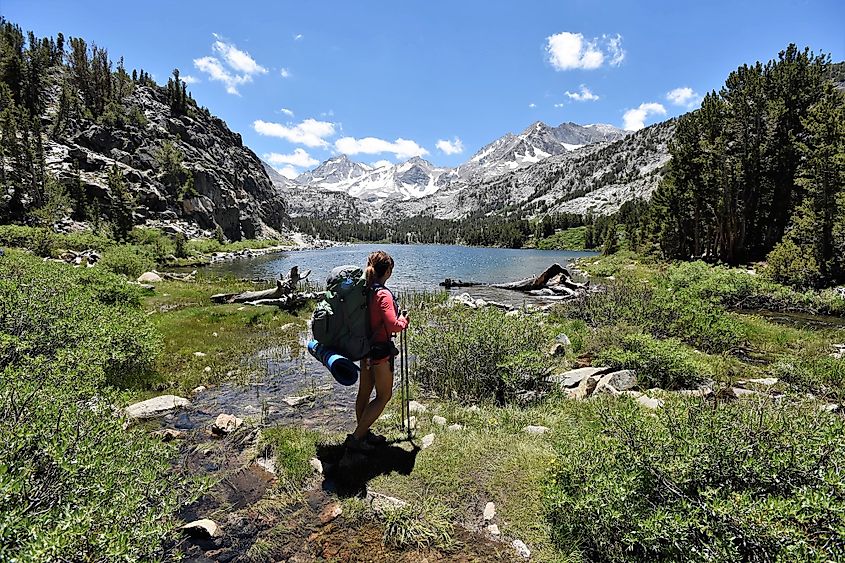 This 211-mile hike from Yosemite Valley to Mount Whitney received its name from the legendary conservationist and inspired nature-writer John Muir. He was so taken aback by the beauty of Yosemite Valley that he became a lifelong champion for the creation of national parks and the preservation of America's natural marvels. Hikers of the JMT can expect a generally pleasant climate, but a strenuous effort as the trail ascends six mountain passes in the High Sierra range. Those bold enough for the challenge will be rewarded with endless, striking vistas. Due to the worldwide appeal and keen conservation strategy, permits, quotas, and strict guidelines are all in place.
Muir Woods National Monument, California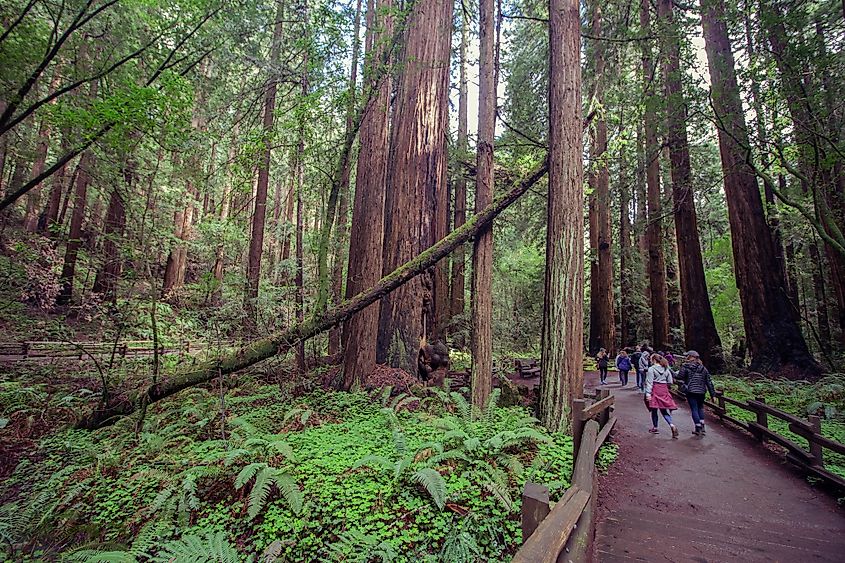 Anyone seeking a more accessible, day-hike version of the John Muir experience will be blown away by the Muir Woods National Monument, just north of San Francisco. This historic site was established in 1908, after Congressman William Kent donated the land to the federal government, in order to have it protected from rampant logging. Tree-huggers can ogle at the towering redwoods in this 1000 year old forest, all while cruising the established boardwalks, or by ditching the crowd and stringing together a network of modest hiking trails. No matter what you choose, Muir Woods will leave a lasting impact. 
Half Dome, California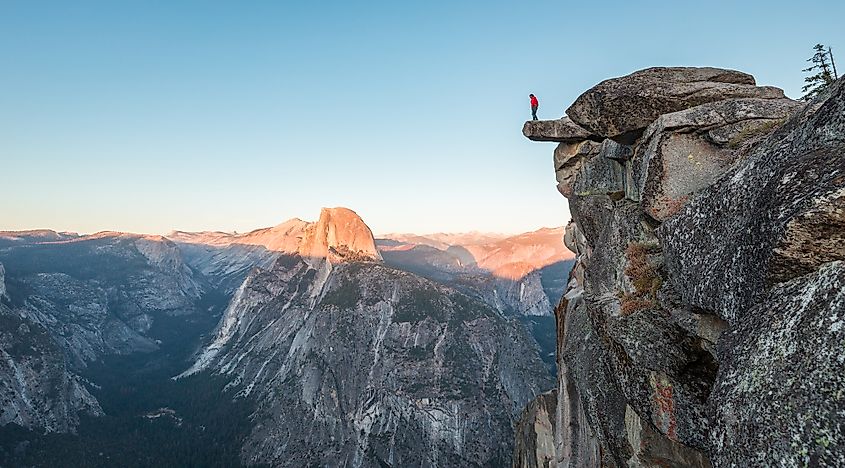 California trails could fill several lists of their own, but when it comes to breathtaking, Half Dome in Yosemite Valley has to get a shout-out (or a yodel). If you're a world-class climber, then you can take the vertical route. But, if you're a mere mortal who enjoys impossibly striking views, then the backside hike of Half Dome is something for the bucket list. Though extremely popular, hiking Half Dome is still quite intensive. Good fitness, surefootedness, and permits are required to tackle this hike. An early start is essential for the 17-mile (round trip) outing that gains nearly 4,800-feet of elevation from base to summit. The final crunch includes an exposed, hands-on, tourist-queuing, cable-mounted trudge up the mountain's steep, smooth, slightly convex back. It is important to pack enough food, water, and essential gear, as the trek is varied, and the weather can present problematic twists. 
Wonderland Trail, Washington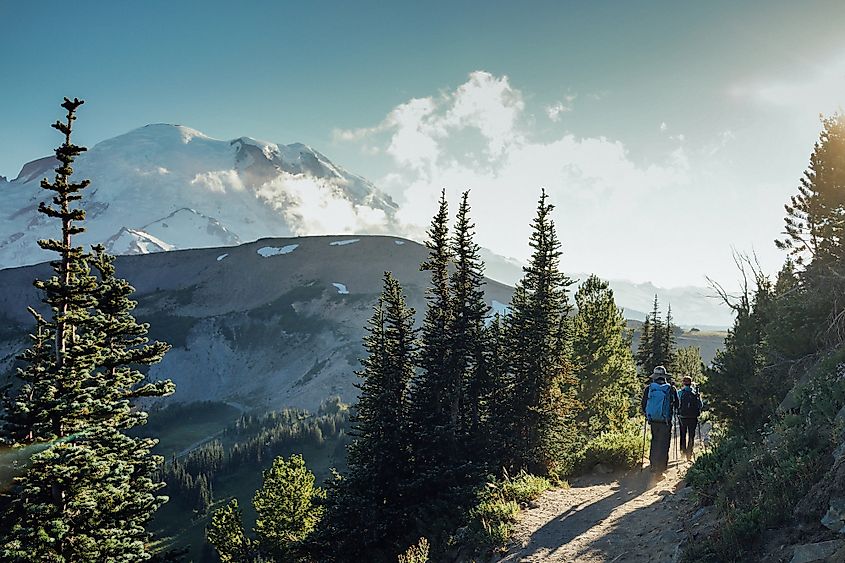 There's something endlessly satisfying about an immersive, circuitous hike through mountainscape wilderness. The Wonderland Trail is a 93-mile trek, which gains 22,000 feet in cumulative elevation as it circumvents Mount Rainier in Mount Rainier National Park. The 18 backcountry campsites provide ample options for breaking up the journey. Each day promises to reveal new aspects of pristine nature, including crisp glaciers, verdant meadows, roaring waterfalls, and volcanic ridges stretching out from the omnipresent and iconic Mount Rainier. 
Hoh River Trail, Washington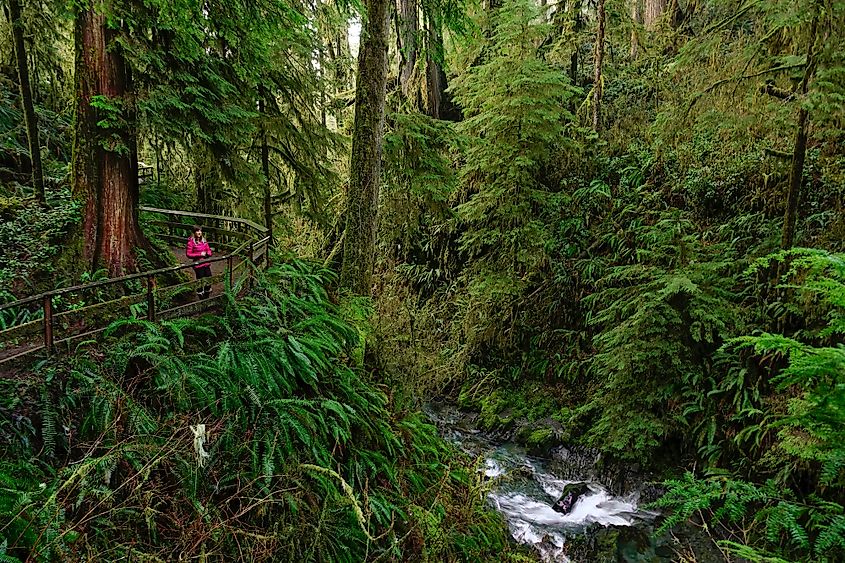 Sometimes an adventuring soul needs a long bath in a forest. The Hoh River Trail in Olympic National Park, is a continuous stroll through a place that takes the breath away, but restores the spirit. Hoh River isn't the place for bagging summits or photographing curious formations. Instead, the magic of this hike comes more from the immersion in a sea of temperate rainforest ubiquity. The out-and-back trail features several worthy turn-around points, with Glacier Meadows being the furthest terminus, between miles 17 and 18. The trail is relatively flat for the first 13-miles and then escalates from there. 
Angel's Landing, Utah
Angel's landing takes one's breath away not only because of the epic views of Zion National Park but also because of a healthy dose of fear. This perilous, knife-edge ridge ascends what can only be described as a shark-fin cut out of rock. Similar to the final stretch of Half Dome, the narrow ridge of Angel's Landing is not for the faint of heart, even with the assistance of chains, guardrails, and cut steps. A slight lean in either direction reveals vertigo-inducing, thousand-foot drops. Despite the nerve-testing specs, this 5.4-mile hike, which gains 1488 feet in elevation, has become so popular that permits are required as of April 1 2022. 
The Wave, Utah/Arizona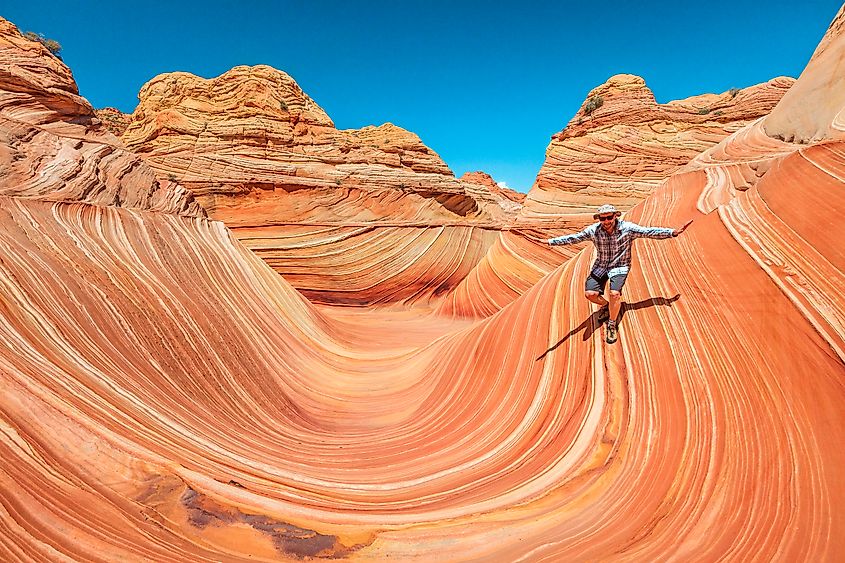 As with many of these breathtaking hikes, spectacular scenery breeds popularity. In the case of the Wave, in the Coyote Buttes North area of the Utah-Arizona border, the surreal landscape also demands exclusivity (i.e. tight quotas). The patient pre-planners, or the lucky few who claim walk-in spots, will get to experience the awe-inspiring, petrified sandstone bands, seemingly ever-changing with the arc of the sun. There are many other areas of interest to see within this protected, rust-colored landscape for those unable to secure permission to hike into the Wave. Visitors can check out other fascinating rock formations, dinosaur tracks, and even "The Second Wave." 
Rim-to-Rim, Arizona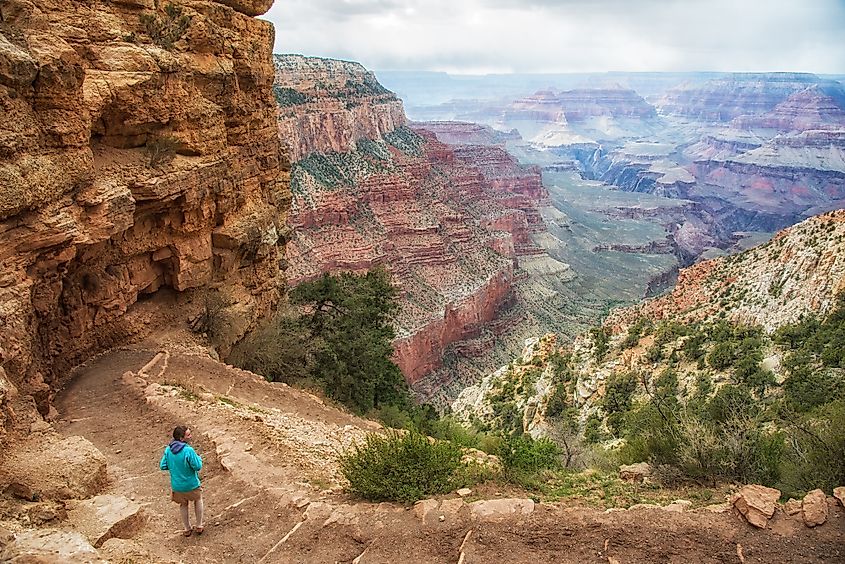 If you're fit and prepared, the Grand Canyon's Rim-to-Rim hike is a life-altering challenge. The 24-mile, point-to-point path will require a bit of pre-planning for transportation or lodging. If you are averse to logistics but supremely well-trained, there is also the Rim-to-Rim-to-Rim, out-and-back-style, multi-day hike or single-push ultramarathon. In any case, each switchback will bring you steadily through time as you move between millions of years or slowly carved strata and towards the Colorado River. Less than 1% of the 5-million annual visitors to the Grand Canyon make the trek down to its base. For those who do, starting with a sustained downhill can be deceivingly invigorating (though tough on the knees). Just remember that unlike most hikes, no matter which way you go, the hardest part comes last. 
Jenny Lake, Wyoming
Not every captivating hike has to be difficult or exclusive. Jenny Lake offers fairly smooth sailing for anyone fit enough to walk just under 8-miles of moderately undulating terrain. Though it doesn't require as much from its participants, Jenny Lake still gives as much as any trail on this list. At all times, the views of the emerald lake, carved out by glaciers, are magnetic, and the distant, framing mountains beckon the imagination. It is no wonder that Jenny Lake is one of the star attractions in Grand Tetons National Park. 
Lost Mine Trail, Texas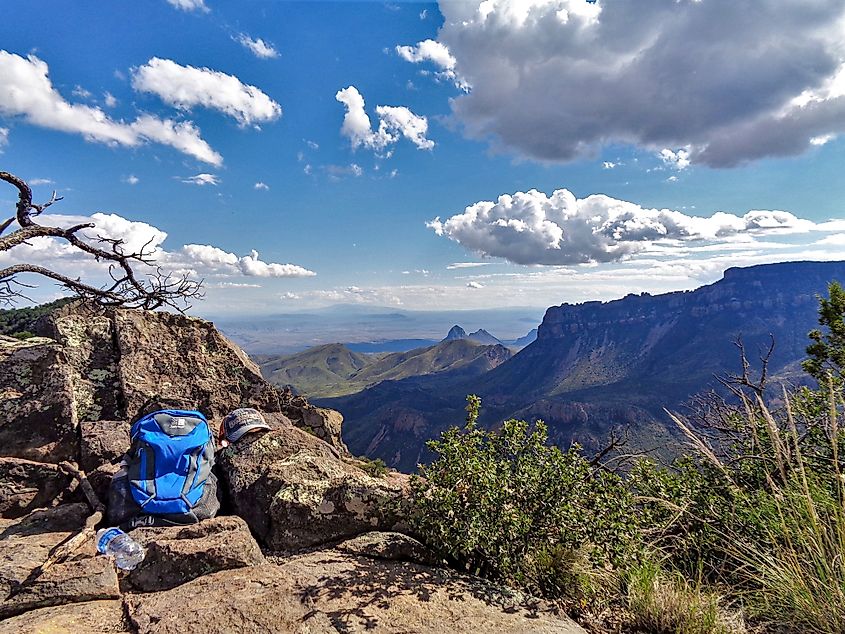 The Lost Mine Trail is a great way to explore the quintessence of Big Bend National Park. At less than 5-miles and around 1000-feet of climbing, this hike is an approachable option for anyone with moderate fitness and strong knees (or trusty hiking poles). During the day, views of canyons, basins, and mountains are rewarding, but if hikers come prepared for the night, they will be treated to magnificent star-gazing. This is made possible because Big Bend National Park registers some of the lowest light pollution in the United States. Expansive natural settings can make one feel small, but the infinite expanse of the cosmos – that puts things into jaw-dropping perspective. 
Mount Katahdin, Maine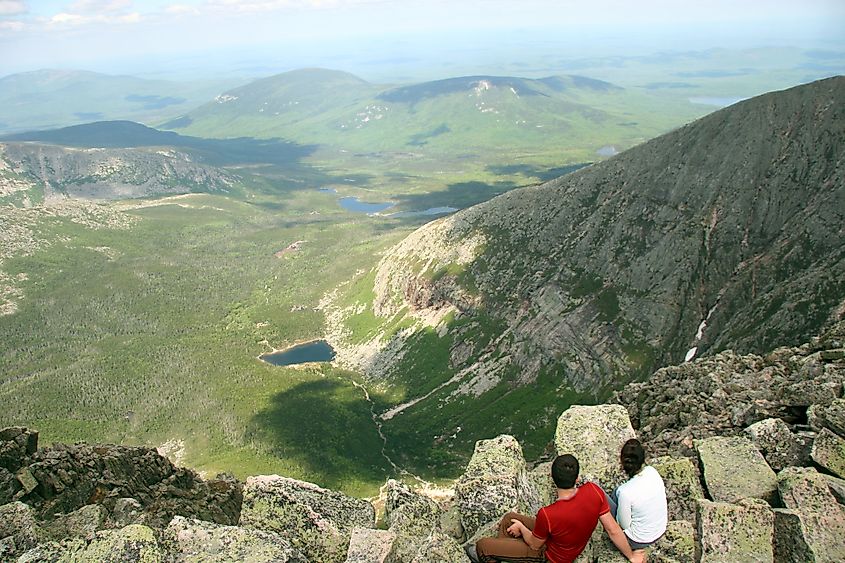 If you have just finished the 2,200 miles long Appalachian Trail, then the totality of that experience will surely be breathtaking. If you are just starting the 5-7 month southbound trek, this steep first climb will reveal the startling immensity of what is to come. And if you are simply looking for a moderate, 8-mile (round trip) day-hike that takes you to an exceptional lookout atop Maine's highest peak, then your amazement shall not leave you with a surplus of oxygen. Mount Katahdin is the focal point of Baxter State Park and the terminus, or kick-off, to the historic Appalachian Trail. Because of its popularity, parking at any one of the trailheads requires a reservation. However, it is a small price to pay for scrambling up the ancient, crumbling mountain that once rivaled the Himalayas. 
Mount Eielson Loop, Alaska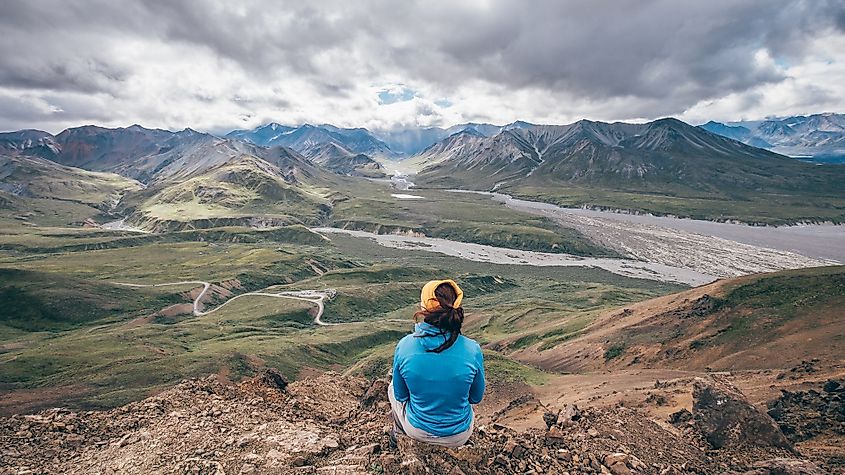 Mount Eielson Loop in Denali National Park is around 14-17 miles, depending on how it is hiked. Unlike many other stand-out hikes on this list, Mount Eielson Loop doesn't follow a set trail as blazed trails are not an adopted practice in the park. Instead, hikers utilize a map and compass to find their way around the 5,802-foot titular mountain. Along the way, the few lucky adventurers who are permitted to set out into these lands each day will experience inspiring views of the snow-capped peaks in the Alaskan Range. On a clear day, the distant yet foreboding Denali comes into view. Since solitude is one of the preserved features of this hike, come bear prepared. 
Kalalau Trail, Hawaii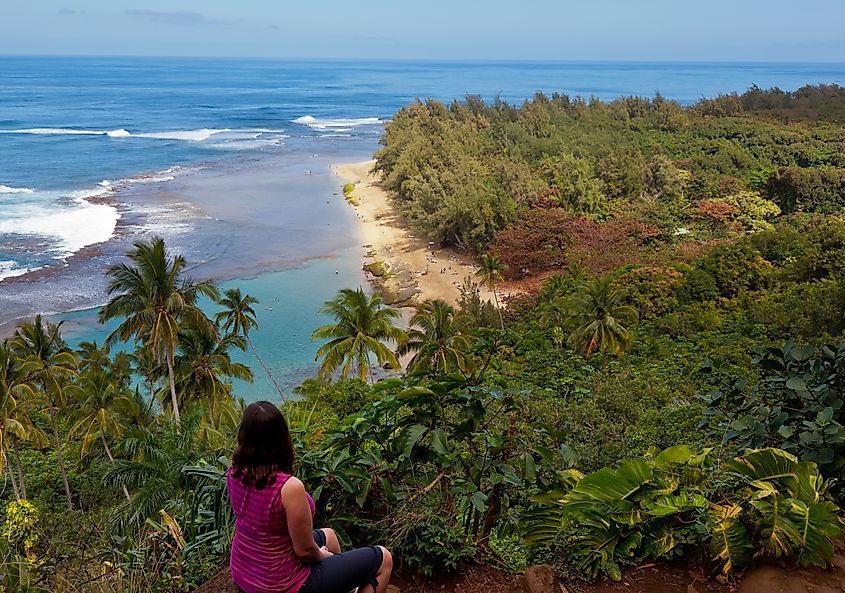 Located on the island of Kauai, the Kalalau trail stretches 11-miles along the Nāpali Coast, from Ke'e Beach to the secretive Kalalau Beach, all of which is protected by the umbrella of the Hawaii State Parks system. The rugged coastline, numerous lush valleys, and paradise-invoking beaches make this a must for any avid hikers looking for something different. The Kalalau trail offers the only land access to these island parts, leaving them particularly untouched. Given the other-worldly surroundings, it will be hard to avoid checking over your shoulder for dinosaurs.