National Parks in Wyoming, USA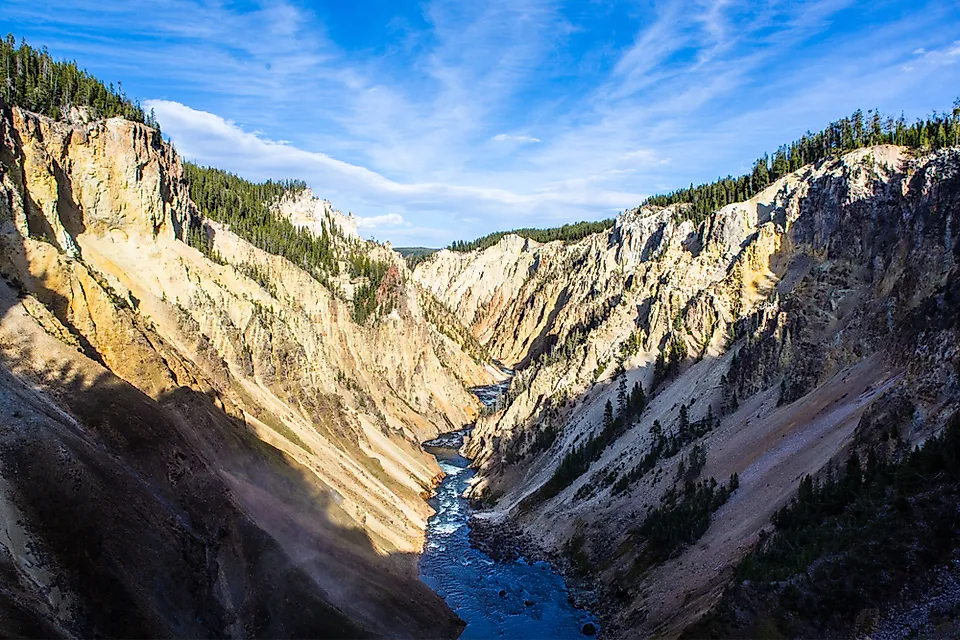 The US state of Wyoming is located in the western region of the country, where it is primarily covered by the Rocky Mountain range. The state covers a total area of 97,914 square miles and shares borders with Nebraska, Colorado, South Dakota, and Montana. It is known for its natural beauty, large areas of which have been protected as reserves and parks. Additionally, Wyoming is home to two national parks: Grand Teton and Yellowstone. This article highlights both parks.
Grand Teton National Park
Grand Teton National Park is located in the northern region of Wyoming, close to its western border. The park covers a total area of 480 square miles and is home to the Teton Mountain range, which is the youngest range within the Rocky Mountains. The park's tallest peak, known as Grand Teton Mountain, has an elevation of 7,100 feet above sea level. Its vast range of elevations gives the national park a number of unique ecosystems, which support rich biodiversity. Some of these ecosystems include: deciduous forests, fir and spruce forests, wetlands, and alpine tundra. Due to the large number of habitats, Grand Teton National Park is home to 1,000 plant species, over 300 bird species, at least 61 mammal species, 4 reptile species, and a number of freshwater fish species. Some of the most common trees growing with the park include: aspen, whitebark pine, blue spruce, and willow. Additionally, Grand Teton National Park is known for an abundance of animals, including: coyote, grey wolf, river otter, bison, moose, elk, porcupine, and beaver.
Grand Teton National Park is a popular tourist destination, particularly with individuals who enjoy hiking, camping, fishing, mountain climbing, and boating. The park has at least 900 camping sites and more than 200 miles of hiking trails.
Yellowstone National Park
Yellowstone National Park has been a UNESCO World Heritage Site since 1978. The park covers an area of 3,468.4 square miles and stretches over three US states: Wyoming, Idaho, and Montana. The vast majority of the park (about 96%) is located in the upper northwest corner of Wyoming, where it spans across both Park County and Teton County. Yellowstone National Park also straddles the Continental Divide, which marks the division between waterways that flow into the Pacific Ocean and those that flow into the Atlantic Oceans. Wyoming's section of the park includes Yellowstone Lake, which sits at 7,733 feet above sea level and has a surface area of 136 square miles, giving it the highest elevation and largest surface area of any freshwater lake in North America. Interestingly, the wildlife species currently found in Yellowstone National Park are the same that existed before European exploration and settlement. The park is recognized as having one of the greatest varieties of animal species in the 48 contiguous US states, and is home to nearly 60 mammal species, including: grizzly bears, american bison, elk, black bear, mule deer, and bighorn sheep. Additionally, the park is home to more than 1,700 plant species.
Yellowstone National Park is one of the most popular national parks in the United States and receives an average of 4.25 million visitors each year. Hiking, camping, wildlife viewing, and fishing are popular activities in the park.