The Khasi People of Meghalaya: Where Women Rule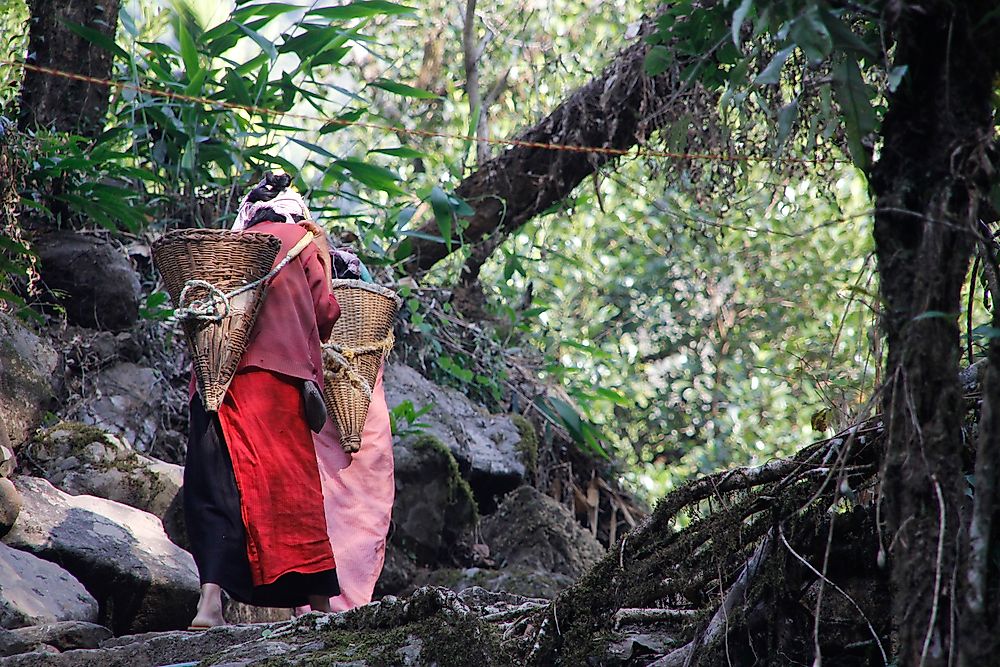 When the Indian Constitution came into force on January 26, 1950, all citizens of India, irrespective of their religion, birth, race, and gender, were granted the fundamental right to equality. However, even after seven decades of freedom, the country continues to be bombarded with complaints of gender bias related to a plethora of socioeconomic spheres including the right to inherit. On most occasions, these woes are felt by the women belonging to the patriarchal society that is predominant in most of India.In parts of Northeast India, however, the picture is very different. In order to get a sense of the matrilineal culture that exists elsewhere in the country, World Atlas visited Meghalaya, an Indian state in the northeast.
Meghalaya: Spectacular Landscapes, Friendly People
Often called the "Scotland of the East," a name given by the British during their colonial rule of India, Meghalaya has an abundance of greenery and spellbinding landscapes. Rolling, green hills riddled with numerous rivers and towering waterfalls, and dotted with spectacular lakes make Meghalaya a nature lover's paradise. Dense forests cover 70% of the state supporting a rich diversity of flora and fauna. Mawsynram, the planet's wettest place, is also located in Meghalaya.
The people living amidst such natural aura are also friendly and peaceful. Tribal people make up the majority of Meghalaya's population. The Khasi, Garo, and Jaintia are the three major tribes living in the state with the Khasis being the largest among them.
Meghalaya's tribes have their own sets of customs and beliefs. However, the Khasi, Garo, and Jaintia all have a matrilineal society where inheritance is based on kinship with the mother or the female line.
The Khasi Tribe Of Meghalaya: "Simple Living High Thinking"
The Khasi is an indigenous tribe of Meghalaya with a population of around 1,411,775 in the state. The Indian state of Assam and neighboring country of Bangladesh also hosts small populations of this tribe. Most Khasis practiced their indigenous religion before the arrival of the Christian missionaries. Today, around 85% of people adhere to Christianity. However, they have not completely discarded their traditional religious beliefs and practices. Inter-community marriages have also given birth to a small population of Khasi Muslims, and Khasi Unitarianism has a significant following.
The Khasi people are divided into several clans but united by the Mon-Khmer language. Cultivation has been their primary source of livelihood since ages. In the present day, however, Khasi youth has entered into many other professional fields and are successful doctors, engineers, businessmen or women, teachers, and more.
Despite modernism touching the lives of the Khasi people, they have not discarded their ancient beliefs and traditions and adhere to them with great pride. They also believe that nature and divine are intrinsically linked and that the destruction of the former could sever these ties.
The living root bridges of Meghalaya are also born out of the creative genius of the war inhabitants of the Khasi community. These wonders attract thousands of international tourists to the state.
The Khasi people of Meghalaya are officially recognized as an ethnic minority in India and have certain privileges. They are allowed to practice their customary laws and also enjoy tax benefits not available elsewhere in India. They have land designated for their use and a quota system that reserves seats for them in education and jobs. The Khasi Hills Autonomous District Council is the official body protecting the unique laws of these people.
Where Women Rule: Life In India's Matrilineal Society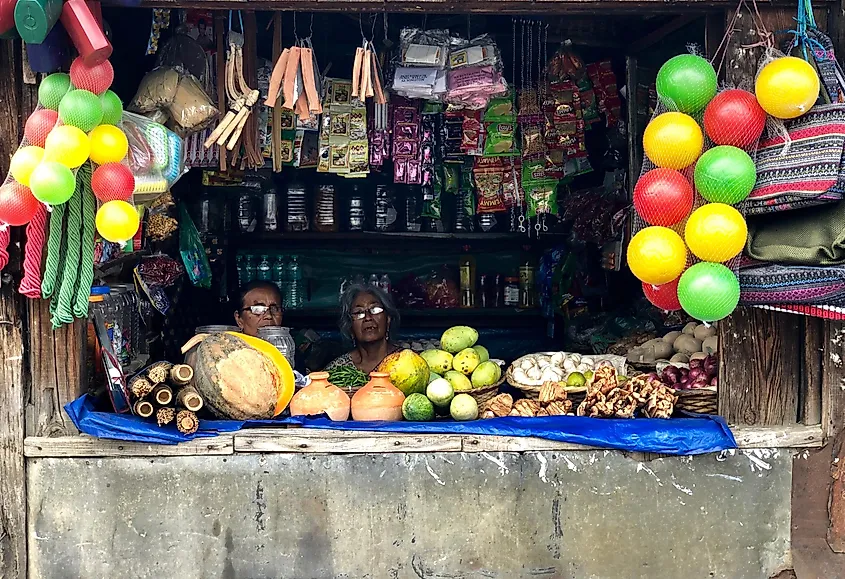 Women working in Meghalaya, India. Photo credit: Arijit Nag.
The Khasi culture is unique compared to the rest of India. In most of the country, it is the men who rule. According to a 2018 report by the National Council of Applied Economic Research, entitled "Gender gap in land ownership," although women account for over 42% of the agricultural labor force in India, they own less than 2% of all farmland. Such land is mostly owned either by undivided families or men. In fact, according to an index generated by the Bhubaneswar-based Center for Land Governance, only 12.9% of Indian women hold land in the country. According to legal experts and female rights activists, several factors act in cohesion to bar Indian women from claiming their rights to parental property. Lack of awareness, education, and a strong patriarchal tradition stand out among them.
In Meghalaya, however, things work differently.
What distinguishes the Khasi men from the majority of Indian men is that they carry the surname of their mother and often move to their mother-in-law's' home after marriage. Inheritance is also matrilineal. It is believed that this inheritance system in the Khasis date back to ancient times when having multiple partners made it difficult to determine a child's father. Others believe that matriliny developed when Khasi men had to leave home to fight neverending wars forcing the women to take their roles in society.
But are the men in India's matrilineal society satisfied with their way of life?
"We are happy people Ma'am," said Tyning Kharsyntiew, a 29-year-old tourist car driver from Shillong, the capital of Meghalaya, with a broad smile revealing his "betel nut" stained teeth. "Respect and understanding are the foundations of our marital relationship. In our society, we are not forced to marry. We only marry the person we love. It does not matter where we stay after that," he said.
Tyning belongs to the Khasi tribe and is happily married and has two children.
"Both my wife and I work. We have learned to manage our time so that we can share housework and childcare activities. While I remain out of town most of the week driving cars for tourists, I try to keep my Sundays free. On those days, my wife takes rest while I do the entire cooking and washing," he said. "We respect women. At the end of the day, my entire earnings go to her. If I keep money and fancy something, I buy it. If she keeps money and likes something, she bargains a lot and then buys it at a lower price. That is why women handle wealth better," was Tyning's simple explanation.
Tyning's beliefs were echoed by Habana, a young married Khasi woman who manages a guest house and restaurant for tourists in the Mawlynnong Village in Meghalaya's East Khasi Hills district.
"Khasi women are free. We are not dictated by men but that does not mean that we disrespect our husbands. If he rebukes me for my good, I will always listen to him. The same is for him," said Habana with confidence exuding from her voice. "We work together like two wheels of a vehicle."
"Our culture is different from that of others in that the lineage is traced through females. In rich families, both sons and daughters are usually given a share in the property. However, when wealth is limited, the youngest daughter (Khaddu) inherits the most as she is expected to take care of her parents in their old age," Habana further explained the Khasi inheritance system.
A middle-aged man, Lamphrang, a member of the Mawlynnong Village committee, and a former teacher, claimed, "We Khasis are proud of our ancient matrilineal tradition and will never part with it. Why should we, when at the end of the day, we are happy and content?"
The simple yet strong beliefs of the Khasi men and women teach us a very important lesson. At the end of the day, it is the feeling of love, understanding, and friendship that makes a relationship work and create an atmosphere of mutual respect. Forcing respectful behavior is bound to create tension, stress, and unhappiness.