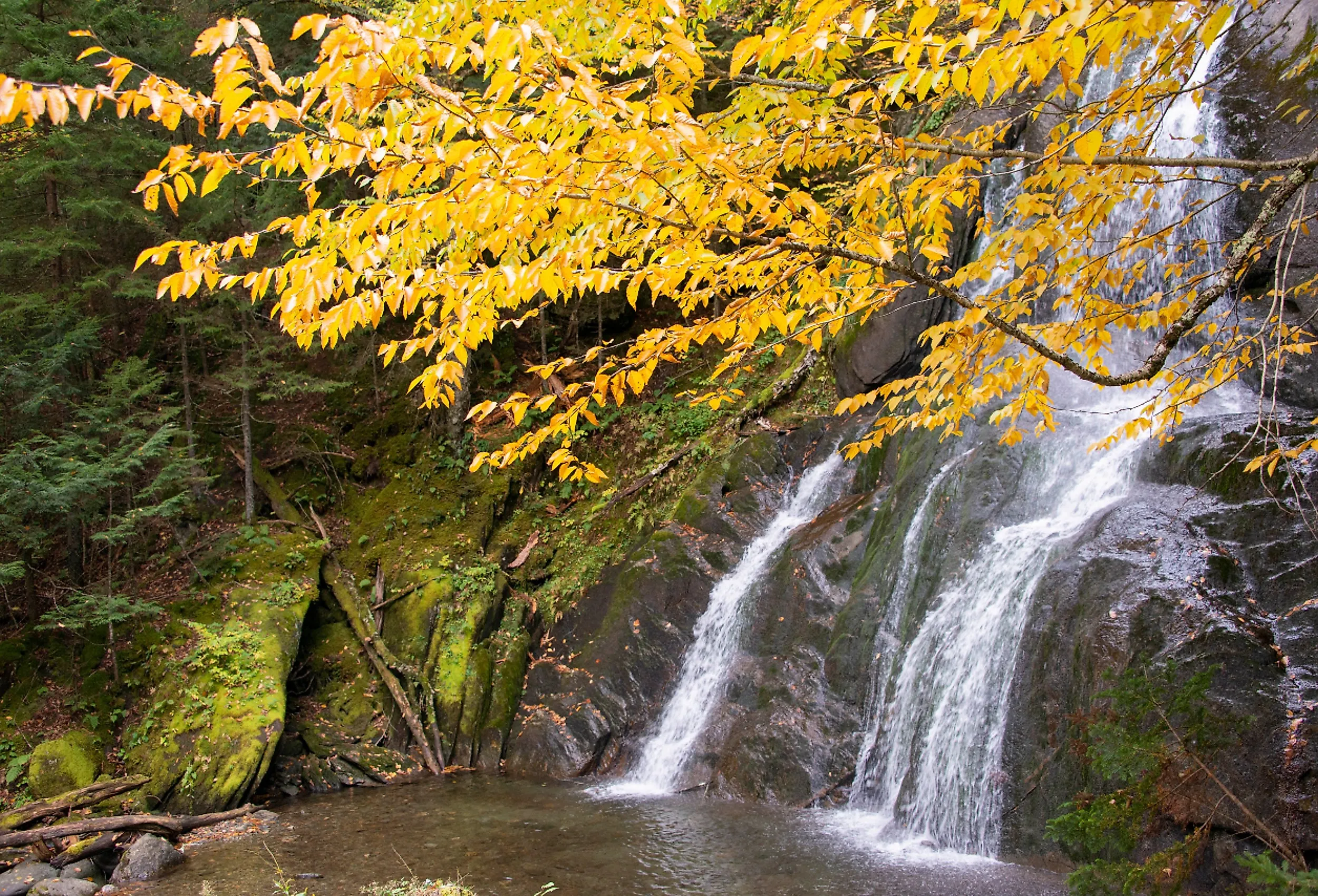 Best Fall Hikes In Vermont
Vermont, renowned for its stunning fall foliage, offers a plethora of hiking trails of varying lengths, from those that take under an hour to complete to those that require more than a day. Below, explore five of the best short to moderate-length trails for the most spectacular colors of autumn, with family-friendly and dog-friendly options for all family members. Read on to discover how each trail offers a unique blend of mountain vistas, rivers, waterfalls, and lakes. So, get your hiking boots ready and pick the trail that best suits your party.
Warren Falls Trail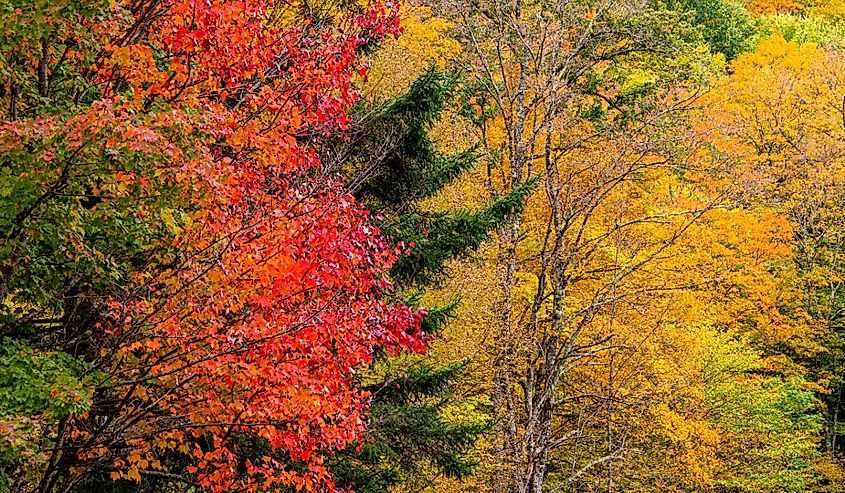 The Warren Falls Trail spans just 0.1 miles in one direction (roughly 10 minutes), featuring an easy, flat terrain with a compacted earth-straight path that leads to Warren Falls, a popular swimming hole in the summer months. Along the way, you'll encounter brief loops that provide access to various viewpoints, perfect for admiring the foliage and enjoying the vistas of the adjacent Mad River.
While this trail is family-friendly, visitors are advised to exercise extreme caution with young children, especially around the potentially slippery rocks near the waterfall. Dogs are welcome but must remain leashed.
To access the trail, follow Route 100 south from Warren for approximately 3.5 miles, and you will find it on the right-hand side. If you're coming from the north, continue past Granville, and you will encounter the parking entrance on your left. The parking area is conveniently marked with clear signage and typically provides ample space, even during the peak foliage season. There is no fee to enter.
Averill Mountain Trail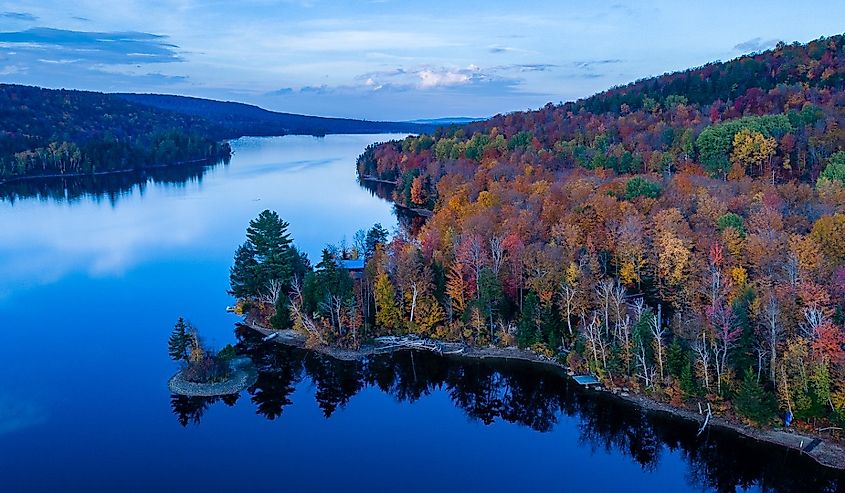 This 1.2-mile long (round trip) trail is a moderately difficult hike with a bit of an incline, leading you through a diverse forested terrain of packed earth, dirt, and a ledge toward the peak of Averill Mountain. The trailhead is on Route 114, just south of the Canadian border. The views from the summit are well worth the trip. There, you can see out across Great Averill Lake and over the forest and countryside that will delight you with an array of fall colors that are enough to take your breath away.
While this hike may be short, it can be a bit challenging for some. It has been known to be a little slick just after or during a rain. Still, it is known to be a family-friendly hike. Dogs on leash are allowed. Also, be aware that visitors will need to traverse private property to access the summit. Be mindful and respectful of the landowners and stay on the trail.
To get there, travel east on Route 114 (from the intersection of Vermont 147 and Route 114 in the tiny town of Norton. From that direction, if you come to the Lakeview Store on your left, you have gone too far.) Look for the trailhead marked with a white sign that will be on your left indicating "Averill Mountain." Parking is on the shoulder of the road; be sure to pull right over to the side. There is only enough parking for about five or six cars and is less occupied during weekdays. While the lack of parking may have its downside, it also has its benefits in that fewer cars parked generally means fewer people on the path. So, if a bit of solitude or a less populated trail is important to you, this hike may be what you are looking for. There is no fee to enter the trail.
Faulkner Trail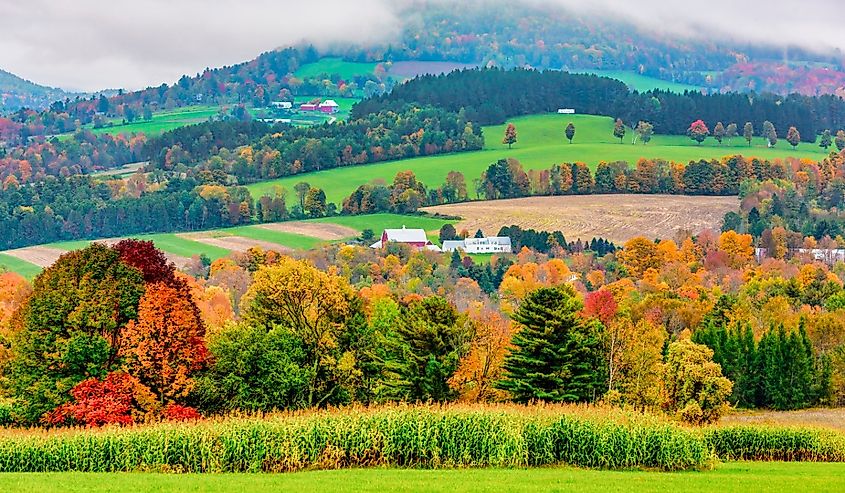 You will find the trailhead of this zigzagging, 2.7-mile hike in Faulkner Park in Woodstock, Vermont. It has a difficulty rating of easy to moderately challenging. It is estimated to take around 2 hours to complete, depending on how much time you spend exploring and viewing. The ground surface is of packed earth, dirt, and gravel, with rocks and ledges to keep in mind. The switchbacks (zigzagging shape of the trail) serve to make the incline less dramatic and more gradual for hikers. Hikers are asked to remain on the trail and to avoid taking shortcuts through the switchbacks, as this will destroy the vegetation and have a negative impact on the surface. It is a popular path for birdwatching, backpacking, cross-country skiing in the winter, and leaf peeping in the fall. This is a family-friendly trail with some benches for rest stops. Dogs are permitted, but they must remain on leash.
You will find a scenic panoramic view of Woodstock from the South Peak of Mount Tom. The final 300 feet leading to the South Peak diverge from the original trail comprising the switchbacks. Be aware that the terrain is somewhat rugged and steep at this point. It is equipped with handrails for support if needed.
To get there, take US-4 east from The Green ("Woodstock's Central Park") in Woodstock and turn right onto Mountain Avenue. You will find parking along the road. Be respectful of the nearby residents, and be sure to park completely off the roadway. Proceed along the paved paths in the park to the back of a mowed area, where you will see the kiosk for the trailhead. There is no fee to enter.
Red Rocks State Park Trails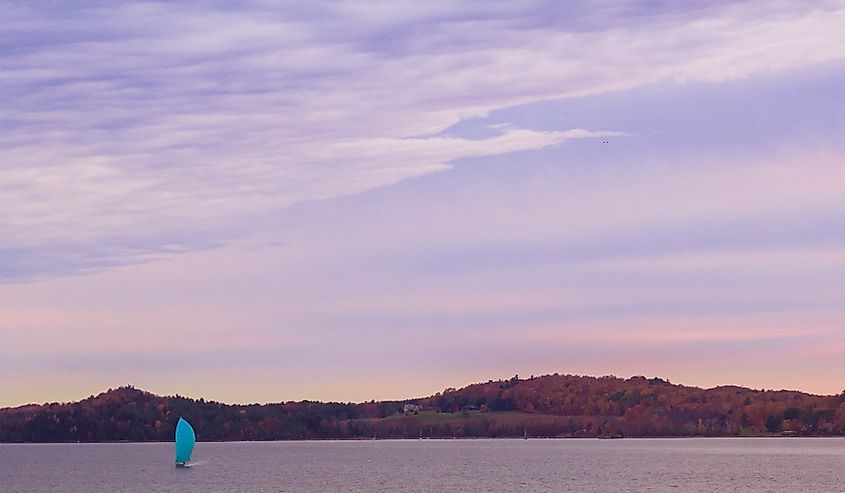 If you are looking for hiking that is close to the city of Burlington, Vermont, this might be just the place for you. The Red Rocks Park Trail is a 3.3-mile-long network of connected paths that range in level of difficulty from easy to moderate. The terrain comprises packed earth, dirt, gravel, and crushed stone in some places, with safety railings on areas where the land drops off. You will be greeted by the scent of cedar and pine and the changing colors of the forest canopy of maple and beech trees alongside oak and hickory trees. There are cliff views, Adirondack, and Lake Champlain views.
This hike is well suited to families with children and those with mobility issues, as the trail is wide and relatively flat. Dogs are welcome but must always remain leashed. To get there, starting from Shelburne Road (Route 7) in South Burlington, head west onto Queen City Parkway shortly after passing the intersection with I-189. Drive approximately 0.5 miles, then make a left turn onto Central Avenue. You will spot the parking area and the park's entrance on your right side. There is also parking available outside the park. The gate is locked daily at 7 p.m. Therefore, if you are not positive you will return to your vehicle before that; you might want to consider the parking areas outside of the park entrance to avoid being locked in.
Lye Brook Falls Trail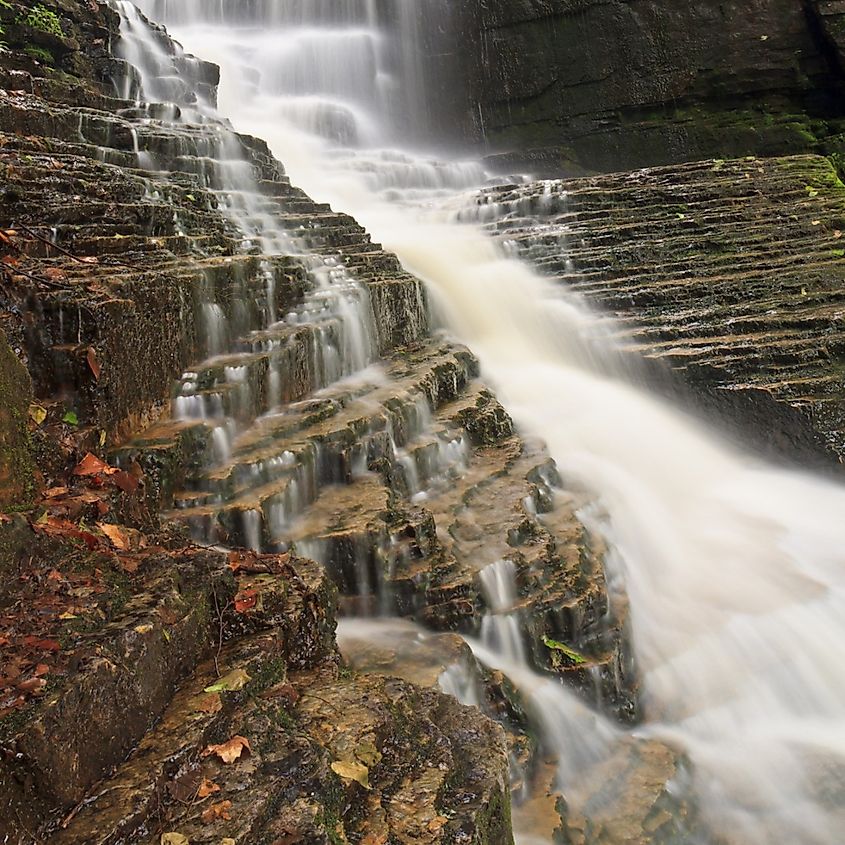 This trail, located just outside of Manchester, Vermont, is a popular hiking destination with ample opportunities to appreciate the splendor of autumn foliage. Described as having a difficulty level of moderate, the 4.5-mile (round trip) path comprises diversely forested terrain, with notable prominent rocky areas that necessitate some climbing. The pathway leads you to the base of Lye Brook Falls. The waterfall stands as one of Vermont's tallest, soaring to a height of 125 feet and ranking among the state's top five tallest falls.
This trail is known as family-friendly and dog-friendly (for those on leash), but due to the rough areas of terrain in places, it may be better suited to older children. Dogs are permitted on leash. To get to the trail from VT-7A in Manchester Center, you can take a route by heading east for about 1.9 miles, following VT-11 and VT-30. Afterward, make a right turn onto East Manchester Road. Keep following East Manchester Road for approximately 1.2 miles until you reach Glen Road, where you'll turn left. Continue on the brief access road until you reach the trailhead, which is just after Glen Road curves to the left at 0.1 miles. You will find a parking lot adjacent to the trailhead approximately 0.4 miles from this junction. There is no fee to enter the trail.
Vermont's fall foliage season is a natural spectacle you don't want to miss. These five hiking trails, ranging from under 1 mile to around 4.5 miles in length, offer a delightful way to experience the colors of autumn, whether you seek mountain vistas, riverside serenity, or lakeside beauty. Remember to check trail conditions and regulations before heading out. As you embark on these adventures, always adhere to the Leave No Trace principle and carry out any items you bring into the area. Leave behind only footprints and bring home memories of Vermont's unparalleled autumn wonderland. Get out there, savor the moment, and let nature's beauty soothe your soul.