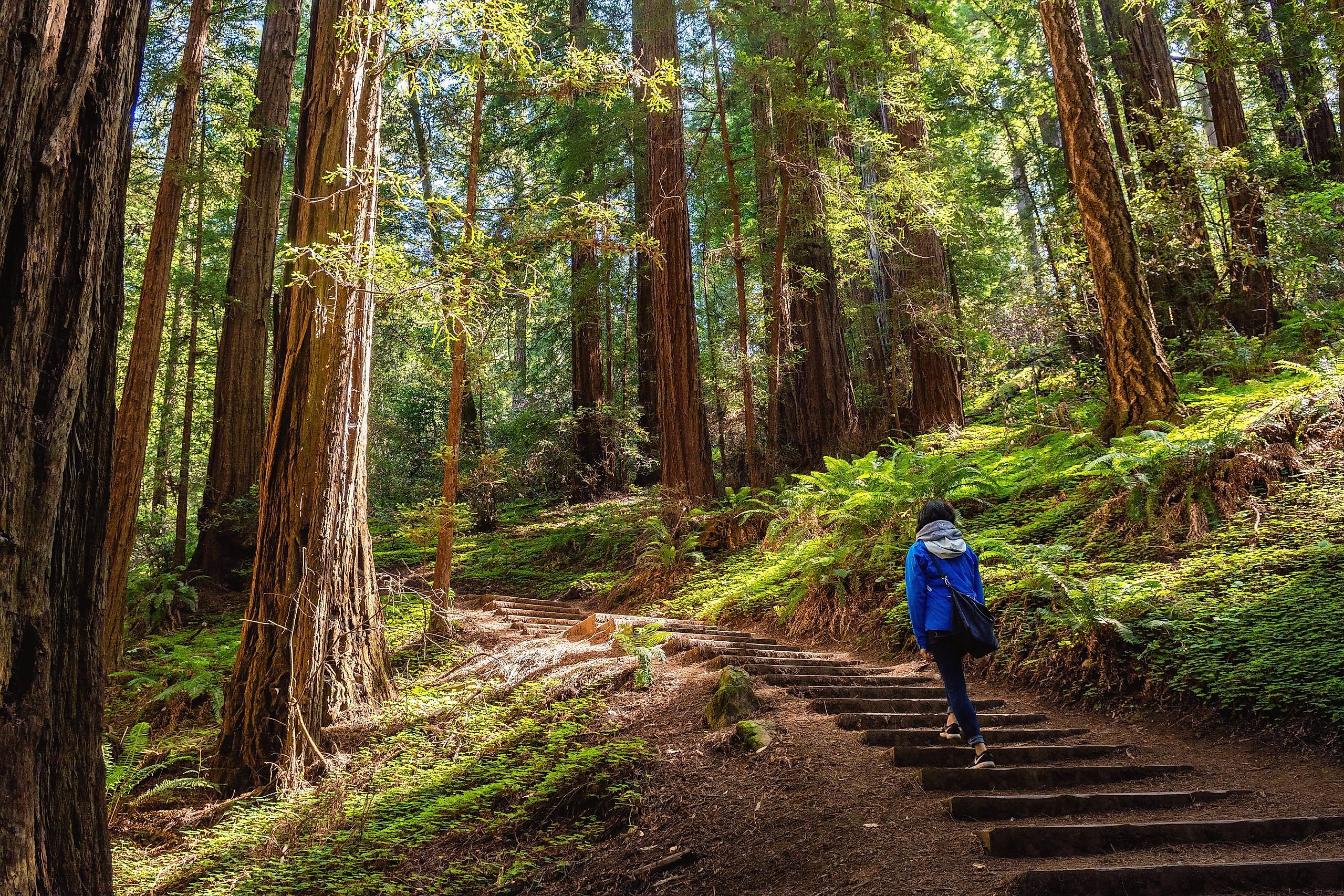 8 Best Hikes In California
California is one of those magnetic places that pulls outdoor lovers to its reaches. The sunny skies, soaring peaks, and contrast between splashy Pacific Coast and interior desert offers many flavors to sample across this giant natural playground. "The Golden State" also puts great emphasis on its hiking trails, and protecting the landscapes that surround them – both bold and delicate alike. There are thousands upon thousands of miles to traverse on foot. So much so, that it can be difficult to decide where to start. So these are eight of the best hikes that cover a wide range of experiences and experience-levels. 
Pacific Crest National Scenic Trail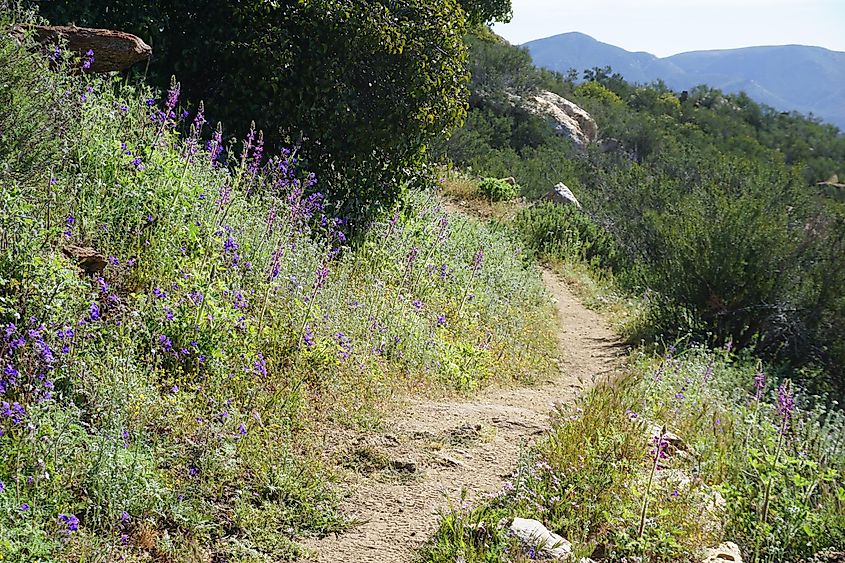 The PCT is a world-famous thru-hike that climbs up the West Coast of America – connecting the Mexican and Canadian borders via California, Oregon, and Washington. The 2,650-mile trek typically takes between four to six months to complete, with over 90% of hikers opting for the Northbound approach. This means that whether or not the entire dream is realized, at least some of the 1,692-mile California section will be enjoyed. The PCT kicks off with a 700-mile oscillation through the deserts and mountains of Southern California, before heading into the Sierra Nevada Range of Central California (one of the most popular sections of the whole trail), before transitioning into the solitude offered by the first peaks of the Cascades, in Northern California. The PCT can be the challenge of a lifetime, or it can be an eternal source of day-hikes. 
John Muir Trail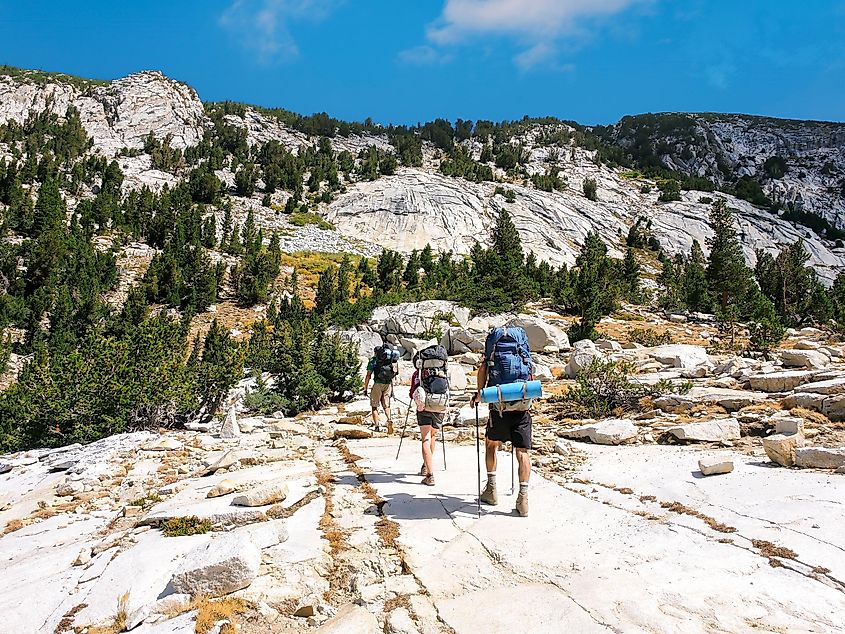 While the Pacific Crest Trail may sound appealing, it is also unfeasible for most hikers. Instead, a more realistic and similarly-rewarding alternative may be the John Muir Trail. This 211-mile point-to-point trek can be done in a matter of weeks, rather than months, and either parallels or directly intersects one of the best parts of the PCT. The JMT's Southern terminus is in the iconic Yosemite Valley, with its Northern tip marked by the highest peak in the contiguous United States, Mount Whitney. Many other 13,000 and 14,000-foot peaks of the Sierra Nevada, along with thousands of alpine lakes greet hikers in between. Also, this stretch of idyllic terrain experiences the mildest and sunniest climate of any mountain range in the world. But with that said, the elevation profile still demands that prospective hikers come seriously prepared. 
Mount Whitney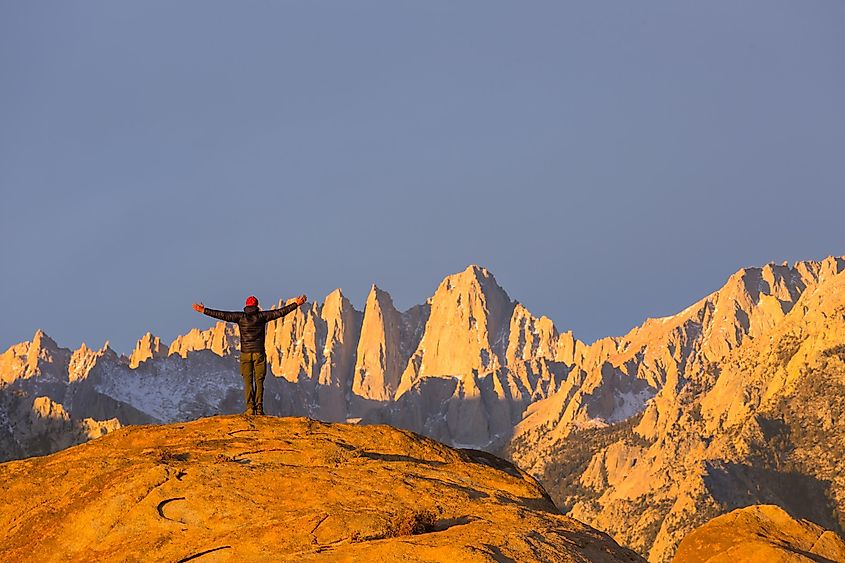 Speaking of Mount Whitney, its 14,505-foot summit can be reached via a strenuous but manageable day-hike. Once the required permit has been obtained (for despite the physical demands, this is the most-frequently climbed peak in the Sierra Nevada), head for the Whitney Portal Trailhead and set forth on the 21.5-mile (round-trip) trail that gains 6,960 feet in elevation. From about mid-July through to early October, the route is non-technical and can be reasonably undertaken by anyone with good fitness, surefootedness, and an adequately-stocked backpack. Any earlier in the season, ice axes and crampons will be necessary. But however and whenever you grind your way up the highest peak in the lower 48 states, spectacular views of the Great Western Divide and Sequoia National Park shall be your reward. 
Muir Woods National Monument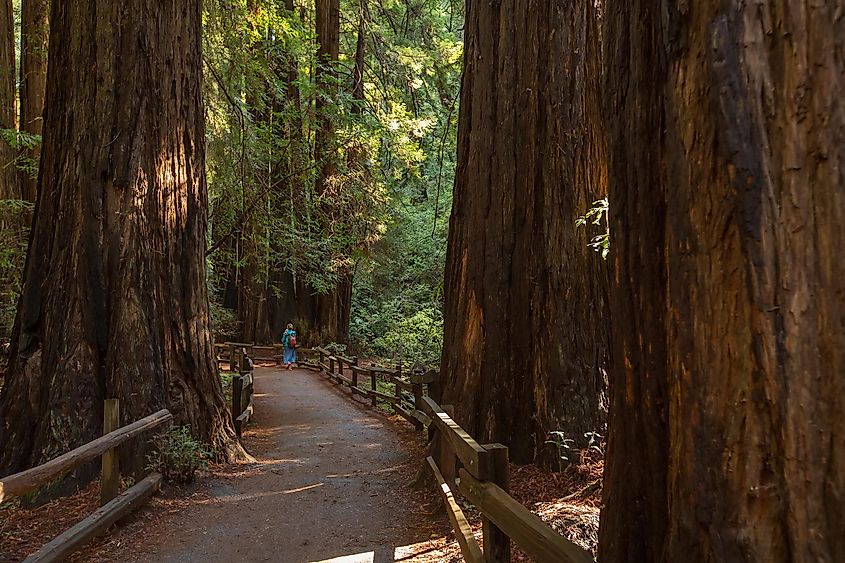 Hiking can mean a variety of things to a wide spectrum of people. While there are great payoffs to be exchanged for tired legs and sweat-soaked t-shirts, a softer approach can be just as fulfilling, if not more so. It is also not required to have a set plan marked by mileage and elevation statistics. Sometimes an improvised meander through a safe and beautiful environment is what the soul needs. Muir Woods National Monument gives visitors a chance to bathe in an old-growth forest filled with towering redwoods. There are many choose-your-own-adventure trails, ranging from the highly-social main trail around Redwood Creek, to quieter wanders through the hillsides. Why not end the day with a stroll out to Muir Beach to get an even better sense of why the legendary American conservationist/nature writer was so deeply inspired by California's wilderness? 
Half Dome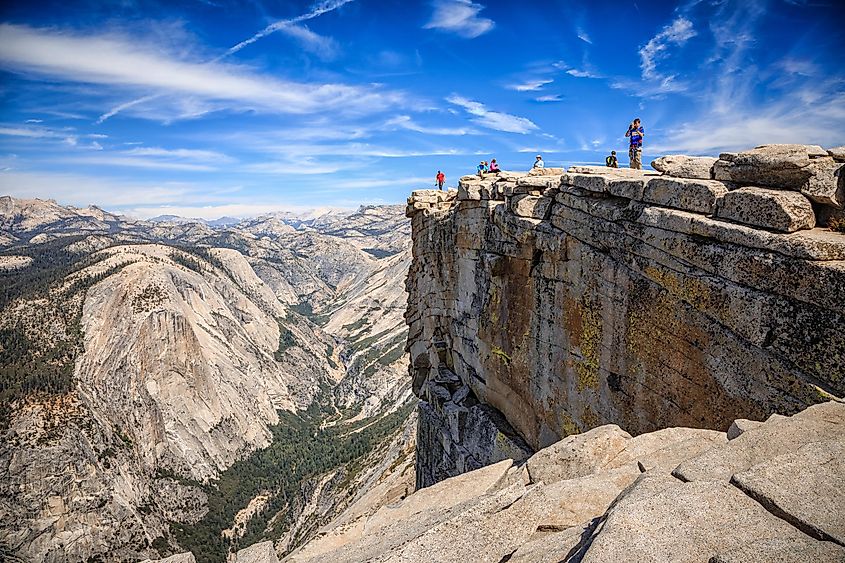 Yosemite National Park is famous for its big wall climbing. The sheer granite walls of Half Dome, El Capitan, and others loom over the picturesque valley. And while their vertical faces are reserved strictly for skilled climbers, there are thrilling hikes up the backsides. The 17-mile (round-trip) slog up Half Dome gains 4,800 feet in elevation, with a exhilarating, hand-over-hand, cable-assisted final ascent to the summit that will weed out the faint of heart. Despite the intensity, necessity for an early start, and potential risks of being queued up on an exposed mountain face (with dehydration and snap changes in the weather posing the biggest problems), this is an extremely popular hike that requires permits to attempt. 
The Waterfalls Of Yosemite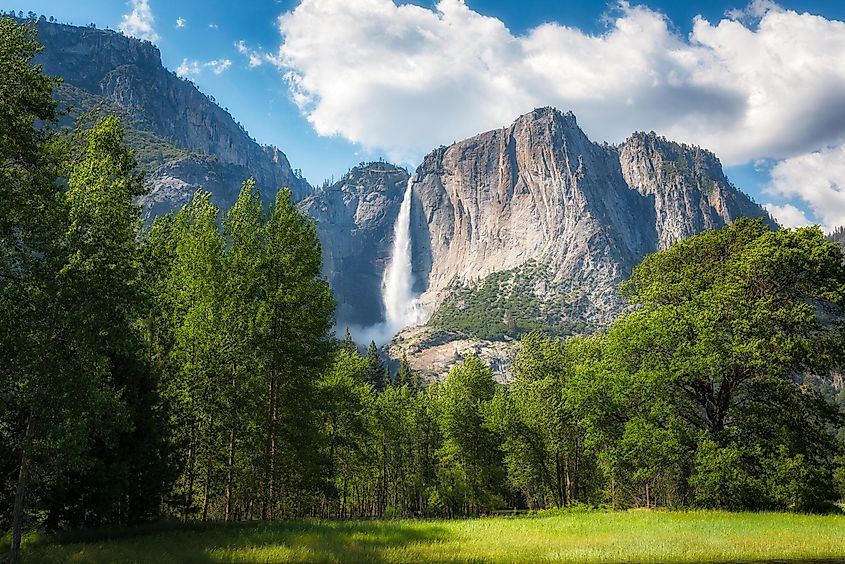 If spending time in Yosemite, but not up for the time-intensive, Half Dome, JMT, or PCT hikes, or, if you're seeking a different and refreshing kind of beauty, make sure to click off the various waterfalls cascading throughout the valley. At 2,452 feet, the three-part Yosemite Falls is one of the tallest in the nation. Its lower section can be seen up close and personal with a simple 1-mile stroll, or the upper portion can be visited via one of the oldest historic trails in the park, which amasses 7.2 miles and 2,700 feet of elevation across the out-and-back journey. As a denouement, take in the two-for-one special of Vernal and Nevada Falls via the Mist Trail, or a portion of the John Muir Trail.  
Tahoe Rim Trail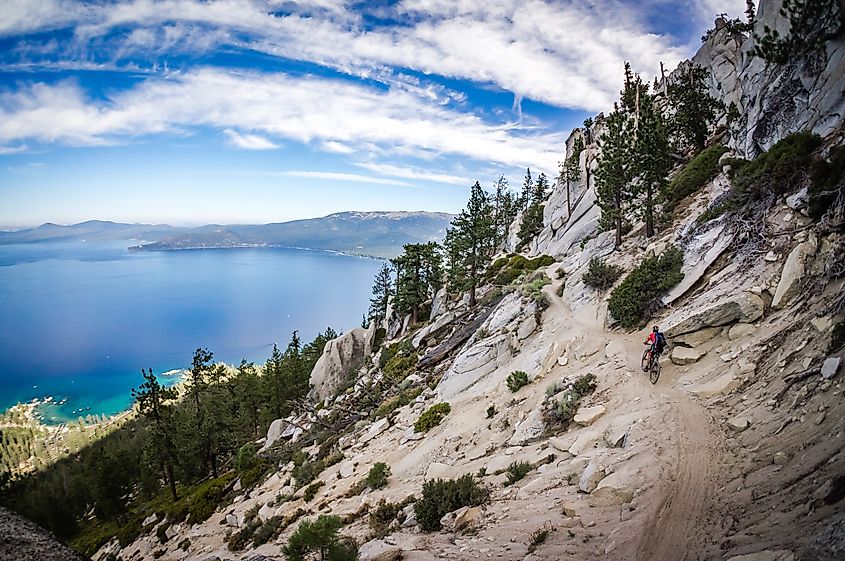 Lake Tahoe is the largest alpine lake in North America. The freshwater centerpiece of East-Central California sits at an elevation of 6,225 feet-above-sea-level, is backdropped by the snow-capped Sierra Nevada Range, and yes, it can be circumnavigated as a long-distance thru-hike. The Tahoe Rim Trail covers 165 miles, gains 28,053 feet in cumulative elevation (which is less than 1,000 feet shy of the height of Mount Everest), and all the while remains between the already substantial base altitude (with Tahoe City being the typical starting point) and the maximum elevation of 10,285 feet – reached at the top of Relay Peak (which actually falls within Nevada state lines. Endurance nuts wanting to see even more of the landscape (or rather, lakescape) can test their limits even further at the annual Tahoe 200 ultramarathon. 
Trans-Catalina Trail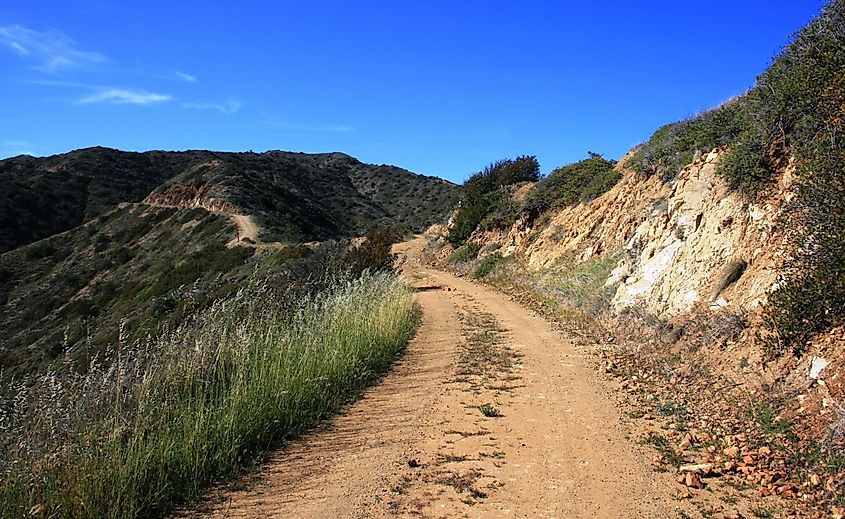 The scenic Catalina Island, off the coast of Southern California, can be thoroughly appreciated on foot via the Trans-Catalina Trail. This 38.5-mile loop trades quad-busting mountains for rolling hills (that still end up gaining 9,600 feet of cumulative elevation), and uses a mix of roads and single-track trail to connect the communities of Avalon and Two Harbors. Along the way across this cherished rock, the trail visits several magical harbors, beaches, and stretches of countryside. There are five campgrounds throughout, allowing hikers to take it as slow as they like. Given the usual scorching summer temperatures, this backpacking trip is best taken during the spring, fall, or winter. 
Whether you are searching for a long, "find yourself" kind of adventure, or a casual lark through a national park, California has you covered. How many other places can brag about having such a lengthy coastline paired with enthralling mountain ranges, and that is also punctuated by 1,000-year-old gravity-defying trees and neck-cranking waterfalls? Passionate dreamers have always flocked to this westernmost state in search of glory, and what better excuse is there for such a trip than the call of a worthy hike?