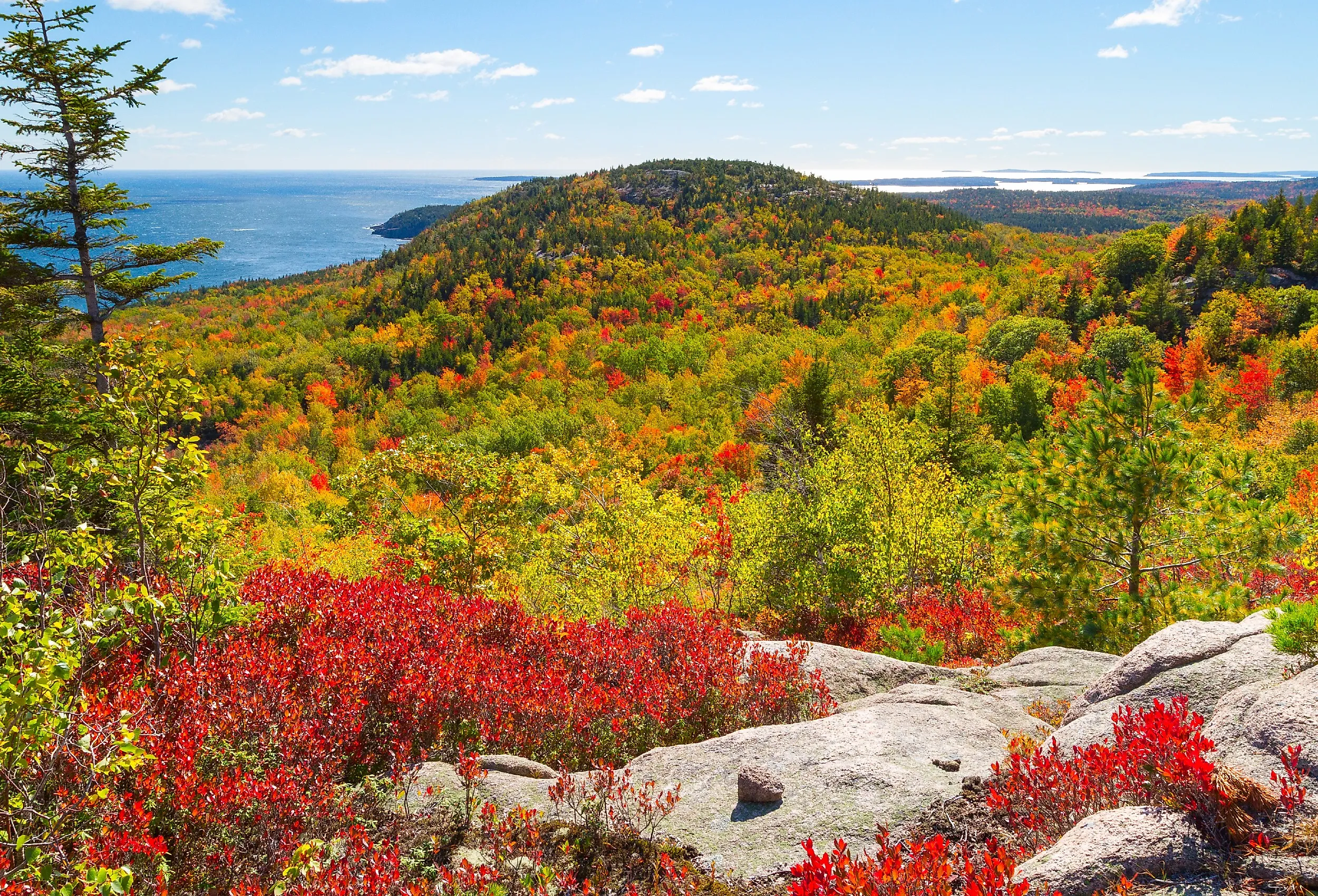 8 Best Fall Hikes In Maine
Maine is a beautiful state on the East Coast of the United States, with over 228 miles of coastline along the Atlantic Ocean. Maine is one of the six states that comprise the region known as New England, famous for its spectacular fall foliage from late September to late October. Hikers planning a trip to Maine this season should bring a light jacket and get their cameras ready for the incredible views of the red, orange, and yellow leaves lining the coast.
Mount Megunticook, Camden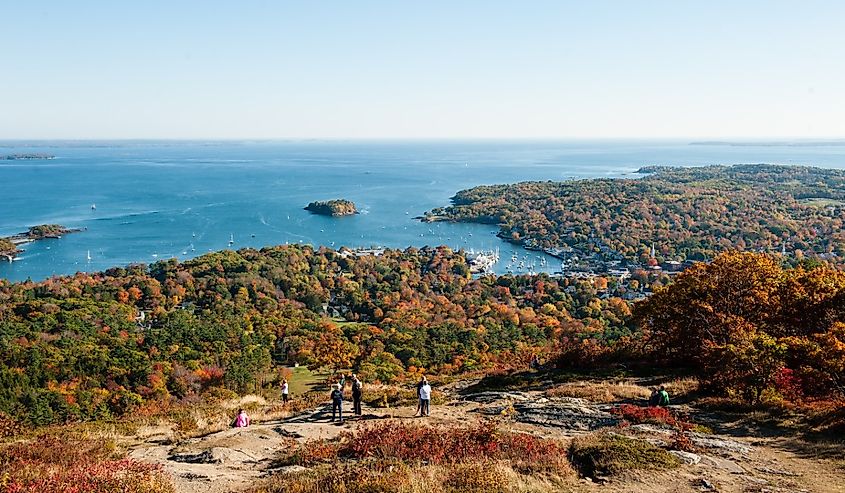 Mount Megunticook Trail near the gorgeous town of Camden, Maine, is a 2.6-mile out-and-back route that is considered moderately difficult. It takes hikers 1 hour and 45 minutes to complete the hike, on average. Despite moderate elevation gain, the trail provides epic views of the Camden harbor and the surrounding foliage. There are various lookout points along the trail with views of the ocean and Penobscot Bay.
Chimney Pond Trail, Baxter State Park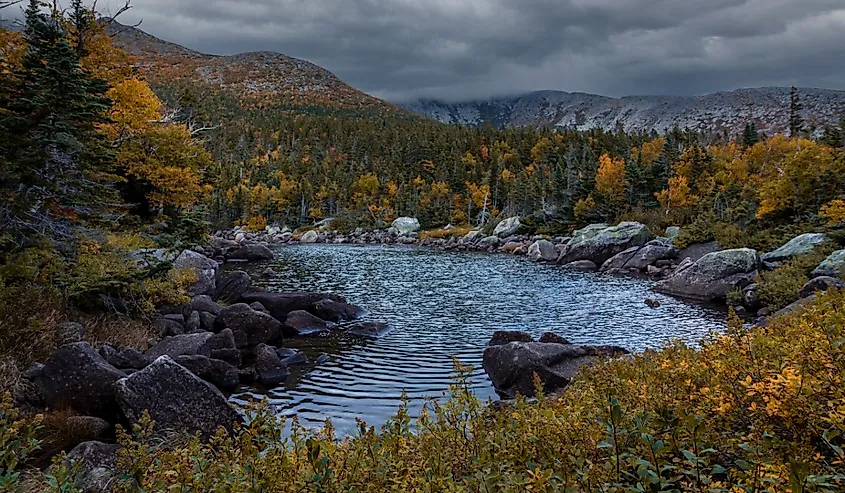 Baxter State Park has more than 220 miles of trails and spans 209,644 acres. This is a great destination for hiking during the fall, specifically on the Chimney Pond Trail. This route is accessible from the parking lot of the Roaring Brook Campground. It's a 6.3-mile out-and-back trail with around 1,463 feet of elevation gain, making it moderately challenging. On average, hikers complete this trail in just under 3.5 hours.
Douglas Mountain Loop, Sebago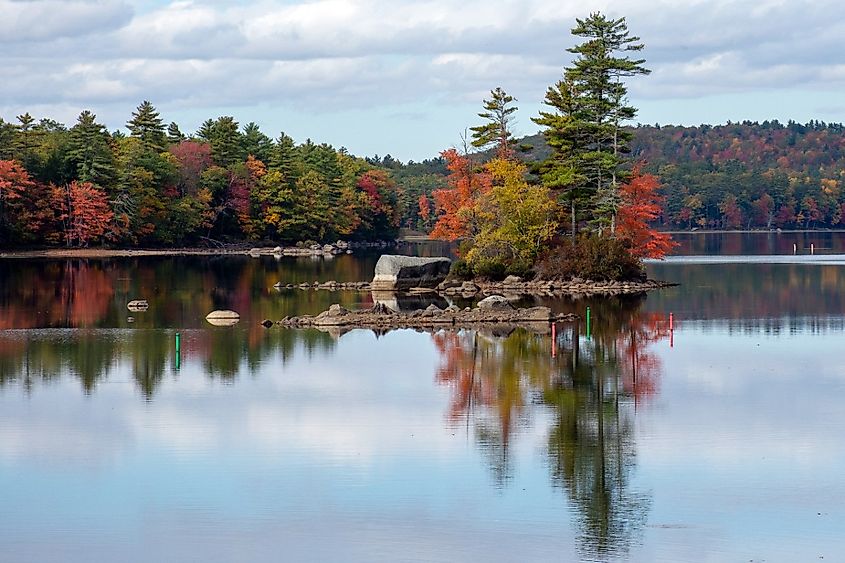 The Douglas Mountain Loop is a 1.8-mile trail near Sebago, Maine, that is best visited during the fall when the colors are at their most beautiful. Douglas Mountain is a family-friendly day hike that is short with minimal elevation gain, yet it offers spectacular views. When hikers get lucky with a clear day, they can see Pleasant Mountain, the ocean, and Sebago Lake from the trail. The route is well-marked and clear, ideal for hikers of all ages and fitness levels. 
Cadillac Mountain, Acadia National Park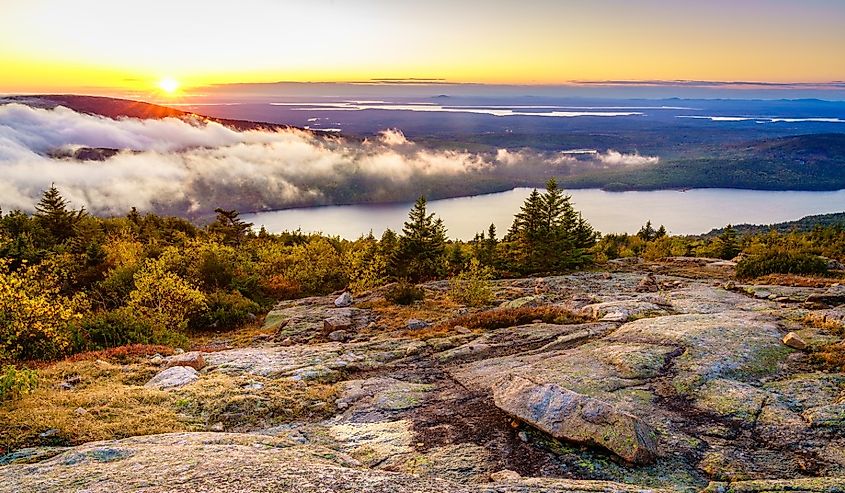 Acadia National Park is easily the most popular destination for hiking and viewing fall foliage in Maine. While exploring the park, be sure to hike Cadillac Mountain via the South Ridge Trail. The rewarding and challenging hike is 6.7 miles with 1,548 feet of elevation gain. Although it can be tricky to traverse the steep terrain in sections, it is worth it for the incredible views at the top. Some hikers might find trekking poles useful on this trail for additional support on the way up and to relieve pressure on their knees during the descent. It's a popular route to hike for sunrise (with a headlamp) because Cadillac Mountain receives the first light of the day in the country for part of the year (October to March). 
Mount Katahdin, Baxter State Park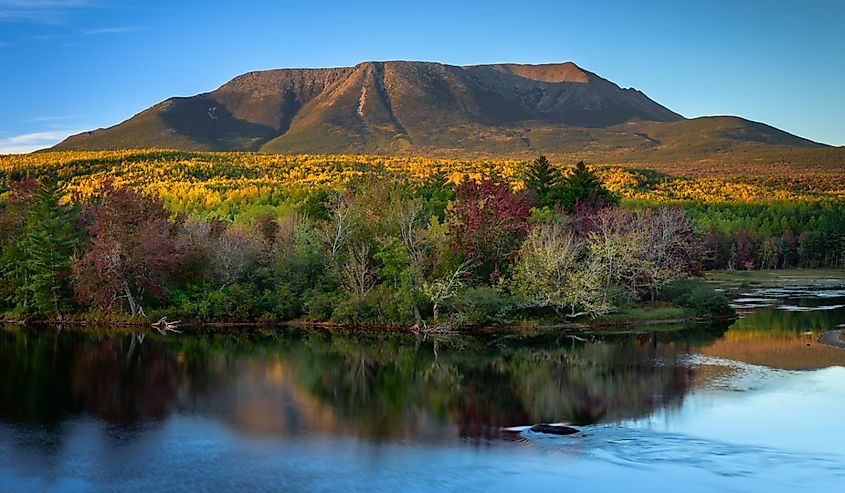 Hiking Mount Katahdin in Baxter State Park is one of the most challenging yet rewarding adventures in Maine. This route sees 4,000 feet of elevation gain and is a steep, difficult climb to the summit. It takes most people anywhere from 8 to 12 hours to complete the roundtrip journey, which must be done between 6 AM and 10 PM. Choosing to summit Mount Katahdin via the Hamlin Ridge trail is an 11-mile adventure with a lot of rocky scrambles. Hikers should bring enough water with them for the entire journey because there aren't always reliable streams to fill up along the way, depending on the recent weather.
Blueberry Mountain Trail, Weld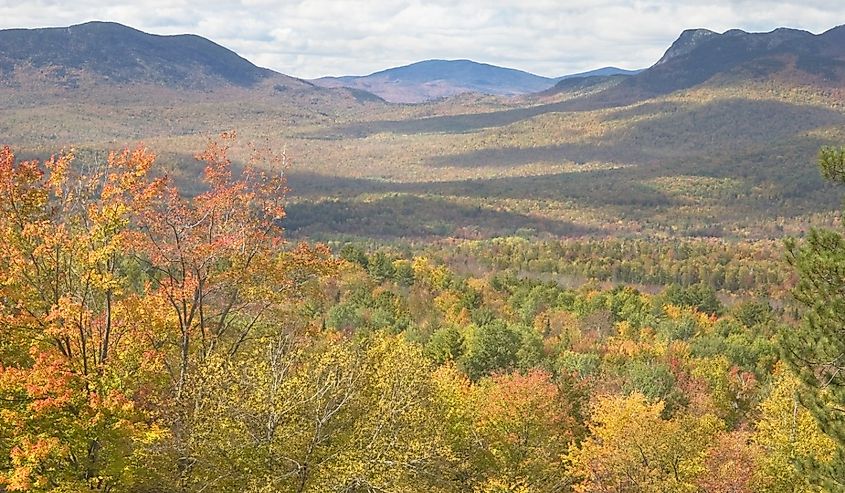 Blueberry Mountain Trail is one of the best fall hikes in Maine, and it is located in the Tumbledown Public Lands, near Weld. The out-and-back hike is just 2.7 miles one-way and requires 1,407 feet of elevation gain, earning it a moderate ranking for difficulty. Although this trail isn't as flashy or popular as those inside Acadia National Park or Baxter State Park, it has just as impressive fall foliage and offers a more remote, peaceful hiking experience. It takes around 2 hours and 15 minutes to complete the route, usually without encountering any other hikers along the way.
Ocean Path, Acadia National Park
Inside Acadia National Park, there are many stunning hiking options, especially during fall, but one of the best is Ocean Path. This dog-friendly trail takes campers from Sand Beach to Otter Point. It's around 2.2 miles long (one-way) or 4.5 miles out-and-back. The trail is fairly flat and hugs the coastline, providing scenic views every step of the way.
Precipice Trail, Acadia National Park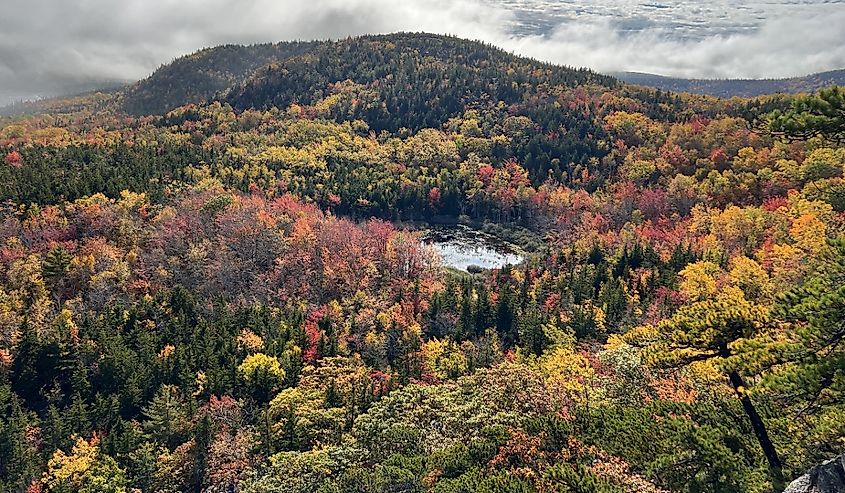 The Precipice Trail in Acadia National Park, Maine, is for experienced hikers who are comfortable with heights. It is comparable to some of Europe's famous Via Ferrata routes, where hikers traverse and climb exposed rock faces. It is easily the most thrilling trail in the park and is short but extremely steep, with metal rungs that hikers must climb to reach the top. After just 2.1 miles but 1,059 feet of elevation gain, trekkers complete the loop circuit. It's a harrowing adventure with unparalleled views of the fall colors below.
Hit The Trails In Maine
Maine's best hiking trails are truly at their peak during the fall when vibrant shades of crimson, orange and yellow dot the coastline. This part of New England is known for its oceanside trails, rocky ridges and epic sunrises. Hikers are sure to fall in love when they take a trip to explore Maine this season.