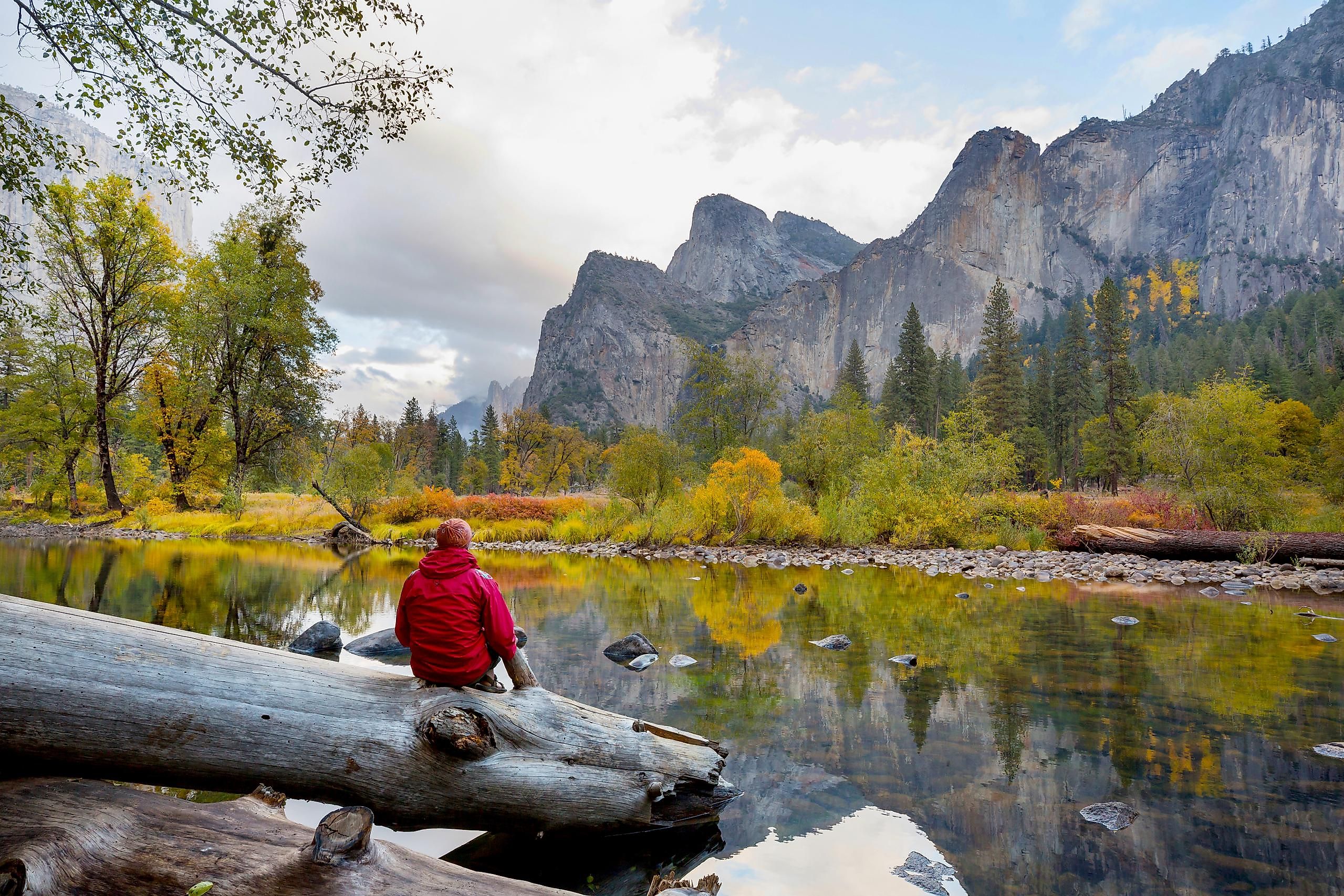 7 Best Fall Hikes In California
It is no secret that California is a popular destination, and for good reason. Home to some of the country's most dramatic vistas, national parks, and state parks, there is plenty of hiking to enjoy. As autumn rolls in, painting California in shades of red, orange, and yellow, the temperature cools, leaves crunch beneath your feet, and hillsides beckon for adventure. Though California earns the title of "Golden State" because of its sunny disposition and gold-rush history, the warm-toned colors of autumn bring a new reason to light. Fall is one of the best times to explore California, and its hikes are some of the best in the country. 
Switzer Falls, Angeles National Forest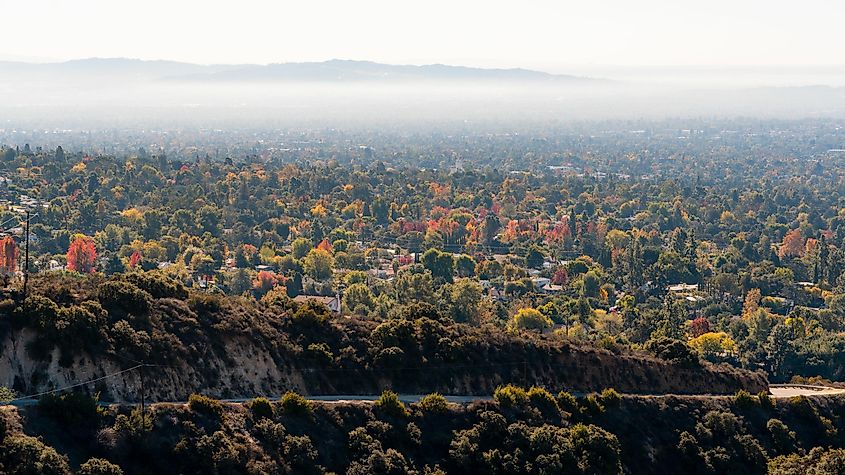 Switzer Falls Trail traverses through the beautiful Angeles National Forest, one of the US National Forests of California. The forest boasts proximity to Los Angeles, encompassing about 1024 square miles. The trail itself includes gorgeous canyon views and two rushing waterfalls, ideal for a fall hike and spectacular scenery. It is 4 miles round trip, reaching 750 miles in elevation. The Switzer Picnic Site is nearby, including 26 picnic sites and BBQ grills. Other popular hiking trails in the Angeles National Forest include Millard Canyon Falls Hike, Hoyt Mountain Hike, and Big Horn Mine Trail Hike. Close to civilization and yet home to some of California's most beautiful fall foliage, the forest is a lovely day trip, though travelers can also camp overnight in one of the campgrounds.
Four Mile Trail, Yosemite National Park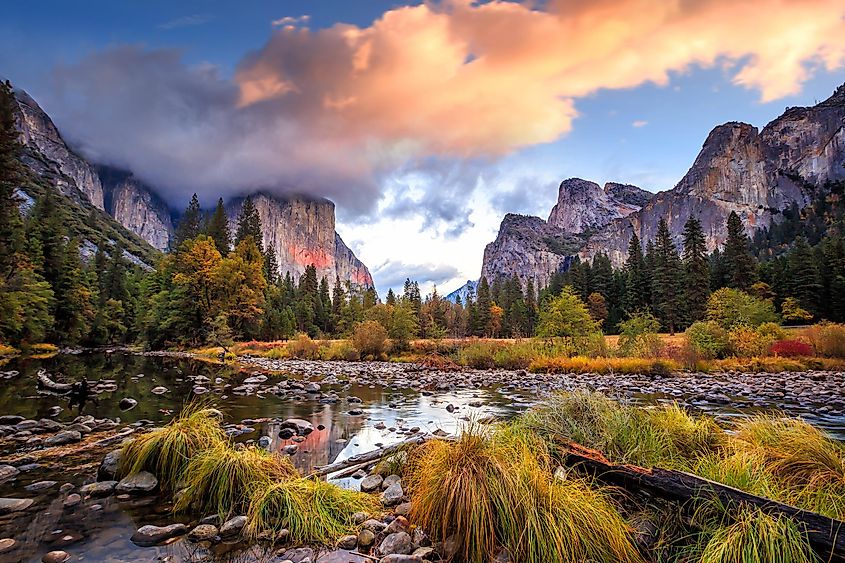 The Four Mile Trail in Yosemite National Park climbs 4.8 miles from Yosemite Valley to Glacier Point (a 9.6-mile round trip). The hike offers wondrous views of Yosemite Valley, El Capitan, Yosemite Falls, and Half Dome, reaching 7,200 feet in elevation. Though Four Mile Trail is often considered the best way to view some of Yosemite Valley's most beautiful sights, there are several other trails that visitors enjoy, such as Vernal Fall and Nevada Fall Trails, which, as their names suggest, offer views of stunning waterfalls. The national park, nestled in California's Sierra Nevada Mountains, is most famous for its ancient sequoia trees, towering in the air. Though the trees are evergreen, they provide a beautiful green backdrop for those that do change color in the fall. 
Big Trees Trail, Sequoia National Park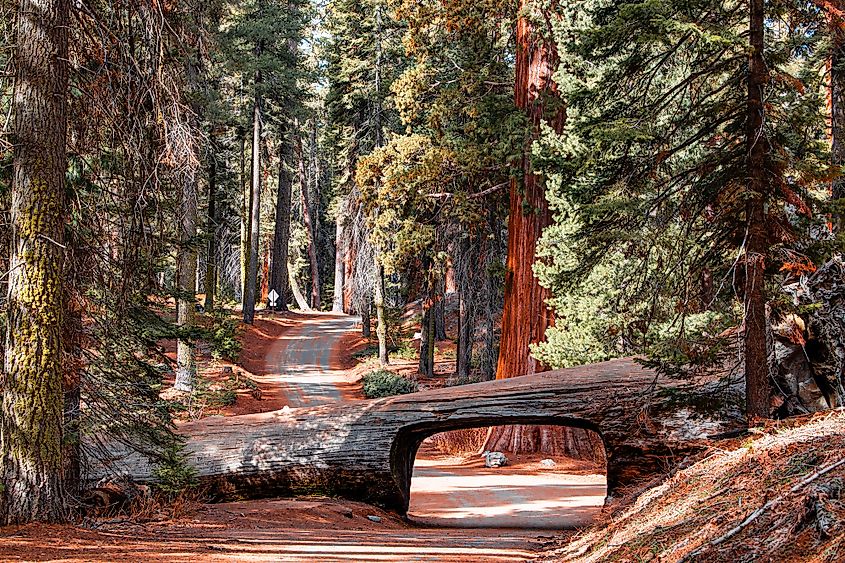 Another amazing spot to view the state's ancient sequoia trees is Big Trees Trail in Sequoia National Park. The trail circles the gorgeous Round Meadow in a 0.7-mile loop, with plenty of benches scattered along the way to stop, sit, and take in the surrounding autumnal beauty. A wander through Hazelwood Meadow Trail, just on the other side of the road, is just as delightful, traversing through the beauty of the sequoia grove. Fallen leaves crunch underfoot while dappled sunlight beams through the branches of the towering trees, perfectly encapsulating the crisp beauty of fall. Other attractions in Sequoia National Park, part of the Sierra Nevada Mountains, include the General Sherman Tree, which dominates the Giant Forest, the underground Crystal Cave, and the Tunnel Tree. 
Main Loop, Oak Glen Preserve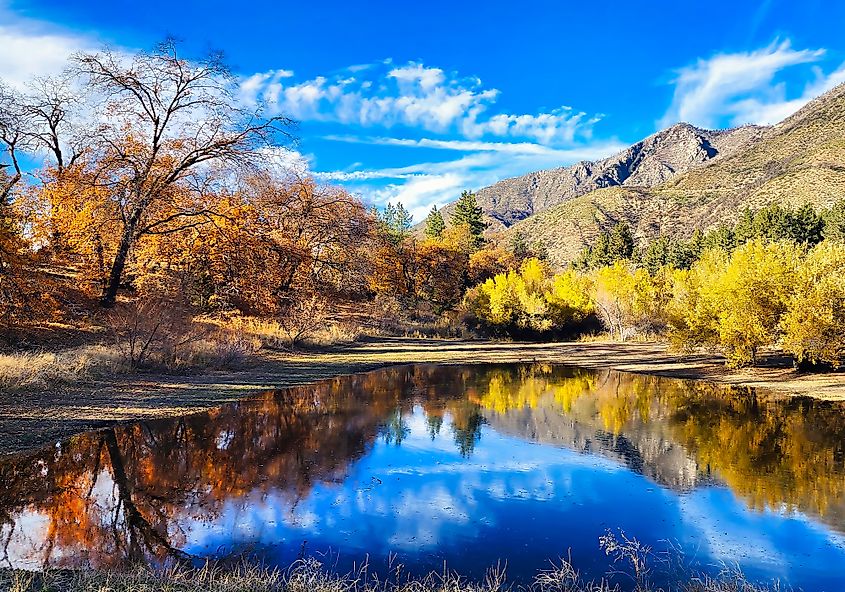 The 909-acre Oak Glen Preserve, situated within the San Bernardino Mountains and near the town of Oak Glen, encompasses the Main Loop Trail. The trail is 2 miles long, ideal for a leisurely fall hike, boasting plenty of shade and lots of spots to sit back and look up at the autumnal forest above. There are several spur trails that break off from the main trail, traversing through groves of trees and past tranquil ponds, turning it into a 4.8-mile hike. There are several public picnic areas nearby to relax after the hike, as well as the opportunity to pick apples and enjoy fresh apple pie at Los Rios Rancho, which is California's largest historic apple ranch.
Strawberry Peak Trail via Redbox Canyon, Mount Wilson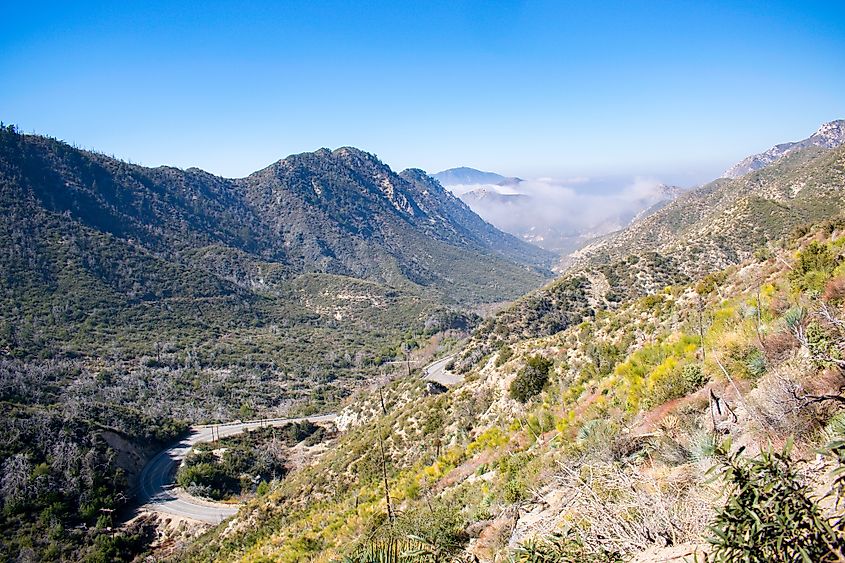 Mount Wilson is a 5,710-foot peak in the San Gabriel Mountains, home to the 7-mile Strawberry Peak Trail via Redbox Canyon. The trail traverses around the ridge of Mount Lawlor, boasting spectacular views of the Angeles National Forest. The climb to Strawberry Peak thereafter is considered moderate, and the peak itself is the highest point of the San Gabriels at 6,164 feet. Once atop the peak, travelers enjoy views of Los Angeles, Mount Wilson, and Mount Baldy, which are especially stunning in the fall as colorful foliage lights up the area. Other trails around Mount Wilson include Josephine Peak Trail, Mount Lowe via Eaton Saddle, and Cooper Canyon Falls Trail.
Vikingsholm Trail, Emerald Bay State Park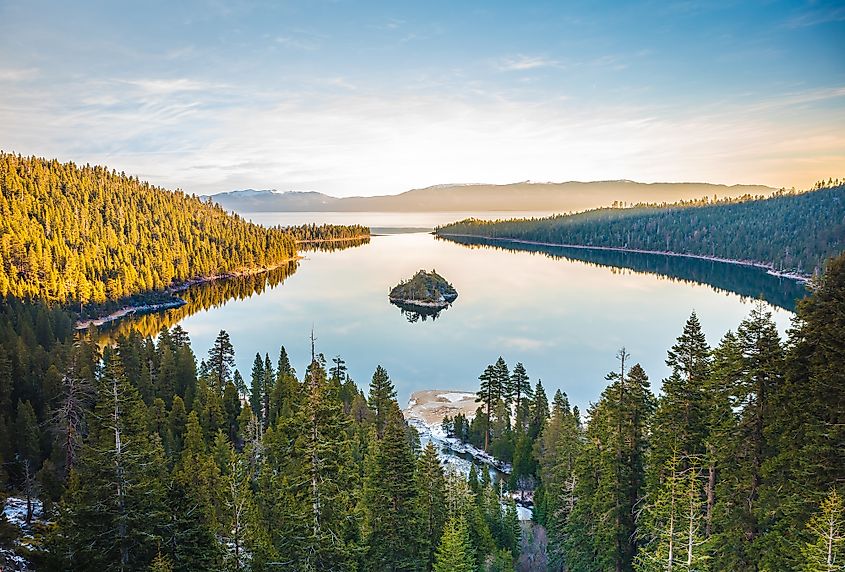 Emerald Bay State Park sits on Lake Tahoe's Emerald Bay, encompassing beautiful sights such as Eagle Falls and Vikingsholm Castle, which is a historic 38-room Scandinavian mansion. The park also includes Vikingsholm Trail, a paved road hike that is 1.6 miles in length, reaching 115 meters in elevation. The hike begins at the observation tower, looking down on Lake Tahoe, and ends at the Vikingsholm Castle, with tours available until the end of September. Travelers can then hike to Lower Eagle Falls directly across from the castle. The hike encompasses a panoramic view, a waterfall, and a taste of history, making it perfect for a fall day spent exploring one of California's most beautiful state parks. 
Sycamore Grove Park, Livermore Valley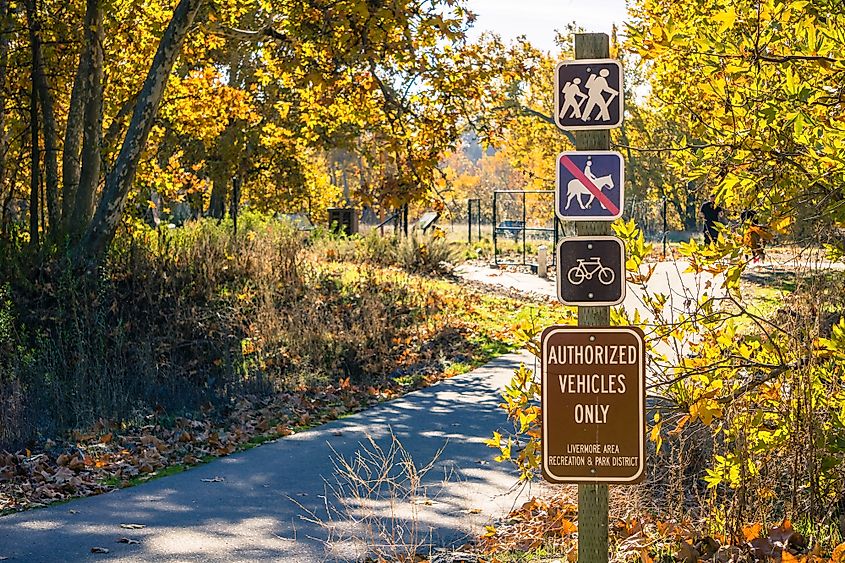 Livermore Valley sits a few miles from California's coast, east of San Francisco Bay. The valley is well known for its vineyards, making it the ideal spot to enjoy a visit to a winery after a hike. In terms of hiking, Sycamore Grove Park is a great destination, covering 847 acres with a network of trails awaiting exploration. In autumn, fallen leaves line the trail and paint the area in warm tones, while the crisp air and chillier weather make for the perfect fall walk. Trails include Sycamore Creek Trail, which is a 4.9-mile loop trail, the 4.7-mile Winery Loop, and the 6.5-mile Sycamore Grove Trail to Camp Arroyo, which is a popular destination for birding, camping, and hiking.
Enjoy A Fall Hike In California
Fall in love with the Golden State's season of gold, as well as shades of red, orange, and yellow. The vibrant hills beckon visitors and a hike through its most revered vistas and national parks offer the opportunity to indulge in some of the state's most beautiful sites at one of the most beautiful times of the year. Whether the sycamore trees of Livermore Valley draw you in or the views from Strawberry Peak Trail excite you most, strap on your hiking boots and prepare to wander into the beauty of California's best hikes.