Oak Glen is the 1234rd largest city in the US state of California. Just east of San Bernardino and on the hem of the Mojave Desert, this small city in the foothills of the San Bernardino Mountains experiences all four seasons. Its climate of cool winters and hot, dry summers has given rise to Oak Glen's abundance of apple farms and cideries.
Geography And Climate Of Oak Glen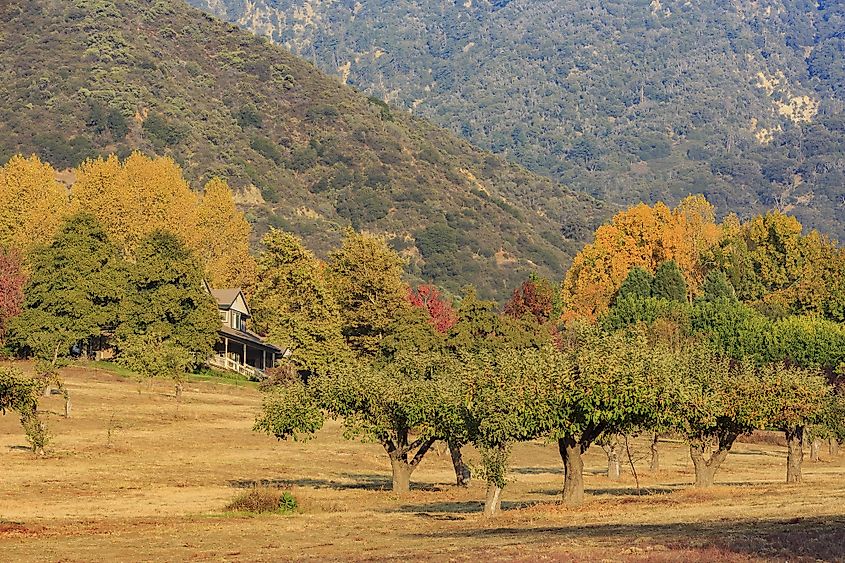 Oak Glen sits in San Bernardino County, fifteen miles east of San Bernardino, at altitudes that range from 4,000 to 5,000 feet above sea level. The San Bernardino Mountains are part of the Coast Ranges. San Gorgonio, the highest point in southern California at 11,499 feet, lies 25 miles east of Oak Glen. Southeast of Oak Glen, the Little San Bernardino Mountains make up the western segment of Joshua Tree National Park. The 25,000-square-mile Mojave Desert stretches from the San Bernardino Mountains to the Sierra Nevada Range and the Colorado Plateau. Palm Springs is 38 miles to the southeast, Joshua Tree National Park is 62 miles to the east, and Coachella is 64 miles to the southeast. Los Angeles is 79 miles directly west.
Oak Glen's altitude allows it to experience all four seasons. With hot, dry summers and long, cool winters. The Köppen climate classification ranks neighboring city San Bernardino as having a dry-summer subtropical climate. The annual average temperature is 63.7°F. The average minimum temperature is 40.2°F in December, rising to an average high in August of 92.3°F. March sees the highest average humidity with 55.64%. There are 39 days of rainfall and an annual average of 16.4 inches of rainfall, compared to the contiguous US average annual precipitation of 30.28 inches in 2020. The area sees 280 sunny days a year and an average of 0 inches of snow.
Brief History Of Oak Glen
The Cahuilla and Serrano (or Yuhaviatam) people first settled this area around 2,500 years ago. Spanish soldiers invaded and forcibly relocated many of the area's original inhabitants, taking them to missions built along the coast between 1769 and 1823. In the 1840s, smallpox further decimated the population. Early non-indigenous settlers planted potato crops, but Enoch Parrish arrived in 1866 and planted apple orchards the following year. More settlers arrived and planted orchards. In 1940, the Law family farm opened a roadside stand, restaurant, and gift store, selling apples, pies, cider, and apple butter. Other farms soon followed, and the town burgeoned. The area's ideal apple-growing conditions are largely responsible for its growth and continuing appeal to visitors.
Demographics And Economy Of Oak Glen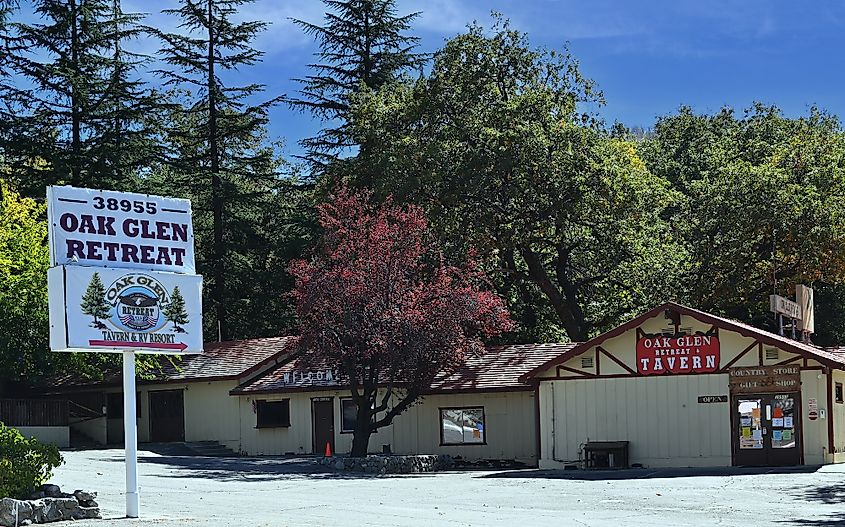 The American Community Survey (ACS) estimated Oak Glen's population to be 430 as of 2019, down from the US Census Bureau's 2010 figure of 638. Of those, 98.1% were US citizens. The median age of those living in Oak Glen was 60.2 years of age. The ACS reported that 84% of the residents of Oak Glen identify as White, 5.6% as Hispanic or Latino, 5.4% as Native Hawaiian and Other Pacific Islander, and 2.1% as Black or African American. Furthermore, 5.1% of the city's population were born outside the US, and 63 residents identified as veterans. According to the ACS, the poverty rate was 20.2%. In 2019, the median household income was $83,846, compared to the 2019 national average of $68,703. In 2019, 211 of those over 16 were in the civilian labor force.
Attractions In And Around Oak Glen
Oak Glen Road Scenic Loop
Oak Glen is located in one of two adjacent valleys that are also home to Potato Canyon and Wilshire Creek Canyon. Drive the twenty-mile-scenic loop, discovering apple farms, cideries, cafés and restaurants, camps, trails, and historical landmarks.
San Bernardino National Forest
With both desert and Southern California's tallest alpine mountains, San Bernardino National Forest has been attracting outdoor enthusiasts since the area was recognized as an ideal setting for forest recreation in the late 1800s. The area has hundreds of miles of hiking trails, seven designated Wildernesses, seven rivers, four winter resorts, and stellar off-road vehicle options.
Oak Glen Preserve
The 909-acre preserve that nestles at the foot of Wilshire Peak is home to Southern California Montane Botanic garden, plus a children's discovery center and Los Rios Rancho Apple Farm, one of the area's first apple farms. It makes an excellent spot to picnic and hike.
Parrish Pioneer Ranch
The original Oak Glen apple orchard offers a wealth of places to visit from an artist's studio, toy store, shops, and farm (home to pygmy goats, alpacas, peafowl, and a miniature donkey and miniature horse.) The restaurant is housed in the old 1867 barn, with a giant sequoia towering over diners outside.
Oak Glen is a delightful small agricultural community within easy reach of San Bernardino and Palm Springs, with incredible mountains and deserts. Its small-town charm and natural abundance make it an excellent place to visit or use as a base for exploring.