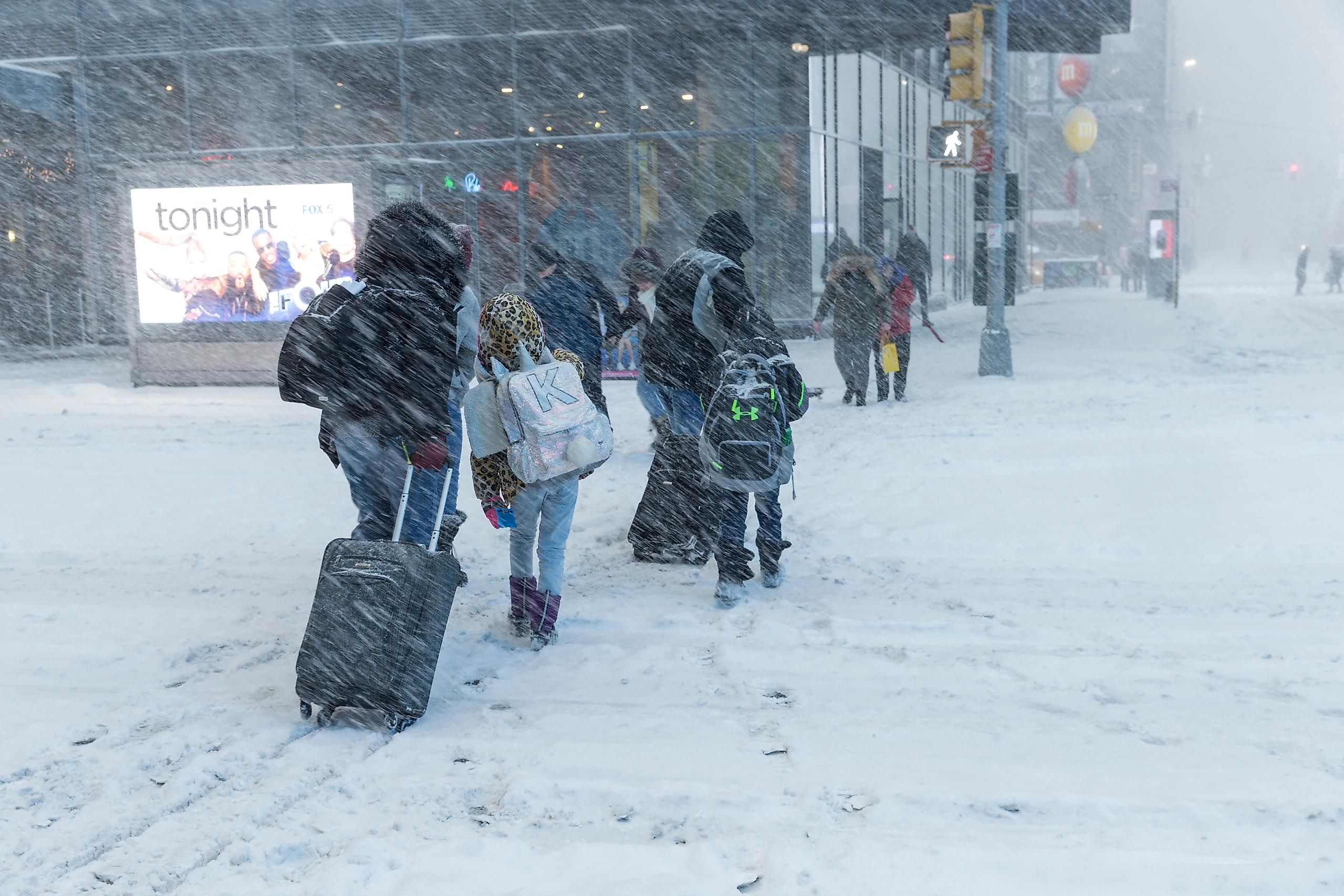 10 Deadliest Snowstorms in US History
Snowstorms are a part of life for many Americans, particularly in the Northeastern part of the country. From record-breaking snowfalls to cold conditions, and of course the damage and clean up of the day after, snowstorms may seem beautiful from a distance but can be very dangerous. Throughout US history numerous storms have battered several cities and states, but a select few have gone down as one for the record books. Though the following storms occurred in different parts of the country, they all share the commonality of causing widespread dread, death, and damage in their wake.
The Great Blizzard, 1888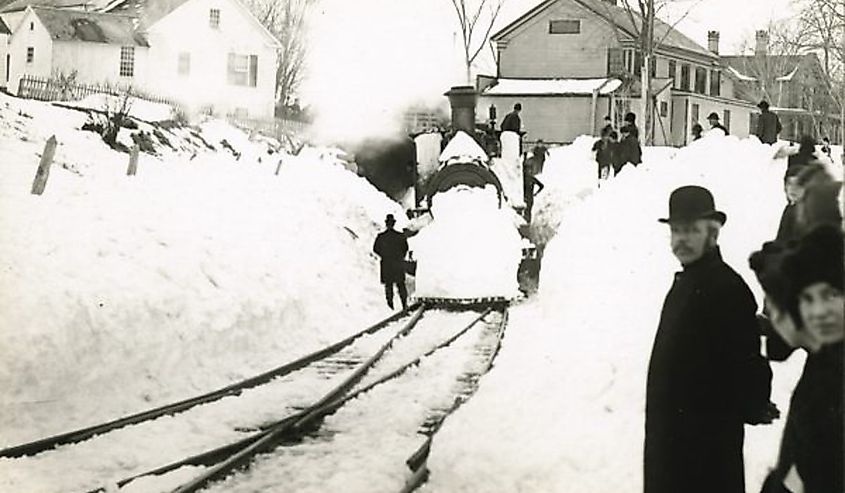 Considered one of the most severe snowstorms in modern history, over a period of three days in March 1888, some 50 inches of snow battered the Eastern States of New York, Massachusetts, New Jersey, and Connecticut. With upwards of 400 confirmed deaths, the Great Blizzard maintains the record for the highest rate of fatalities in the United States. In addition to its wind gusts of up to 45 miles an hour, massive snow drifts some 50 feet high buried anything in sight, and trapped many people inside buildings. Railway lines and telegraph communications also faced considerable disruption. As a result, these overhead communication lines moved underground to minimize disruption in future major storms.
Great Appalachian Storm, 1950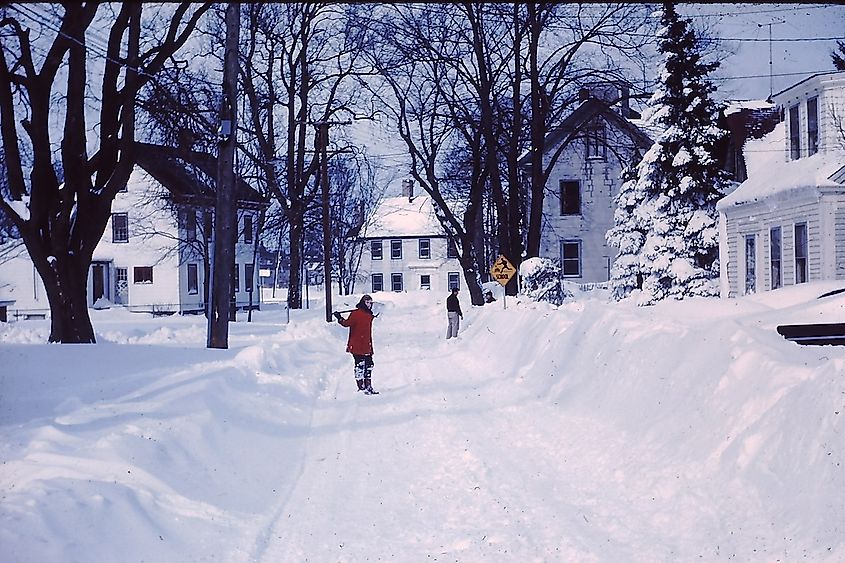 For seven days in late November 1950, more than 57 inches of snow and hurricane-force winds battered large portions of the Eastern United States. Reaching speeds of up to 160 miles per hour, 22 states in total faced the consequences.  Resulting in the death of 383 people and injuring hundreds more, the storm came with a then total damage estimate of $66 million. It remains one of the most expensive winter storms of the 1950s and set a record for post-storm payouts from insurance companies across the country.
The Storm of the Century, 1993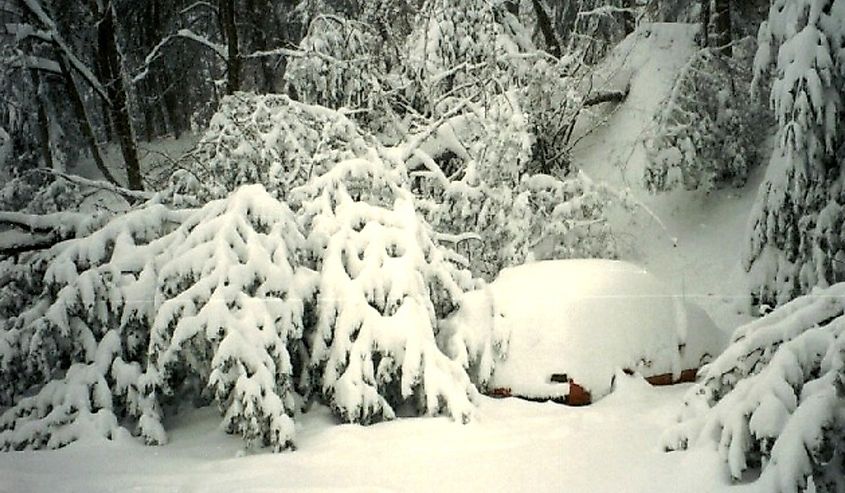 Though it lasted only three days in March 1993, the heavy snowfall, high winds, and widespread cold weather of this climate event led to its naming as the "Storm of the Century."  Formed in the Gulf of Mexico, the storm stretched from the nation of Honduras, all across the Eastern United States, and into Eastern Canada. With some 318 fatalities and hundreds of injuries, numerous places saw record levels of snowfall and infrastructure damage. Towns in Georgia and Alabama reported up to 35 inches of the white stuff, while nearly 55 inches fell in Tennessee's Great Smoky Mountains.
Schoolhouse Blizzard, 1888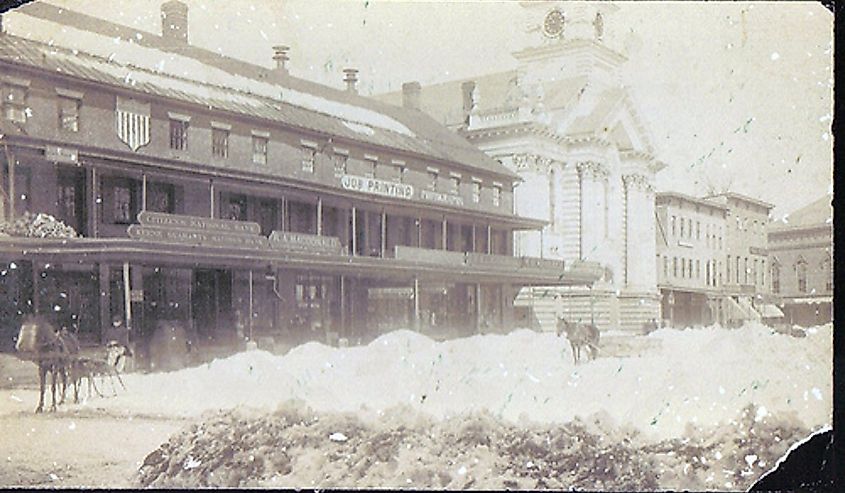 Although the total amount of snowfall was six inches, the suddenness of this January 1888 storm caught many off guard. A warm winter's temperature of 28°F quickly dropped to -6°F, with a biting and harsh windchill. Many students in one-room schoolhouses went home early, unaware of how severe the weather had changed. Covering an area that includes the states of Nebraska, Kansas, and Minnesota, up to 235 deaths resulted from exposure to the cold and snow, many of whom were school-aged children.
Armistice Day Blizzard, 1940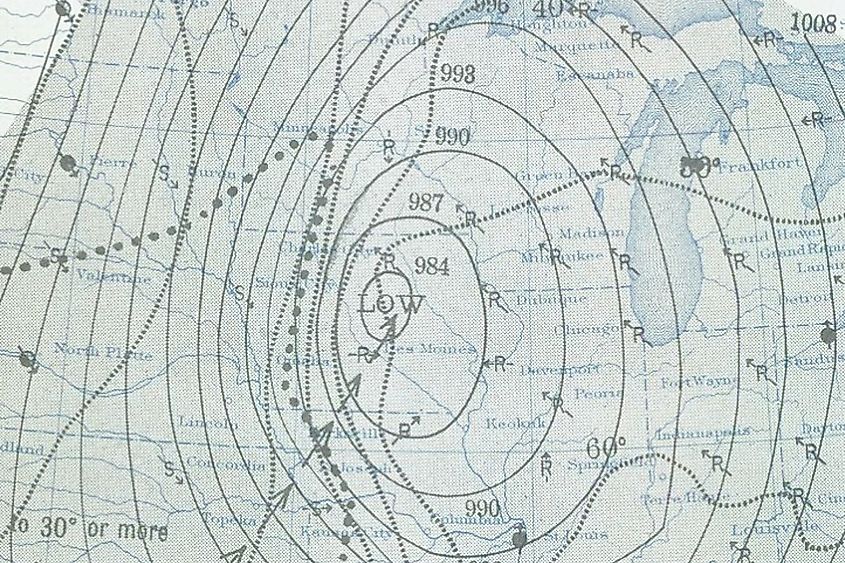 Over a period of three days in November 1940 (including Armistice Day), heavy snow and strong winds walloped a large swath of the Midwestern United States, resulting in 154 fatalities. Parts of Minnesota and Iowa were particularly hard hit, with some communities reporting up to 20-foot high snow drifts! Among the casualties included several hunters in the wild and a group of 65 sailors who died on several vessels on Lake Michigan who met with the 80-mile-per-hour winds and the freezing temperatures. In addition, a number of livestock perished, including over a million turkeys destined for the upcoming Thanksgiving festivities.
Blizzard of 1996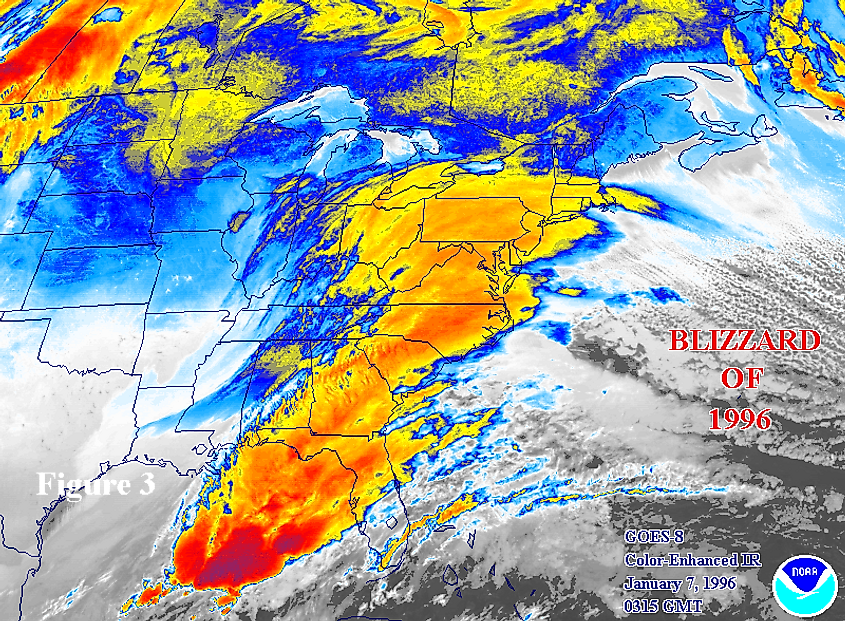 The beginning of 1996 was not a happy new year, with a massive nor'easter battering much of the United States East coast in early January. More than 47 inches of snow fell alongside blistering high-speed winds, which resulted in the death of more than 154 people. Subsequent flooding only further added to the misery when an additional 33 people lost their lives. By the storm's end after five days, the total damage and recovery cost soared over a staggering $3 billion!
The Great Blizzard, 1899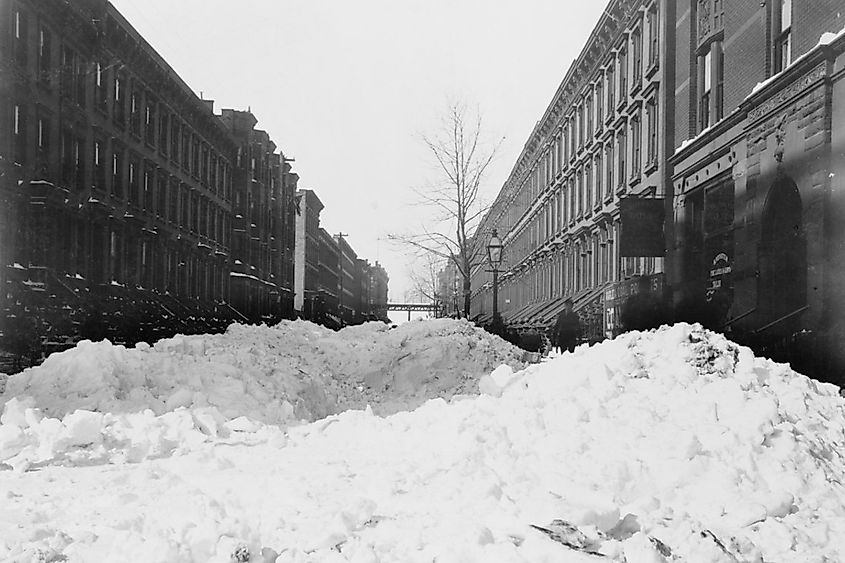 The Southern United States does not typically see much snowfall, let alone a snowstorm. Yet over a span of five days in February 1899, the states of Florida, Louisiana, Georgia, and Alabama, also encountered a most unique weather event. Although part of a larger system that included much of the continental United States, the heavy snow that hit the southern states unexpectedly fell. Up to 29 inches of snow fell, and more than 100 people perished. The storm destroyed crops, froze lakes, and disrupted traffic. In addition, Virginia and Tennessee reported massive losses of their native populations of birds such as sparrows, larks, and bluebirds.
The Knickerbocker Storm, 1922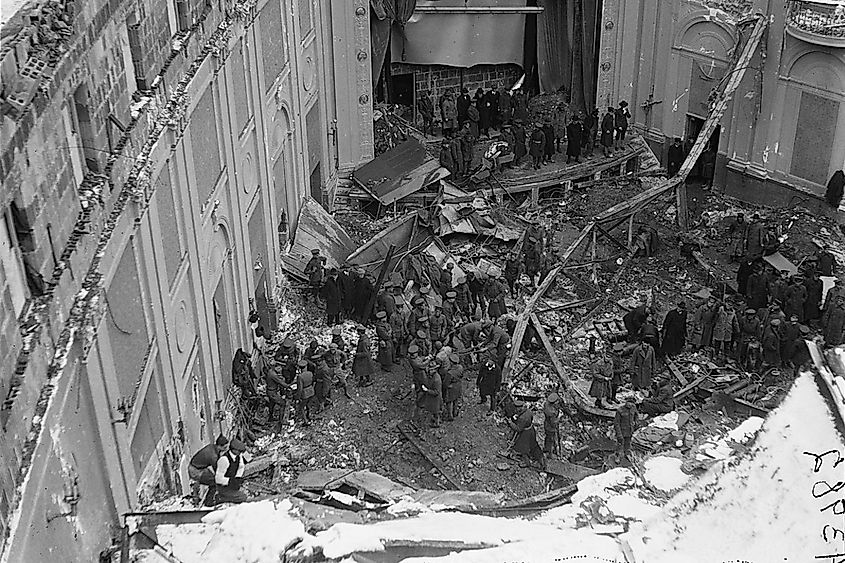 Portions of the Mid-Atlantic United States met with not just great amounts of wind and snow in January 1922, but a wet and heavy amount of precipitation that compromised numerous buildings' structural designs. The most notable building affected was Washington DC's Knickerbocker Theatre whose roof collapsed during a movie screening. In total over 130 people had injuries, while 98 lost their lives. With some 20 inches of snow across much of Virginia and Maryland, it remains one of the worst storms in the history of the nation's capital.
The Chicago Blizzard, 1967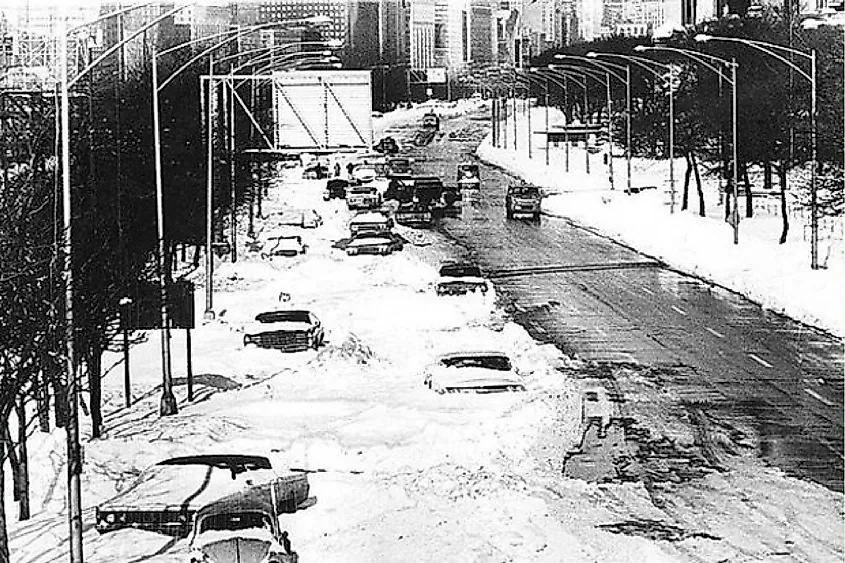 The Windy City lived up to its name in late January 1967, with a record-setting 22 inches of snow falling in a 24-hour period! With wind gusts reaching up to 53 miles per hour, visibility was nearly impossible, and it remains the greatest single-storm snowfall in the history of Chicago. Thousands of vehicles, homes, buildings, and roads were completely covered in snow, and it took several days for people and rescue crews to dig out. In total, over 86 people lost their lives, while hundreds more were without access to heat or electricity.
The Great Storm of 1975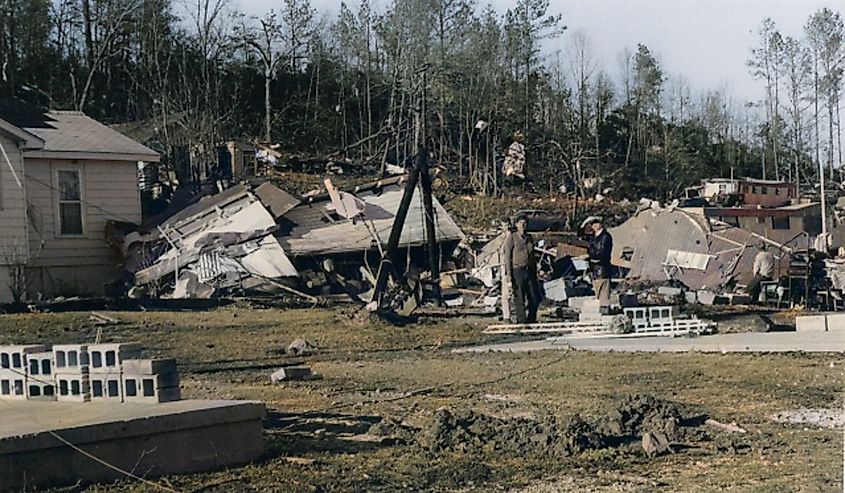 Residents of the Central, Midwestern, and Southeastern United States welcomed the year 1975 with great weather-related misery. Over a span of four days in early January, over two feet of snow fell over the Midwestern region, while an astonishing 45 tornadoes appeared in the Southeast, with some reaching a catastrophic F4 rating. It remains one of the largest tornado outbreaks in the month of January in the United States. In total, more than 58 people died, with hundreds more suffering injuries. By the storm's end, more than $60 million in damages resulted.
Snowstorms and blizzards are awesome events of nature, that can unfortunately bring with them catastrophic damage and loss of life. Whether it is the massive amount of snowfall, the cold temperatures, the blistering high-speed winds, and the difficult recovery afterward, snowstorms can certainly be a frightening time. These ten record US snowstorms are but a sample of the raw and commanding power of nature, affecting everything from transport, heating, housing, and communications.
Deadliest Snowstorms in US History
| Rank | Death toll (estimate) | Event | Date |
| --- | --- | --- | --- |
| 1 | 400 | The Great Blizzard | 1888 |
| 2 | 383 | Great Appalachian Storm | 1950 |
| 3 | 318 | The Storm of the Century | 1993 |
| 4 | 235 | Schoolhouse Blizzard | 1888 |
| 5 | 154 | Armistice Day Blizzard | 1940 |
| 6 | 154 | Blizzard of 1996 | 1996 |
| 7 | 100 | The Great Blizzard | 1899 |
| 8 | 98 | The Knickerbocker Storm | 1922 |
| 9 | 86 | The Chicago Blizzard | 1967 |
| 10 | 58 | The Great Storm of 1975 | 1975 |