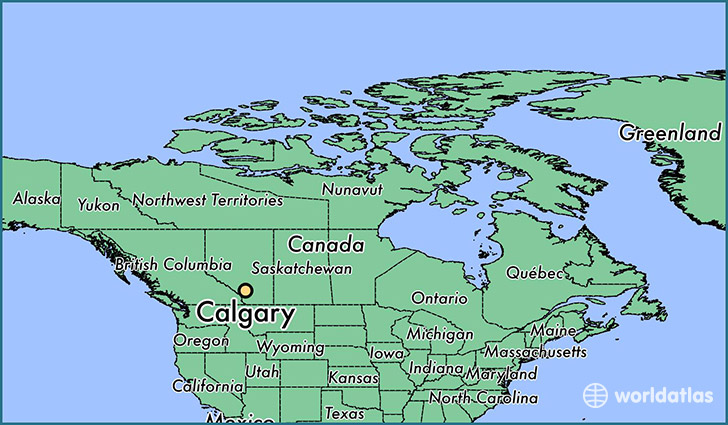 Calgary is a city found in Alberta, Canada. It is located 51.05 latitude and -114.09 longitude and it is situated at elevation 1042 meters above sea level.
Calgary has a population of 1,019,942 making it the biggest city in Alberta. It operates on the LMT time zone.
Quick facts
| | |
| --- | --- |
| Country | Canada |
| Province | Alberta |
| Population | 1,019,942 |
| Elevation | 1,042 m over sea level |
| Time Zone | LMT |
| Longitude | -114.085290 |
| Latitude | 51.050110 |


Calgary, the largest city in the province of Alberta, rests in a deep river valley where the prairies end and the foothills begin. As the eastern gateway to the Canadian Rockies and a well-known destination for winter sports and ecotourism, Calgary and its surrounding area is home to numerous mountain resorts.
World class festivals, including the famed Calgary Stampede and the Folk Music Festival, are annual events.

Calgary is ever growing. With new suburbs sprouting rapidly, the city has grown to embrace a thriving all-ages music scene and a diverse population, while still retaining much of its traditional culture of hotel saloons, western bars, hockey and football fans.

With its long snowy winters and comfortable summers, this Canadian city is surrounded by awesome natural beauty, attracting outdoor adventurers, skiers and conservationists to visit and often settle down.
ADDITIONAL ALBERTA CITY PAGES:

In 1988, Calgary became the first Canadian city to host the Olympic Winter Games.
Calgary was ranked the world's cleanest city by Mercer Quality of Living in a survey published in 2007 by Forbes magazine.
Calgary is known as Cowtown for its rich history of farming, rodeos and cattle drives.



Read on for some great things to do in Calgary, Alberta
Calgary Stampede
A city highlight that swells its capacity to bursting every July, the Calgary Stampede justifies the reputation of Calgary as Cowtown when this ten-day western rodeo and exhibition is held. The Stampede is one of Canada's largest annual events and the world's largest outdoor rodeo.

Featuring internationally recognized rodeo competitions, western stage shows, agricultural competitions, concerts, chuckwagon races, First Nations exhibits and delicious pancake breakfasts around the city, Calgary Stampede attracts more than 1.2 million visitors every year from around the world.


Calgary Zoo
The second largest zoo in Canada, Calgary Zoo, is home to over 1000 animals and 290 different species. Providing the closest to natural habitats possible, the zoo organizes animal exhibits by geographical regions.

Don't miss Destination Africa, the Canadian Wilds, the Botanical Gardens, the Prehistoric Park with its over 20 life-sized models of dinosaurs and reptiles, or the brilliant palette of the year-round tropical butterfly enclosure.

Enjoy the imposing sights of lowland gorillas, grizzly bears and wolves. And don't forget to visit the irresistible koalas and new baby hoglets in the African Savannah Building!


Calgary Tower
One of the city's most prominent landmarks, Calgary Tower offers fabulous views of the city and surrounding Alberta landscape in an entirely different way. Suspended at 525 feet above ground, the Observation Deck boasts a glass floor and full glass surround, offering visitors a breathtaking view.

For the 1988 Winter Olympic Games, a giant flame was lit at the top of the tower, making Calgary Tower the World's Largest Olympic Torch. Enjoy the panoramic views, the revolving restaurant and high-powered observation telescopes on your Canada vacation.
Maps
This page was last updated on October 2, 2015.