George Washington Carver was born around 1864 in Diamond, Missouri. Although the date of his birth is unknown, we do know that it was before Missouri abolished slavery. George Washington Carver is best-known for his contributions to the agricultural sciences, as well as for his environmental work. Through his research, he came up with over 300 derivative products for peanuts and 118 uses for sweet potatoes. This was key in helping impoverished black farmers rotate crops (thereby adding nutrients to the soil via restored nitrogen) and added an income source other than cotton.
Childhood
George Washington Carver was born to Mary and Giles Carver, who had been purchased by Moses Carver in 1855 for $700. George was an infant when he, his mother, and his sister were kidnapped by slave traders. His brother, James, was hidden away and not captured. Moses Carver sent someone to recover them, however, only George was brought back from Kentucky, where the kidnappers had sold the slaves.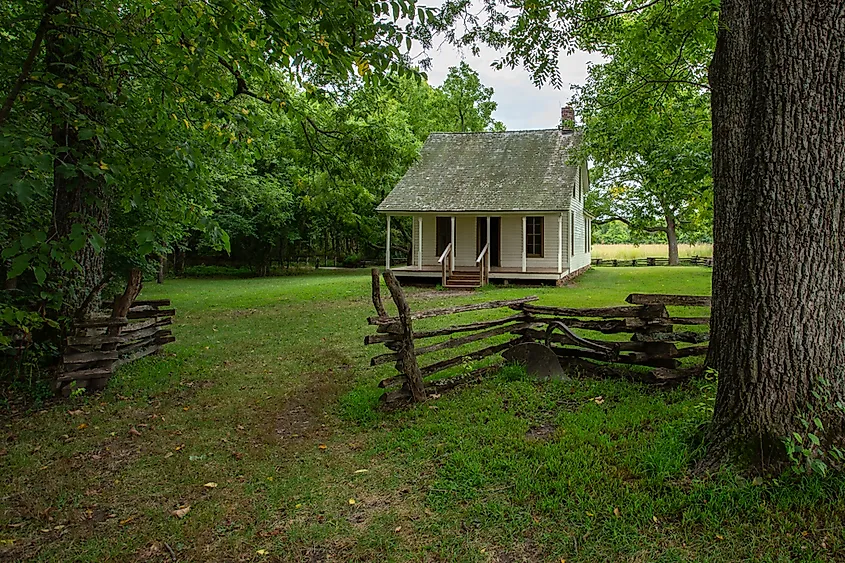 The George Washington Carver Monument preserves the scientist's childhood home in Diamond, Missouri. 
Susan and Moses raised the two boys after slavery had ended. Susan taught George how to read and they both encouraged him in his academic pursuits. Because black children were not allowed to attend the local school in Diamond Grove, George walked to Neosho when he was between 11 and 12 years old. Here, he stayed with Andrew and Mariah Watkins and studied at the school. The couple was black and childless and in exchange for help with the household chores, they allowed Carver to stay. Mariah was a midwife and taught Carver much of her knowledge of medicinal herbs and plants.
For several years, Carver traveled around the Midwest, supporting himself with his domestic skills while learning whatever he could in school. In 1880, after graduating from high school George applied to Highland College in Kansas and was initially accepted, but when the administration realized he was black, they rescinded the acceptance to the all-white school. In 1890 he began to study piano and art at Simpson College in Iowa. He then moved on to studying botany at the Iowa State Agricultural School - known today as Iowa State University - and received both his Bachelor's (1894) and his Master's (1896) degrees from the school. He was the first African-American to earn a Bachelor's of Science. Upon graduation with his Master's degree, he received several offers of work. He decided to accept Booker T. Washington's invitation to join the Tuskegee Institute.
Tuskegee Institute
Carver came to the Institute and built his department and laboratory from the ground up; he would teach there for 47 years, until the day he died. To entice him, Booker T. Washington offered him two private rooms as well as a higher salary than most other staff received. It was unusual for an unmarried professor to have one private room, let alone two.
George Washington Carver taught classes and did research. Much of his research was around soil and plants. He is credited with introducing the idea of planting peanuts as a crop; he discovered that the boll weevil, which was attacking cotton plants, did not eat peanuts. Peanuts and soy beans both belong to the legumes family and alternating them (and sweet potatoes) with other crops would enable the soil to heal by returning nitrogen to it. Then, when the cotton plants were reintroduced, the soil would be healthier and yield stronger crops. Carver took the classroom to the farms by traveling to the farms in a "Jesup wagon" which was a sort of mobile laboratory and classroom that he invented.
The rotation of crops led to a surplus of peanuts, soy, and sweet potatoes. So Carver investigated and experimented with ways to use these products. He is credited with discovering over 300 products using peanuts and 118 using sweet potatoes. Some of the products included flour, vinegar, stains, dyes, paints, cosmetics, cooking oils and salad oils, medicines, and soaps. Due to his work in peanuts, he was asked to speak in 1920 to the Peanut Grower's Association and to testify before Congress in 1921 in support of a tariff on imported peanuts.
Recognition and Awards
During his lifetime and posthumously, Carver received many honors and accolades. He was honored by Time Magazine, who named him a "Black Leonardo" and featured him in a 1941 issue. He was made a member of the Royal Society of Arts (in England) in 1916. Carver received the Spingarn Medal from the NAACP in 1923. George Washington Carver was the first African-American to be honored with the naming of a national park – and the movement for this to occur began before his death. It is located in Missouri, in Diamond. There is also not one, but two postage stamps that were issued with his image and name on it. One in 1948 and the second in 1998. A half dollar also was in circulation from 1951-1954 with his image.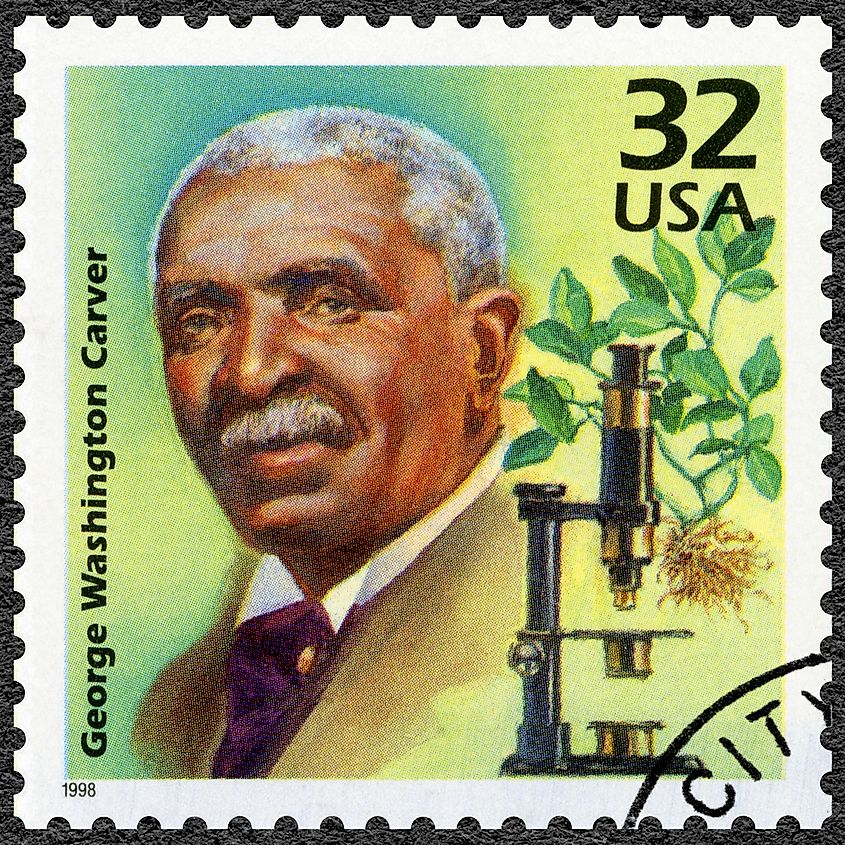 A postage stamp honoring George Washington Carver, circa 1998. Editorial credit: Olga Popova / Shutterstock.com. 
George Washington Carver died in 1943 at the age of 78 after falling down a flight of stairs and having complications from the fall. He is buried at Tuskegee Institute, right next to Booker T. Washington.