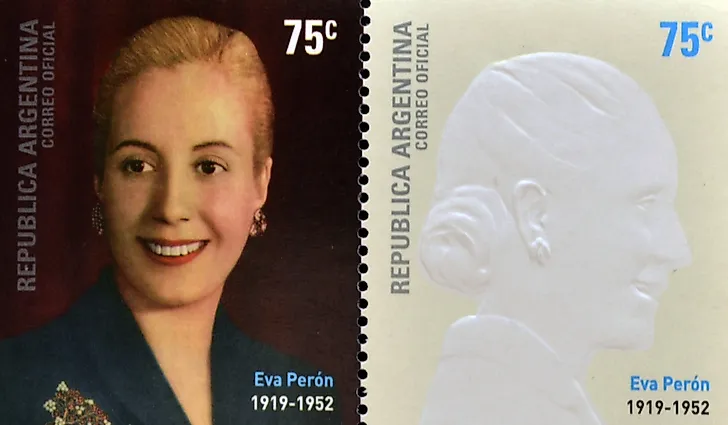 The banners and flags sway above a sea of humanity. There is no room for a single person in Plaza de Mayo. Thousands of people gathered here to listen raptly to Eva Perón. Men and women weep openly. An emaciated Evita is bidding farewell to her beloved descamisados, as she affectionately calls the underprivileged.
When Evita finishes her speech, she turns around and hides her face in President Perón's chest. And cries. He hugs her tightly. He does not want to lose her either. The date is May 1, 1952.
On July 26, Evita lost her battle to cancer. She was only 33 years old.
Early Life
Maria Eva Duarte was born on May 7, 1919 in a small town called Los Toldos. She was the illegitimate daughter of a wealthy ranch owner. Eva and her family lived in poverty after their father died. At the age of 15, Eva decided to move to Buenos Aires to become an actress. In the following years, Eva enjoyed moderate success in theater and in radio.
As a radio star, Evita got an invitation to a fundraising gala in May 1944. It was in support of the victims of the earthquake that had flattened the city of San Juan in western Argentina. There she met the love of her life, General Juan Domingo Perón. At the time, General Perón was the head of the Labor and Social Welfare Agency. They married in 1945.
First Lady
Evita supported her husband throughout his political life. When Perón took office in 1946, Evita decided she would be a hands-on First Lady and became the defender of social justice. She also developed a close relationship with the trade unions. It gave her a solid power base whose votes would be crucial in her husband's career.
Because Eva Perón had known poverty early on, she devoted her time and energy to help the needy. At first, she received supplicants in her office and handed out whatever they needed. It could be anything from new clothes to a sewing machine. Evita eventually created a charitable foundation named after herself to reach more people. She worked tirelessly for her descamisados.
Women's Rights
Another issue close to her heart was women's voting rights. Evita organized the women's branch of the Partido Justicialista, the political party Perón had created. They campaigned relentlessly, sometimes together with other feminist leaders and forerunners. Congress passed Bill 13010 on September 9, 1947. Evita made a joyful announcement from the balcony of the Casa Rosada, the House of Government.
Argentinean women exercised their brand-new right to vote in the legislative elections of 1951. For the first time in history, women were elected to the House of Representatives and the Senate. Evita was gravelly ill by then. A special ballot box was brought to her bedside, so she could vote too.
Eva Perón was worshipped by the people she helped and reviled by the rest. The upper and middle classes thought she was a ruthless social climber and an opportunist. The polarization carries on to this day.