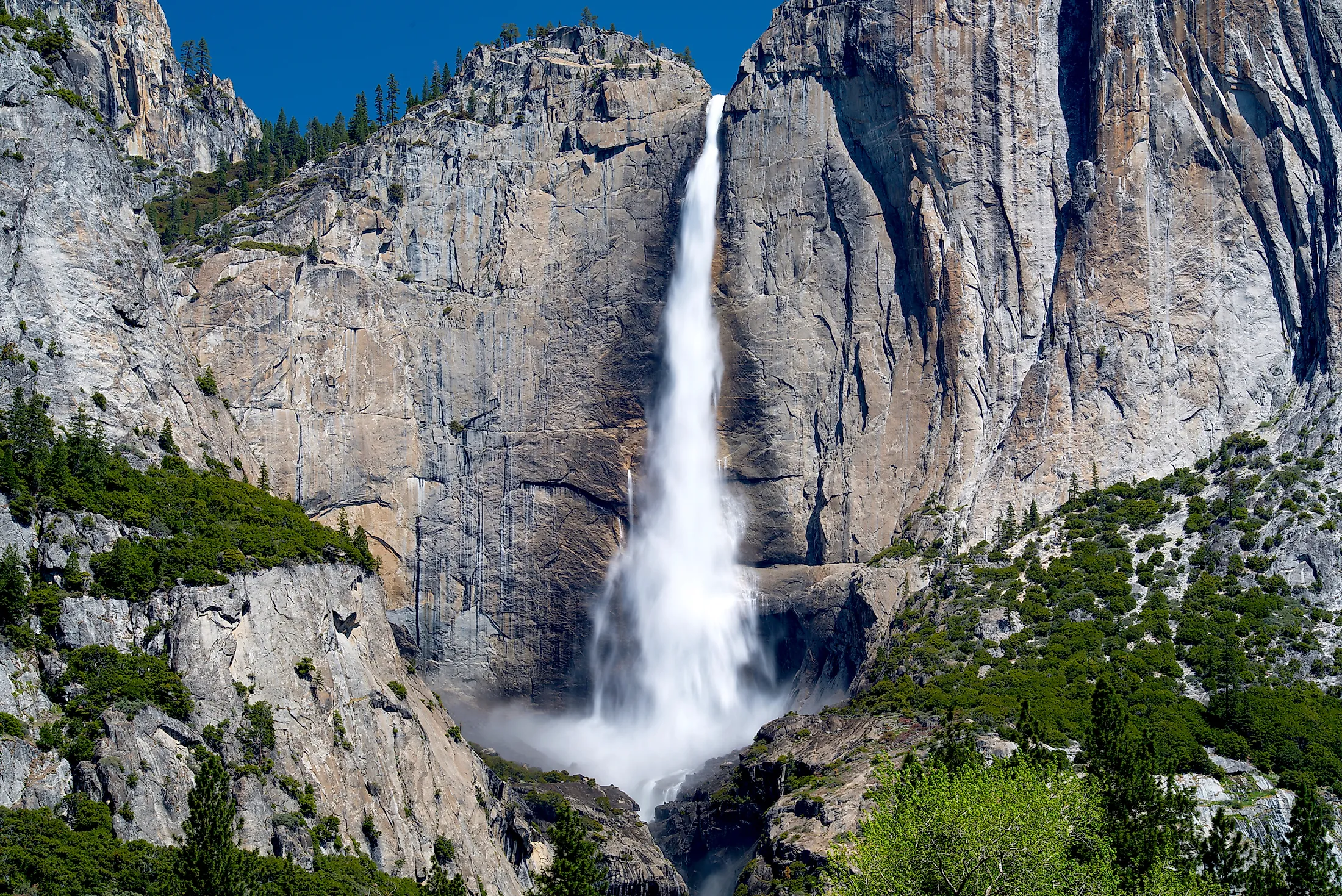 The 10 Tallest Waterfalls In The United States
In parts of the United States, high mountain ranges blessed with patient glaciers and sheer volcanic cliffs doused by seasonal showers create a perfect blend of conditions for tall waterfalls to unfurl. For the most part, these vertical giants congregate in Hawaii and Washington, with a few notable exceptions cropping up in California and Montana. While the following eleven entries are undeniably impressive in their height, in most cases, the width and volume are rather minimal – creating a long, thin strip of water struggling to make its presence known amidst colossal cliffs. Let us start things off on a remote coastline of Hawaii. 
The Ten Tallest Waterfalls in the US
1. Olo'upena Falls, Hawaii - 2,953 ft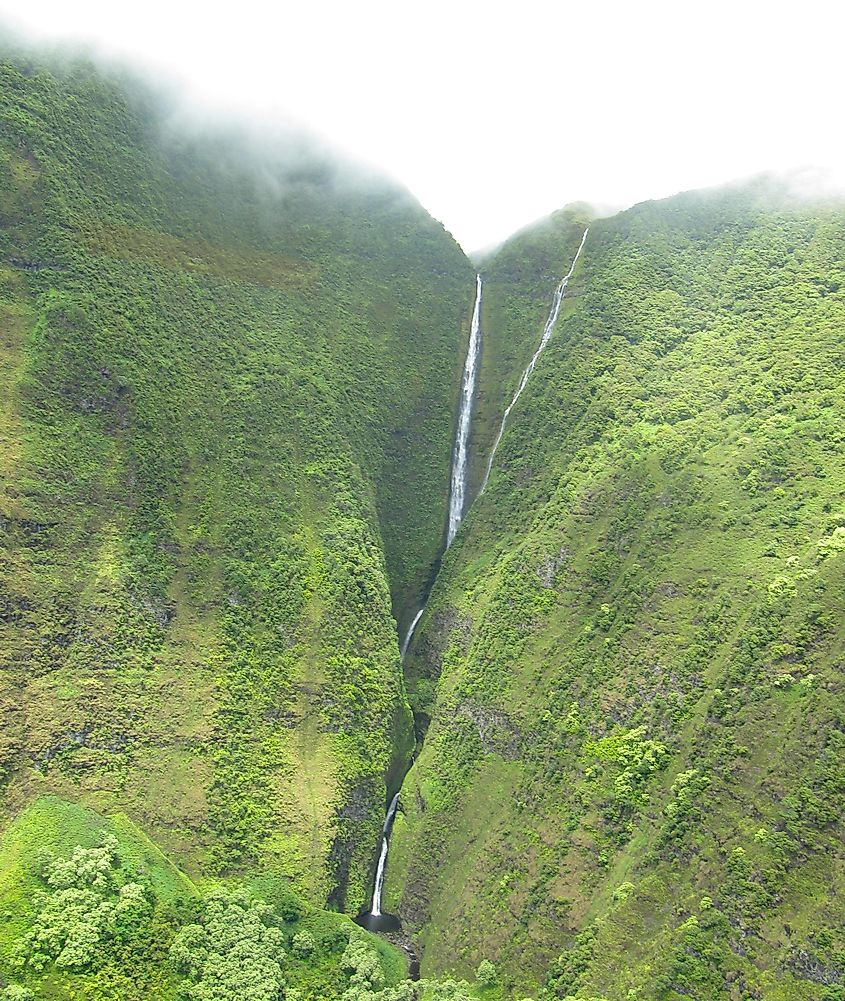 The Northeastern shore of Hawaii's Moloka'i island sets the stage for several staggering waterfalls. In fact, the tallest sea cliffs in the world can be found here – pushing 3,000 feet! Olo'upena Falls takes advantage of this massive drop-off, topping out at 2,953 ft (900 m). The only way to see the country's highest waterfall (fourth highest on the planet) is to jump in a boat or paddle a kayak along the choppy coastline. But do not expect a turbulent roar to mark your arrival, for what Olo'upena has in stature, it lacks in girth. Instead, aim to appreciate the subtle stream that seemingly connects the tropical island's lush bedding with the big blue sky. 
2. Pu'uka'oku Falls, Hawaii - 2,756 ft
Adjacent to Olo'upena Falls, on the same dramatic drop-off known as the Haloku Cliffs (a roughly 3-mile stretch between the Pelekunu and Wailau valleys, trickles Pu'uka'oku Falls. The second-highest waterfall in the states, and just a drop above Canada's James Bruce Falls for the world's eighth tallest, is also fed by humble seasonal streams (November to March is the rainy season on Moloka'i). Estimated to be 2,756 ft high (840 m), Pu'uka'oku does not exhibit a continuous freefall but rather works its way down the nearly vertical and completely inaccessible cliff. Once again, those hungry for a glimpse will either need to approach by water or shell out for a helicopter ride like no other. 
3. Waihilau Falls, Hawaii - 2,598 ft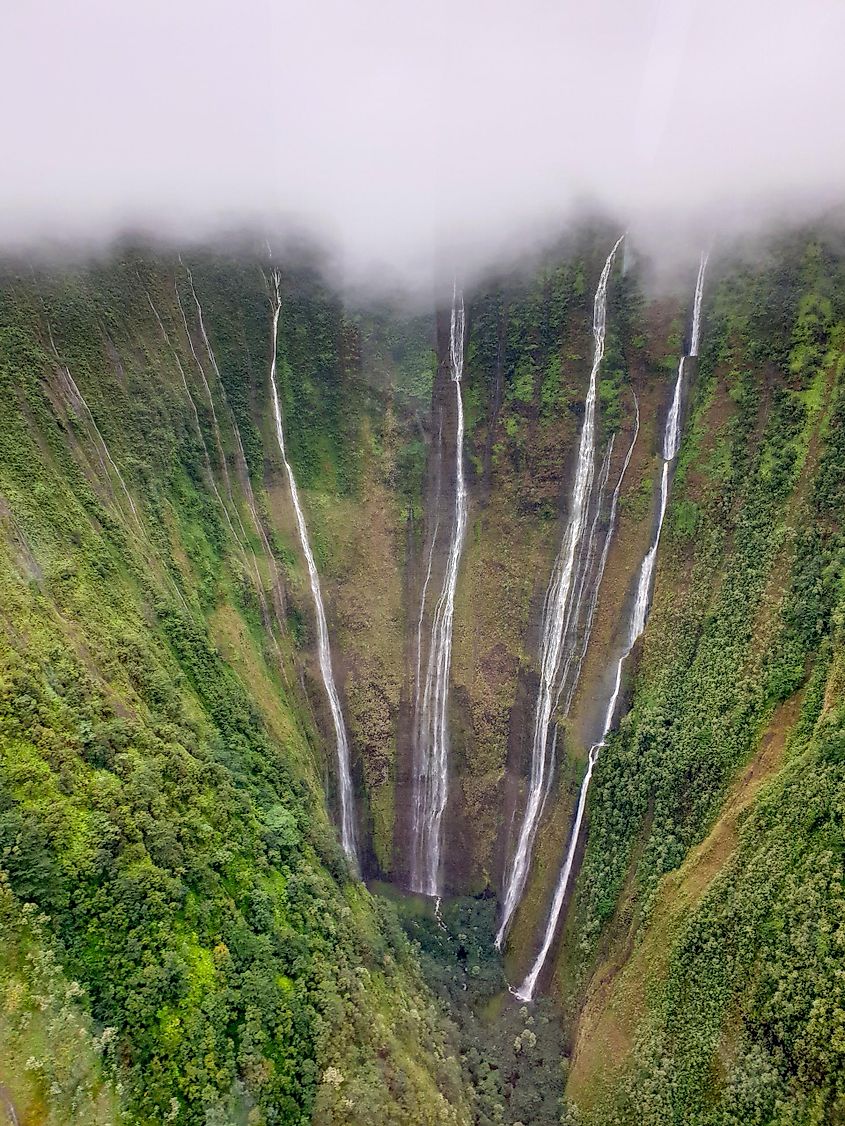 Hopping over to the Northern extension of the state's largest island, the Island of Hawai'i, Waihilau Falls proudly claims the last spot on the podium. This gift from god (and/or geologic forces) descends 2,598 ft (792 m) from the heavens, through the verdant walls of Waimanu Valley, and into the densely forested floor. Hawaii certainly likes to hide her precious vertical watery treasures. Waimanu Valley has no official roads, and the going is tough on foot. Therefore, all three of the country's tallest falls are rarely visited and seldom photographed. As tantalizing as this may be, there is a pleasing purity to keeping some natural wonders free of parking lots, visitor centers, and litigation-dodging handrail pathways. 
4. Colonial Creek Falls, Washington - 2,568 ft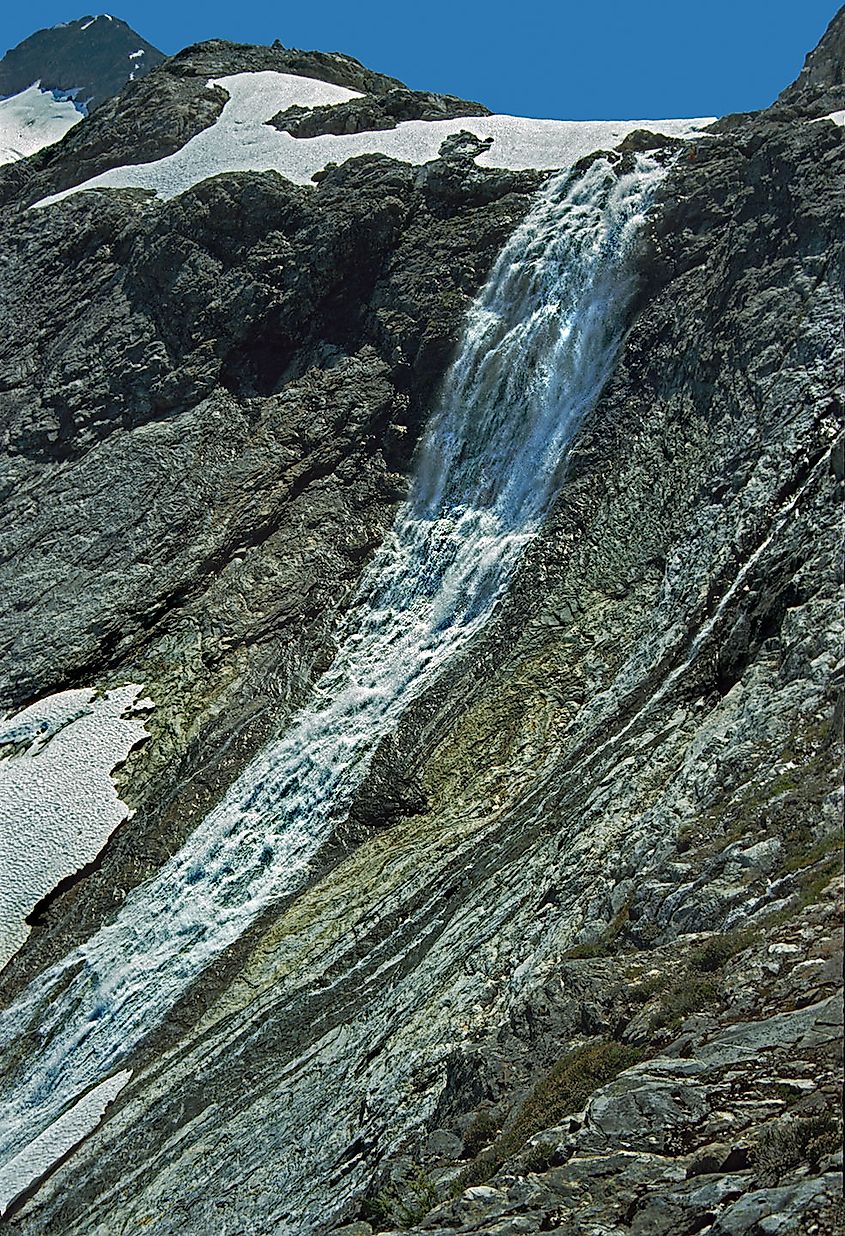 The tallest waterfall found in the lower 48 states is Washington's Colonial Creek Falls. Colonial Creek tumbles 2,568 ft (783 m) down thirteen drops from the meltwater of Colonial Glacier, high on Colonial Peak in North Cascades National Park. The receding alpine glacier has created a lake substantial enough to produce a year-round flow down the mountain, but the falls are typically obscured by snow that persists into early summer. Even late into the summer, getting up close and personal with Colonial Creek Falls is difficult. Motorists can get a distant panorama from State Highway 20, or experienced hikers can set off near Diablo Lake's Colonial Creek Campground, blazing a path up the titular creek and onto the rocky slopes. 
5. Johannesburg Falls, Washington - 2,465 ft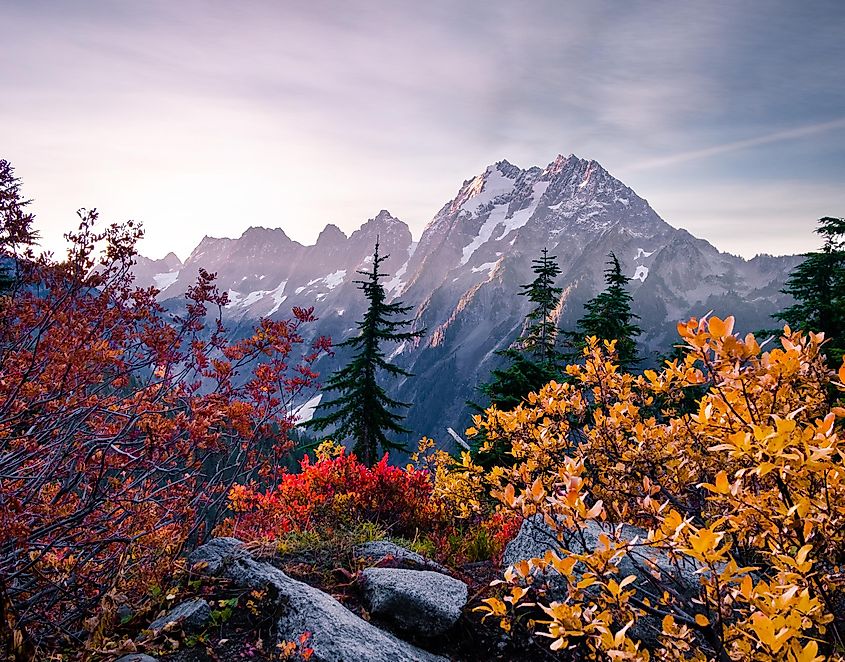 Also within Washinton's North Cascades National Park is the 2,465 ft (751 m) Johannesburg Falls. This slight (in terms of girth) ever-morphing waterfall descends Johannesburg Mountain after forming from the streams of several unnamed, melting glaciers. It is composed of five drops, with the greatest singular freefall being about 800 feet. For those who fancy a peek at this mathematically noteworthy phenomenon, turn onto Cascade River Road and head toward Cascade Pass – a good grunt into a lesser-known portion of this already underrated wilderness. Compared to Washington's other extremely popular national parks (Olympic and Mount Rainier), North Cascades gets but a tiny fraction of the annual visitors. 
6. Yosemite Falls, California - 2,425 ft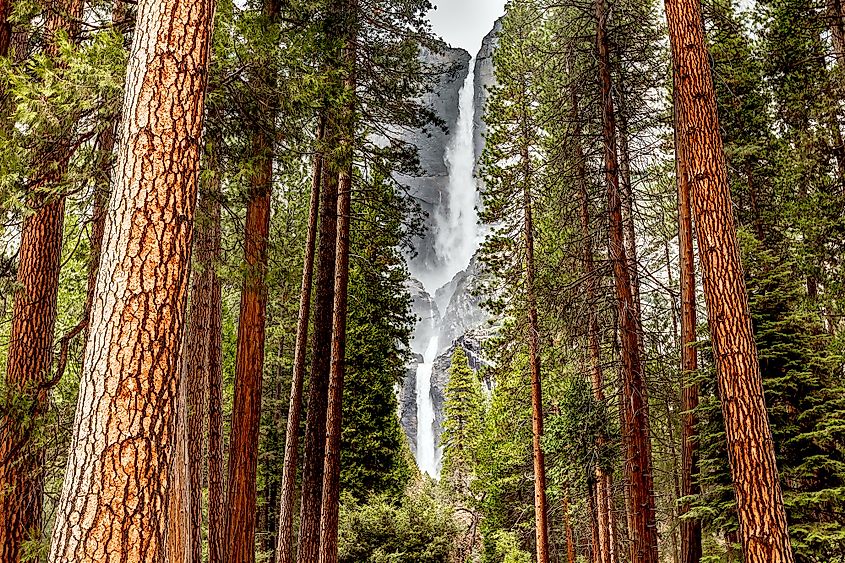 From the inaccessible and underrated to one of the country's most visited and celebrated waterfalls, Yosemite Falls is the icing on the cake that is this spectacular, screen-saver-worthy valley in California. Yosemite National Park is home to iconic granite faces that keep mountain climbers and photographers endlessly entertained. These sheer Sierra mountain slopes also give waterways a wild ride to the valley floor. Yosemite Falls is made up of three sections (Upper Yosemite Falls, the middle cascades, and Lower Yosemite Falls), totaling 2,425 ft (739 m). This people-pleaser can be seen casually throughout the park, but an easy one-mile trail will provide an up-close experience. Keen hikers can also relegate a full and strenuous day hiking to the very top. 
7. Cloudcap Falls, Washington - 2,400 ft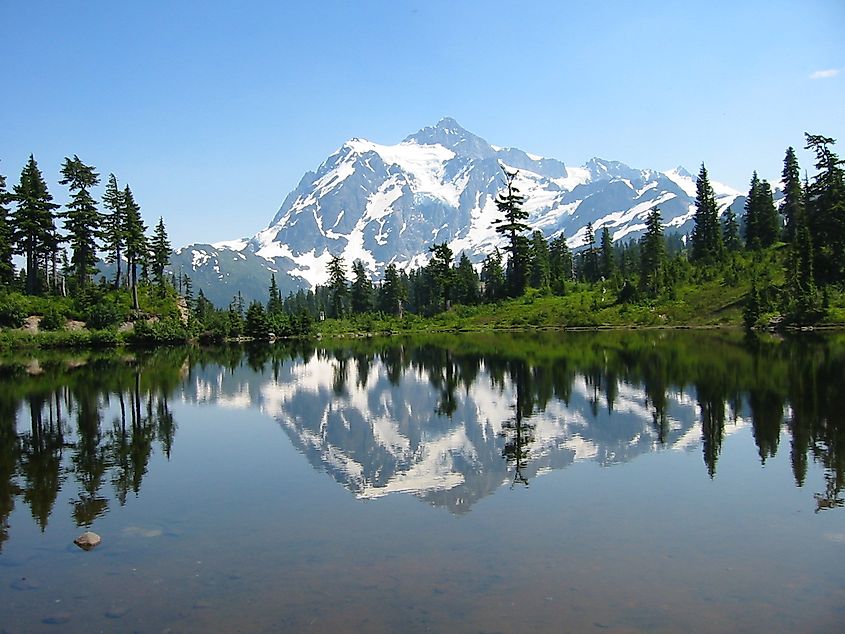 The seventh-highest waterfall in the United States, and one of the more intriguingly named, leaves something to be desired in terms of display. Though it drops an impressive 2,400 ft (732 m), it only averages five feet in width and is spread out over the better part of a mile. Furthermore, because of how the water has carved its way into the rock below Cloudcap Peak (again in Washington's North Cascades National Park), only the last bit of the glacial runoff can be seen, and only after the winter thaw (it runs dry later in the summer). Not exactly the quintessential waterfall, but nature does not set out to impress, only unfold. 
8. Sperry Glacier Falls, Montana - 2,300 ft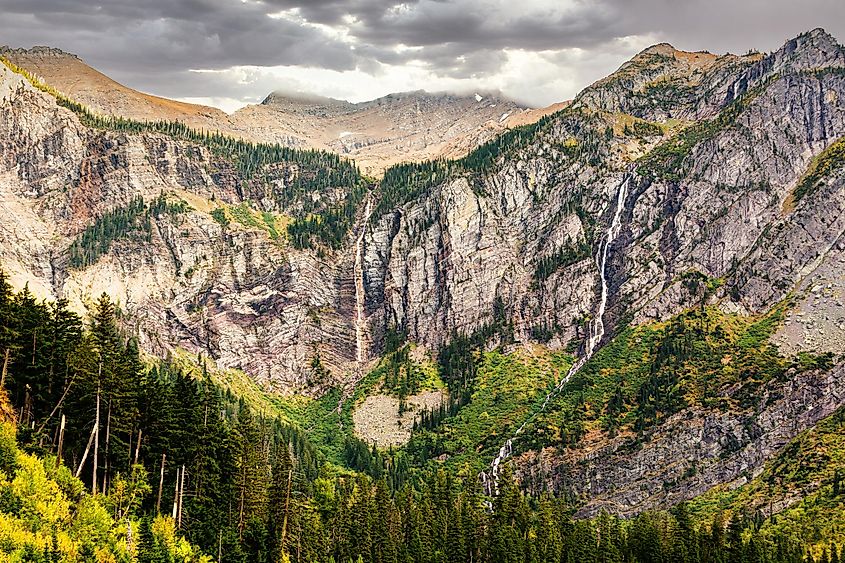 Sperry Glacier Falls (previously called Avalanche Basin Falls) is one of the standout gems of Montana's revered Glacier National Park. This 2,300 ft (701 m) waterfall begins from the basin of Sperry Glacier and runs down the headwall above the pristine Avalanche Lake. It consists of three sections, with the largest part dropping for about 900 feet. However, since the base of Sperry Glacier Falls drops over the same cliff band that forms Monument Falls, some deliberation exists about the exact categorization and naming of these formations. 
9. Haloku Falls, Hawaii - 2,297 ft
Haloku Falls takes us back to the Hawaiian island of Moloka'i, to that cluster of giant falls coming off of Haloku Cliff on the Northeastern shore. Haluko runs down the near vertical basalt cliffs for some 2,297 ft (700 m), a mere 0.23 miles West of Olo'upena Falls and 0.59 miles West of Pu'uka'oku. Eight additional falls (mostly unnamed) can also be found nearby. So if you do opt for that ambitious water-bound adventure or epic fly-by, then there will be plenty of tall falls to capture your attention. 
10. Seahpo Peak Falls, Washington - 2,200 ft
Taking back to the continental United States's West Coast, in the state of Washington, in, you guessed it, North Cascades National Park, Seahpo Peak Falls rounds out the top ten. Seahpo is the largest of several narrow falls that have formed on the Eastern arm of Mount Shuksan (Seahpo Peak is a subsidiary peak of Mount Shuksan). As with many of the statistically significant entries on this list, even though Seahpo Peak Falls stand at roughly 2,200 ft (671 m) high, its width and flow rate is so meager that it is easy to miss (if one is ambitious enough to trek through the wild park) and it can be easily interrupted by cooler temperatures. California's East Snow Mountain Falls could be considered tied with Seahpo Peak Falls as it measures in at (reportedly) the exact same height (and also very low volume).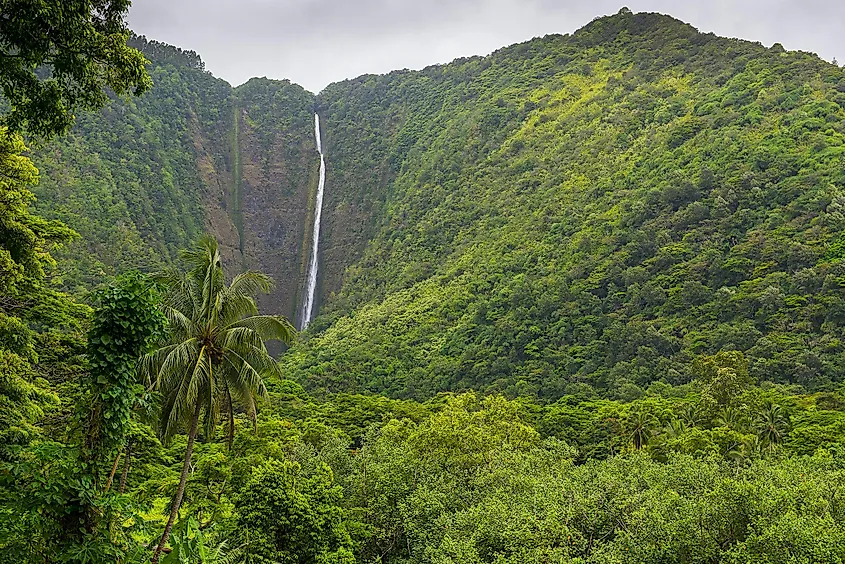 America puts up some ridiculously tall waterfalls. These cascading wonders are all in the planet's upper echelon (top fifty), though they range significantly in intensity, visibility, and accessibility. Some of these can be visited during a casual weekend outing, while others involve bucket-list expeditions to rarely ventured areas. Given the ever-changing nature of the water cycle, from season to season and throughout the years, this list is subject to change. But for now, these are some of the tallest falls across the land.  
The Tallest Waterfalls In The United States
| Rank | Name  | State | Height (in feet) |
| --- | --- | --- | --- |
| 1 | Olo'upena Falls | Hawaii | 2,953 |
| 2 | Pu'uka'oku Falls | Hawaii | 2,756 |
| 3 | Waihilau Falls | Hawaii | 2,598 |
| 4 | Colonial Creek Falls | Washington | 2,568 |
| 5 | Johannesburg Falls | Washington | 2,465  |
| 6 | Yosemite Falls | California | 2,425 |
| 7 | Cloudcap Falls | Washington | 2,400 |
| 8 | Sperry Glacier Falls | Montana | 2,300  |
| 9 | Haloku Falls | Hawaii | 2,297 |
| 10 | Seahpo Peak Falls | Washington | 2,200  |