Woods Hole is a small census-designated place situated in the town of Falmouth in Barnstable County in the US State of Massachusetts. It is located on Cape Cod's extreme southwest corner, close to Martha's Vineyard and the Elizabeth Islands. Woods Hole houses many important marine research institutions, including Woods Hole Science Aquarium, Woods Hole Oceanographic Institution, Woodwell Climate Research Center, etc. 
Geography And Climate Of Woods Hole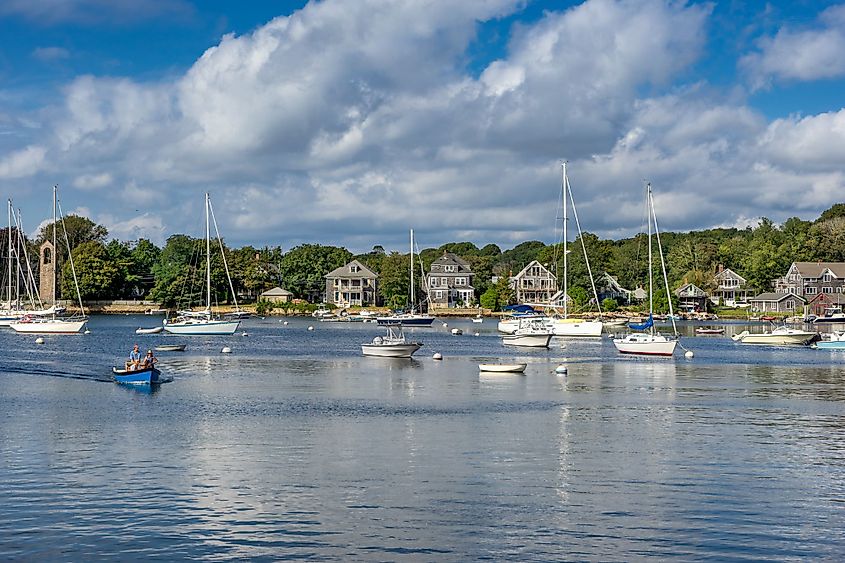 Woods Hole is located on the southwestern edge of Cape Cod and the town of Falmouth. The name "Woods Hole" refers to a shipping route between Vineyard Sound and Buzzards Bay that is notorious for its extraordinarily strong current, which may reach four knots. The Elizabeth Islands are separated from Cape Cod by the strait (specifically, Uncatena Island and Nonamesset Island). It is one of four straits that allow marine traffic between Buzzards Bay and Vineyard Sound. Woods Hole covers a total area of 10.1 sq. km, of which 4.6 sq. km is covered by water, and 5.5 sq. km is occupied by land.  
The climate of Woods Hole is affected by the temperate climate of southern New England, which is in turn moderated by the nearby ocean, which avoids extremes of heat and cold. On average, Woods Hole receives 48 inches of rain and 31 inches of snow every year. The months of June, September, and August are the most pleasant in Woods Hole, while January and February are the least pleasant.
History Of Woods Hole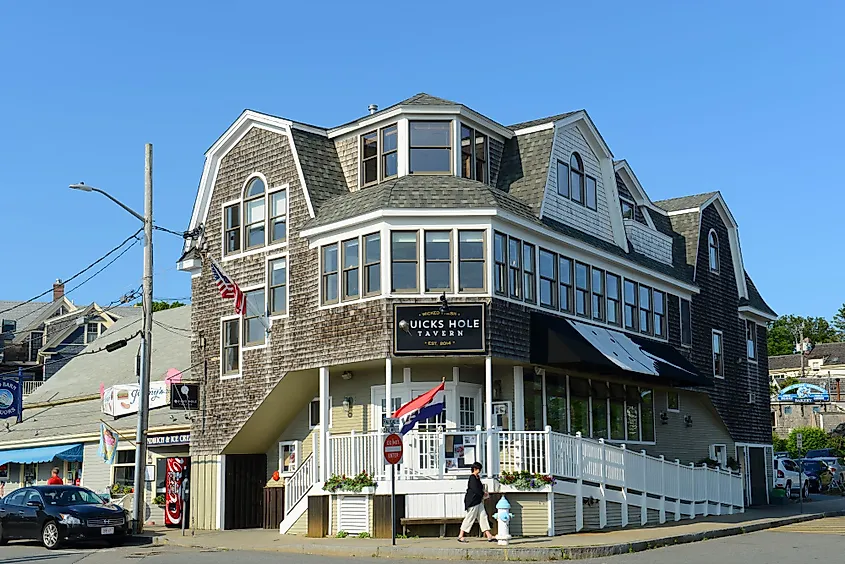 The Wampanoag tribe initially used Woods Hole as a fishing spot. By the late 1600s, Europeans had established themselves solidly, with thirteen families each occupying 60-acre plots around Little Harbor to grow sheep and crops primarily. Before its current dominance by tourism and marine research, the community was a center for whaling, shipping, and fishing. Woods Hole also hosted the Pacific Guano Company during the end of the nineteenth century, which made fertilizers from guano imported from the Pacific Ocean, Caribbean, and South Carolina coast islands. After the business declared bankruptcy in 1889, the peninsula on which their factory was located was renamed Penzance Point and built with Shingle-Style vacation residences for New York and Boston bankers and attorneys.
The Population And Economy Of Woods Hole
According to the latest US Census, Woods Hole has a population of 834 residents. White (non-Hispanic) at 95.7 percent, Others (non-Hispanic) at 3.31 percent, and Two+ (non-Hispanic) at 0.98 percent are the most prevalent ethnic groups in Woods Hole. Woods Hole households have a median annual income of $97,569, which is more than the national median annual income of $65,712. Professional, Scientific, Technical Services, Educational Services, and Construction are the CDP's leading industries.
Attractions In Woods Hole
Historic Nobska Lighthouse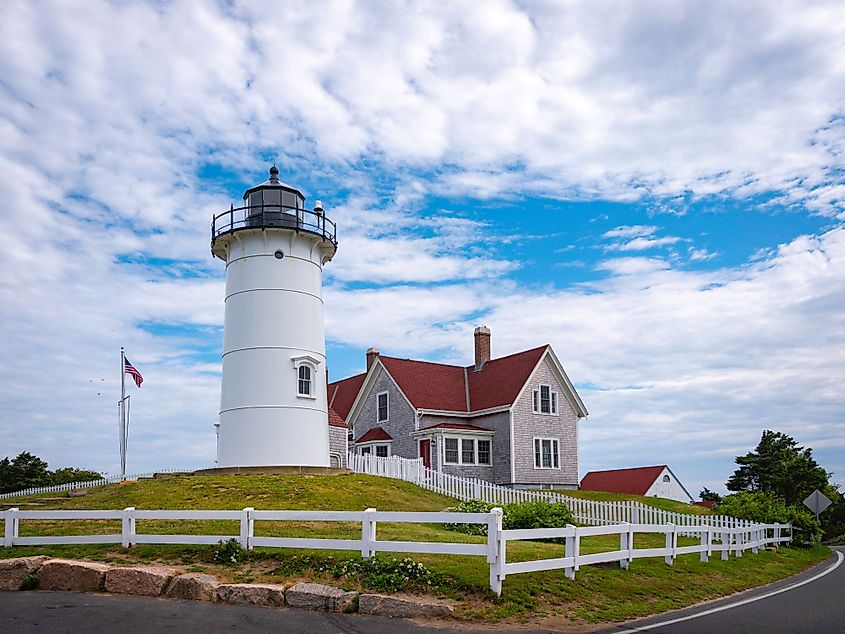 The Nobska Lighthouse, formerly known as Nobsque Light, is located at the borders of Buzzards Bay, Nantucket Sound, and Vineyard Sound. The US government purchased this 4-acre piece of real estate near Nobska Point in 1828 and constructed a wooden tower structure above the keeper's quarters to act as a guide for docking seamen. It was replaced in 1876 with the massive 42-foot cast-iron lighthouse tower that stands today.
Shining Sea Bikeway
The Shining Sea Bikeway follows the lines of the New York, New Haven, and Hartford Railroad, which stretches from Buzzard Bay to Falmouth Station via Woods Hole. The 3.3-mile-long SSB bikeway was named after a lyric from the song America the Beautiful, written by Katharine Lee Bates, a Falmouth resident. With its smooth course and only a few climbs in specific locations, the Bikeway is perfect for casual and beginning riders. Visitors may enjoy a beautiful scenic bike ride with plenty of flowers and trees along the route, as well as travel through the cranberry bogs of Sippewissett Marsh and catch sight of Chapaquoit Beach.
The Knob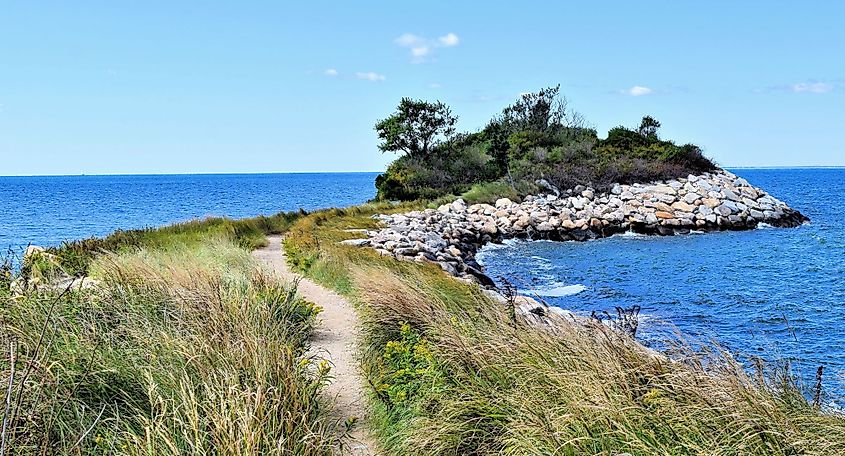 The Knob is a rocky point-shaped, narrow peninsula with beaches and forested areas on both sides. Hiking through the 12-acre route provides views of the gorgeous Quissett Harbor on the east and Buzzards Bay on the west.
Stony Beach
This sandy beach, owned by the Marine Biological Laboratory, is a popular destination on the Wood Holes coast. It is well-kept by the Town of Falmouth and is a popular summer destination for beachgoers. Despite its name, Stony Beach features a large sandy shore area, and visitors may even go out and snorkel in its shallow waters during low tide. Because it is situated between two rock jetties, the beach waters are shielded from the breezes and ideal for beginner snorkelers.
Marine Biological Laboratory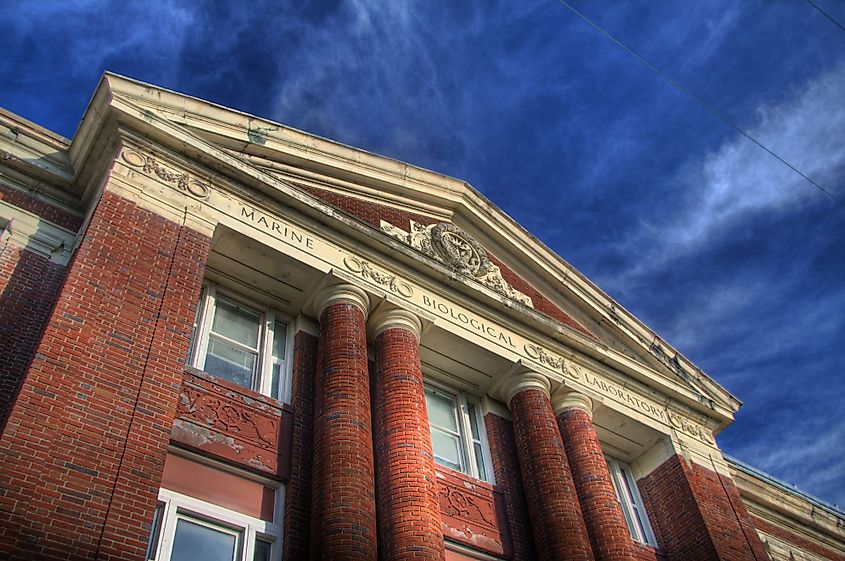 The Marine Biological Laboratory, or MBL, is a research and education center committed to scientific breakthroughs in the domains of Biology, Biomedicine, and Environmental Science. It is a non-profit organization linked with the University of Chicago that was created in 1888. Visitors may learn a great deal by taking guided tours that include a visit to the Resource Center, where they can witness marine animals used in MBL research.
Science Discovery Center
Woods Hole Oceanographic Institution has served the public for 90 years with ocean research, teaching, and discovery. It was created in 1930 with the goal of advancing oceanography via joint scientific endeavors.
Woods Hole Science Aquarium
The Woods Hole Science Aquarium, established in 1885, is the oldest public aquarium in the United States. The marine exhibit is situated on Water Street and displays over 140 aquatic life species found in the country's northeastern and Mid-Atlantic regions.
This seaside location, a census-designated area in Barnstable County, is one of Cape Cod's principal ports and the departure point for Martha's Vineyard and Nantucket islands. The whaling, fishing, and shipping industries previously prospered in the area, but it is now well-known for its local tourism and important marine research institutions.