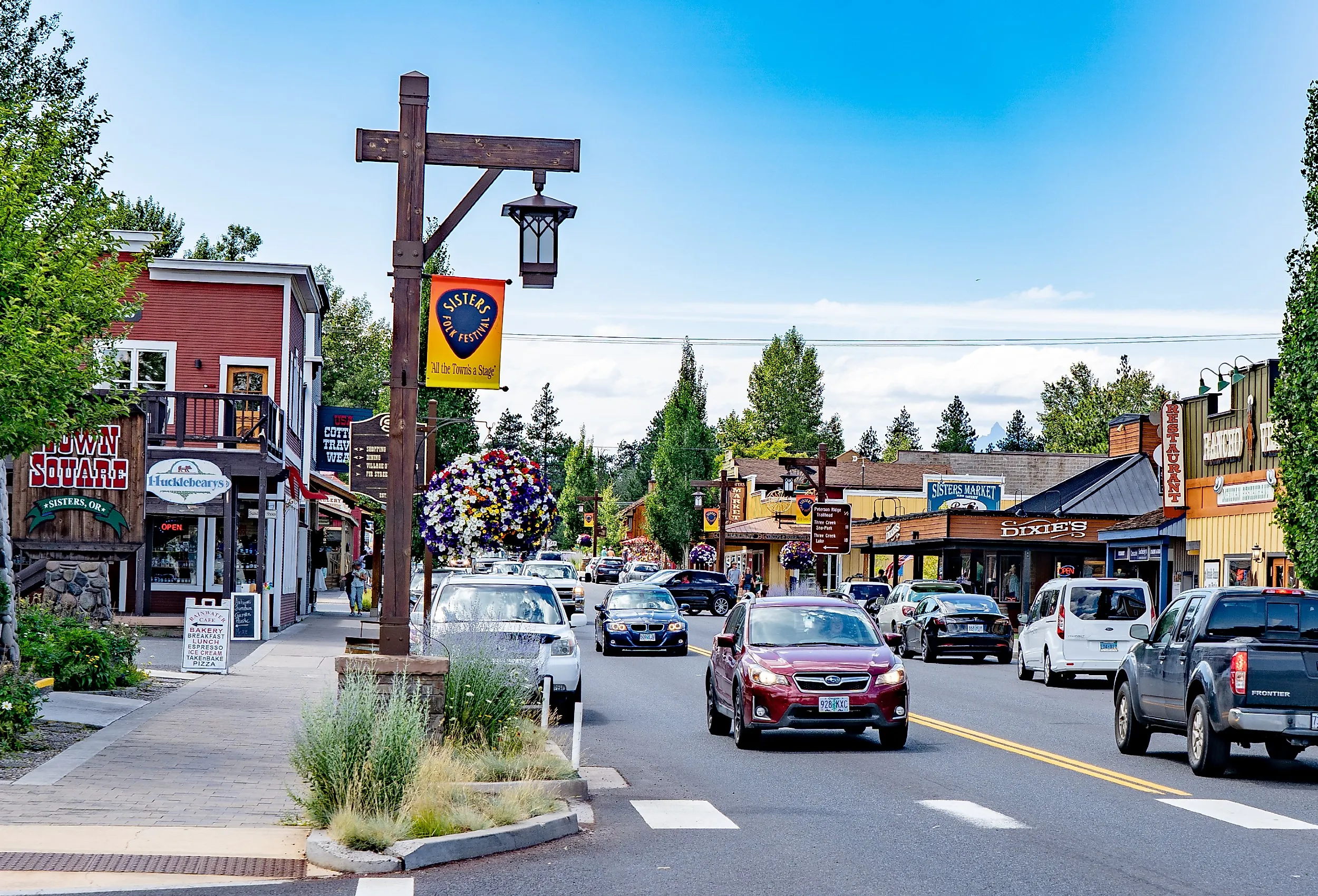 These Small Towns in Oregon Come Alive in Summer
Oregon is a beautiful state on the Pacific Coast of the United States. It is the birthplace of Nike, and it is home to the Armillaria Ostoyae, the world's largest single organism. While big cities like Portland, Eugene, or Salem draw many tourists to Oregon every year, the state's small towns really come alive in the summer. The Beaver State's picturesque landscapes and captivating attractions will keep visitors craving more. Immerse yourself in some of Oregon's less-known but equally spectacular smaller towns this summer. Find a peaceful forest retreat or a coastal getaway with stunning ocean views. Discover Oregon's famous craft breweries, amazing hiking destinations, and delicious Pacific seafood. Imagine a perfect summer's day on the Pacific coast in one of Oregon's charming and lively small towns. This amazing state is cool, quirky, and stunningly beautiful — adventure awaits you in Oregon.
Hood River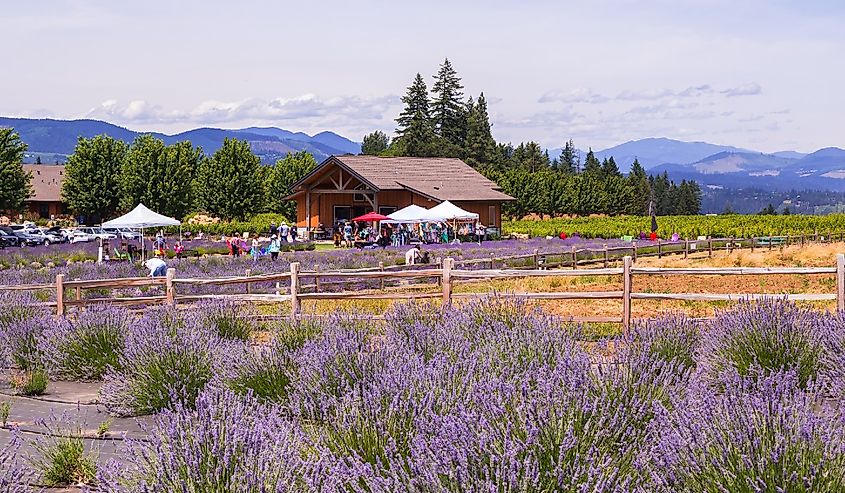 Located on the banks of the stunning Columbia River, with the majestic Mount Hood as a background, is the small Oregon town of Hood River. With a population of just over 8,000, this small town is a delightful summer destination. Due to the perfect wind conditions on the Columbia River, Hood River is known as the "windsurfing capital of the world." Adventurous explorers can paraglide over the town for a new perspective on this idyllic Oregon destination. There is much to do in the summer for outdoor enthusiasts in Hood River. Biking or hiking the scenic trails are popular activities as well as admiring the region's most spectacular waterfalls like the Starvation Creek Waterfall. Take a drive and soak in the reflection of Mount Hood in the waters of Mirror Lake. Finally, relax in one of the town's charming restaurants; after all that outdoor fun, you have earned a delicious burger and fries at local favorite The Sixth Street Bistro & Pub. Hood River is an Oregon town perfect for active summertime visitors.
Cannon Beach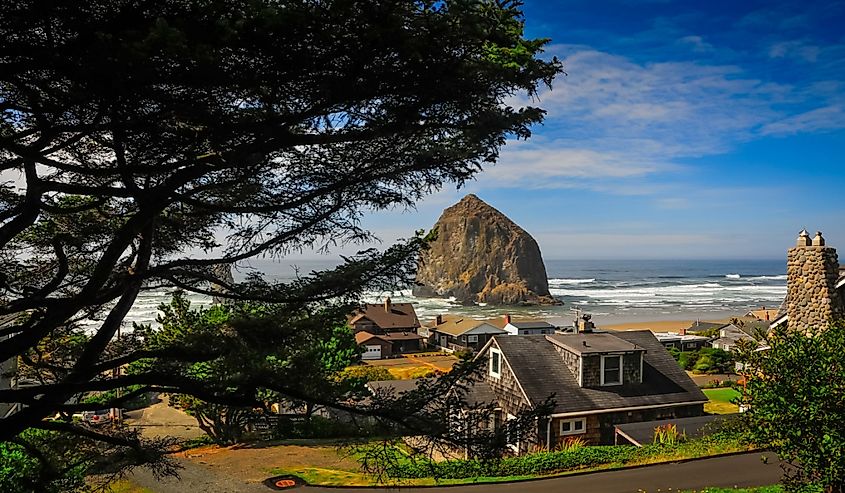 The small coastal town of Cannon Beach is a vibrant summer destination in Oregon. This may be Oregon's most iconic beach town. In 2013, National Geographic voted it one of the "Most Beautiful Places in the World." Located just 90 minutes northwest of Portland, this town attracts many tourists during the summer months. Visit in June to witness the mesmerizing sculptures created at the beach during the annual sandcastle-building contest or in July when the city holds a fabulous 4th of July parade. Haystack Rock is Cannon Beach's iconic geological landmark, dominating the coastal views at the beach, which are particularly beautiful during a summer sunset. Stroll down the town's charming downtown with its artisan shops, cafes, and restaurants. For delicious seafood, try Newman's at 988. With so much natural beauty, exciting cultural events, and a beach resort atmosphere, Cannon Beach is an Oregon summer destination like no other.
McMinnville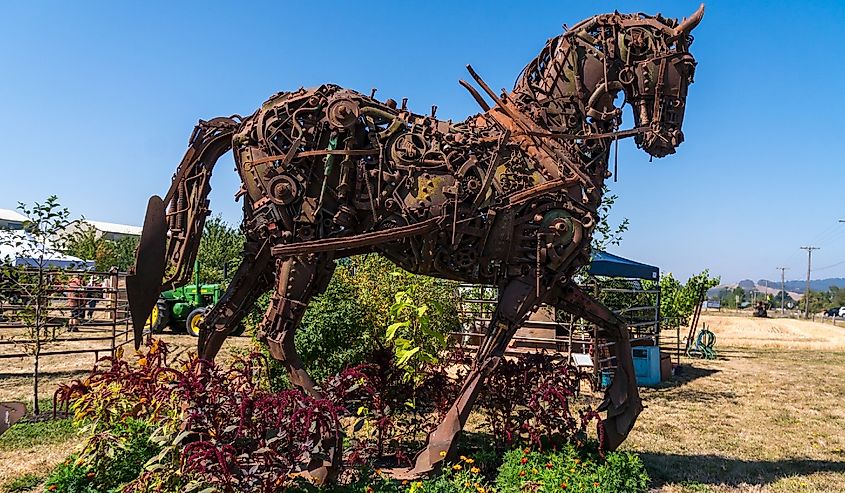 The unique town of McMinnville sits in Yamhill County, Oregon. With just over 34,000 residents, this small town is a popular destination for enthusiasts of the great outdoors, small-town charm, wine, and UFOs. This small town in the heart of Oregon wine country attracts wine aficionados from all over. McMinnville has over a dozen wine-tasting rooms where visitors can sample delightful wines produced in local vineyards. The town is also known for its beautiful and historic architecture dating back to the 19th and early 20th centuries, providing a nostalgic charm that will win over any visitor. This delightful town also holds an annual UFO Festival in May, the second-largest UFO-related gathering in the United States. When looking for a place to stay, consider the luxurious Atticus Hotel in the heart of McMinnville. This splendid hotel will make your stay in McMinnville unforgettable, whether you come for the architecture, the wine, or the mystery of what is out there.
Ashland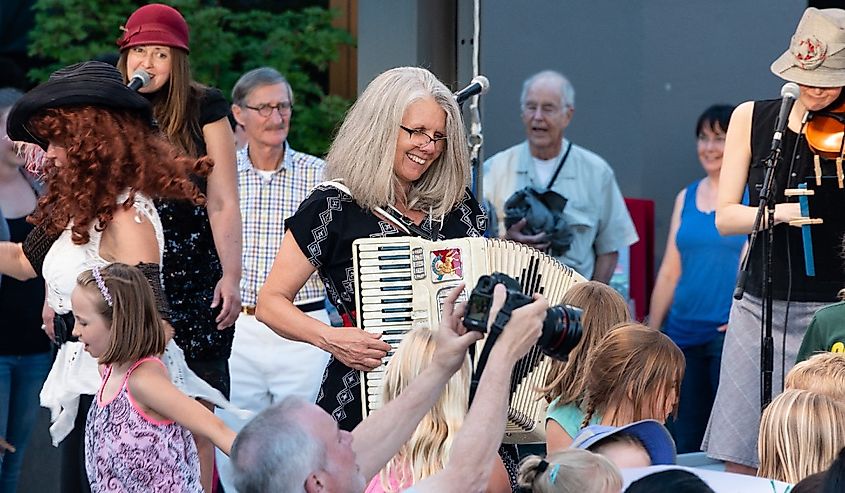 Known as a state that embraces the weird, sixteen miles north of California lies Ashland, perhaps the most eccentric town in Oregon. With an artistic vibe, this town offers a delightful escape for visitors. Established in 1852, Ashland is home to two notable attractions: the renowned Oregon Shakespeare Festival and Southern Oregon University. The Oregon Shakespeare Festival has grown into one of the most important theatrical events in the United States. Every year from April until December, nearly 400,000 theater enthusiasts visit the small town. There are three theaters in Ashland but the crowning jewel is the Allen Elizabethan outdoor theater patterned after London's Fortune Theater.  Ashland is full of fun and eccentric shops like Renaissance Rose, where you can purchase vintage theater masks and costumes for your own rendition of A Midsummer Night's Dream. For inspiration, you can head to Lithia Park a 93-acre forest straight out of a fairy tale. Visit the nearby Willow-Witt Ranch, a stunning organic farm with fully furnished tents and a friendly family of goats. Relax at Wellsprings Spa, with its meditation temples, tipis, and Olympic-sized pool with naturally alkaline hot spring water. With so much to do and see, this small Oregon town is an enchanting summer destination. 
Joseph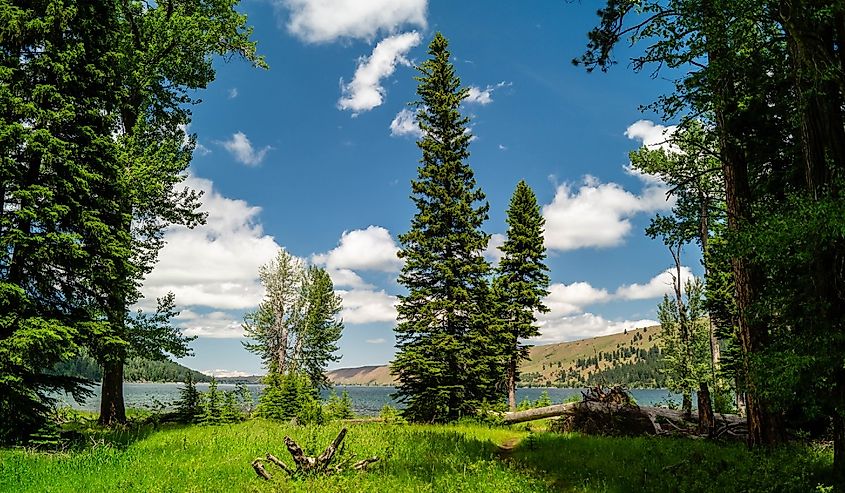 Located in Wallowa County, Oregon, is the unique and small town of Joseph. Known as "Oregon's Little Switzerland," this charming town only has 1,000 permanent residents. Despite its modest demographics, Joseph holds three annual summer/fall festivals every year. The Chief Joseph Rodeo in July, the Bronze, Blues, and Brews festival in August, and the Alpenfest, a celebration of Swiss-Bavarian culture that embraces the town's moniker as "Oregon's Little Switzerland." in the Fall. With majestic mountains, crystal clear lakes, and alpine meadows, Joseph is the perfect destination for anyone looking for a "European style mountain holiday" but in the United States. Head to Wallowa Lake State Park to hike its beautiful trails or cool off in Wallowa Lake. Don't miss the chance to ride the Wallowa Lake Tramway, where you can savor the mountain vistas while enjoying a glass of Willamette Valley pinot noir or a local microbrew at the Summit Grill. Despite its small size, Joseph offers a memorable and diverse experience for visitors seeking natural beauty, cultural festivities, and a touch of alpine charm.
Sisters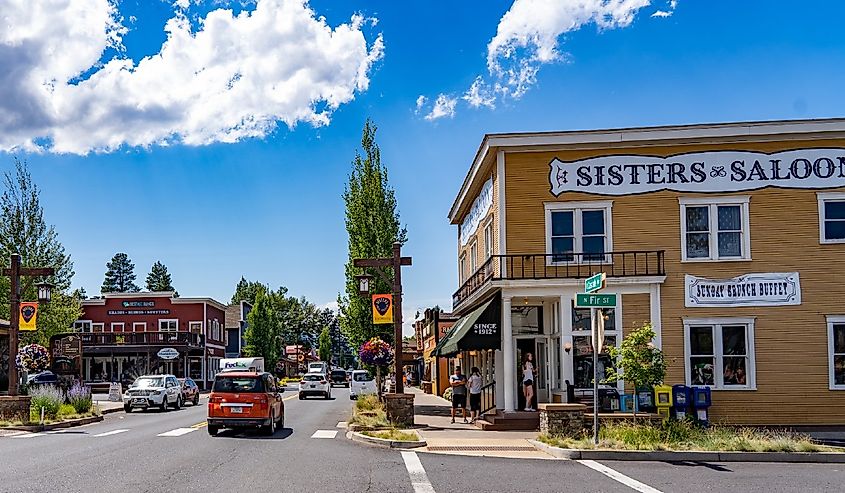 Visiting a small town is one of the most relaxing holiday destinations. Sisters, located in Deschutes County, Oregon, is a small town that will help visitors forget the hustle and bustle of the big city and embrace the charm of small-town living. The town is named after the Three Sisters Mountains, which envelop the western side of Sisters. With Deschutes National Forest also right on its doorstep, Sisters is a haven for hiking, cycling, kayaking, and other thrilling outdoor activities. Visitors can explore the town's artsy boutiques, and admire the mix of 19th-century facades and modern art galleries and restaurants. Be sure to indulge in an invigorating cup of joe at Sisters Brewing Company. For a bite to eat, stop by Sisters Market & Eatery, which has been serving delicious food since 1898. In June, the town hosts its annual Sister's Rodeo, a popular event for locals and tourists. Additionally, Sisters hosts the world's largest outdoor quilt show, attracting thousands of visitors since 1975. With just over 2,000 residents, this small Oregon town is unquestionably enchanting. 
Florence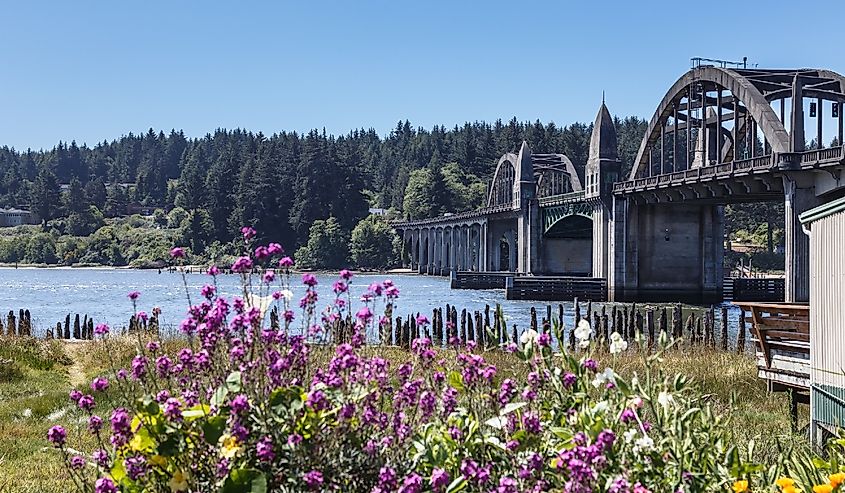 Florence rests at the mouth of the Siuslaw River on the Pacific Coast, close to Oregon Dunes National Recreation Area. The town is famous for being one of the best places to go whale watching. Gray whales pass Florence during their migration south from December to January and north from March to June. In May, the town hosts the Rhododendron Festival, with hundreds of beautiful Rhododendrons on display. The festival is one of the oldest flower festivals in the country and a big tourist attraction. Walk the charming streets of Florence's Historic Old Town, where you will find shops, cafes, and restaurants. One obligatory is iconic Mo's Restaurant, which many claims make the best chowder on the West Coast. Explore the nearby Oregon Dunes National Recreation Area, a 40,000-acre display of temperate coastal Dunes you will have to see to believe. Visit the Sea Lion Caves for a chance to safely admire wild sea lions in their natural habitat. Hike the enchanting "Hobbit's Trail," a famous Florence hike so beautiful you will swear you have just wandered into a JRR Tolkien novel. With amazing hikes, natural wonders, flowering shrub festivals, and possibly the best chowder on the West Coast, this small Oregon town is a summer destination that has it all.
Mosier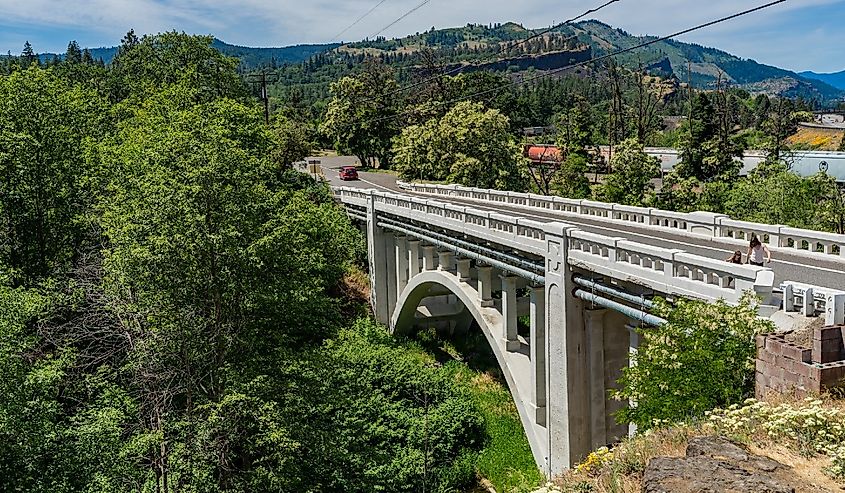 Nothing says summertime like sipping a glass of wine in a beautiful outdoor setting. Nestled in the heart of the Columbia River Gorge, is Mosier, a haven for wine enthusiasts. The town only has about 400 residents but is home to three vineyards. Analemma Wines, originally a cherry farm, now boasts lavender fields, orchards, vineyards, and a delightful tasting room. Overlooking the Columbia River, Garnier Vineyards cultivates exquisite rosé and pinot noir. Idiot's Grace takes pride in organic winemaking. Try a wine tasting in one or stay longer and try them all. Mosier is not just a wine lover's paradise. It has a charming natural beauty perfect for outdoor activities like biking and windsurfing on the Columbia River. There are also captivating attractions like the Mosier Twin Tunnels Trail and Mosier Creek Falls. Visitors can enjoy U-pick experiences at local orchards like the Evans Fruit Company, known for its sweet cherries and peaches. Mosier combines natural beauty, gripping outdoor activities, and Oregon wine.
Is there a better time to visit Oregon's small towns than during the beautiful summer months when they truly come alive? The summer season reveals a unique and captivating side of Beaver State. From the charming town of Hood River, known as the "windsurfing capital of the world," to the vibrant coastal destination of Cannon Beach with its iconic Haystack Rock, each town offers its own distinct vibe. Captivating cultural events like the UFO, Rhododendron, and Shakespeare festivals reveal the quirky side of Oregon. Stunning alpine and coastal natural environment beckon visitors to explore the wonders of the great outdoors. Camp, hike, and windsurf all in one stunning Pacific Coast state. These small towns, each with its own unique character and attractions, demonstrate the rich diversity and natural beauty that Oregon has to offer, making them ideal summer destinations for travelers seeking an authentic and quirky travel experience.