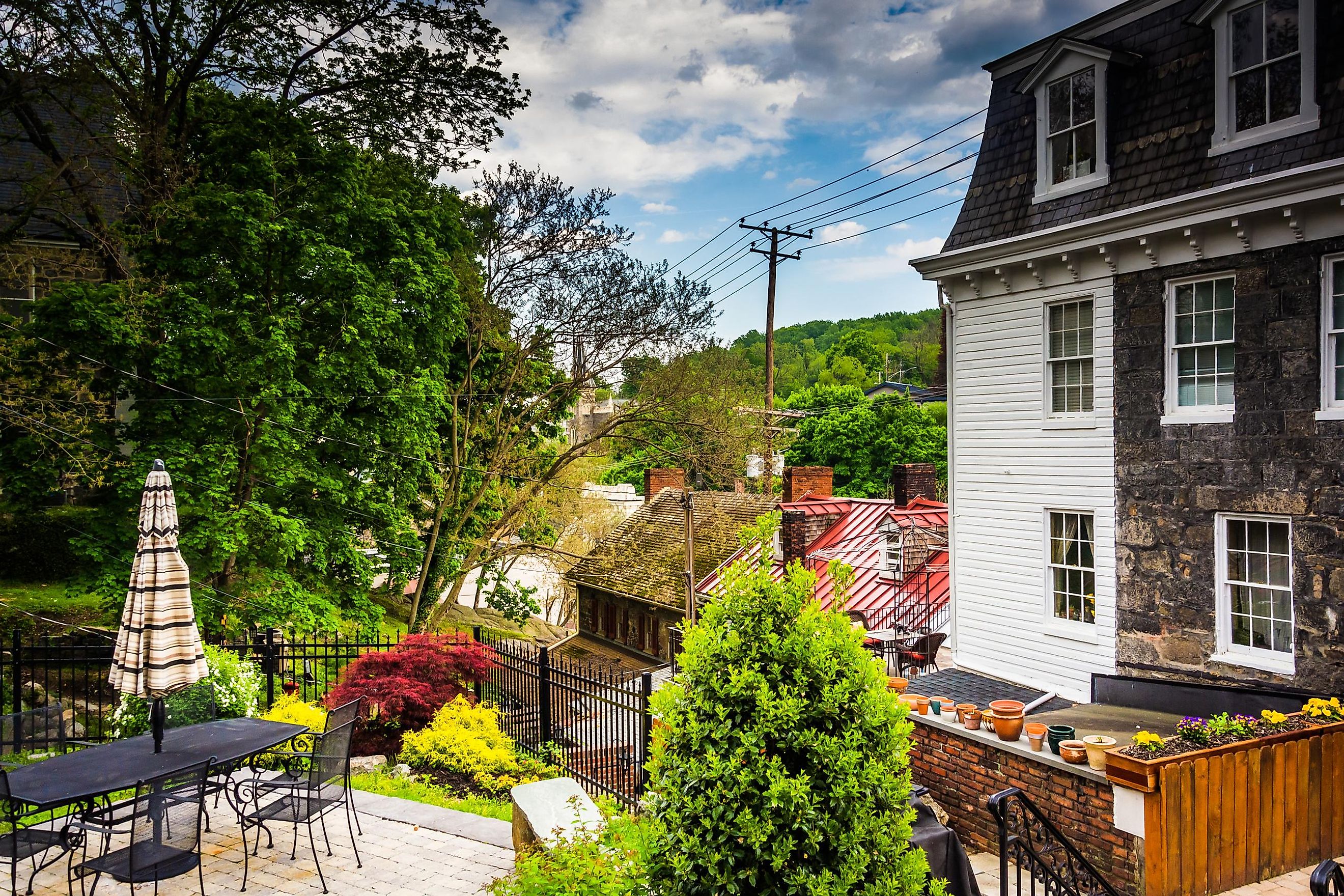 The Most Unique Maryland Towns
Before you book a train to Baltimore for a getaway, Maryland's smaller towns offer a diverse range of experiences that showcase the state's unique character. Whether you're drawn to the coastal charm of St. Michaels, the historic architecture of Berlin, the maritime heritage of Havre de Grace, or outdoor exploration in Oakland, these hidden gems have the heart and vibrancy of big cities contained in small, tight-knit community towns.
Berlin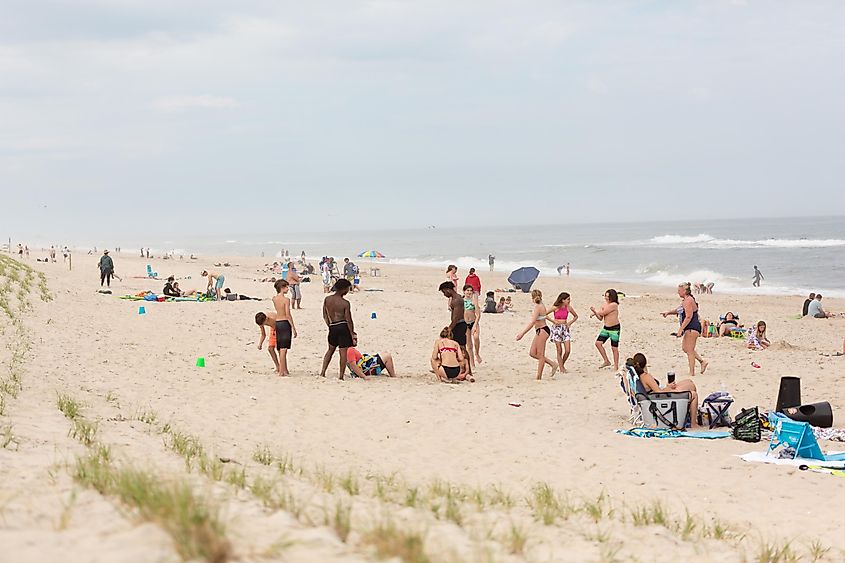 Berlin is often called "America's Coolest Small Town," and its uniqueness stems from its impeccably preserved Victorian charm. The historic district features cobblestone streets, colorful facades, and well-preserved architecture that transports visitors back in time. It has served as the backdrop for films like "Runaway Bride" and "Tuck Everlasting." Surely, there are few towns where you can observe wild ponies, like Assateague Island National Seashore, just a short drive away, offering pristine beaches and outdoor recreation. Don't miss the iconic Atlantic Hotel, offering a glimpse into the past with its Victorian architecture. Take a horse-drawn carriage ride through town, visit the Berlin Welcome Center for local insights, and don't miss the annual Berlin Fiddlers Convention, showcasing traditional music and culture.
Chestertown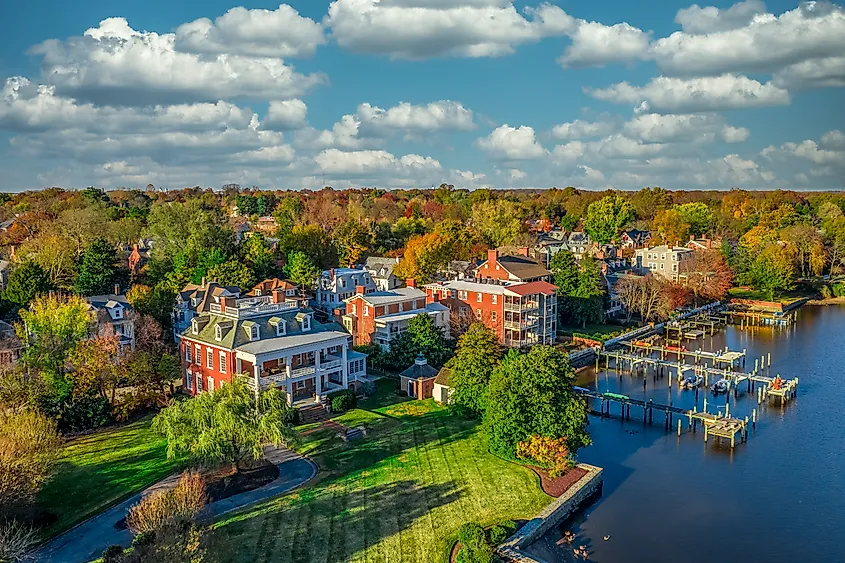 Chestertown's uniqueness emerges from its colonial roots and intellectual character without falling short of outdoor activities. As the home of Washington College, the oldest college in Maryland, Chestertown enjoys a vibrant academic atmosphere. The college's presence brings cultural and intellectual energy to the town, with lectures, art exhibitions, and performances enriching the community. The Chestertown Tea Party Festival, a reenactment of colonial resistance, highlights the town's events calendar. It celebrates Chestertown's historical significance and offers a weekend of parades, performances, and festivities. Its setting on the Chester River adds a tranquil natural element, with the river serving as a backdrop for leisurely activities. Explore the brick-lined streets of the downtown area or visit the waterfront to experience sailing and kayaking at The Schooner Sultana. Head down to the Chestertown Farmers's Market for a taste of local produce.
St. Michaels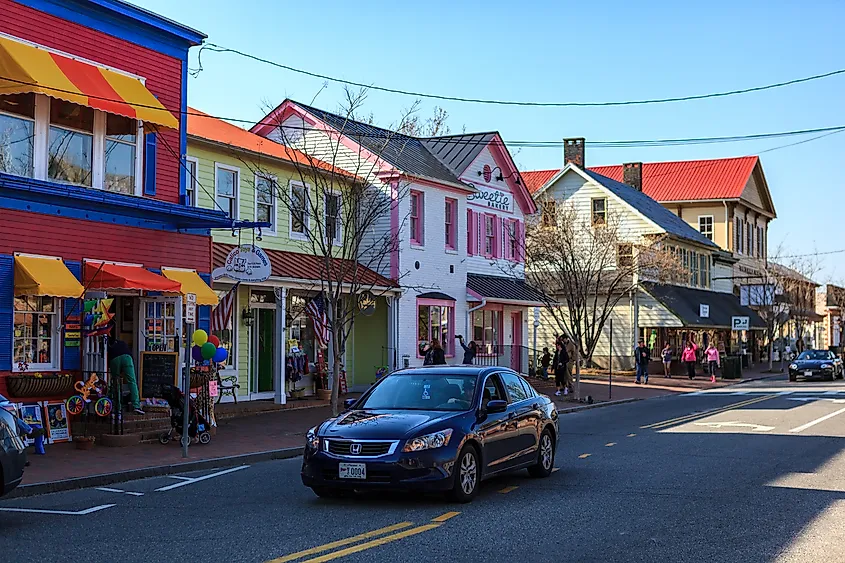 Known as the "Heart & Soul of Chesapeake Bay," St. Michaels is a picturesque waterfront town with plenty of activities to spend time on and near the water. The town's harbor is dotted with sailboats, yachts, and fishing vessels, creating a postcard-perfect waterfront scene. Discover maritime history at the Chesapeake Bay Maritime Museum, where you can board historic ships. Take a cruise on the Patriot or rent kayaks to explore the bay. The St. Michaels Winery and Eastern Shore Brewing offer tastings, while the annual St. Michaels Wine Festival is a highlight. Boat cruises, visits to nearby lighthouses, and water activities on the Miles River are just a few of the town's distinct offerings. The Inn at Perry Cabin is a luxurious hallmark of St. Michaels' elegance. It offers upscale accommodations, fine dining, and beautiful waterfront views. The inn has hosted celebrities and serves as a getaway for those seeking a refined experience.
Cumberland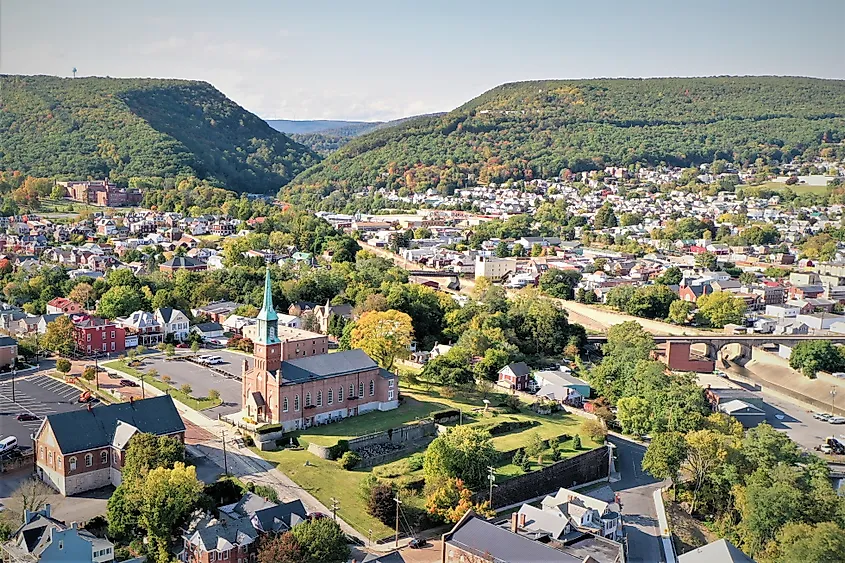 Cumberland is a historic town nestled in the rugged Allegheny Mountains of western Maryland. Its unique character is shaped by its rich history, including its role as a key transportation hub along the historic National Road and the Western Maryland Scenic Railroad. The railroad operates vintage steam and diesel locomotives, offering scenic train rides through the stunning landscape of the Allegheny Mountains. The journey includes narrated tours that provide insights into the area's history and heritage. Cumberland is also the western terminus of the C&O Canal and the starting point of the Great Allegheny Passage, a scenic trail that stretches over 150 miles to Pittsburgh, Pennsylvania. This trail offers opportunities for hiking, biking, and exploring the natural beauty of the region. 
Havre de Grace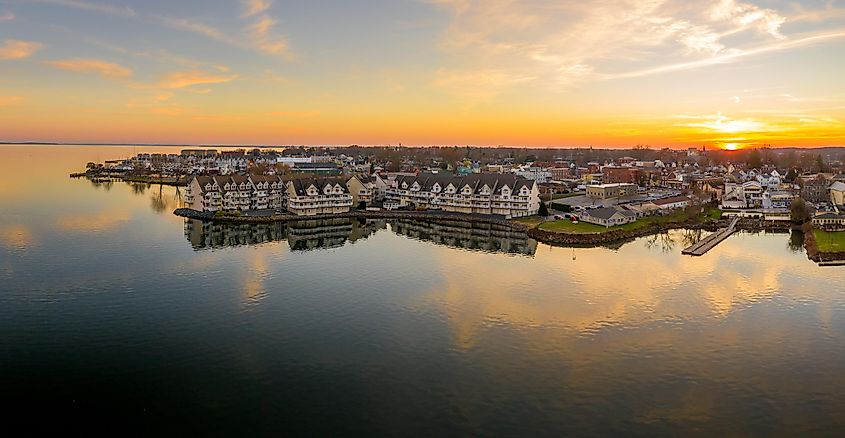 Perched on the Susquehanna River and Chesapeake Bay, Havre de Grace's maritime heritage and settings make for a breathtaking visit. The town's history is deeply intertwined with the bay's waters, evident in its lighthouse and maritime museums. The Havre de Grace Decoy Museum pays homage to the art of carving decoy ducks, which played a significant role in the area's history. Havre de Grace is home to the Concord Point Lighthouse, one of the oldest lighthouses in continuous operation in the United States. This iconic landmark not only offers a glimpse into the town's past but also provides stunning views of the Chesapeake Bay. The town's annual Havre de Grace Seafood Festival showcases its culinary identity, highlighting seafood from the Chesapeake Bay and embodying its maritime spirit.
Oakland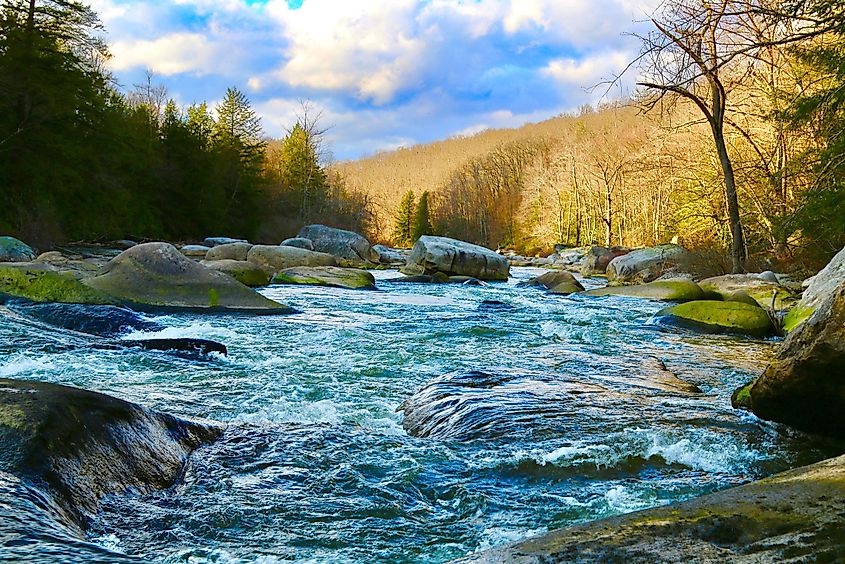 Oakland stands out due to its stunning Appalachian Mountain setting and its role as the gateway to Deep Creek Lake. It is the largest freshwater lake in Maryland, offering many activities, including boating, fishing, kayaking, paddleboarding, and swimming. It is a year-round destination for outdoor enthusiasts. Wisp Resort, located near Oakland, is a hub for both winter and summer activities. During the colder months, visitors can enjoy skiing, snowboarding, and snow tubing. The resort offers activities like zip-lining, mountain biking, and scenic chairlift rides in warmer months. Just a short drive from Oakland, Swallow Falls State Park is home to some of Maryland's most beautiful waterfalls. Muddy Creek Falls, the state's highest waterfall, is a focal point of the park and offers a striking sight for nature lovers.
Ellicott City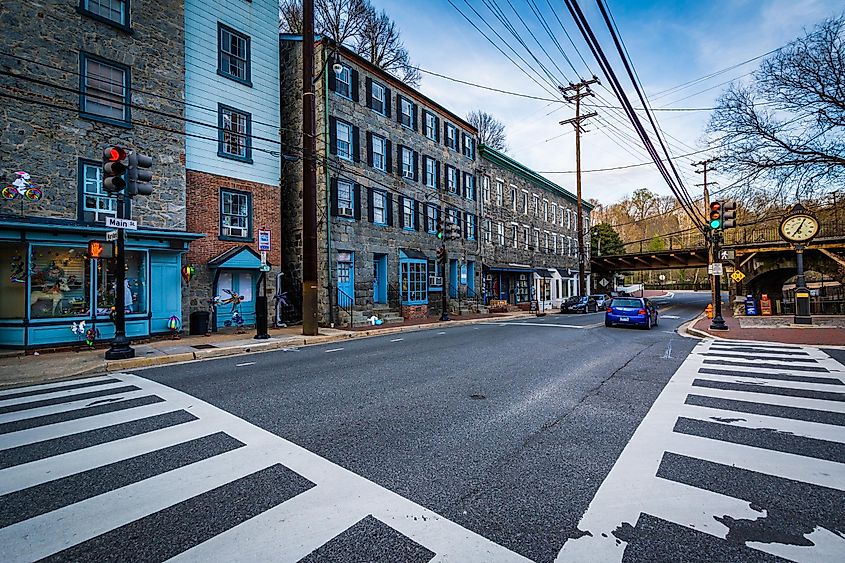 Ellicott City is a whimsical vacation experience with an unparalleled artistic spirit. Ellicott City's reputation for being haunted adds a touch of mystery to your vacation. Joining a guided ghost tour is an eerie and whimsical way to explore the town's supernatural history. In addition to antiques, Main Street boasts a variety of eclectic boutiques. The town has enchanting bookstores like The Vintage Vault & Gallery and Journey from Junk, which specializes in repurposed and upcycled items. The Forget-Me-Not Factory sells an array of gifts, toys, and novelties that appeal to the young at heart, from nostalgic toys to quirky trinkets, and The Sound Garden is a haven for music and movie aficionados with vinyl records, CDs, DVDs, posters, and other memorabilia. While primarily a wine shop, The Wine Bin promises an unforgettable time with its outdoor cinema, where visitors can enjoy movies under the stars while sipping on wine.
Snow Hill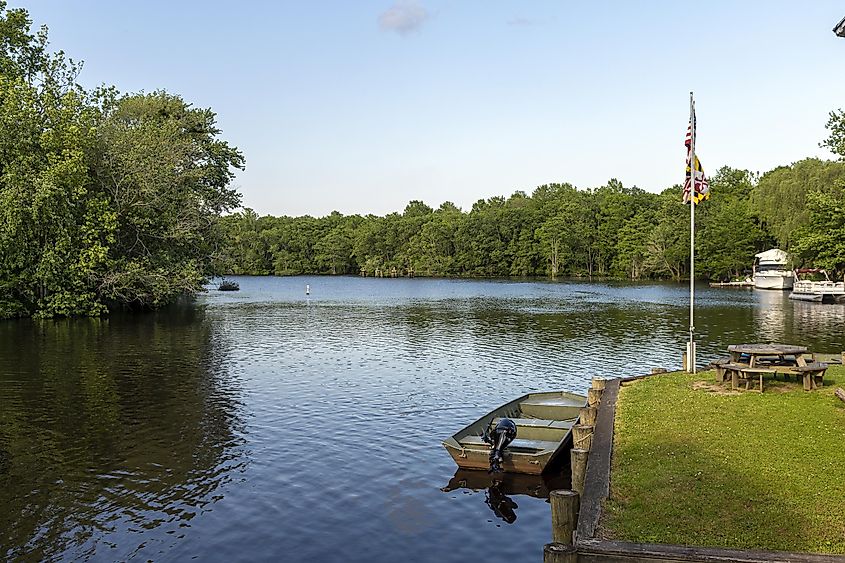 While the town is recognized for its location on the Pocomoke River, Snow Hill is really the life-of-a-party kind of town. The number of festivals, carnivals, and large events in such a small town is mindblowing. The Snow Hill Blues Jam is an annual music festival that celebrates the blues genre and brings together talented musicians for a day of live performances. Held by the Snow Hill Volunteer Fire Company, this carnival is a beloved summer tradition with rides, games, live music, and various classic carnival treats. Each month's first and second Fridays offers events to stroll through downtown Snow Hill's galleries, studios, and shops. It's an opportunity to appreciate local art, meet artists, and enjoy special discounts. Arts on the River festival highlights the talents of local artists, while the Eastern Shore Sea Glass and Coastal Arts Festival celebrates coastal artistry and the unique beauty of sea glass. As for the winter, embrace the holiday spirit during "Christmas in Snow Hill," brimming with light displays, carriage rides, visits with Santa, and more.
Beyond the Cityscapes to Maryland's Hidden Treasures
A state known for its rich history and bustling cities, Marylands's towns have big offerings beyond the urban hubs, with plenty of hidden gems, allowing travelers to experience local culture, history, and natural beauty. These unique towns, from coastal retreats to historic hamlets, truly guarantee an unforgettable escape filled with activities from dawn to dusk.