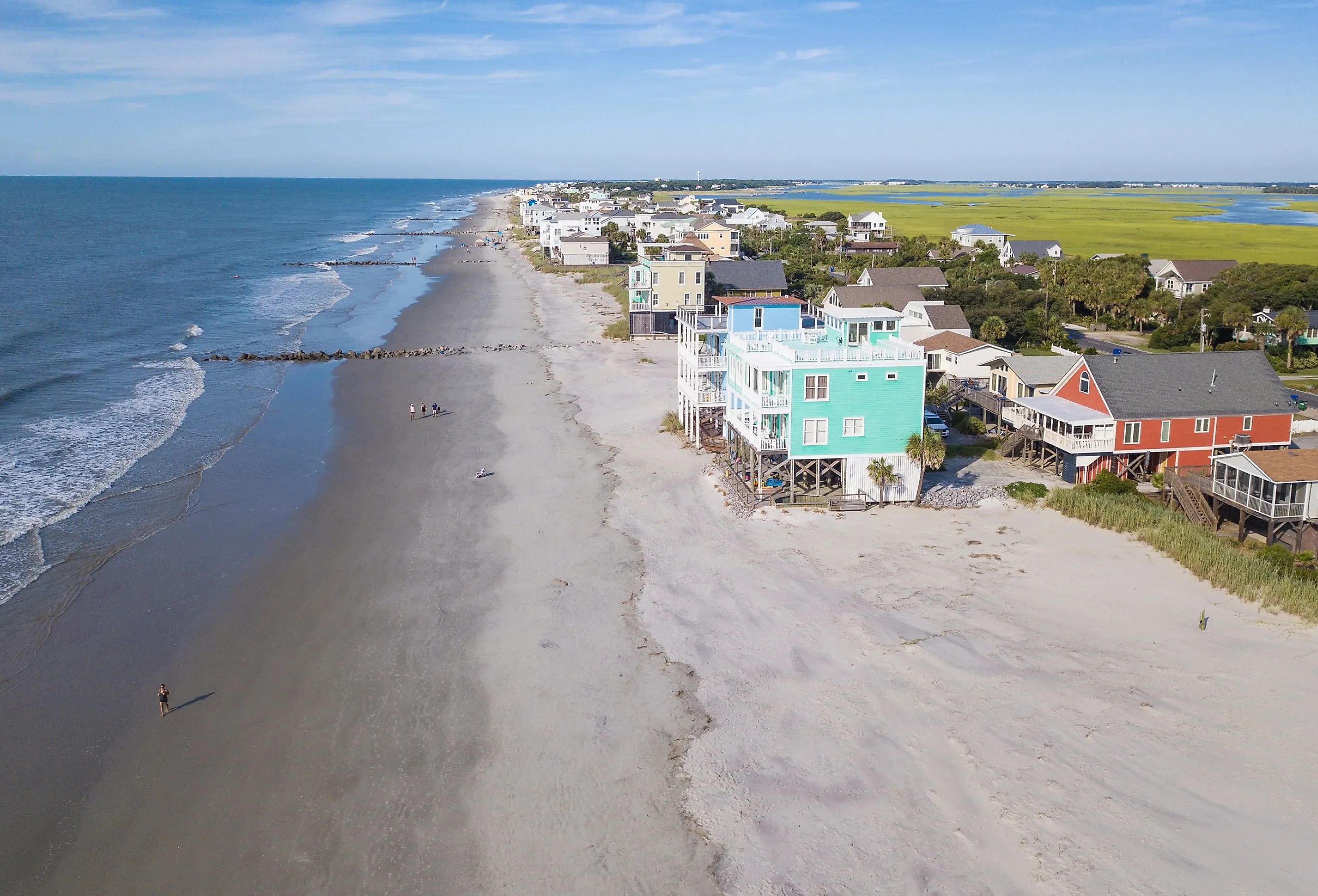 The Best Small Towns in South Carolina To Chill Out
Known for its lovely weather, sandy beaches, and unique natural activities, South Carolina is an amazing state in America. Nestled along the southeastern coast of the country, it boasts some of the most amazing historic, cultural, and natural sights. Moreover, with a population of 5.3 million, there are all sorts of enjoyable people to meet and interact with in the state. While the major cities of Charleston and Columbia, South Carolina, draw many crowds, many people don't know about the state's hidden gems. These small towns feature the most unique places to see and are ideal for chilling out away from urban life!
Edisto Beach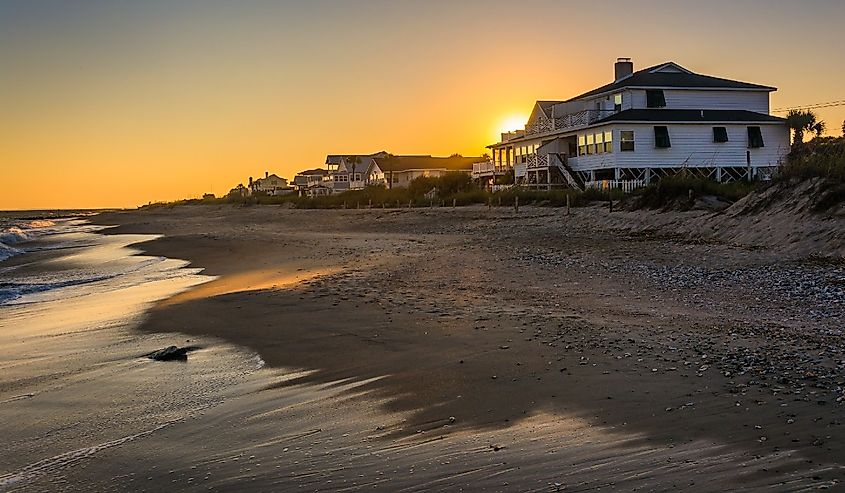 Edisto Beach is home to some of the most scenic beaches in South Carolina. Located in Colleton County, this town rests on the tip of Edisto Island, a small island on the state's southeastern coast. To this end, you can find a wide range of waterside sights and activities perfect for chilling out in the sun. For example, Gray's Beach is a great spot to spend the day as it offers a lovely shoreline, a quiet environment, and amazing waters. Moreover, the beach is also known for getting many shells and sharks' teeth which are both perfect souvenirs! While the island's beaches are lovely, for those of you who want a more interactive experience, check out Botany Bay Ecotours. These boat tours cover most of the island with activities such as playing with dolphins!
Apart from the shore, Edisto Beach itself has a lot to offer in terms of history and entertainment. Discovered by Spanish colonists four centuries ago, it has had ample time to develop in culture. This is prevalent through Tours of Edisto, an amazing tour service that takes you through the island's past and major events! After the tour, you are sure to be hungry from a day out in the sun. Well, Edisto Beach has you covered. Just stop at one of the many restaurants, such as Whaley's Store. This seafood joint has some of the best crab cake sandwiches, which are sure to make your mouth water.
York
When it comes to history, there are few towns in South Carolina that are more prominent than York. The county seat of York County, this town is home to 7,000 people and offers some amazing historical sights. This is because York was first settled by Europeans more than 250 years ago! Since then, the town has seen many visitors, such as the English, Germans, and Scottish. Moreover, playing a large role in Revolutionary battles, York is a vital piece of South Carolina's past. Taking a step forward to the present, you can still find dozens of historic sites in perfect condition. Just take a trip to the York Historic District, where you will find the Hart House and Wilson House. Both of these houses are on the National Register of Historic Places and showcase unique architecture from the 1800s. Apart from these, you can also visit the Allison Plantation, York County Courthouse, and many other spots!
Apart from historical sights, York's 9 square miles is also rich with restaurants and enjoyable attractions. Downtown Live York is a great place to start, with monthly events featuring art, live music, and plays. It also has a souvenir shop and art stores for something unique. The Three Oaks Equestrian Center is a must-visit if you enjoy outdoor activities. This center is ideal for hiking, fishing, horseback riding, and even camping for a natural getaway in town! So, no matter what you are into, York is an ideal place to chill out and have fun.
Walhalla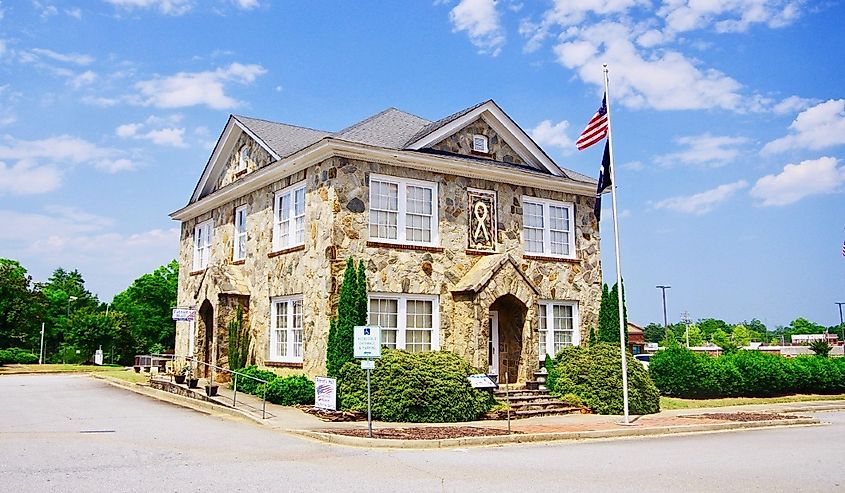 Settled by German immigrants and named after "Valhalla" from Norse Mythology, Walhalla is a unique town in South Carolina. Situated at the foothills of the Blue Ridge Mountains, it is home to a population of 4,000. What makes Walhalla so interesting is the immense influence of German culture prevalent throughout town. No matter where you go, you can find the prominent German architectural style in the homes and buildings. Similarly, the town also holds a massive annual Oktoberfest celebration due to its German roots. This festival takes place on the third Friday of October and includes food, music, dance, and activities. Apart from the town's German history, there is a lot more to discover at sites such as the Museum of Cherokee. This museum showcases South Carolina's Cherokee heritage through artifacts, pottery, and texts.
While the region's history is fascinating, Walhalla is just as amazing from a natural standpoint. With an area of just 4 square miles, the town is flush with amazing parks and falls. One of the most popular sites is Issaqueena Falls, a scenic rocky waterfall. This waterfall is accessible by a single trail and is one of the most beautiful places to visit in the state! Nearby, visit the Stumphouse Mountain Bike Park, a mountain biking facility for adrenaline enthusiasts. This trail goes through rock gardens and mountain routes and is built with safety in mind! Refuel with a meal at the nearby Mountain Mocha, and you are sure to have a fun time chilling out in Walhalla!
Bluffton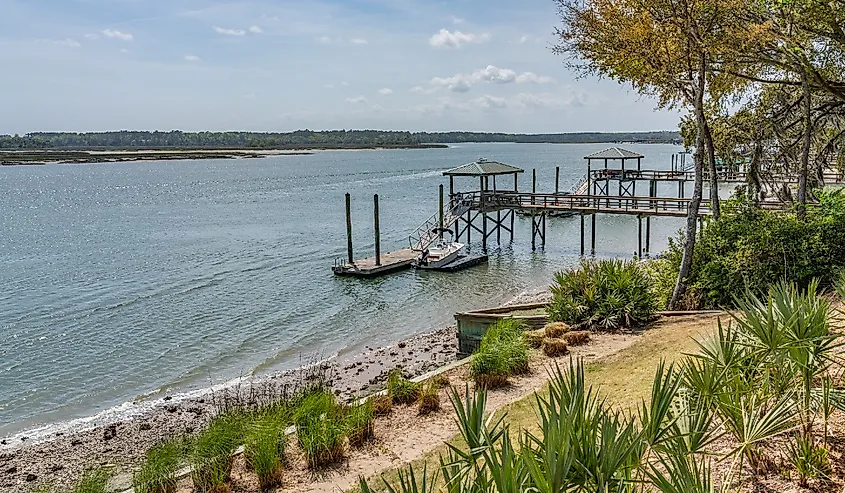 With a combination of arts, history, and amazing seafood, Bluffton is the embodiment of a small South Carolina town. The town is in Beaufort County and has a bustling population of 27,700. So, there is always someone to strike up a lively conversation with! No matter who you meet, Bluffton's history is sure to be a topic of conversation. This is because the town was first settled in 1728 and nearly destroyed in the America Civil War! Due to this, there are only a few important sites from the pre-war time, such as Heyward House and Rose Hill Mansion. Heyward House was built in 1841 and is one of the few sites still standing from before the Civil War! Similarly, the Rose Hill mansion is from the same period and showcases one of the most beautiful plantation houses in the state! If these sites are not enough for your inquisitive mind, visit Bluffton's Old Town District, which is home to dozens of unique and old establishments.
Once you have had your fair share of the past, it is time to take in the town's beautiful culture and scenery. Visiting the Society of Bluffton Artists is a great way to witness this, as it promotes local artists and showcases art in two locations across town. So, you can learn about the local art scene, meet amazing people, and even learn how to become an artist! On the other hand, for some more 3-D work, check out the Palmetto Oaks Sculpture Garden, which features abstract sculptures sure to boggle your mind. After spending the day out in Bluffton, you are bound to be hungry. Thankfully, Bluffton's seafood is some of the best in the state. Try out the famous Blackened Carolina Catfish or BBQ Country Ribs at the Nectar Farm Kitchen Old Town to end your day!
Aiken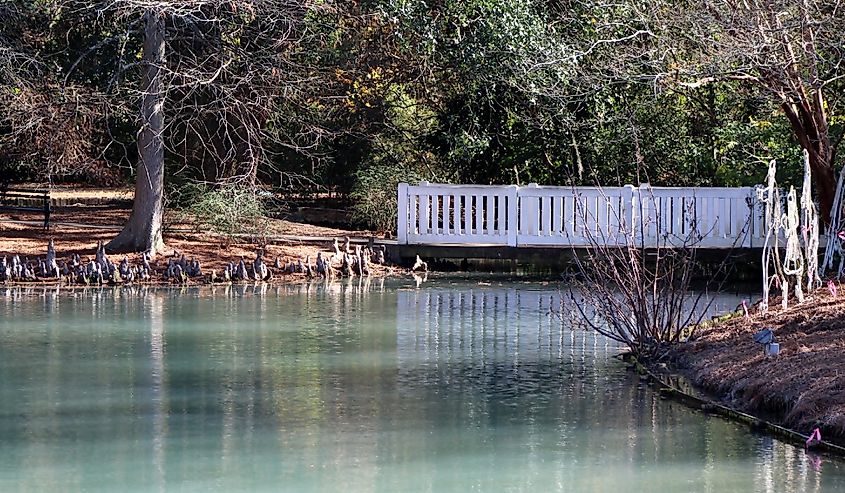 Aiken is a lovely city that combines urban charm with small-town vibes in South Carolina. Located in Aiken County, it houses a lively population of 32,000 people. Thanks to this, Aiken includes everything from historic monuments to amazing eateries. When it comes to local history and culture, the vast array of attractions in Aiken will surprise you. For example, the Aiken County Historical Museum is a great spot to visit, with numerous rooms housing dozens of important artifacts and items. Taking a different approach to local history, the Aiken Thoroughbred Racing Hall of Fame and Museum showcases the town's horse racing past. Here you can learn about the racing culture dating back to the 1900s through trophies, photos, and more. If you are still interested in Aiken's history, check out the historic district, which features many unique sites from the 18th and 19th centuries.
Apart from amazing history, Aiken's 22 square mile area has many natural sights and unique attractions. For nature lovers, check out one of the many spots in town, such as the Henderson Heritage Preserve, Hitchcock Woods, or Hopeland Gardens. Both the Henderson Preserve and Hitchcock Woods offer miles of beautiful trails surrounded by greenery, wildlife, and relaxation. Similarly, Hopeland Gardens is within the city and showcases some of the most beautiful flora so that you can relax! Stop by the Aiken Brewing Co. or the Mellow Mushroom pizzeria before ending your day, and you are sure to feel relaxed in Aiken!
Folly Beach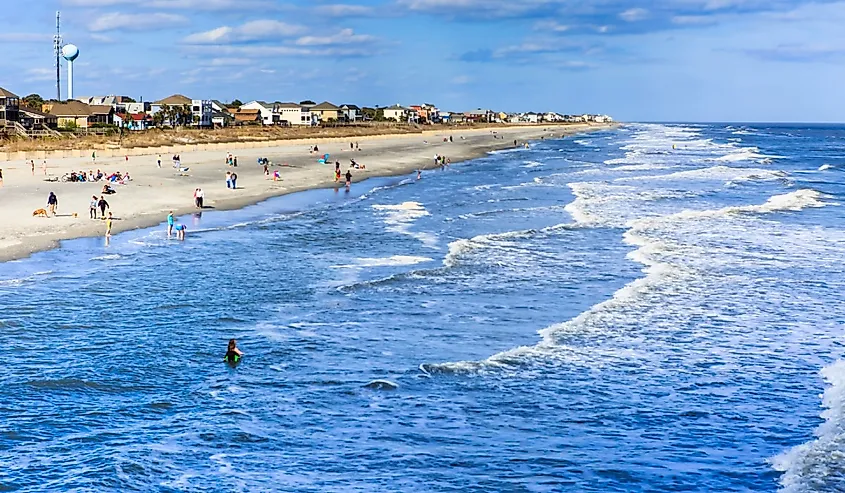 Taking advantage of South Carolina's coastal location, Folly Beach is an amazing town with loads of attractions. The town is on Folly Island, which means it is nearly surrounded by water. To this end, the entire town has an interesting design coveted by panoramic waterside views. One of the most popular places to visit here is the Folly Beach Fishing Pier. This 1000-foot pier offers an amazing spot to relax, grab a bite, and meet new people. Moreover, it is open for fishing and hosts regular competitions for both locals and tourists. If you want to delve deeper into the ocean, walk over to Folly Beach County Park. This park is home to sandy beaches perfect for chilling out and swimming.
While the beach and pier are amazing for a day out, this is not the end of Folly Beach's natural beauty. This is because the town is also home to many unique activities and parks that incorporate wildlife and the outdoors. For example, Bird Key is a lovely sandbar off the coast of Folly Beach County Park, home to hundreds of animal species. Out of these, you can witness many migratory birds, such as pelicans, herons, and skimmers. The local beaches offer a plethora of activities, such as paragliding through the air! Moreover, surfing, windsurfing, and diving are also popular at Folly Beach.
Hartsville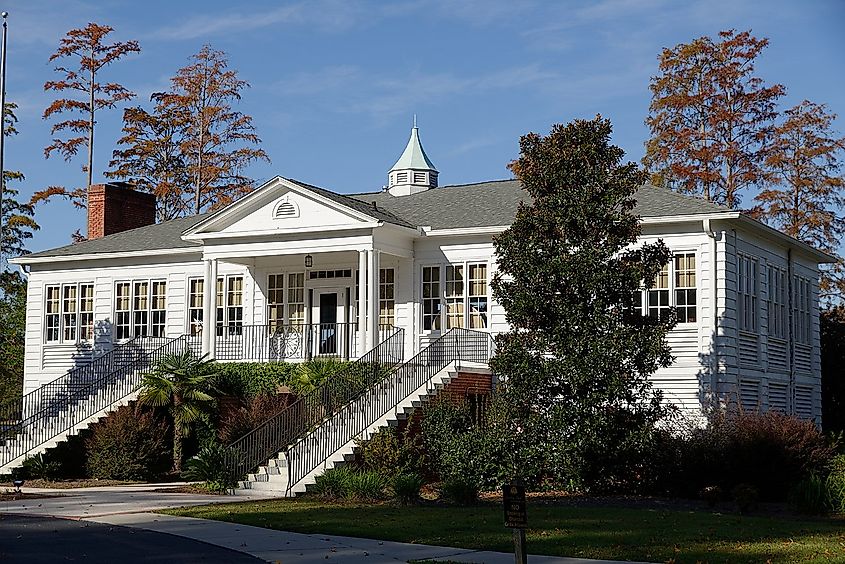 Hartsville is a hidden gem located in Darlington County. Home to less than 8,000 people, this town offers a quaint and relaxing place to chill out. It is well known for offering a beautiful combination of natural sights and cultural attractions. When it comes to nature, Hartsville houses a wide range of gardens and parks filled with scenic views. The Kalmia Gardens is a great place to start your nature journey here, as it has 30 acres of floral beauty. The garden offers displays and trails so you can spend the day enjoying dozens of flora in the town. If you are looking for something more active, visit the nearby Prestwood Lake. This 280-acre lake is one of the state's prettiest, and you can find people swimming, kayaking, or even paddleboarding here!
Once you have had your fair share of the outdoors, it is time to move into town and witness the lovely culture. To this end, Hartsville has many museums, galleries, and cinemas, which shed light on the region's past and traditions. The Center Theatre is a great place to start, as it is nearly a century old and showcases iconic plays. So, if you are into the sort, you can spend the evening watching Dancing With The Stars, Loretta Lynn, and many others. On the other hand, for a more relaxing experience, the Hartsville Memorial Library is a great place to slow down. This library was established in 1920 and showcases hundreds of books, magazines, and newspapers. Visit the nearby Sam Kebndall's for a steak and end your day at Hartsville right!
Looking at these small towns in South Carolina, it is obvious the city has a wide range of attractions! Ranging from the unique history of Aiken to the lovely waterside sights at Edisto Beach, everyone can chill out and relax. Moreover, with minimal traffic and pollution, these small towns are the best way to get away from the urban hustle and bustle. So, figure out which small town has what you are looking for and book your trip to South Carolina!