World Facts
The Biggest Cities In South Carolina
Columbia is South Carolina's biggest city.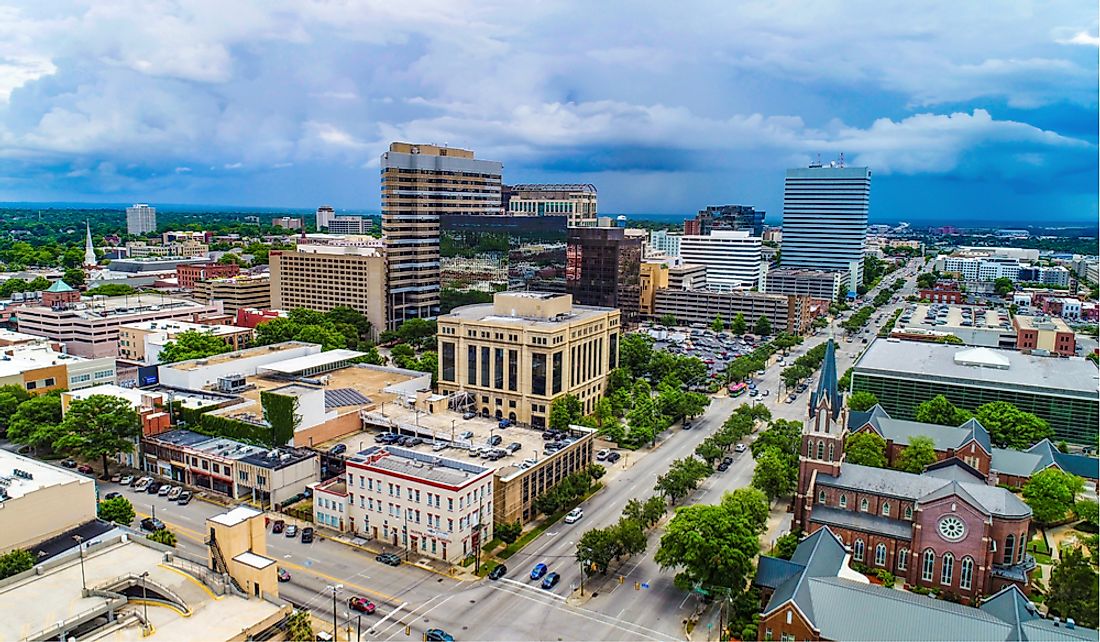 The Southern US state of South Carolina is home to a population of 4,625,401 inhabitants. It is the country's 24th most populous state. With an area of 77,856.9 square km, it is the 40th most extensive US state. South Carolina has 46 counties and 269 incorporated municipalities. Although these municipalities cover only 5.8% of the state's total land mass, they host 35.4% of the population. The municipalities can vote to be designated as a city or a town but there are no legal differences between the two as per state laws. The municipalities can also choose to have one of three forms of government, council-manager, mayor-council, or council.
Biggest Cities in South Carolina
1. Columbia
Columbia, the capital city of South Carolina, is the largest city in the state. The 2010 Census found the city's population to be 129,272 individuals. Columbia serves as the seat of the Richland County and a part of it extends into Lexington County. It is the primary city of South Carolina's Midlands region and is situated at the confluence of two rivers, the Broad River and the Saluda River. These rivers merge to form the Congaree River. The University of South Carolina is also based in Columbia. Fort Jackson, the country's biggest Basic Combat Training facility, is also located in the city.
2. Charleston
With a population of 120,083 individuals, Charleston is the state's second most populated city. It is also the oldest city in South Carolina and the county seat of Charleston County. It was established in 1670 as Charles Town. Today, it is located on the Charleston Harbor along the state's coastline on the Atlantic Ocean. In 1783, Charleston was incorporated as a city. It is known for its rich and well-preserved history and hospitable people. Over the years, Charleston has earned numerous accolades including "America's Most Friendly [City]" title by Travel + Leisure in 2011.
3. North Charleston
North Charleston is the third most populated city in South Carolina. It is home to a population of 97,471 people. The city spreads into three counties, Dorchester, Berkeley, and Charleston. The city was incorporated in 1972 and since then it has experienced rapid population growth. North Charleston is one of South Carolina's major industrial hubs and has the highest gross retail sales in the city.
4. Mount Pleasant
The suburban town of Mount Pleasant is South Carolina's fourth-biggest urban area. It had a population of 67,843 individuals in 2010. It is located in Charleston County on the east side of the Charleston Harbor.
5. Rock Hill
With a population of 66,154 individuals, Rock Hill is South Carolina's fifth most populous city. It is located in York County where it offers scenic views of the Catawba River's riverfront. 31 parks, numerous nature trails, and restaurants dot the city. The Winthrop University, a liberal arts university founded in the 19th century, is located here.
The Smallest Municipalities in South Carolina
With only 45 residents, Smyrna is the least populous municipality in the state. Jenkinsville, South Carolina's smallest municipality by area, occupies an area of only 0.23 square km.
The Biggest Cities In South Carolina
| Rank | Name | Government type | County | Population (2010) | Land area (2010) in km2 |
| --- | --- | --- | --- | --- | --- |
| 1 | Columbia | Council-manager | Lexington Richland | 1,29,272 | 342.4 |
| 2 | Charleston | Mayor-council | Berkeley Charleston | 1,20,083 | 282.3 |
| 3 | North Charleston | Mayor-council | Berkeley Charleston Dorchester | 97,471 | 189.6 |
| 4 | Mount Pleasant | Council | Charleston | 67,843 | 116.8 |
| 5 | Rock Hill | Council-manager | York | 66,154 | 92.5 |
| 6 | Greenville | Council-manager | Greenville | 58,409 | 74.3 |
| 7 | Summerville | Council | Berkeley Charleston Dorchester | 43,392 | 46.7 |
| 8 | Sumter | Council-manager | Sumter | 40,524 | 83.1 |
| 9 | Hilton Head Island | Council-manager | Beaufort | 37,099 | 107.1 |
| 10 | Florence | Council-manager | Florence | 37,056 | 54.1 |
About the Author
Oishimaya is an Indian native, currently residing in Kolkata. She has earned her Ph.D. degree and is presently engaged in full-time freelance writing and editing. She is an avid reader and travel enthusiast and is sensitively aware of her surroundings, both locally and globally. She loves mingling with people of eclectic cultures and also participates in activities concerning wildlife conservation.
This page was last updated on January 25, 2019.
Citations
Your MLA Citation
Your APA Citation
Your Chicago Citation
Your Harvard Citation
Remember to italicize the title of this article in your Harvard citation.