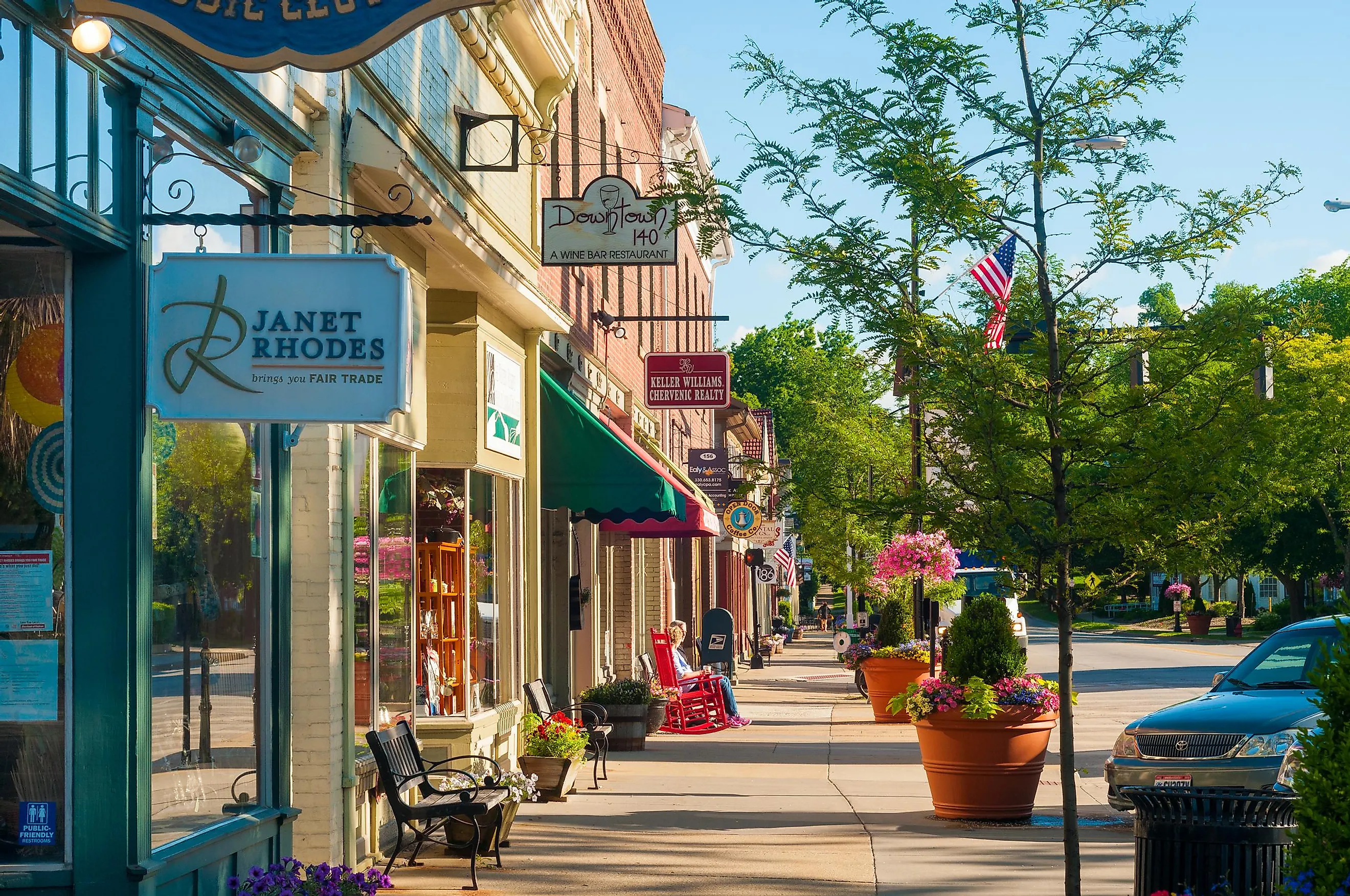 The Best Small towns in Ohio To Chill Out
Ohio, known as the Buckeye State, is often viewed as a hidden treasure, replete with lush landscapes, world-class attractions, and inviting small towns that beckon travelers to unwind and take in the Midwestern charm. It isn't just farmlands and cities; Ohio is a collection of quaint hamlets, where one can break away from the crowd and enjoy experiences ranging from scenic hikes in national parks to savoring local brews.
These serene retreats promise more than just a calm ambiance; they are gateways to Ohio's rich history, distinctive culture, and genuine hospitality.  Think colonial architecture, delicious local fare, idyllic trails, and vibrant local art scenes that perfectly encapsulate the spirit of the Midwest.
Yellow Springs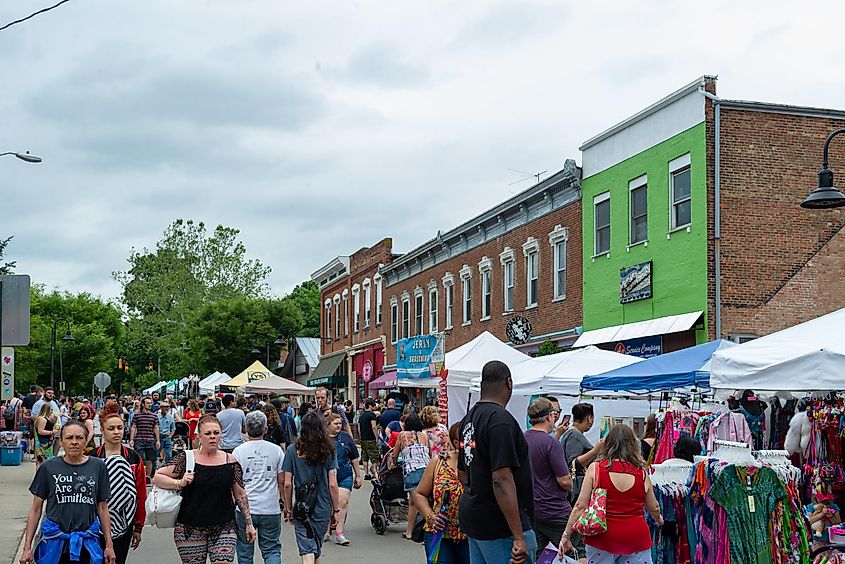 Heading south from Columbus, one will come across the vibrant city of Yellow Springs. Renowned for its unorthodox ambiance and artistic style, this small hamlet displays inventiveness around every corner. Highlighting the area is the Glen Helen Nature Preserve, a 1,000-acre haven providing awe-inspiring hiking trails, cascading waterfalls, and limestone precipices. Go to the Yellow Springs Street Fair, which happens two times a year, exhibiting local creators, performers, and scrumptious street eats. Make sure to check out John Bryan State Park, where you can partake in camping, fishing, and canoeing along the Little Miami River. Replenish at nearby eateries such as Sunrise Cafe or the Winds Cafe, supplying farm-to-table delicacies. Yellow Springs is a place where nature and art meet, offering a captivating escape for those in search of a singular small-town experience.
Granville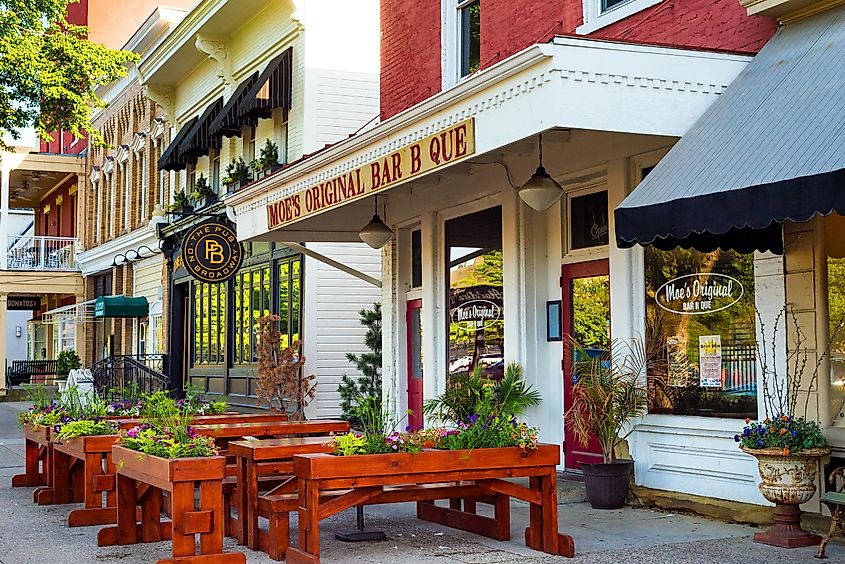 Situated among the undulating hills of central Ohio, Granville is an exquisite small hamlet that blends culture, custom, and verdant loveliness. Meander along the captivating lanes lined with 19th-century structures, peruse boutique shops and savor the local dishes at the quaint eateries. Don't miss a visit to Denison University, an eminent liberal arts college that adds a cerebral and aesthetic vitality to the town. Nature lovers will be delighted by the sprawling acres of preserved property at the proximate Infirmary Mound Park, offering rambling paths, picnicking spots, and breathtaking views. For a quiet afternoon, investigate the magnificent Bryn Du Mansion and its immense grounds, which host many community gatherings and art expositions. Granville's affluent heritage and gorgeous vistas make it an ideal destination for those wishing for a small-town respite that merges history, culture, and natural magnificence.
Mariemont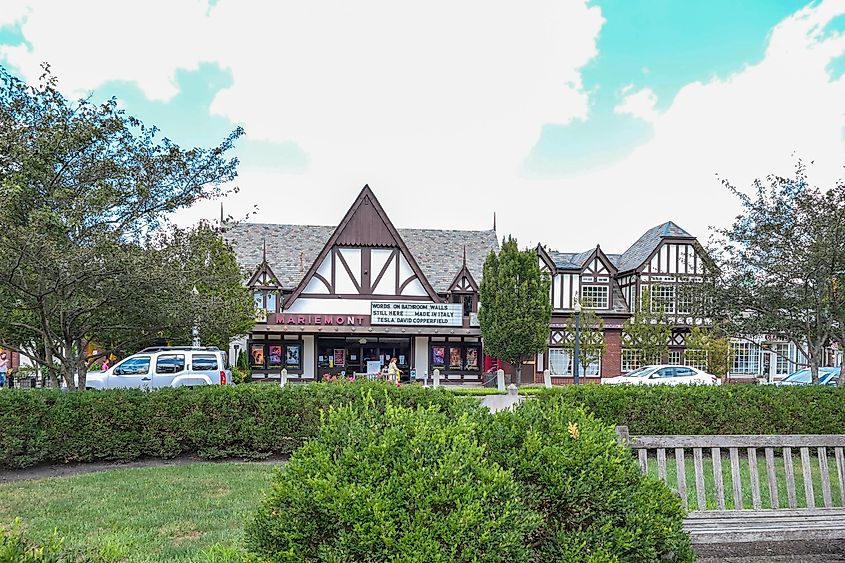 Located alongside the Little Miami River, Mariemont is a delightful little town that provides a placid waterfront escape. Take a step back in time as you observe the town's Tudor-style structure, planned by celebrated architect John Nolen in the 1920s. Wander through the pleasant village square, which holds an array of stores, boutiques, and cafés. Nature buffs can embark on an attractive bike ride or unhurried stroll along the Little Miami Scenic Trail, a picturesque path that winds through the town, providing views of the river and vigorous vegetation. Mariemont also exhibits a lively art scene, with the Mariemont Players Theatre displaying community performances throughout the year. For a tranquil getaway, go to neighboring Mariemont Dog Beach, where you can unwind by the river, savor a picnic, or embark on a canoe for a peaceful paddle. Mariemont's tranquil allure and cultural attractions make it a delightful small-town destination.
Peninsula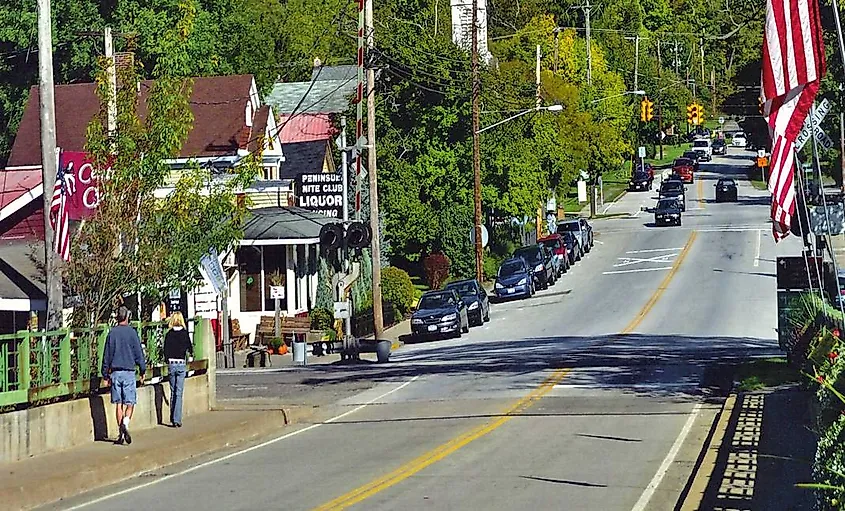 Hidden away in the glorious Cuyahoga Valley National Park, the tiny community of Peninsula offers a haven for nature lovers. This attractive village serves as the doorway to the national park and facilitates access to marvelous landscapes, walking trails, and panoramic views. Set off on an incredible train journey on the Cuyahoga Valley Scenic Railroad, which meanders through the picturesque valley, displaying the loveliness of the adjoining woods and the Cuyahoga River. Investigate the old Peninsula Depot, which currently houses the Peninsula Art Academy, showcasing local artwork. For outdoor aficionados, the park offers many recreational activities, including trekking, cycling, and birdwatching. Find the renowned Brandywine Falls, a majestic 65-foot waterfall that plunges into a serene gorge. The village itself is full of delightful shops, galleries, and eateries, excellent for delightful exploration. The Peninsula's unique combination of natural beauty, cultural attractions, and outdoor adventures make it an ideal spot for those in search of a tranquil retreat. 
Lebanon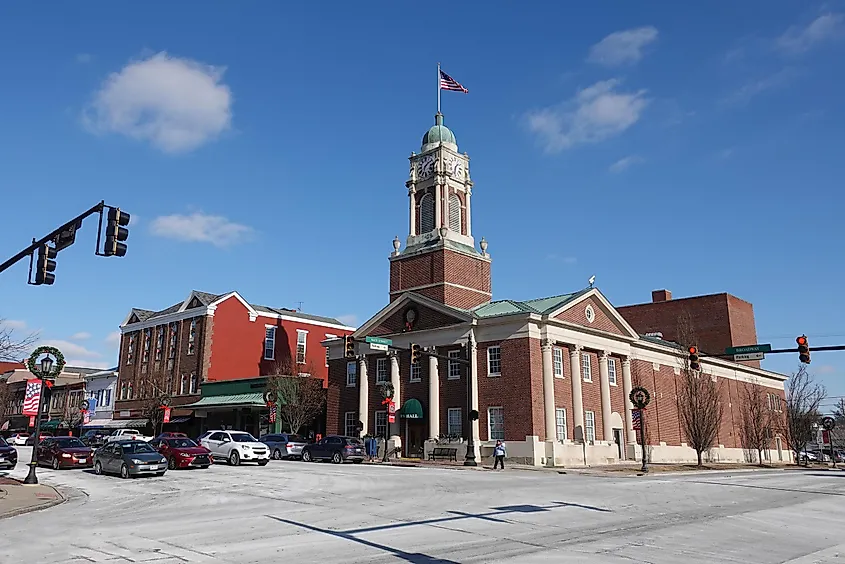 Venture into the past as you ramble through the ancient city of Lebanon, where past and natural beauty intermingles. Dubbed "The Cedar City," Lebanon boasts a well-maintained downtown area boasting renovated constructions from the nineteenth century. Appreciate the Golden Lamb, Ohio's longest-running operating hotel, which has welcomed many historical figures over the years. Rejoice a tranquil saunter along the alluring roads, lined with vintage stores, boutiques, and homely coffeehouses. Nature enthusiasts will fall in love with the nearby Caesar Creek State Park, giving magnificent ponds, wooded pathways, and chances for sailing and angling. Plunge into antiquity at the Warren County Historical Society Museum, exhibiting relics and showings illustrating the municipal's opulent past. Don't miss the Lebanon Mason Monroe Railroad, where you can embark on a picturesque train ride across the countryside. Lebanon's combination of ancient magnetism and natural wonders makes it a captivating small town to explore.
Chagrin Falls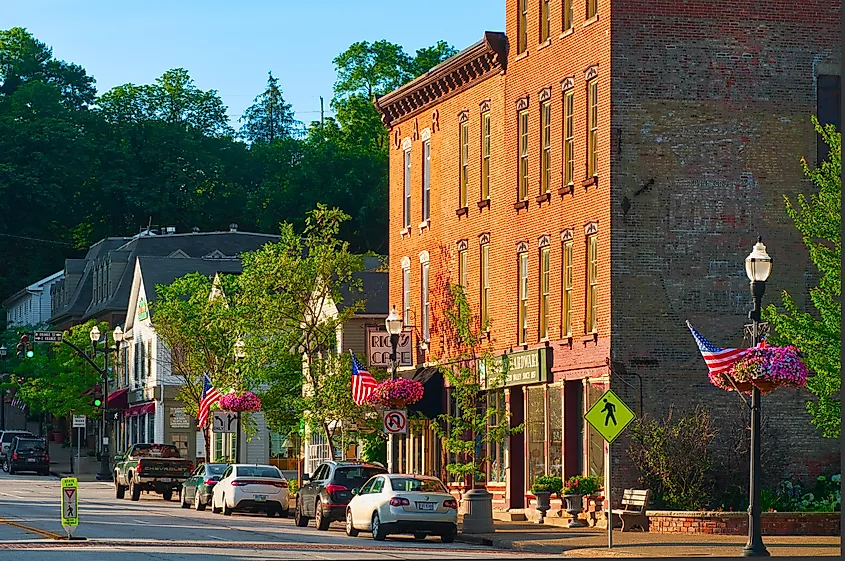 Tucked away alongside the banks of the Chagrin River, the lovely town of Chagrin Falls exudes scenic gorgeousness and quaint allure. The pride of this small community is its namesake falls, an awe-inspiring cascade that cascades through the middle of the village. Enjoy an unhurried amble across the delightful Main Street, adorned with boutique stores, art galleries, and inviting coffee shops. Visit the antique Chagrin Falls Popcorn Shop, a local tradition renowned for its scrumptious popcorn flavors. For nature devotees, the nearby South Chagrin Reservation offers quiet hiking trails, panoramic overlooks, and the opportunity to spot wildlife. Take in a performance at the Chagrin Valley Little Theatre, a community theater that displays a wide range of performances all year long. Chagrin Falls blends natural beauty, small-town charm, and cultural encounters, making it an ideal destination for rest and exploration.
Oberlin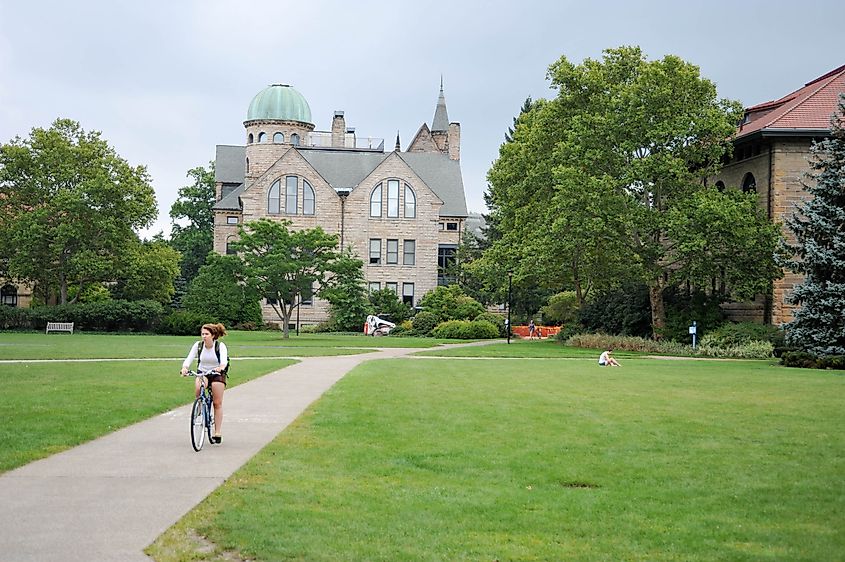 Found in Lorain County, Oberlin is a diminutive town that unites cultural liveliness with the placidity of nature. Home to Oberlin College, an acclaimed liberal arts college, the village exudes an erudite and creative air. Amble around the campus and stop by the Allen Memorial Art Museum, which houses a notable selection of artworks ranging across a variety of eras and styles. To gain an insight into the town's past, explore the Oberlin Heritage Center, where you can discover the town's antislavery origins and its pivotal role in the Underground Railroad. Nature lovers will delight in the close by Wellington Reservation, a beguiling park featuring walking trails, fishing ponds, and picnic areas. Take in a show at the Oberlin Conservatory of Music or attend a cultural occasion at the venerable Apollo Theatre. Oberlin's amalgam of cultural activities, wealthy ancestry, and natural beauty make it a fascinating small town worth visiting.
Hudson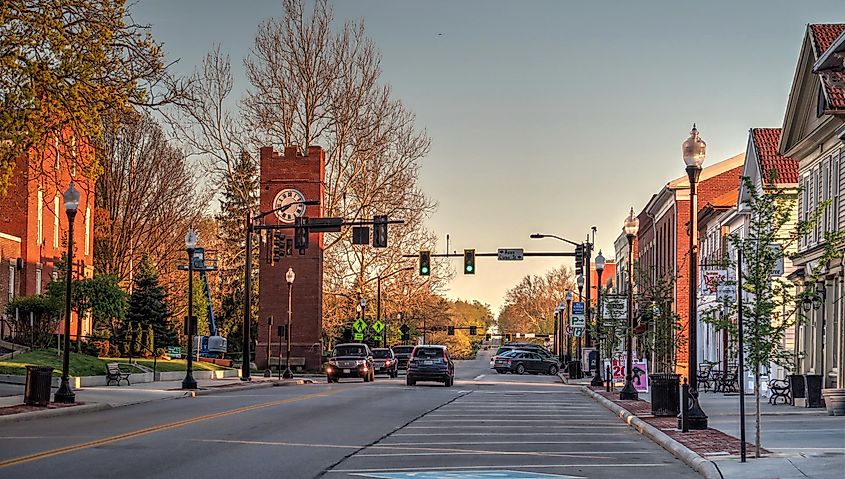 Nestled along the sides of the picturesque Cuyahoga River, Hudson is a captivating small city that combines tradition, natural elegance, and a lively population. Meander along the attractive Main Street, lined with preserved ancient edifices containing boutique stores, art galleries, and pleasant eateries. Inspect the Hudson Library and Historical Society, which furnishes engrossing displays and stores that research the city's abundant history. Nature addicts can exult in the grace of the close by Hudson Springs Park, containing tranquil pathways, angling ponds, and dining areas. For a peek into the town's cultural landscape, catch a show at the traditional Western Reserve Academy or go to an art exposition at the Hudson Fine Art & Framing Company. Hudson's delightful mix of small-town allure, old importance, and gorgeous natural environments make it a mesmerizing place to rest and explore.
Conclusion
Ohio's small towns present plenty of natural loveliness, cultural experiences, and traditional grace. The Greatest 8 Small Towns give perfect escapes from the hasty pace of daily life. Starting with the avant-garde atmosphere of Yellow Springs to the ancient streets of Granville, each town has its own one-of-a-kind charm and attractions. If you look for outdoor exploits, artistic insight, or a tranquil refuge in nature, these small towns in Ohio have it all. Submerge yourself in the loveliness of serene lakes, rivers, mountains, and state parks that adjoin these towns. Relax, explore, and reveal the secret wonders that make these small towns in Ohio special places to decompress and revitalize the spirit.