Utah fascinates visitors with its gorgeous natural landscapes, magnificent national parks, and exciting cities. It also has a number of charming tiny towns that provide visitors with a fascinating look at the state's diverse nature and history. Utah's small towns offer a variety of attractions, including outdoor recreation, cultural sites, and visual beauty, from quaint desert oases to attractive mountain communities. In this article, we will explore the eight most picturesque small towns in Utah in this post, emphasizing their unique qualities and must-see attractions. These small towns are likely to inspire you for big adventures.
Garden City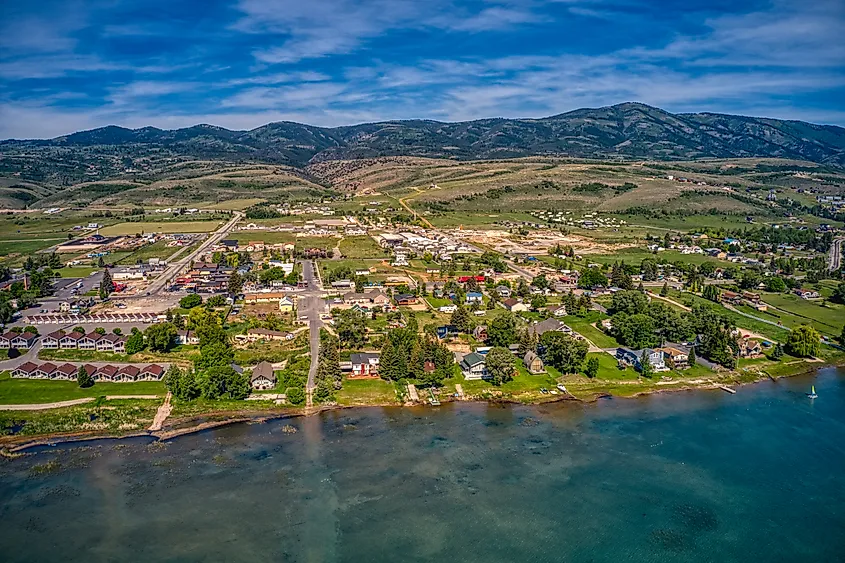 Garden City is a small town located on the shores of Bear Lake State Park in the northeastern part of Utah. Bear Lake is a large freshwater lake that lies on the Utah-Idaho border. The water in the lake is so blue that it got the name "Caribbean of the Rockies". Garden City is a popular destination for outdoor enthusiasts because of its beautiful scenery. Tourists can enjoy recreational activities on the lake, including swimming, boating, and fishing.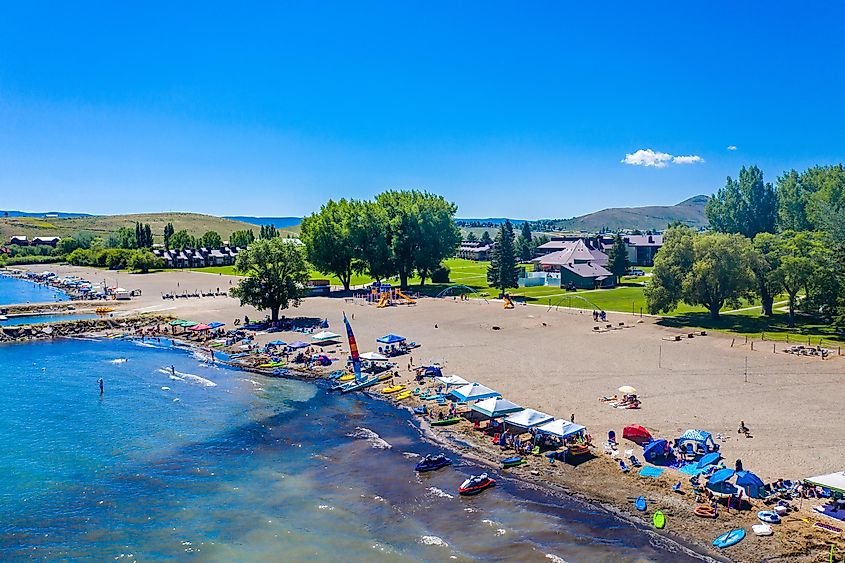 Garden City is also well-known for its Raspberry Days Festival. This yearly celebration takes place in August and has a procession, live music, and other enjoyable activities to honor the local raspberry harvest.
Torrey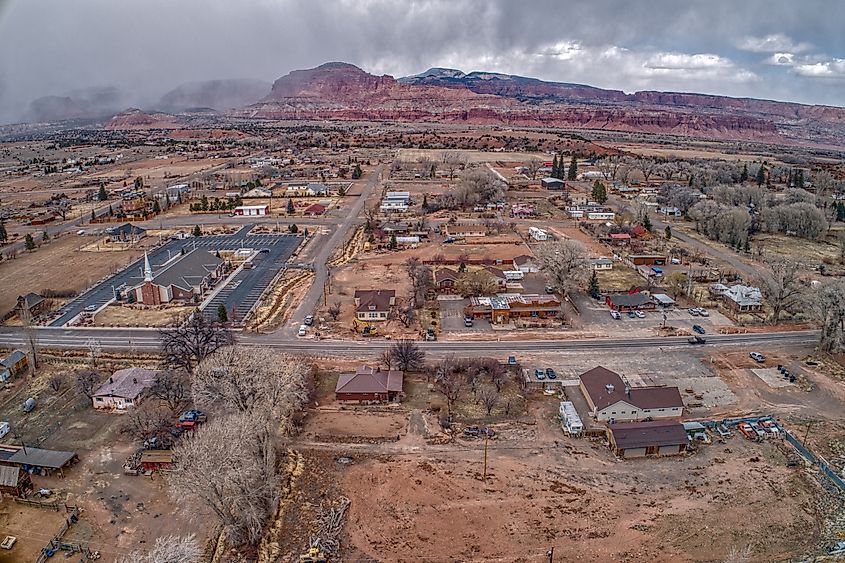 Torrey is a small town in Wayne County, located on the eastern edge of the beautiful Capitol Reef National Park. The Park is the number one reason to visit Torrey. Visitors to Torrey may enjoy the countless hiking trails, picturesque roads, and geological wonders, which include the Waterpocket Fold, a soaring rock formation. It also will be interesting for those who love historical sights, as they can visit Native American petroglyphs and the Fruita Rural Historic District here.
If you are looking for some cultural and art events, Torrey is also home to the Torrey Art Festival, which takes place each September. The festival includes live music, food vendors, and regional artists and craftspeople.
Moab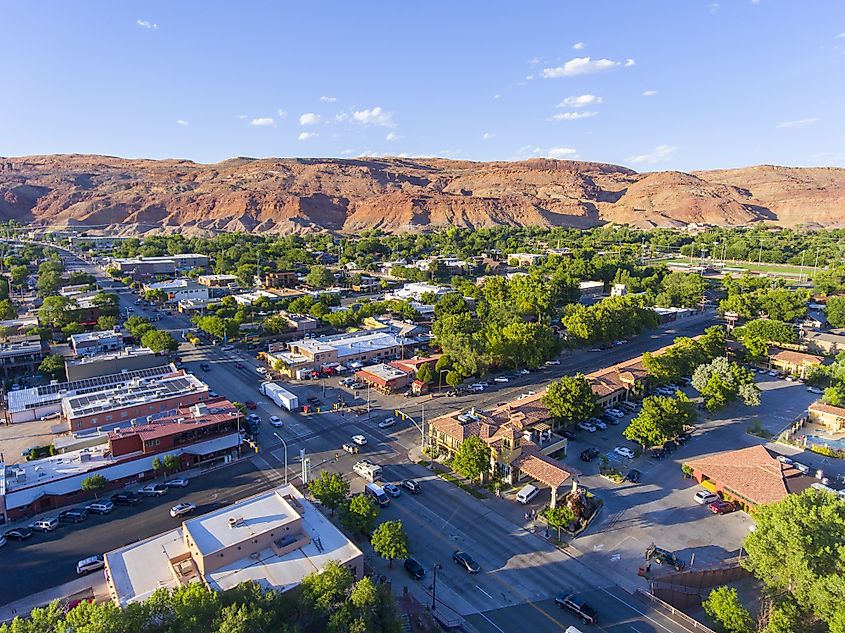 The next town worth a visit is Moab, eastern Utah. It attracts visitors with its breathtaking natural beauty and outdoor recreation opportunities. Towering red rock cliffs, deep canyons, and the mighty Colorado River that surround this small Utah town will leave no one aloof. Here, you can start exploring Arches and Canyonlands, two of Utah's well-known national parks. Take the opportunity to see unique geological formations such as fins, spires, balanced rocks, and natural sandstone arches.
There are many hiking paths in Moab, ranging from easy strolls to longer, more difficult hikes that provide breathtaking views of the surrounding countryside. Numerous sports are available in the area, such as hiking, mountain biking, and rock climbing. You can also enjoy kayaking and rafting in the Colorado River. The town itself exudes a relaxed atmosphere and is brimming with eateries, art galleries, and stores selling outdoor equipment. 
Kamas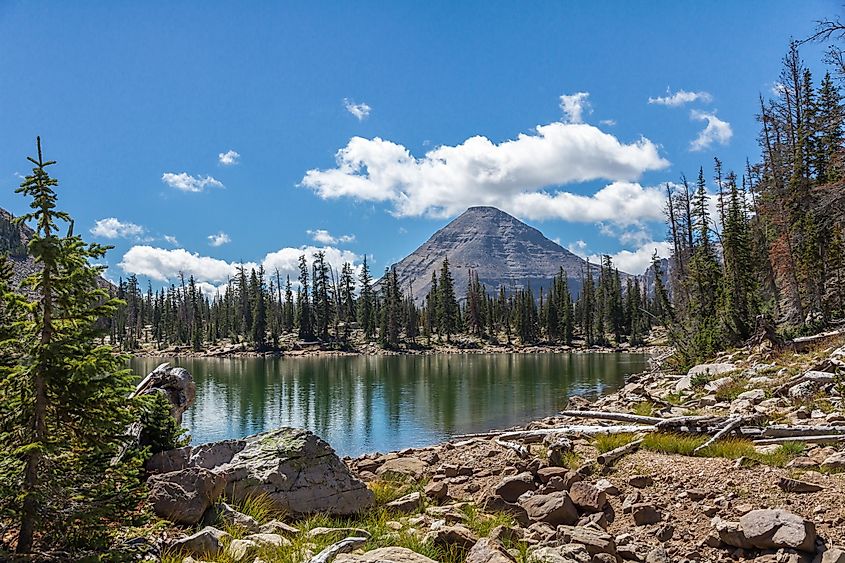 Kamas is a small town located in the beautiful Heber Valley and wrapped around by mountains. Some people say that the name Kamas derives from the Mootka Indian word "Chanas," which indicates a tiny green meadow surrounded by hills. Indeed, low rolling hills encircle the town on all sides. There are the Wasatch Mountains on the west behind the hills and the Uinta Mountains on the east. So, Kamas is the perfect place to start your getaway to the mountains.
Taking the Mirror Lake Scenic Byway, a 42-mile road winding through the Uinta Mountains is a great way to see breathtaking views of alpine forests, lakes, and mountains. Additionally, Kamas is well-known for its yearly rodeo, which takes place in the summer and includes competitions like bull riding and barrel racing.
Kanab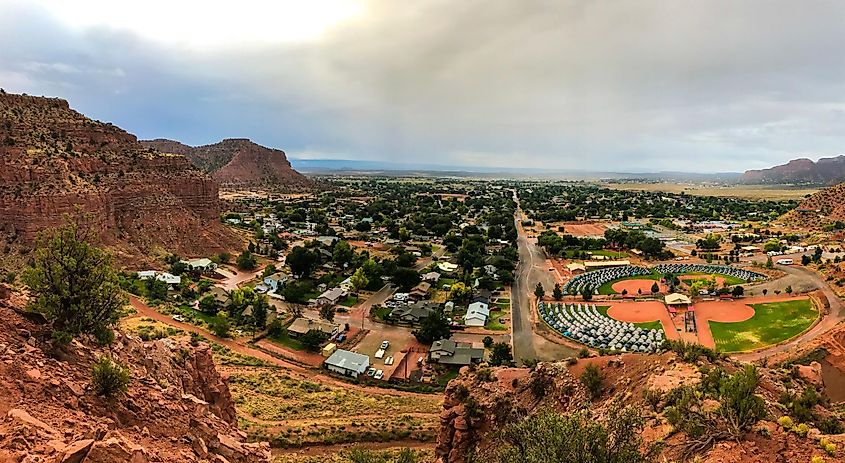 Kanab is the traditional American West with wonders waiting behind each corner. Since the 1920s, the town has been a popular site to produce films and TV shows. Kanab holds an annual Western Legends celebration to honor its past as a center for the Western film industry. Another great event is Kanab Balloons & Tunes festival held in the red rock Vermilion Cliffs. For some historical insights, visitors explore the Kanab Heritage House, which features the Native American tribe's history, culture, and way of life.
It is worth spending a week or more in Kanab to truly enjoy all the geologic formations around. The town is a great starting point to visit Zion National Park, Bryce Canyon National Park, and Grand Canyon National Park.
St. George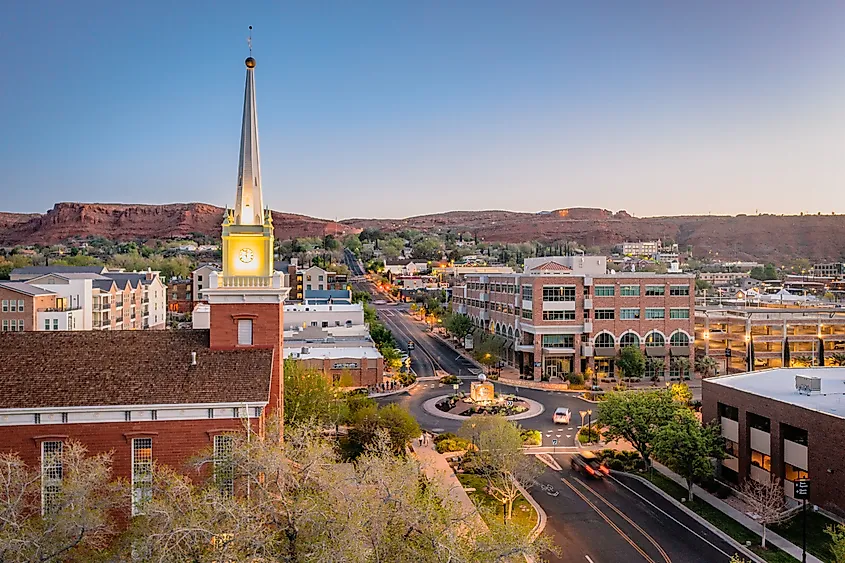 St. George is another scenic town located in the heart of Southern Utah. It attracts tourists with its breathtaking red rock landscapes, national parks, and outdoor recreation opportunities. Here, you can travel to the Red Cliffs National Conservation Area, Mojave Desert, Snow Canyon State Park, and Zion National Park. 
A wide range of historical and cultural attractions are also available in the city, including the Brigham Young Winter Home and St. George Temple. St. George is a well-liked vacation spot for outdoor enthusiasts since it provides options for golfing, biking, hiking, and rock climbing. 
Springdale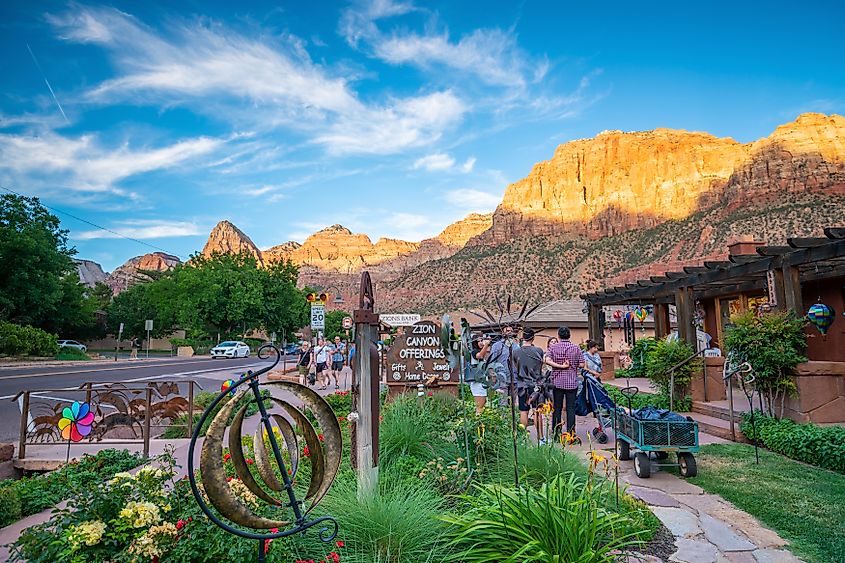 Springdale is a stunning small town that also offers an entrance to Zion National Park. The town itself is lovely, with stunning views of the mountains in the distance and a quaint main street lined with boutiques and art galleries. The imposing red, white, and pink striped cliffs that characterize Southern Utah cast a shadow across it.
Along with Zion National Park, Springdale is well-known for its thriving arts scene, which includes a number of galleries and studios that feature the work of regional artists. The Zion Canyon Music Festival and the Springdale Folk Festival are just two of the many annual festivals and activities held in the area.
Eden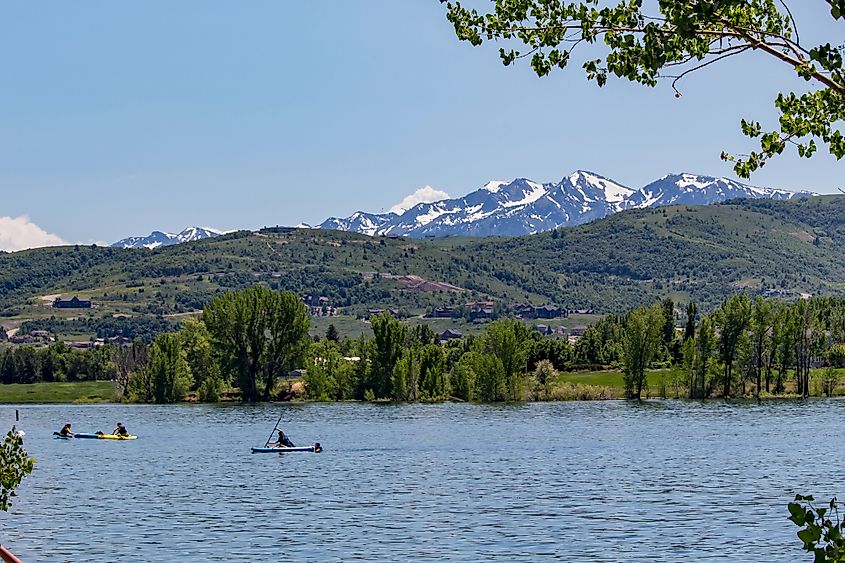 Eden is a hidden gem in northern Utah. It lies in the picturesque Ogden Valley at the base of Powder Mountain. With year-round outdoor activity options like skiing, snowboarding, hiking, bicycling, fishing, and golfing, it is a haven for nature lovers. Winter sports fans frequently travel to the adjacent Powder Mountain Resort because it is one of the biggest ski resorts in the country.
Eden is also home to Pineview Reservoir, which offers boating, fishing, and other water sports. Gorgeous mountain views make this water pool a perfect place to unwind and enjoy the outdoors. If you want to see colorful balloons dotting the mountain sky, plan your trip to Eden in time for the two-day Ogden Valley Balloon & Artist Festival, which is usually held in August each year.
In Summary
Utah is home to some of the most attractive small towns in the country, each with its own special charm and personality. Those communities give tourists the chance to explore the state's natural beauty and rich cultural heritage, from the typical American West of Kanab to the tranquil serenity of Springdale. The towns offer the perfect environment for anybody looking for outdoor adventure, a peaceful retreat, or a look into Utah's past. It is no wonder that these small towns continue to capture the hearts of visitors from around the world.