Utah is one of the most unique places, both geographically and culturally. With beautiful snow-capped mountains, pristine reflective lakes, and rocky canyons, Utah's natural beauty is only rivaled by its unique ties to the Mormon Church. Like any US State, the major cities may be the first locations tourists want to explore, but the small towns may give one a better sense of place. Check out these beautiful, charming small towns in Utah that will simply take your breath away.
Park City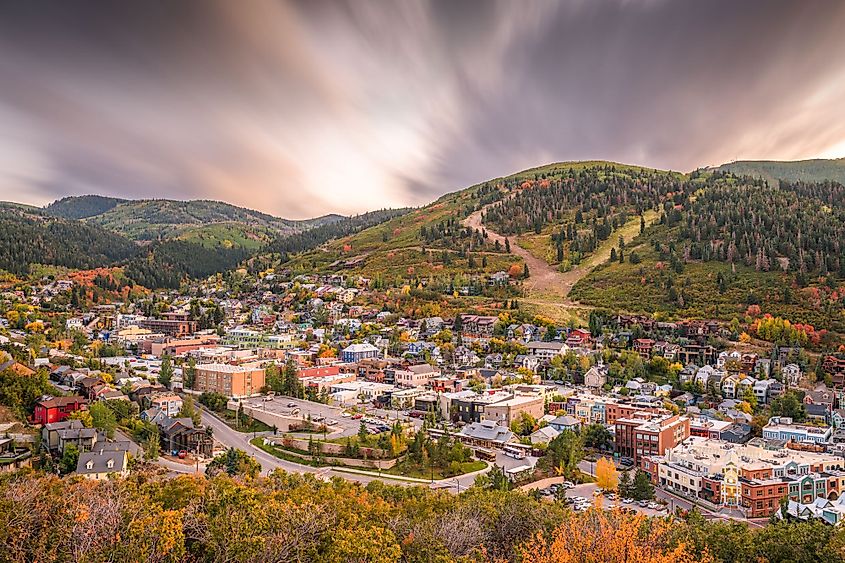 Situated within the Wasatch Back range of the Rocky Mountains, Park City is some 32 miles southeast of Utah's capital Salt Lake City. Founded in 1869 as a silver mining town, it has been a popular vacation resort getaway since the turn of the 20th century. Though its permanent population hovers around 8,000 residents, its tourist numbers exceed that regularly. From the world-famous Sundance Film Festival to its celebrated ski resorts (Park City and Deer Valley Resorts, respectively), time spent in Park City is always a charming experience. And of course, its local restaurants, shops, and mountain beauty never go out of style.
Huntsville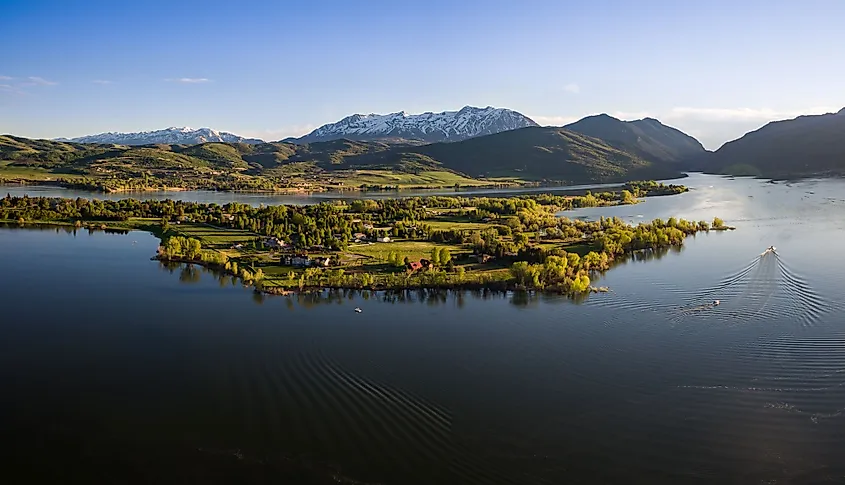 Founded in 1860 by Jefferson Hunt, a captain of the Mormon Battalion, Huntsville is a small town in Weber County with a population of just under 700 residents. With hot and humid summers and cold winters, Huntsville's climate allows visitors to enjoy a variety of activities year-round. In summer, one can enjoy the Ogden Valley and its lush green valleys and splendid colors (particularly in the fall) or go fishing and sailing at the nearby Pineview Reservoir. While in winter, a visit to Snowbasin Resort is a great way to spend some time, even for the non-skier in the family!
Spring City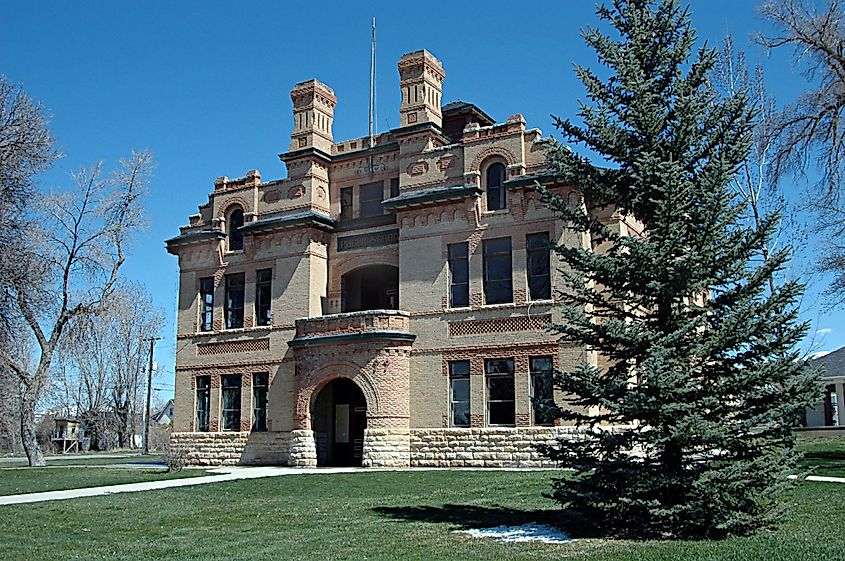 A farming town first founded in 1852, the town of Spring City recorded a population of just over 1,000 inhabitants at the 2020 census. Another famous example of an early Mormon settlement, visitors will notice many examples of Mormon pioneer architecture throughout the town. These include the Spring City Schoolhouse from 1899 and the Spring City Chapel, noted for their large stone facades and symmetrical appearances. Indeed the entire town was listed on the National Register of Historic Places in 1980, and even taking a casual stroll through its streets is a beautifully charming way to spend an afternoon, all in the company of some of the region's most unique buildings.
Mount Pleasant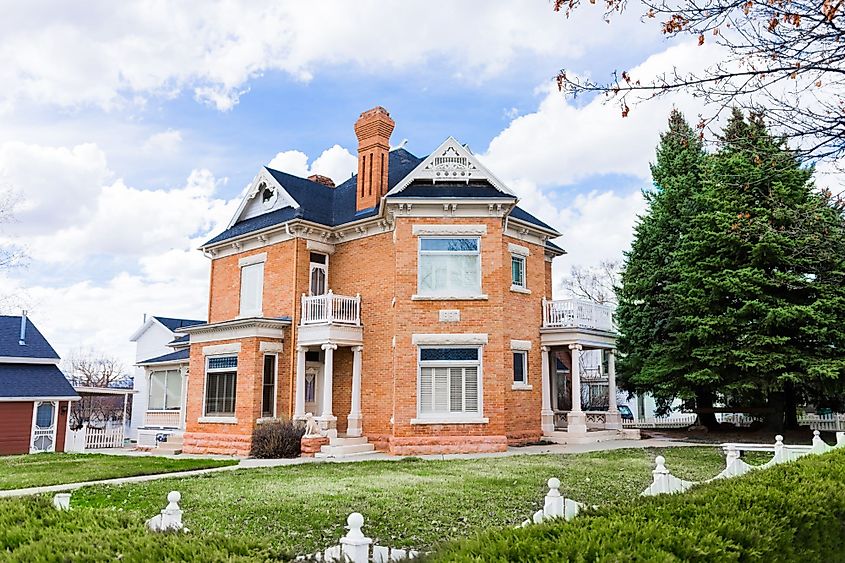 Like many towns in Utah, Mount Pleasant traces its origins to Mormon settlers, who originally founded the town in 1868. Situated close to Salt Lake City, Mount Pleasant has a charming 19th-century feel to it, and passing through its Main Street, visitors will be sure to see an assortment of buildings and architectural styles from the period. Home to 3,500 residents, tourists can enjoy local restaurants, boutique shops, and small museums dedicated to the history of settlements in the area. Stop at the Wasatch Academy School museum for an insight into Mormon heritage or visit the Blacksmith Shop on Main Street for a step back in time.
Midway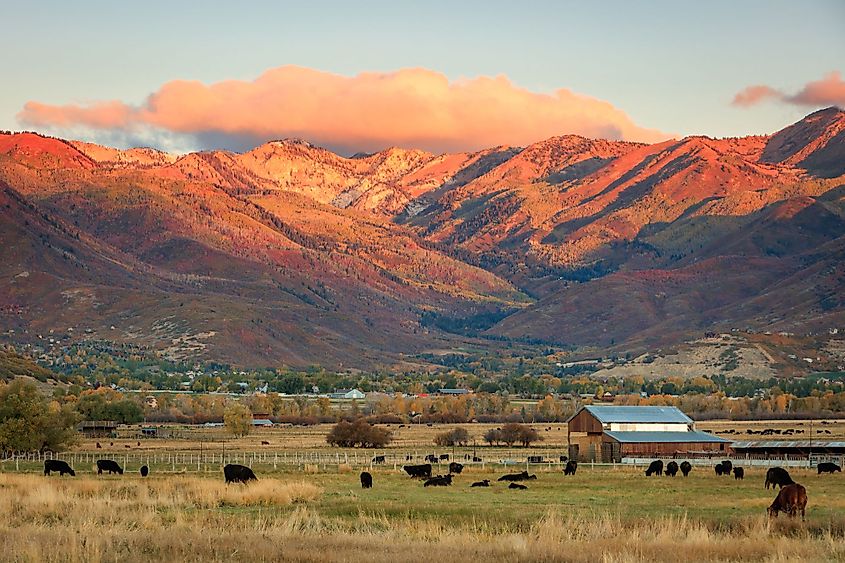 Situated in Wasatch Mountain State Park, the town of Midway was settled in 1859 and has a varied climate that sees hot summers and cold winters. During the summer, the Deer Creek Dam and Reservoir is a popular spot for boating and swimming, while at the Homestead Resort, guests can even try scuba diving! And do not forget a round of golf or two. Meanwhile, Alpine enthusiasts will also love Midway and its great downhill skiing slopes in the winter. The Soldier Hollow resort is a well-known cross-country skiing area that was even used during the 2002 Winter Olympics held in the nearby Salt Lake City.
Moab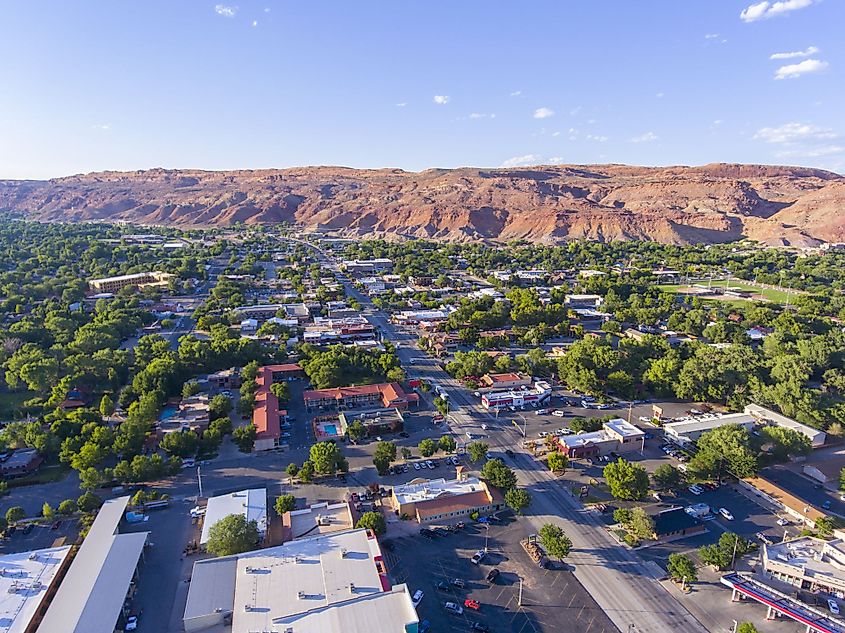 The seat of Grand County and home to just over 5,000 residents, the town of Moab is a stunning locale, perfect for those looking to experience some of the western United States' best landscapes. Settled in 1878, Moab attracts many tourists every year looking for a closeup encounter with some of the best in desert geology. Stop by the Canyonlands National Park and the Arches, and see splendid natural rock formations (canyons, buttes, and mesas), while a mountain bike ride at Slickrock Trails is a breathtaking way to marvel at the surroundings. A popular location for filming Western movies, anyone who descends on Moab will definitely leave with a renewed appreciation of the majesty of the rocky desert.
Panguitch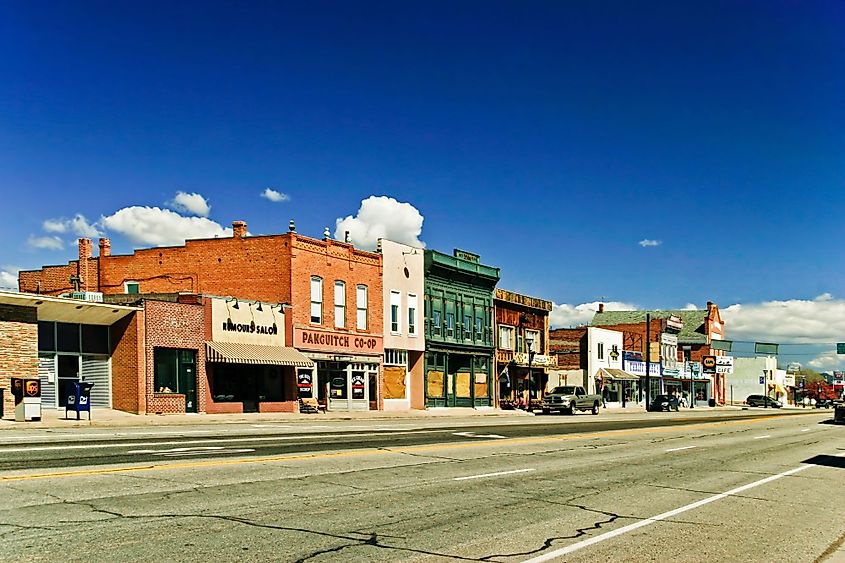 Panguitch - a name that has been derived from a Native American term meaning "Big Fish" is the seat of Garfield County and is surrounded by majestic mountain landscapes and beautiful lakes. Situated in the Sevier River Valley and known for its hot summers and mild winters, Panguitch is a well-known destination for fish lovers. The area is home to several small rivers and lakes with plentiful amounts of rainbow trout year-round, making it a fun activity no matter what time of year. Founded by Mormon pioneers in 1864, Panguitch has a charming historic district and unique large stone architecture, and tourists can enjoy an assortment of local galleries, small shops, and quaint restaurants.
Garden City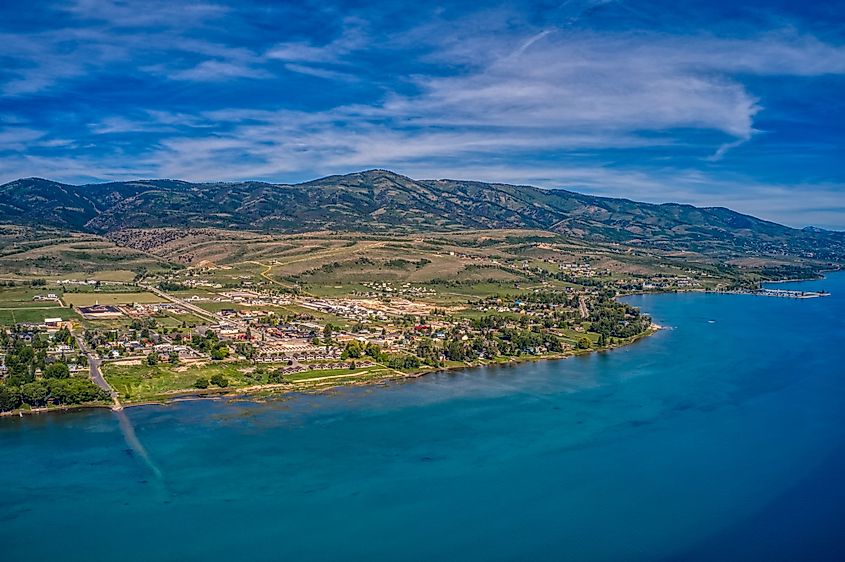 Garden City, nicknamed "Caribbean of the Rockies," is right on the shores of Bear Lake in northwestern Utah. Having a population of more than 600 residents, Garden City enjoys its proximity to the 250,000-year-old freshwater Bear Lake and its pristine turquoise color. The natural habitat for species such as the Bonneville Cutthroat Trout, the area around the town, and the Lake is a popular locale for camping activities and all those seeking the thrill of the outdoors. One must not forget to try some of the local raspberries, which have a reputation as being amongst the highest quality in the country. Spend time at the Raspberry Days Festival in August for a parade, fireworks, crafts, and, naturally, plenty of raspberries to try and buy!
Torrey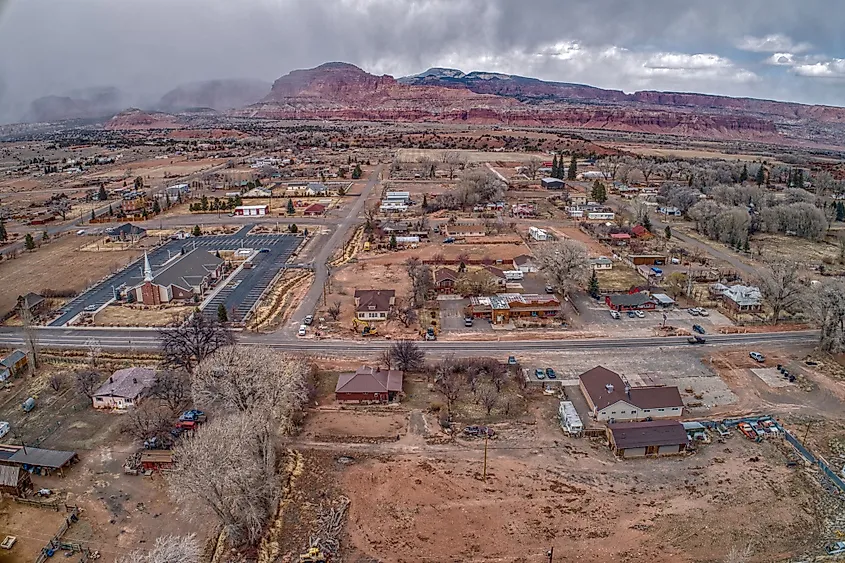 The town of Torrey was established in the 1880s and is only 8 miles from Capitol Reef National Park. Home to only 244 residents, Torrey is a charming place lined with beautiful trees and mountainous valleys. The town is a cool summer destination, where tourists can enjoy the quiet life, beautiful nature, and quaint small town offerings. Spend the day at Thousand Lake Mountain for great chances to go hiking, biking, and fishing, or stroll through the downtown area for an assortment of small shops, restaurants, and plenty of welcoming hospitality.
Kanab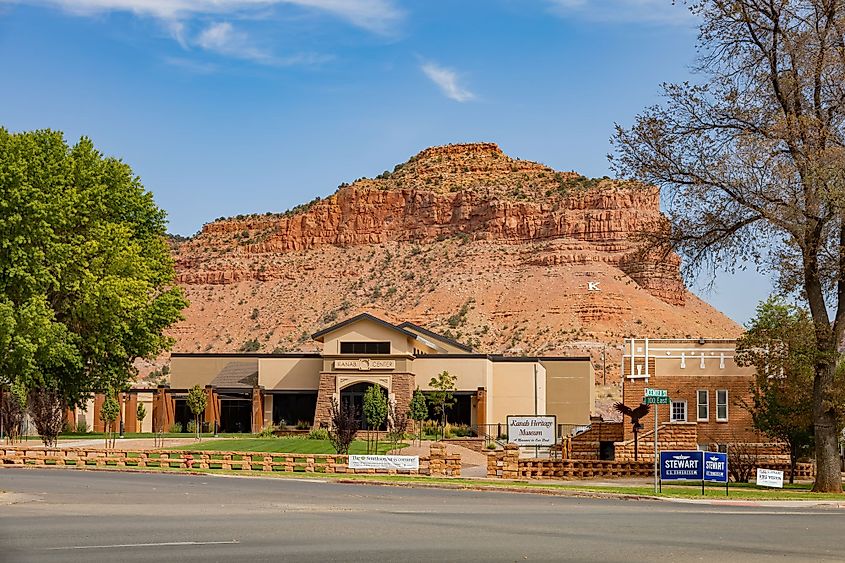 Situated immediately north of the border with Arizona, the town of Kanab is the seat of Kane County in southern Utah. Informally known as "Little Hollywood" due to a large number of Western TV shows and films filmed in the area in the 50s and 60s, Kanab's desert geography is indeed a splendid sight. Visitors can enjoy several recreational opportunities such as hiking, biking, and trekking through various canyons, particularly the Buckskin Gulch, the deepest of its kind in the United States. Centrally located from sites such as the Bryce Canyon National Park, Zion National Park, and the Coral Spring Sand Dunes, among others, those in Kanab will never be in short supply of stunning scenery.
Brigham City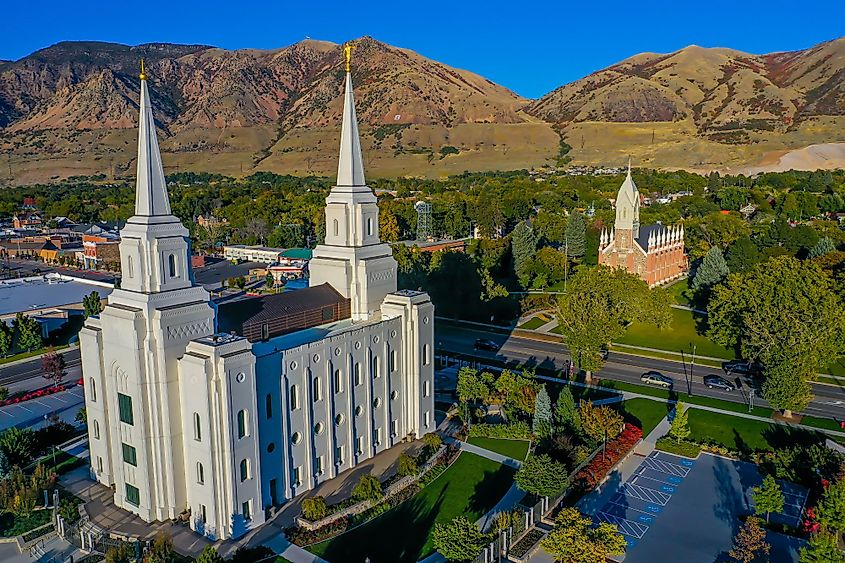 Named for Mormon religious leader and first governor of the Utah Territory Brigham Young, Brigham City was first settled in 1851. Nestled right among the slopes of the Westville Mountains, the skyline of this town of 17,000 residents is truly a wonder. An amazing locale to enjoy the outdoors and a small town feel, visitors can stroll through the historic Main Street for views of the unique Mormon-style architecture. One should not forget to eat some locally grown peaches, considered to be amongst the tastiest in the West. Families will surely love the annual Peach Days Festival every September, for parades, a carnival, and plenty of fun and tasty treats for all.
Utah is indeed a special place that is full of great natural beauty and unique history that permeates several aspects of life in the State. From green valleys to mountainous ranges to desert rock canyons, Utah's natural diversity is only rivaled by its special Morman heritage. These small towns in Utah showcase some of the very best the State has to offer for history and outdoor lovers alike and anyone who wants to better know the "Beehive State."