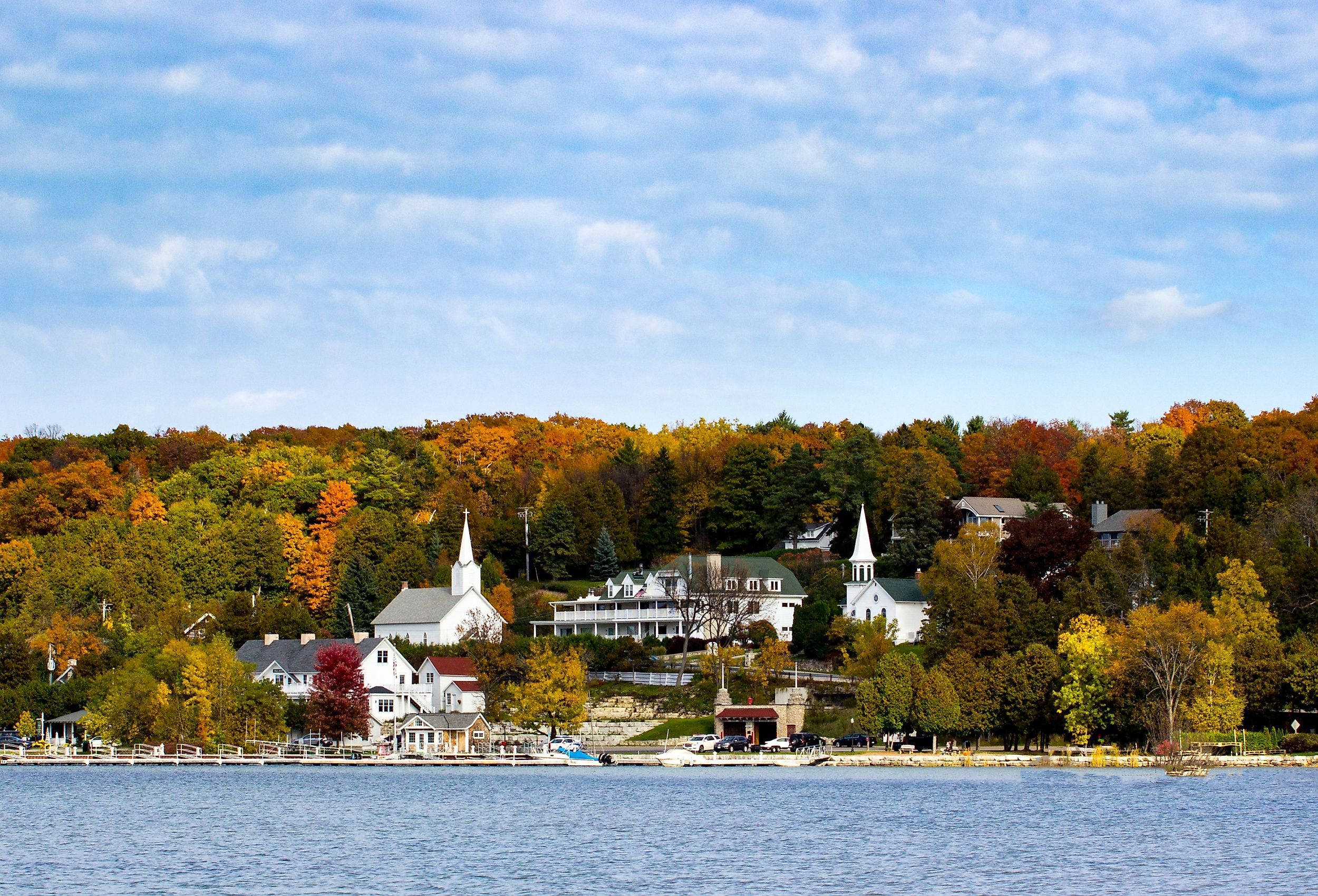 The 12 Most Picturesque Towns in the Midwest
Nicknamed "America's Heartland," the Midwest is a beautiful census region in America home to 12 states. This area is known for its friendly environment, farming industries, and peaceful vibe. It is also filled with sites of natural beauty and historical significance ranging from the scenic Ohio River to the majestic Mount Rushmore. Thus, whether you are a nature lover, adventure enthusiast, or history buff, there is something for everyone in the expansive Midwest. Home to more than 65 million people, the stories and friends you can make here are one of a kind!
Hill City, South Dakota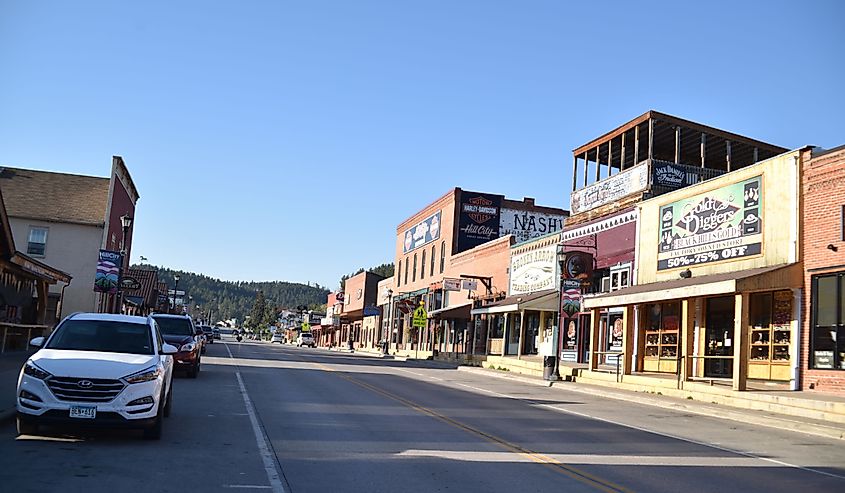 While it may have a quaint population of under 900, Hill City is flush with liveliness and joy. Located in Pennington County, this small 1.3 square mile city is the oldest existing city in the state. It offers a unique mix of peaceful living away from the hustle and bustle of urban life while still giving off tons of energy. For example, you can check out the famous 1880 train, which is a scenic vintage steam train ride along the Black Hills of South Dakota. This tour covers 20 miles and is the perfect attraction to enjoy with your family or friends. Apart from this, the town also has a rich history as a mining city in the late 1800s. Testament to this, you can find inspired sites such as Miner Brewing Co., a lovely brewery known for its dynamic concoctions.
Once you have spent your day looking through the city's visible beauty, it is time to try out the delicious food Hill City has to offer. Whether it is the Praire Berry Winery, Stone Faces Winery, or one of the twenty restaurants located in the city center, you are sure to enjoy the vast range of delicious food. If you want to wind down even more and become one with nature, there are many nearby parks a short drive away such as Custer State Park. To take in true Midwest joy and slow down from urban life, Hill City is the place to visit.
Petoskey, Michigan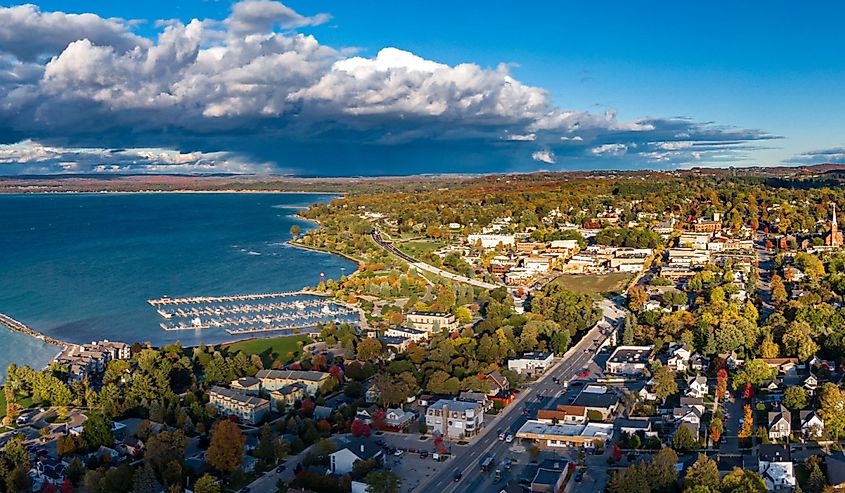 Known for its natural beauty, Petoskey is a lovely waterfront town and the perfect picturesque addition to this list. Located in Emmet County, this town sits on the southern end of Little Traverse Bay, an open bay of Lake Michigan. Petoskey is easily accessible via public transport, or major highways such as the US 31 and US 131. It is home to scenic coastal sights as well as a lovely harbor flush with boats throughout the year. Whether it is the influx of tourists during summer or the 5,000 locals here, you will always find a lively environment along Petoskey's beach!
Move in from the coast and Petoskey's 5.3-square-mile area is also filled with historic sites and stunning Victoria architecture. All you need to do is take a walk down the historic Gaslight Shopping District to appreciate one of the 400+ buildings Petoskey has on the National Historic Register. Moreover, the Gaslight District has many interesting shops with trinkets, souvenirs, and even snacks that you are sure to enjoy. If coastal beauty and historical value are to your interest, you are in luck.
Galena, Illinois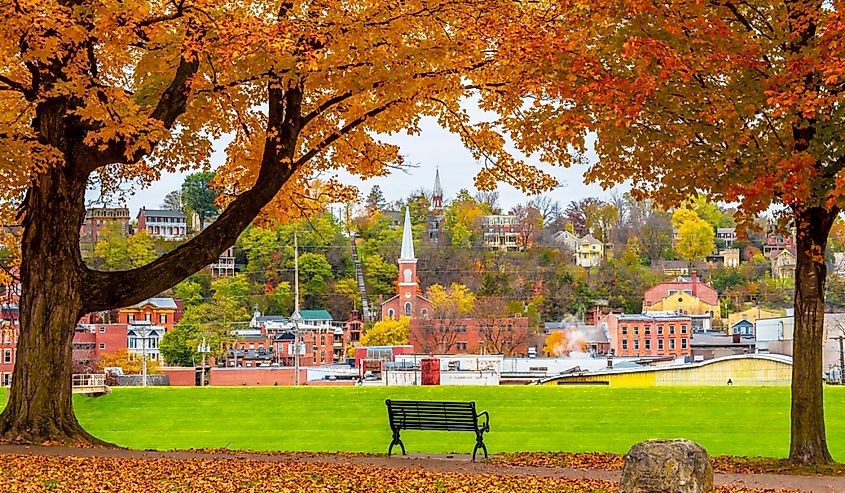 Located in Illinois, Galena is the county seat of Jo Daviess County. With an area of 4.5 square miles and welcoming 3,300 residents, this city has a unique historical beauty. Founded in 1826, Galena is named after the natural form of lead sulfide, as the area had an abundance of lead. Testament to this, the city became a vital port stop between St. Paul and St. Louis, which led to its rapid development. With more than 80% of the buildings on the National Register of Historic Places, Galena is home to many picturesque buildings. For example, you can check out the Ulysses S. Grant Home, the home of the 18th President of the US, or visit the Old Market House from 1845.
Besides historic beauty, Galena also boasts lovely Midwest views. There is the nearby Chestnut Mountain Resort which is a 220-acre ski resort with more than 19 ski trails at varying difficulties. Anyone can enjoy skiing fun while taking in the stunning view from the summit. Staying in Galena is also a treat as the local Chestnut Hotel houses an endless range of amenities such as cafes, restaurants, a sauna, and even a whirlpool to warm up after skiing! For winter fun in the Midwest, Galena is a great place to visit.
Medora, North Dakota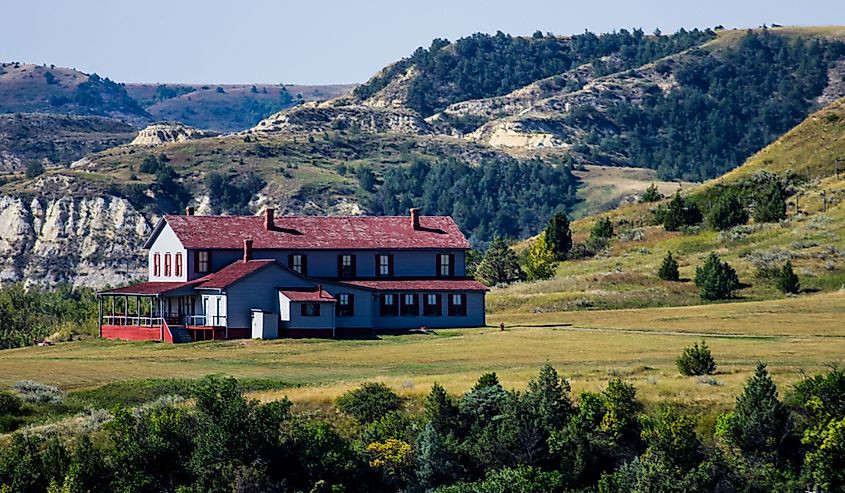 When it comes to picturesque beauty in the Midwest, Medora is a great city you can visit as the gateway to Theodore Roosevelt National Park! This park has a large 70,000-acre area which is flush with beautiful natural views. For example, the "Cannonball Concretions" are large rounded stones made from mineral water deposition over thousands of years. The park is also home to a wide range of animals such as coyotes, cougars, eagles, and more for a unique wildlife-watching opportunity.
In the city, Medora still has a lot more to offer. Located in Billings County, North Dakota, the city is an embodiment of small-town vibes. This is because Medora has an area of only 0.4 square miles which houses 121 residents. Everything here is calming from the people you will meet to the lovely shopping center in the downtown area. The city also offers some great local delicacies such as the interactive Pitchfork Fondue dining experience.
Wamego, Kansas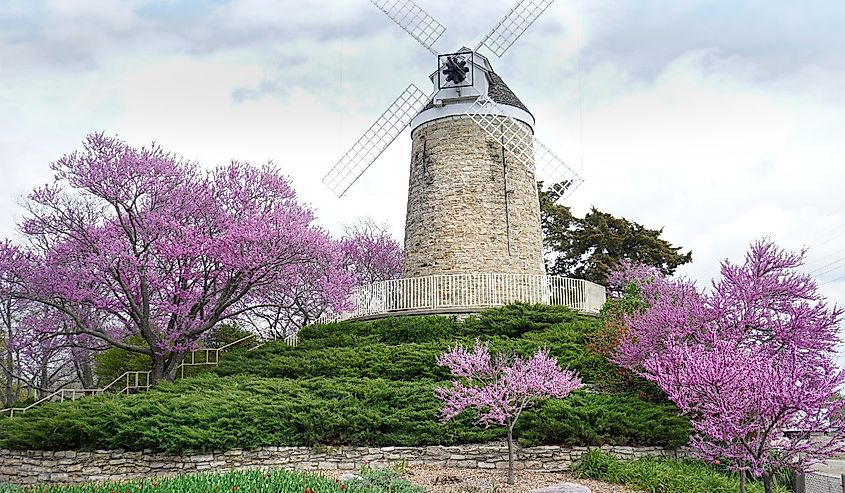 Wamego is a charming city in Pottawatomie County, Kansas. Home to around 5,000 residents, it has many attractions and activities that anyone can enjoy. Founded as a stop along the Union Pacific Railroad, the city saw rapid development in the 1900s and has now become a beautiful retreat in the Midwest. You can find a mix of fun and history on every street in this lovely city. The Oz Museum is a prime example of this as it showcases one of the largest public collections of Wizard of Oz items in the world. Surrounding it are the lovely Oz Winery and Toto's TacOZ restaurant so you can grab a bite while enjoying some award-winning Oz-themed wine.
Apart from the Wizard of Oz, there is a lot more history you can witness in Wamego. The Wamego City Park is a great place to start as it houses sites such as the 140-year-old Dutch Mill. Moreover, this park also features a swimming pool, fishing pond, and playground making it the perfect destination for a family outing.
New Glarus, Wisconsin
Nicknamed "America's Little Switzerland," New Glarus is a city in Wisconsin with rich Swiss history. Founded as a Swiss settlement more than 100 years ago, this city is filled with heritage and traditions from Switzerland. In fact, it was even named after the canton of Glarus in Switzerland! So, you can find everything from Swiss flags hoisted in the air to stunning Alpine-style architecture throughout the city. Moreover, spend the day roaming through the streets and you are bound to hear soothing Swiss music. To further experience these rich traditions, visit the Swiss Historical Village Museum which showcases the unique culture of New Glarus.
Home to 2,200 lively residents, the city is also filled with lively activities. The locals celebrate festivals such as Winterfest, Swiss Volkfest, and even Oktoberfest wholeheartedly, and are a perfect way to enjoy the local culture. Also, despite being quite small with an area of 1.8 square miles, New Glarus offers some delicious food. Be sure to try out some Swiss delicacies here such as Kalberwurst, Landjaeger, and Braetzeli.
Eureka Springs, Arkansas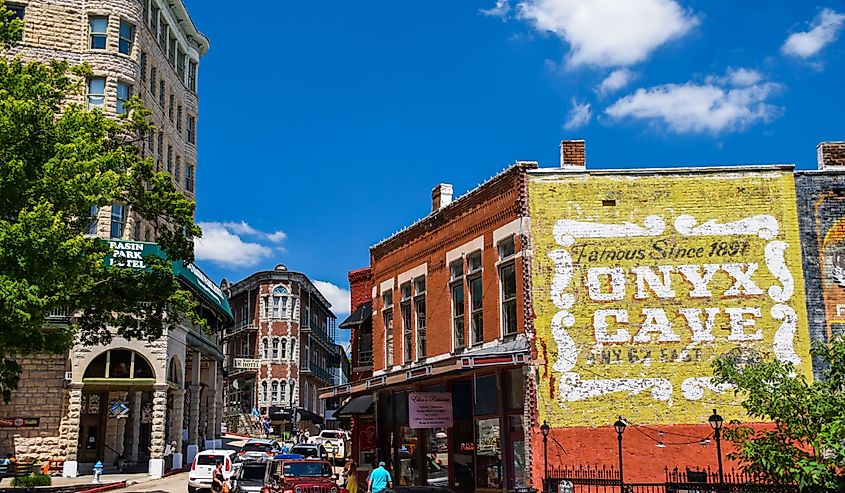 Testament to its name, Eureka Springs is famous for its natural springs, among many other stunning attractions. Located in Carroll County, Arkansas, this city covers an area of 6.9 square miles within the Ozark Mountains. Thanks to this, the city sits at an elevation of over 1,200 feet, surrounded by beautiful mountainous views. While these sights are amazing, Eureka Springs hit the natural jackpot with its supposed "healing springs." With more than 66 cold mineral springs, you can spend your time relaxing along the water and enjoying the continuous flow of bubbles. Both Native Americans and European Americans believed these springs had healing powers leading to the founding of the city.
Apart from the springs, you can find architectural beauty throughout the city of Eureka Springs. It has a rich history as a resort town that filled the city with quaint Victorian-style cottages. These are dotted along the winding mountain streets for an interesting combination of ambiance. Testament to this, the entire city is on the National Register of Historic Places. To delve deeper into the city's history, check out the Eureka Springs Historic District where you will find lovely establishments like the public library and local courthouse.
Lanesboro, Minnesota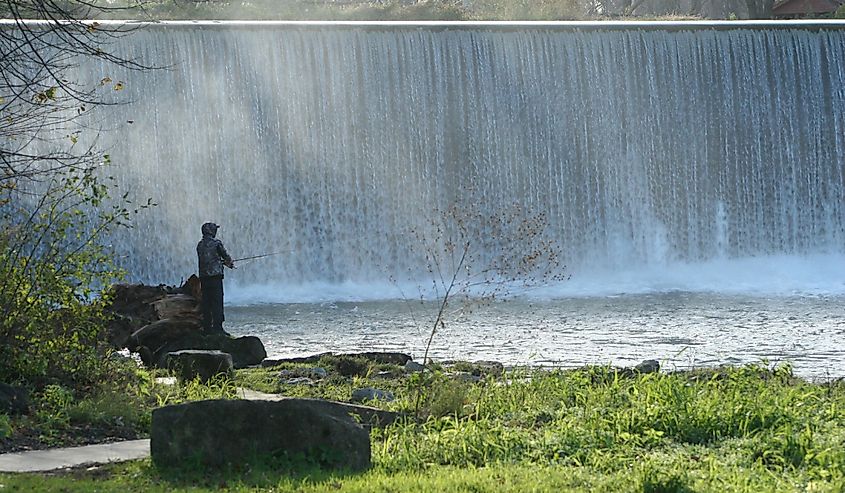 Enjoy some Midwestern charm in the quaint city of Lanesboro, Minnesota. Located in Fillmore County, this small town is home to a tight-knit community of 754 people. No matter where you go, there are friendly faces and enjoyable conversations! Thanks to this peaceful vibe, the town is quite popular with tourists who want to unwind from city life.
One of the most famous attractions in Lanesboro is the Root River State Trail. This trail winds through 42 miles of pavement through the Root River Valley which is one of the most scenic cycling trails in the state. Rent a bicycle at the local Little River General Store which is full of sports equipment! You can also spend your day trying out the delicious treats this city has on offer such as Lanesboro Pastry Shoppe's blueberry scones. If you still have time in the town, the local Amish community offers a wide range of fun things to do. You can visit the many unique shops and restaurants here or even the stage theatre to enjoy a fun show.
Lake Geneva, Wisconsin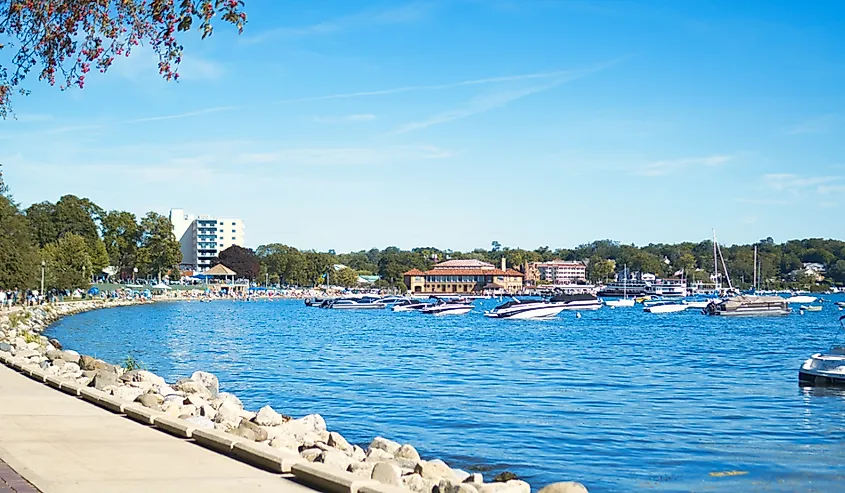 One of the premier resort towns in the state, Lake Geneva is an iconic getaway for city dwellers across the Midwest. Located along the eastern shore of Geneva Lake, this city of 8,300 boasts coastal beauty and waterside fun! Whether it is relaxing on the public beach with a refreshing drink or taking a shoreside walk along the Lake Geneva Shore Path, you will find it all. If you want to make the most of the town's waterside location, try one of the boat tours. These tours cover beautiful shores and some massive lakefront mansions that you are sure to enjoy. However, if water is not your thing, there is no need to fret as Lake Geneva has a lot more to offer.
Spend the day at Big Foot Beach State Park enjoying one of the many hiking trails or have a picnic. The city also has a beautiful 75-acre safari which is home to more than 50 exotic animals such as the scimitar-horned oryx, Ankole-Watusi cattle, llamas, alpacas, and camels. These animals roam freely for an exhilarating experience that the whole family can enjoy. Whether you want to spend the day tanning on the beach or roaming the streets of Lake Geneva, it is an ideal Midwest town to visit.
Chagrin Falls, Ohio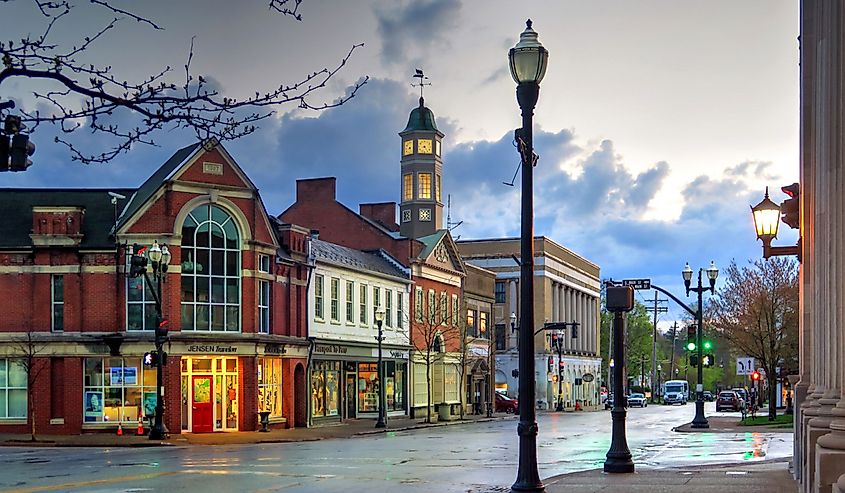 Named after the lovely cascades that flow straight through its historic district, Chagrin Falls is a picturesque village in Cuyahoga County, Ohio. These cascades spout off the central Chagrin River and form multiple waterfalls throughout town. These falls are so beautiful that they are responsible for attracting people to town and developing the village! Along the river and you will find beautiful natural areas which are home to many animals such as salamanders and coyotes.
Apart from the falls, this village's 2.14 square mile area is full of enjoyable attractions. Located a short drive from Cleveland, many people travel here for a wonderful shopping experience. With everything from antique stores to lovely art galleries, you are sure to find something to your liking. Moreover, with 4,000+ residents and loads of enjoyable festivals, it is a great place to wind down and take in some Midwestern hospitality.
Winona, Minnesota
The county seat of Winona County, Winona is a historically rich city in Minnesota. Settled by European immigrants in the 1850s, the town developed from a lumber-focused economy to one focused on railroads and wheat milling. Winona is now known for its unique history. Within its 24.3 square miles area, there is a sprawling 11-block downtown area that is flush with historical 19th-century establishments listed on the National Register of Historic Places. Moreover, the town is also home to the "Sugar Loaf Bluff," which is a 500-foot tall bluff formed due to quarrying in the city. This bluff has become one of the most famous attractions in the city thanks to its history and unique hiking trails.
Winona also has many adrenaline-filled activities to offer, surrounded by beautiful lakes, trails, and rivers such as the Mississippi River where you can take a short stroll with friends and family. The town also hosts jam-packed outdoor concerts and festivals like the Frozen River Film Festival and Mid West Music Fest. Plan your trip according to these events and you are sure to appreciate a glimpse of the Midwest's rich culture and history.
Ephraim, Wisconsin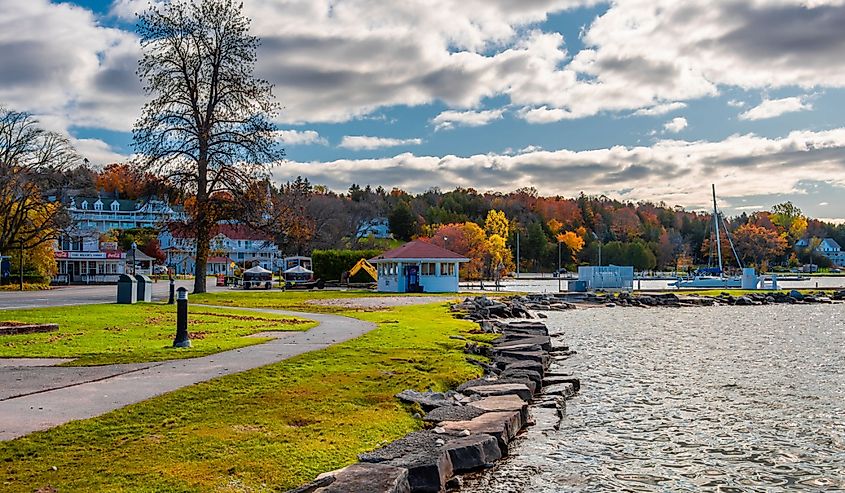 Located in Door County, Wisconsin, Ephraim offers a little bit of everything. Whether you enjoy historical tours, watersports, or even scenic drives, there is something for everyone here. When it comes to history, this town houses some charming inns, old-school white buildings, and unique landmarks. So, take a tour with the Ephraim Historical Foundation and you can see sites such as the Pioneer Schoolhouse, Village Hall, and more. On the other hand, thanks to its location along Green Bay, Ephraim has plenty of enjoyable waterside activities. This includes sailing cruises, a yacht club with personalized lessons, and even a small pier. To get away from that summer heat, this might be the Midwest town for you.
Apart from this, there is also a lot to do on land. For example, check out the Door Country Tolley which takes you through the county with more than 15 tour options. Each of these goes through unique routes such as the Ghost tours for spooky fun. Similarly, you can visit the nearby Peninsula State Park and spend the day golfing with friends! End your evening at the park restaurant and you are sure to enjoy your time at Ephraim.
With so much to offer when it comes to natural, historic, and cultural beauty, the Midwest is full of picturesque sights. Take in some natural views at Eureka Springs or enjoy a glass of Oz wine in Wamego, there is something unique everywhere. Also, no matter where you go, each city is home to a unique sight of its own. You are sure to find the right picturesque town to visit in the lovely Midwest!