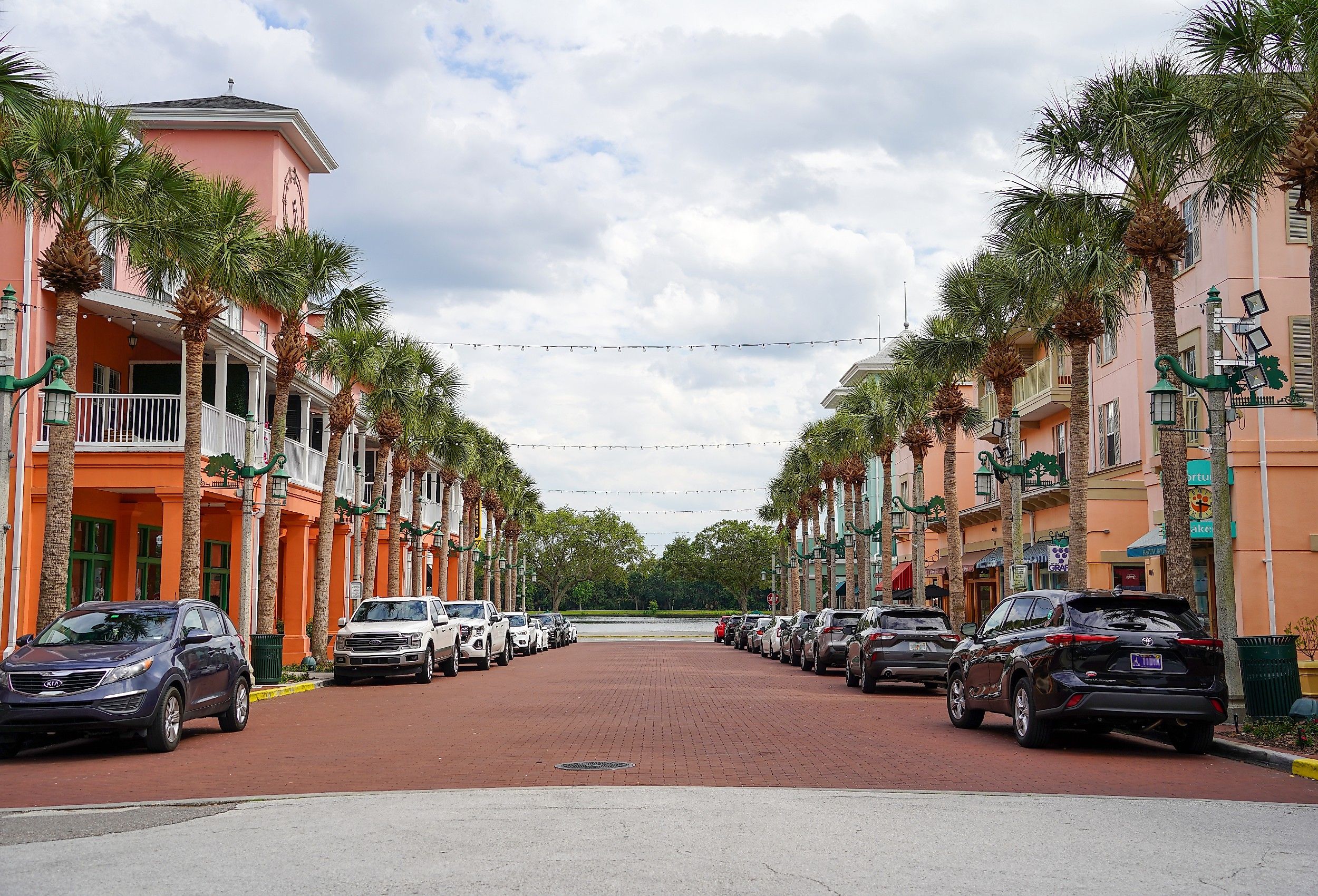 Small Towns in Florida With the Best Downtown Areas
Are you looking for an off-the-beaten-path getaway this summer? If so, Florida is the perfect destination. From the classic sunny beaches of Miami to its swamps and coral reefs, this state has much to offer. But away from the hubbub of larger cities lies a treasure trove of charming small towns with amazing downtown areas. Explore Florida's most beautiful downtowns tucked away amongst its rolling hillsides and palm trees lined coastlines. Find out what each breathtaking locale has to offer and how these charming little gems can be your ticket to a great escape!
Celebration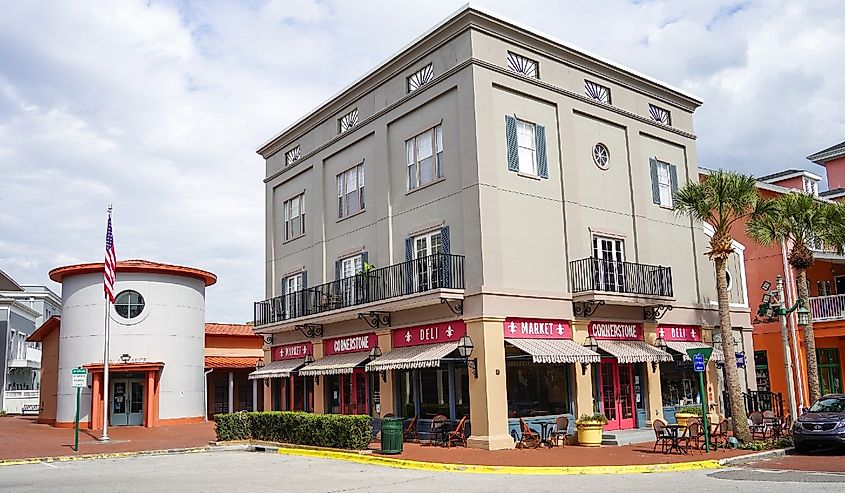 Celebration is a small town located in Osceola County. Founded by the Walt Disney Company in 1996 as part of an experiment to create an ideal American town, it has a vibrant downtown area and a strong sense of community. Celebration is dubbed "the happiest place on Earth" due to its beauty, charm, and vibrant atmosphere.
The quaint downtown area features a variety of shops, restaurants, surrounded by the Celebration Lakeside Park and Celebration Golf Course, that make it one-of-a-kind. Visitors can find everything from locally owned stores to high-end boutiques offering the most up-to-date fashion trends. In addition to the wealth of shopping and dining options, Celebration has a number of great activities available for visitors. The town hosts its own weekly farmers' market with locally grown produce, as well as many festivals throughout the year. Families can also enjoy a day at the nearby Disney theme parks or take part in outdoor activities like biking and golfing.
Sebring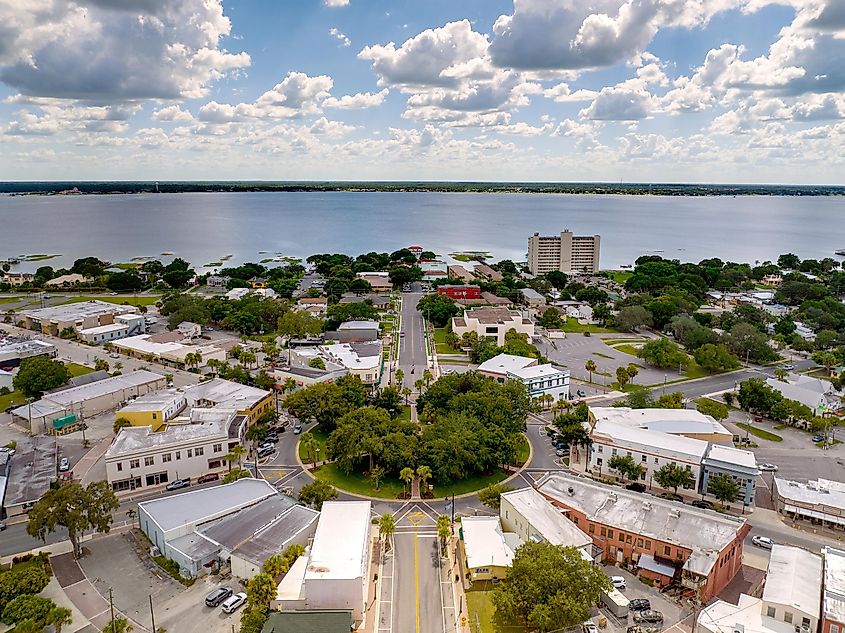 This picturesque community offers plenty to do and see for visitors and local residents alike, from its historic downtown area filled with unique shops and restaurants to a variety of outdoor recreational activities. One of the great things about living in or visiting Sebring is its thriving downtown area. The streets are buzzing day and night with activity as locals go about their daily business or shop around for a new trinket or souvenir at any number of stores that line the sidewalks. You will find everything from boutique clothing stores to coffee shops and even the Children's Museum of the Highlands. Sebring's downtown area is also home to a variety of great restaurants, such as the Faded Bistro & Beer Garden, each offering its own unique take on local cuisine. Whether you are in the mood for seafood, Italian food, Mexican dishes, or barbecue, there is something here for everyone.
Sebring also has plenty of outdoor activities to enjoy during your stay. Its proximity to Highlands Hammock State Park allows visitors access to an array of hiking and biking trails as well as campgrounds, picnic areas, and swimming spots. The town is also home to a few golf courses, such as Sun 'N Lake Golf Club, perfect for any level of golfer looking to hit balls out on the green. If you prefer water sports, Lake Jackson is another nearby spot that offers a great variety of activities, such as fishing, kayaking, and boating.
Mount Dora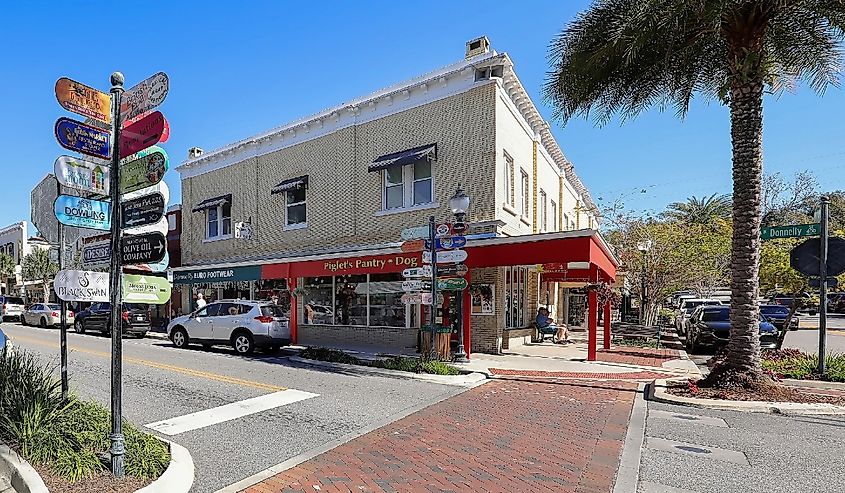 Located just outside of Orlando, the city offers a variety of activities for all ages. The historic downtown area has many unique shops, restaurants, galleries, and museums, like the Mount Dora Museum of Speed, all within walking distance of one another. One of the main attractions in town is Donnelly Park, and the surrounding area features many boutique shops and eateries close to Lake Dora. On weekends, you can find live music playing at the square or one of the nearby bars. As you walk around town, you will come across plenty of interesting things to explore, such as nature trails, parks, and lakeside attractions like boat rides.
In addition to the downtown area, Mount Dora also offers a variety of outdoor activities for visitors and locals alike. Whether you are looking for a relaxing day in nature or an adventurous afternoon out on the lake, there is something for everyone here. Take advantage of miles of walking trails and bike paths that wind through the city's parks, or launch your boat from one of the many nearby lakes and enjoy fishing.
Fernandina Beach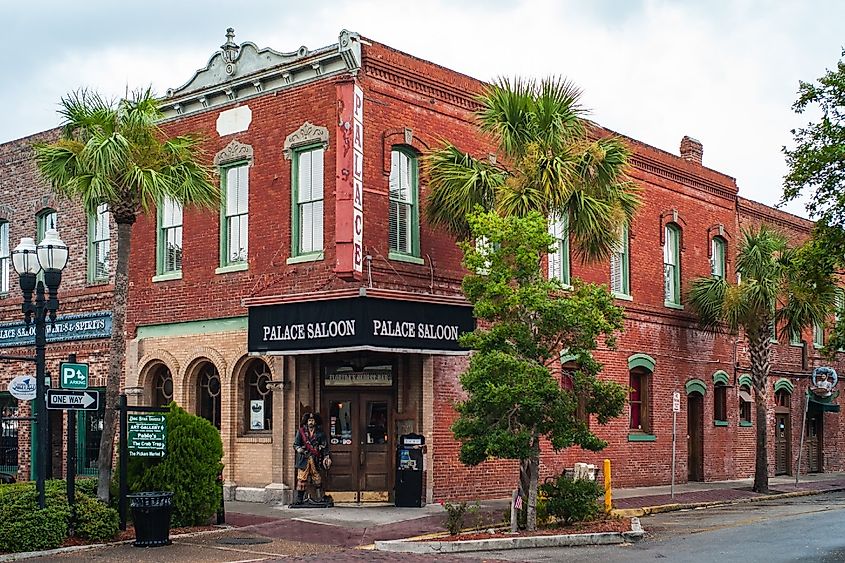 Situated on Amelia Island, Fernandina Beach's historic downtown district offers visitors and locals alike a unique experience. From brick-paved streets lined with boutiques, galleries, and restaurants to beautiful parks, outdoor markets, and friendly residents, this is one town that knows how to make its guests feel welcome. The most popular attraction in Fernandina Beach is its Historic Downtown District. This area has been lovingly maintained since it was founded in 1811. Here you can find locally owned shops, such as Paisley Grace Makery, offering everything from antiques to handmade items crafted by local artisans. Many restaurants, like Aloha Bagel And Deli, feature regional cuisine prepared with fresh local ingredients, while bars and pubs, such as Mocama Beer Company, offer a variety of craft beers and wines.
The natural beauty of Fernandina Beach is another draw for visitors. Miles of trails wind their way through the city's parks, offering incredible views of the ocean. The beaches are pristine white sand lined with palm trees and sea oats, making them ideal spots for a day trip or picnic. Those who want to get out on the water can take advantage of Fernandina Beach's many waterfront activities, including kayaking, sailing, and fishing.
DeLand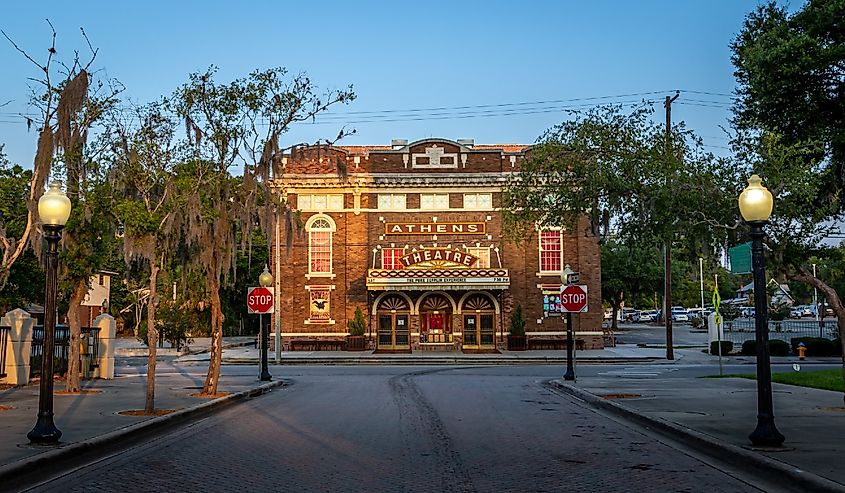 Located just 40 miles outside Orlando, this small town offers a unique mix of historic charm and contemporary culture. The downtown area features many charming attractions like Stetson Mansion, an Italianate-style villa built in 1886 by famed hat maker John B. Stetson. There is also the Museum of Art - DeLand, which houses thousands of works, including paintings from local artists.
Shoppers will find a wide variety of shops and restaurants in downtown DeLand. The area is known for its many antique stores, specialty boutiques, art galleries, and charming eateries, such as The Elusive Grape and Cafe Da Vinci.
Bradenton Beach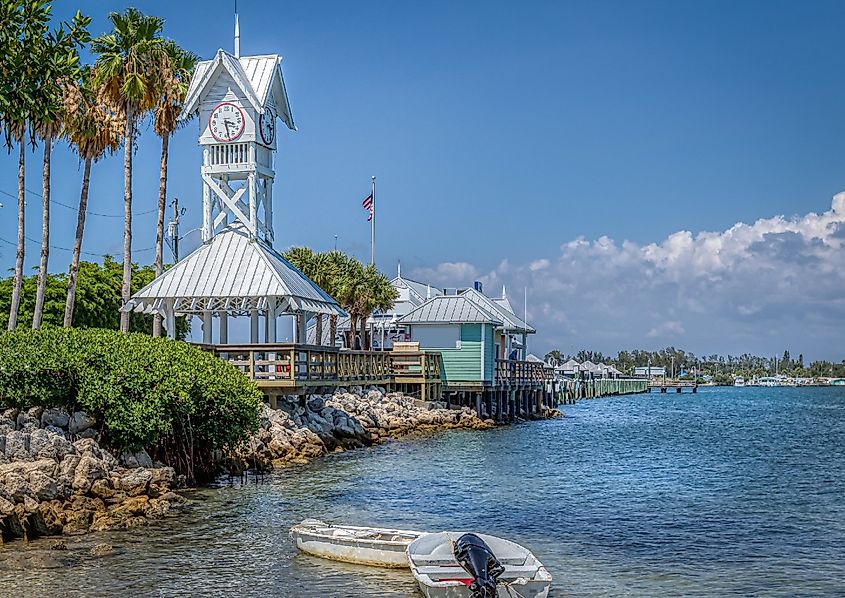 Bradenton Beach is a small town on the barrier island of Anna Maria, located in Manatee County, Florida. Though small in size, Bradenton Beach offers its residents and visitors plenty of things to do and places to explore. The downtown area features a variety of shops and, restaurants, galleries, such as Bridge Street Gallery and The Cove, that make it an inviting place for both locals and tourists alike. The beach itself is one of the area's top attractions. With its white sandy beaches, crystal clear waters, and picturesque sunsets, it is easy to forget that you are only minutes away from bustling downtown Bradenton Beach. The area also has numerous outdoor activities, such as parasailing, jet skiing, fishing, and kayaking.
Other popular attractions near Bradenton Beach include the Historic Bridge Street Pier and the Manatee Public Beach. Both are on Anna Maria Island and offer a variety of activities for visitors of all ages. From shopping at quaint boutiques to dining at delicious seafood restaurants, there is something to do for everyone here. Visitors can also visit Robinson Preserve or explore Coquina Baywalk for tranquil nature time away from downtown Bradenton Beach.
Flagler Beach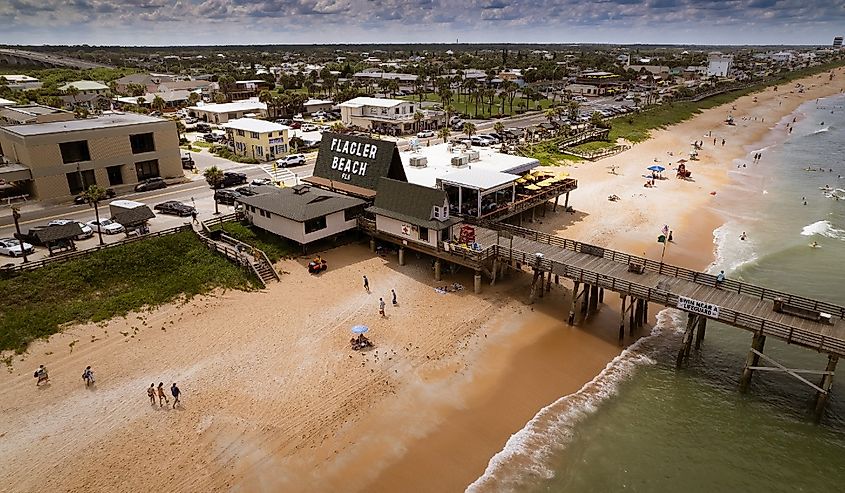 Located just 20 miles from Daytona Beach and 35 miles from St. Augustine, this quaint beachfront community offers visitors an enjoyable combination of sun-soaked days on the beach, colorful nights spent exploring downtown, and plenty of opportunities to explore the local culture. The vibrant downtown area overlooks the white sands and crystal blue waters of Flagler Beach. Here you will find family-friendly restaurants serving everything from seafood to Italian to Mexican cuisine as well as unique boutiques and souvenir shops that give the town its own distinct personality. During the evenings, the streets come alive with locals heading out for dinner or stopping by one of several bars, like Finns Beachside Pub or The Anchor, for drinks and live music.
Flagler Beach also has plenty to explore beyond its downtown area, like the Flagler Beach pier that stretches out into the Atlantic Ocean. Here, you can catch glimpses of sea turtles, dolphins, or a variety of birds while fishing off the pier. You can also take a stroll along one of several nature trails that run through nearby parks or visit Gamble Rogers Memorial State Park, where you can swim in the surf or explore its dunes and maritime hammocks.
These small towns across Florida offer something for everyone. From iconic attractions to unique shops and restaurants, these quaint downtown areas provide visitors with an array of activities that make them truly special. Whether you are looking for a relaxing retreat or an adventure-filled experience, these small towns are sure to provide the perfect getaway. So what are you waiting for? Make your next vacation a special one and explore the unique charm of these amazing small towns across Florida!