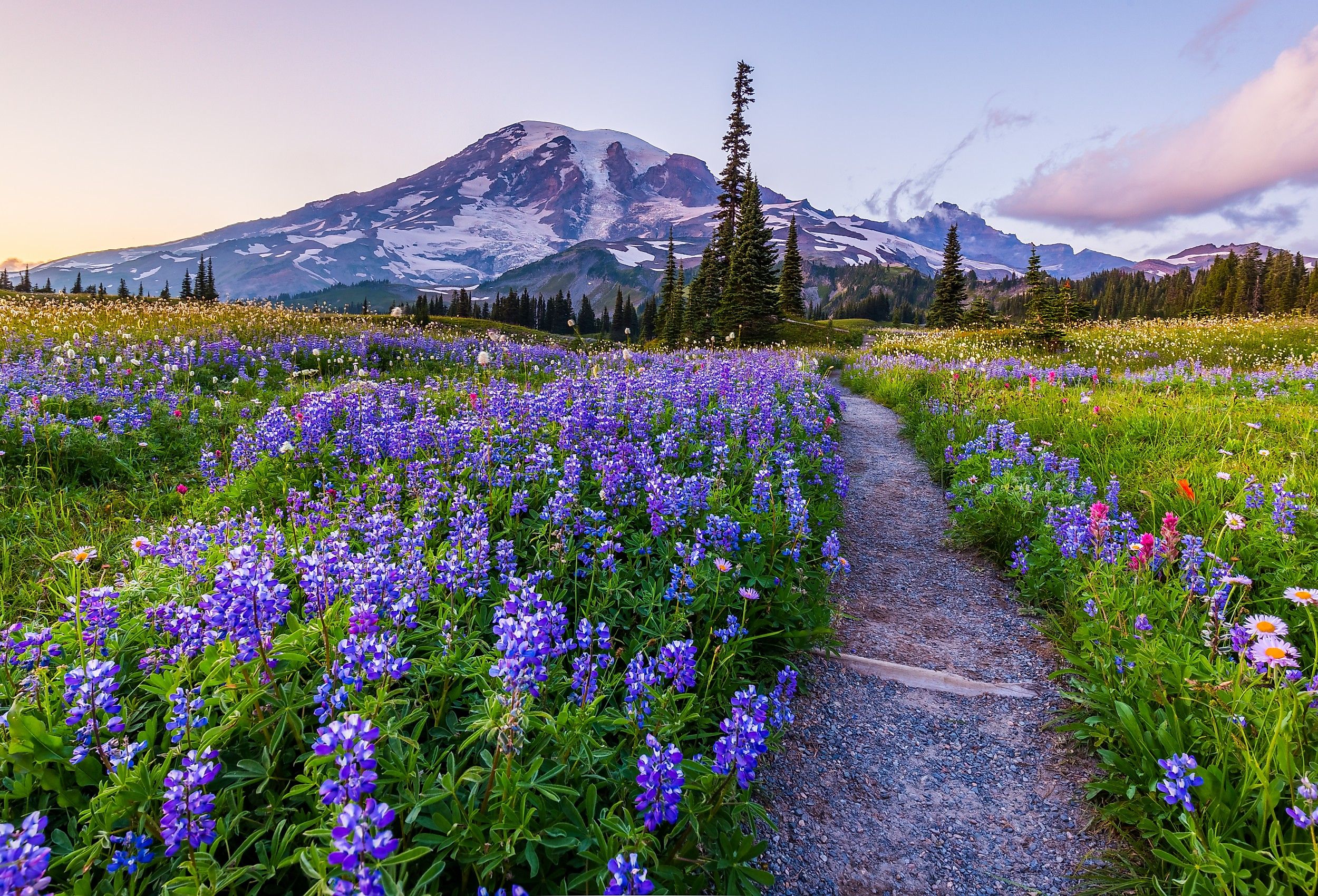 Best Day Trips From Seattle To Take This Summer
With more than 34 million tourists, domestic and international, visiting every year, Seattle, Washington, is one of the most popular tourist destinations in the United States. Seattle's world-famous attractions include the Space Needle, Pikes Place Market, and the Museum of Pop Culture. Between its eight historic districts, four fantastic art museums, and an array of world-class restaurants such as The Pink Door and Canlis, exploring the city, while unarguably fascinating and entertaining, can start to feel a little hectic.
Taking a day trip outside of Seattle is a great way to slow down and explore what Washington State has to offer. With plenty of ways to get out of the city, including joining a group day tour, renting a car, or, for the intrepid tourists out there, renting bicycles and biking to your destination, there are day excursions just outside Seattle for every interest imaginable.
Fort Nisqually Living History Museum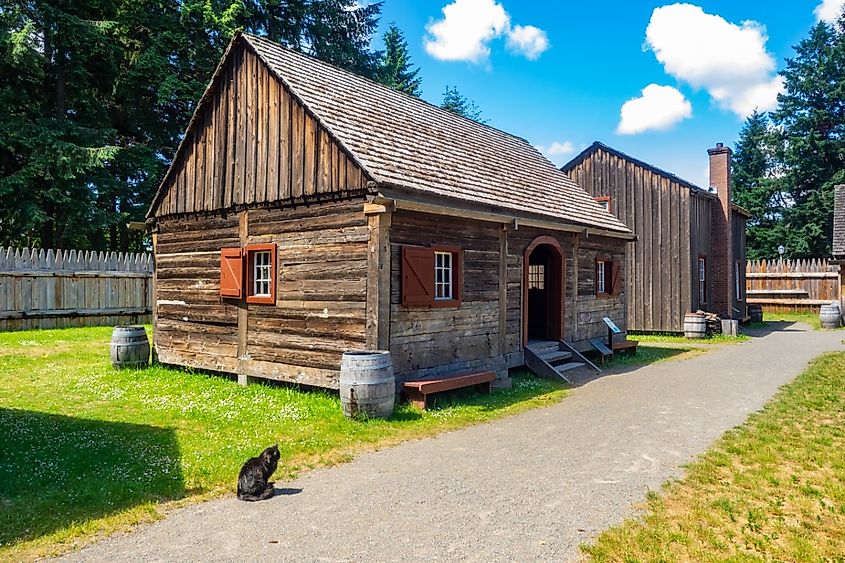 For those who love American history, a day trip to Fort Nisqually Living History Museum is right up your alley. Located in Point Defiance Park, Fort Nisqually Living History Museum is about 40 miles southwest of Seattle. The trip out should take you at most 50 minutes and is an enjoyable and picturesque drive. The museum itself is a restoration of the fort built at the Nisqually River Delta in 1833. Commissioned by the Hudson's Bay Trading Company, this fort played an important role in the region's fur trade.
Today, the fort has not only been recreated but brought to life by employees and volunteers dressed in period garb and demonstrating daily life activities for visitors. To complete the experience, you can stay for the Dine We Must dinner event, a farm-to-table experience that is the perfect cap to a fun day.
Wine Tasting and Woodinville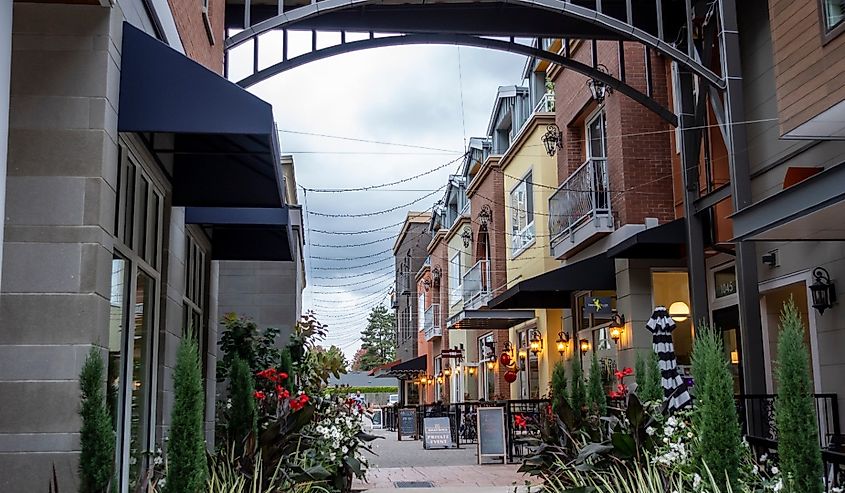 While Washington state may not come to mind immediately when considering the best wine regions in the United States, never the less there are exceptional wineries and vineyards across the entire state, with some just outside of Seattle. Visiting a few wineries, such as Chateau Ste. Michelle Vineyards, which could be a day trip all on its own with its beautiful grounds and name-sake historical mansion to explore, is a great way to see more of Washington State and get out of the city.
There are many private tours that will take you on a full-day excursion of tastings to other wineries in the region, like DeLille Cellars, JM Cellars, and Novelty Hill-Januik Winery. Those visiting the local wineries as individuals are also welcome, but make sure to have a designated driver so your fun day will also be a safe day.
Mount Rainier National Park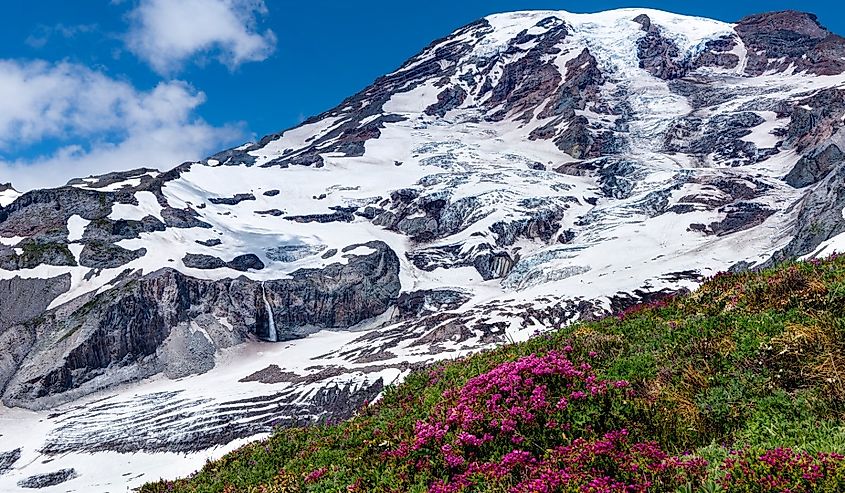 A great way to spend a day in the outdoors is by visiting Mount Rainier National Park. The driving time ranges between an hour and a half and two hours, depending on whether you depart from the north or south side of the city. If driving is not an option for you, there are also many tours that will take you into the park, some as just a shuttle service, others as a full-day guided tour.
Filled with waterfalls such as Snoquera Falls and Kautz Falls and hiking trails, including the famous Skyline Trail, the highlight of visiting Mount Rainier National Park is, seeing Mount Rainier. Standing at 14,410 feet above sea level, this "mountain" is an active volcano. Along your way through the park, make sure to stop at the Sunrise Visitor Center, where you can learn about the geology and ecosystems of the park as well as in the entire region.
Whidbey Island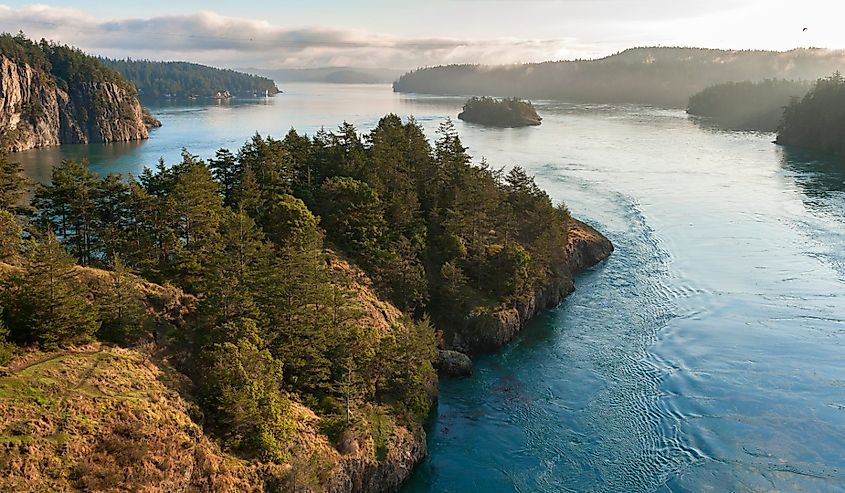 Located in Puget Sound, a trip from Seattle to Whidbey Island will take you just over an hour when traveling by car. You can also get to Whidbey Island by public transit bus, but it may take you upwards of two hours. There is also a vehicle and passenger ferry that goes to the island, which will make your trip even shorter.
On the island, there is lots to do. Starting at the northern end of the island, you can visit the iconic Deception Pass Bridge and check out the Naval Air Station. Heading south on the island, you will encounter unique artisan shops such as the Garry Oak Gallery and Lavender Wind. Looking to the waters around Whidbey Island, there are many orca spotting tours that leave from Langley Marina, but if you are pressed for time, a visit to the aptly named Whale Bell Park, where the bell is rung by anyone who spots a whale, will also provide a good chance of seeing a pod or two.
Boeing Future of Flight Gallery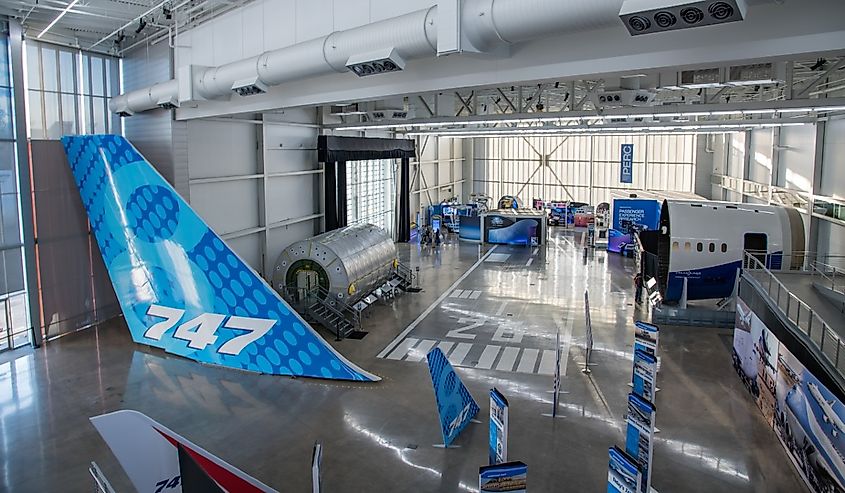 For those with a mechanical mind or who are curious about aviation, a visit to the Boeing Future of Flight Gallery will be a highlight of your travels. Located 30 minutes north of Seattle, you can explore Boeing's past, present, and future in the on-site, 28,000-square-foot airplane hanger. It houses the Boeing museum, which details the history and progress of Boeing airplanes, a flight simulator, where you can first design your airplane and then fly it, and the hands-on EMAX Tiny Hawk drone experience. After breaking to refuel at The Café at Boeing Future of Flight, you will have the opportunity to go on a guided tour of the active Boeing plant itself.
Tiger Mountain and Raging River State Forests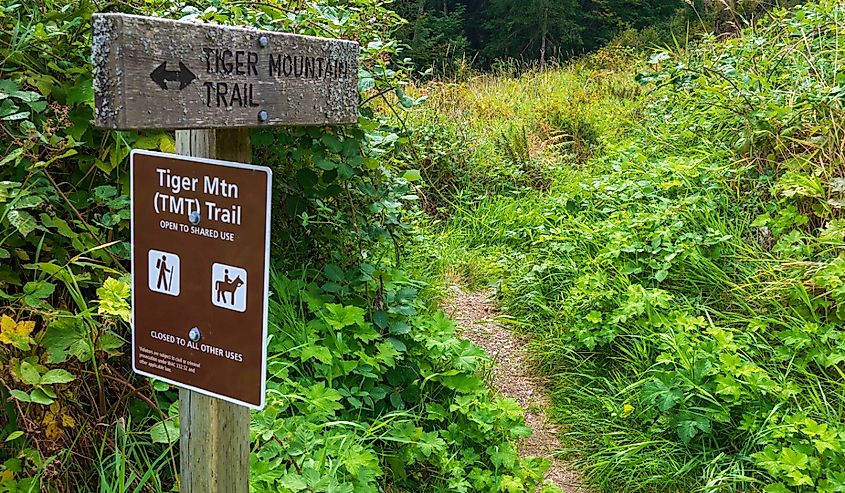 For experienced mountain bikers, or those hoping to get into the sport, a day trip to Tiger Mountain and Raging River State Forests will surely not disappoint. If you head 30 miles southeast of Seattle, you will find yourself at Tiger Mountain and Raging River State Forests. There are wonderful hiking trails open to mountain bikes as well as hikers, such as the Inside Passage Trail and Bail Out Trail. But the highlight for mountain bikers will be the six single-track trails that make up the Raging River trail system. With a total of 24 miles of trails in this system, these trails are designated for bikes only and are all-mountain and downhill trails. With multiple picnic grounds on site as well, bringing a picnic lunch is a perfect way to refuel between downhill runs.
Fisher Creek Park and Snoqualmie Falls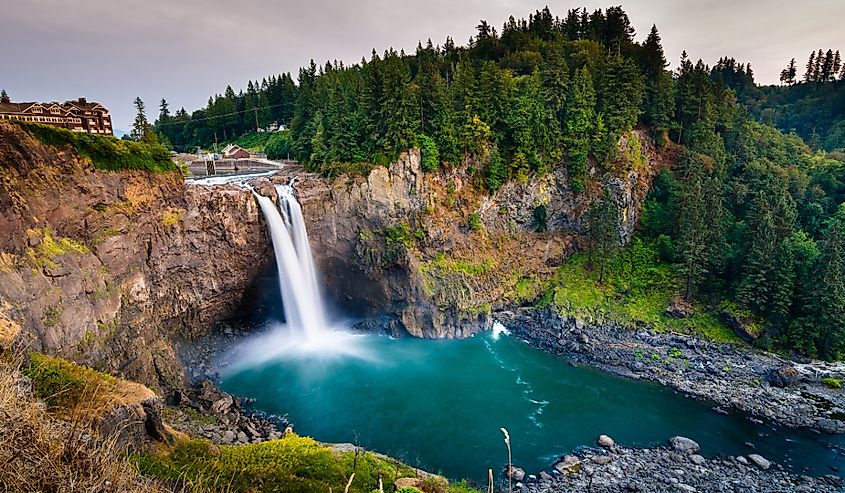 Located 23 miles east of Seattle, it will take you around 35 minutes along the I-90 to reach Fisher Creek Park, where you will find Snoqualmie Falls. Located in King County, Washington, between Snoqualmie and Fall City along the Snoqualmie River, the falls themselves are 268 feet tall. From the trailhead of the Snoqualmie Falls Trail, it is a 0.7-mile hike out to the falls along a moderately difficult trail. Out-and-back, it is about a 45-minute hike, but you will want to budget a good amount of time to take photos from the lookout point as well as up close to the falls.
For those looking for an easier way to visit the falls, the Snoqualmie Falls Lower Trail provides a lovely view of the falls, with the hike being only 0.4 miles out and back. Other hikes in Fisher Creek Park worth your while also include the Fisher Creek Park Trail and Stan's Overlook Trail. Bring a picnic lunch and enjoy getting out in nature before returning to Seattle for a late dinner.
Bainbridge Island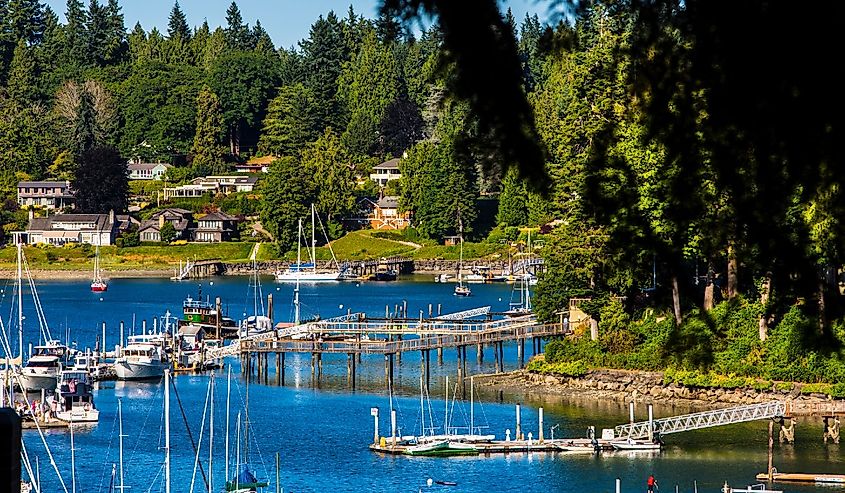 For those visiting Seattle without a vehicle, a day trip to Bainbridge Island is the perfect way to get out of the city and experience Washington state's natural beauty. The 35-minute picturesque ferry ride from downtown Seattle at Pier 52 is a great way to get out on the water and see sea life, such as orcas, harbor seals, and a variety of birds, such as the northern fulmar. The ferry runs every 60 to 90 minutes, docking near Winslow on Bainbridge Island.
A half mile from the port, you will find downtown Winslow, the perfect place to spend a day shopping, wine tasting, particularly at Eleven Winery, and enjoying fish and chips at the aptly named Proper Fish Restaurant. Stay all day and watch the sun set behind the Seattle skyline, then grab the last ferry back to Seattle.
Lake Sammamish State Park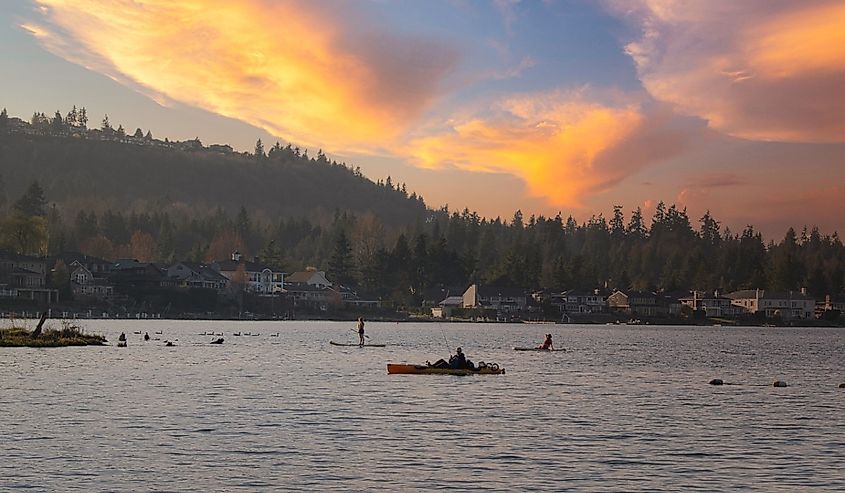 Just a 20-minute drive east of Seattle is Lake Sammamish State Park. Here you can spend a relaxing day lounging on the shores of Lake Sammamish, where you will find two lovely beaches, one sand and one rock. For those looking for a bit more active excursion, there are fantastic hiking and biking trails in the park. You will also have the opportunity to kayak, canoe, or paddle board on Lake Sammamish with Issaquah Paddle Sports open seven days a week.
Those with a boating license will also have to opportunity to rent a small boat for the day and enjoy fishing in the designated areas. But remember to check with the Washington Department of Fish and Wildlife so you know which fish species must be returned to the lake and which you can take home and enjoy.
No matter the season, big cities can start to feel stifling to tourists and locals alike. When this happens, there is nothing better than getting out of the city to recharge. From Seattle, there are fantastic day trips to take, from wine tasting and nature exploring to local shopping; there is something for everyone. Renting a car will make getting to these day trip locations a bit easier, but not to fear, a lack of vehicle access is not the end all be all. Between the ferry, buses, and all-inclusive tours, there are plenty of travel options, car or no car.