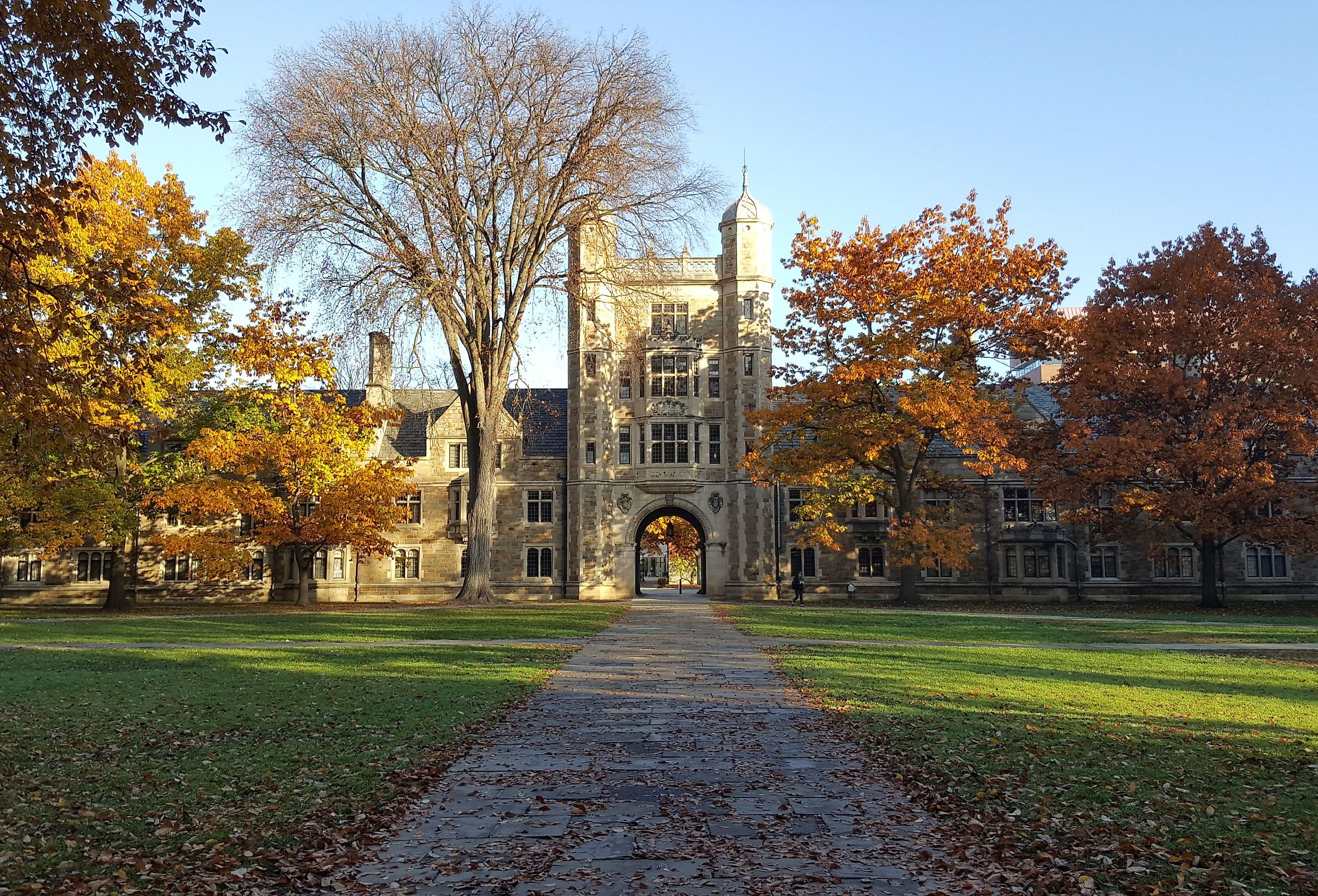 Best College Towns In Michigan
The United States of America is home to many of the best colleges and universities in the world. Sprinkled throughout the great country, with a handful in Michigan, prospective students and tourists can get a taste of the US educational system in the scenic Wolverine State. Michigan is hugged on three sides by the immense Lake Michigan and Lake Huron. Harness the power of learning and unlock potential in the beautiful schools in Michigan. The Great Lakes offer a great getaway from anywhere in the state and the ultimate summer vacation spot on a budget.
This list of the best college towns and cities looks at the atmosphere of each under the lens of a student. Each unique town attracts students and visitors alike with a myriad of pursuits, large student populations, and gorgeous outdoor scenery. Choosing one of these towns as the happiest and chillest place for academic pursuits is sure to be a challenge! Come and tour Michigan schools or take a weekend trip to the Great Lakes to recharge in a heartbeat.
Ann Arbour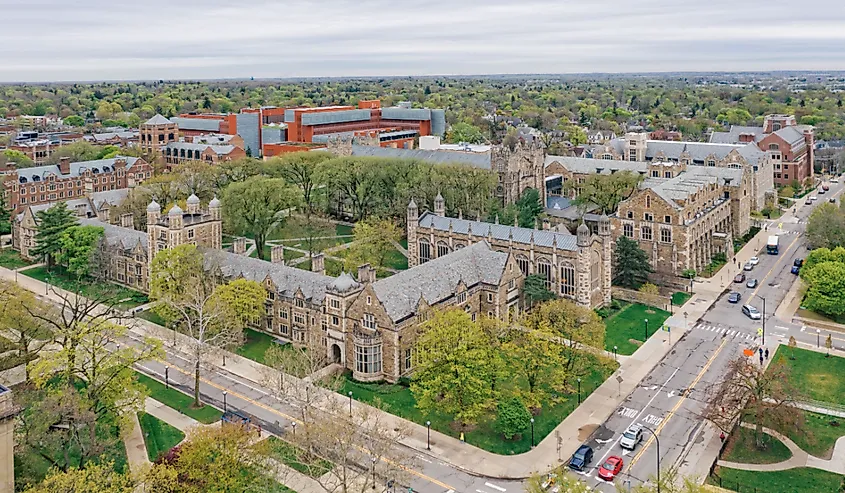 Ann Arbor is one of the best college towns in the US and exudes prestige as the highly rated University of Michigan lies here. The town proudly maintains academic excellence with a studious crowd while also having a vibrant arts scene and great nightlife. Fuel up at all the cute coffee shops, which help keep the buzz going for the after-class fun. Get the feel of the town on a stroll along plentiful hotspots with an optimal university location—ranking only second behind Austin, Texas. Enjoy a gamut of shopping, creative restaurants, and bars with more affordable amenities and a friendlier atmosphere.
Take a stroll around the university's campus itself, a sight to behold, for a selfie under the iconic bell tower and the legendary Law Quadrangle. The irresistible city of nearly 120,000 with over 20% being its undergrad population, offers a median rent of $1,299, average big-city crime rates, and plenty of opportunities to find work. Ann Arbor is home to the world-renowned Ann Arbor Art Fair in July, with talent proudly displayed through art and live music venues, along with food stalls and street performances. Join or watch college sports, such as the Wolverines football games at Michigan Stadium known as, "The Big House."
Big Rapids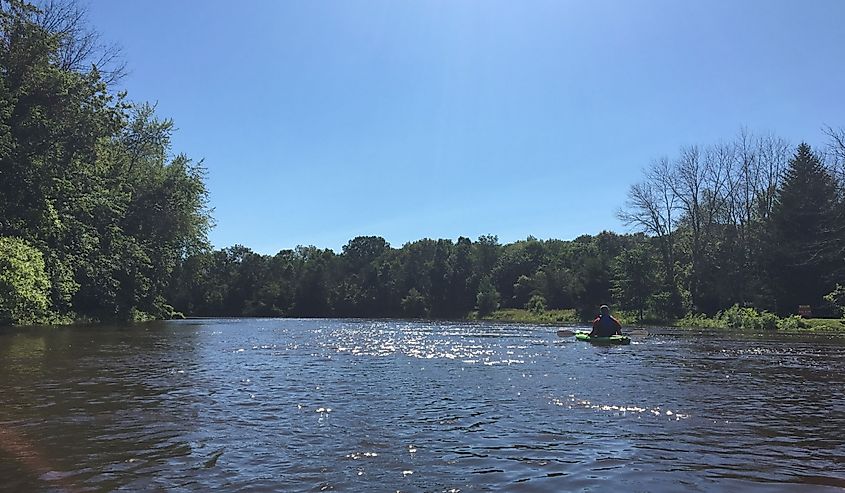 This college town of just over 9,000 residents, where a whopping 89.2% are undergrad students, is a fun place to attend school with a sense of luxury. The small town with a big heart, literally, boasts an 18.8% lower cost of living than the rest of the nation's and 15.5% lower than the state itself. With an average rent of $675, this school town is highly affordable. The safe streets and local businesses that blend seamlessly with the town's biggest draw, its nature, will make visitors and students want to stay outdoors all day.
Big Rapids' Ferris State University, where "fast gets you far,"  and home of the Bulldogs, takes good care of  its student population. Immerse yourself in studies with a local vibe, modern amenities, and plenty of green spaces around to get fresh air in between classes. Take strolls and lounge by the Muskegon River, a hangout for tailgating, socializing, and tubing in the summer, and a serene landscape the rest of the year. There is also the refreshing Chippewa Lake Rogers Dam and the Haymarsh Lake State Game Area for deer hunting or target shooting.
East Lansing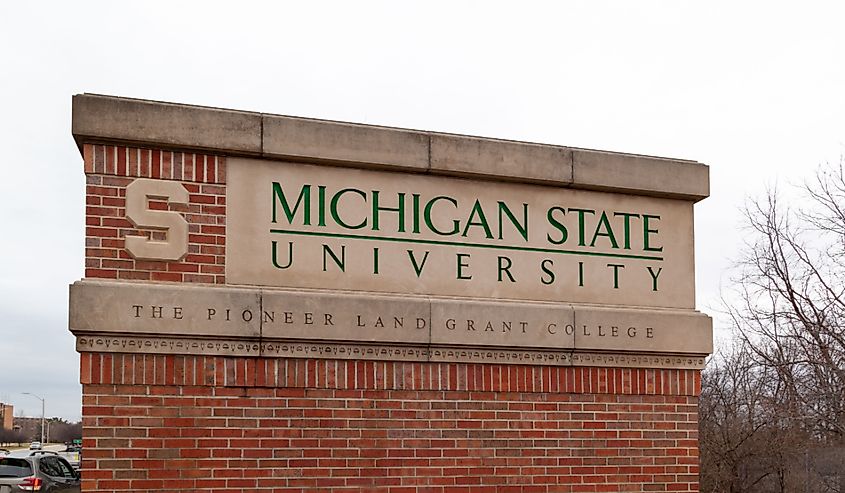 East Lansing, home to  the esteemed Michigan State University, is a highly sought-after town for great schooling and the arts, where 70.9% of the population are undergrads. This quintessential town of 46,500 has a quaint downtown area, full of local small businesses serving the spirited population. Scope out the variety of shops, bars, and restaurants on a sunny day or take a stroll and  windowshop on the way to the picturesque campus.
It will not take long to fall in love with the university's lively vibe and atmosphere, made for lounging dreams amid nature, sights, and attractions. Find plentiful landmarks, from the beautiful Beaumont Tower to the modern Eli and Edythe Broad Art Museum and the Spartan Stadium, most lively in the fall. Ready to move in? East Lansing is move-in ready, with a median rent of $969 and opportunities for work in between studies!
Houghton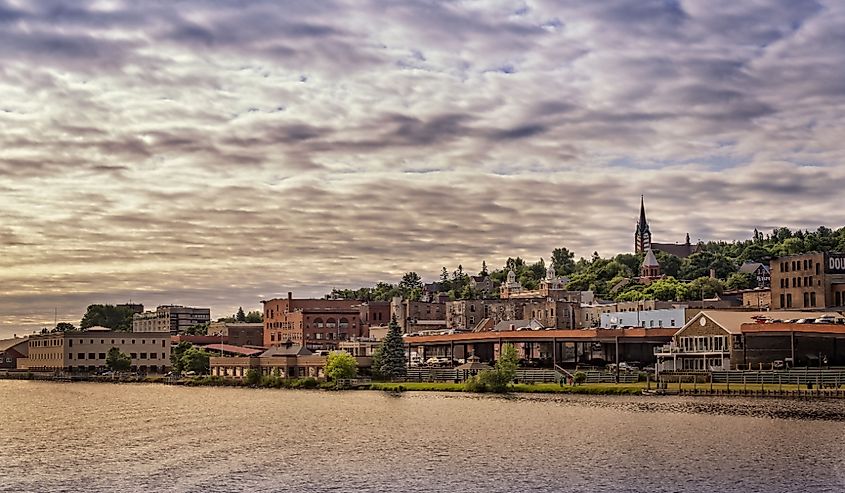 Find this cozy college town wrapped in nature in the heart of the Keweenaw Peninsula, the northern part of the state. Houghton is a great choice to attend college at Michigan Technological University, with 11.6% lower prices than the national average, and 8.1% lower than the state. This former mining town hosts a family-friendly atmosphere with attractions for all ages, such as Quincy Mine, with its surrounding wilderness that inspires an active lifestyle in between classes. Enjoy the boundless outdoors year-round with hiking, skiing, and snowmobiling.
Scope out the area on a scenic drive along the Keweenaw Peninsula and call your family to visit for a vacation-ready break along Lake Superior with water fun at the breathtaking views. The town's low crime rate and beautiful setting don't take much to fall for, but the myriad of student-friendly, free, or low-cost recreation options are what really make it a top choice for college students. Enjoy the scenic waterfront, local hiking trails, and the impressive downtown awaiting you with quality shops, restaurants, and historic sites.
Grand Rapids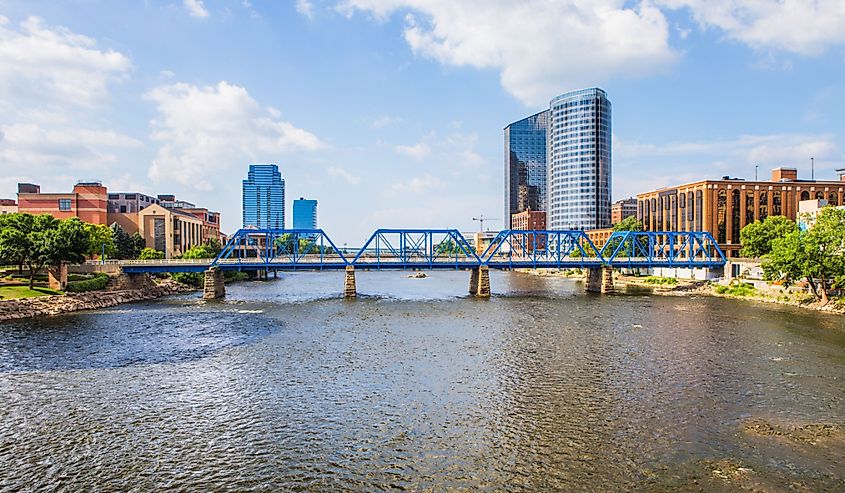 This bustling city in the west of Michigan is the state's second-largest. With various institutions of higher learning, Grand Rapids is abuzz with student life that features a diverse culture and a myriad of attractions. Choose from Grand Valley State University, Calvin University, or Aquinas College and enjoy the dynamic mix of urban sights and palpable small-town charm thanks to many local hotspots. Beer enthusiasts will rejoice as Grand Rapids' is known as "Beer City USA" and offers an array of breweries such as the Forty City Built Brewing Company which offers the finest samples in the state.
Grand Rapids is the ideal destination for the arts-inclined, with various venues for music and performances as well as the vast Grand Rapids Art Museum which features collections from the Renaissance to the present day. When classes start this fall, artists will not want to miss the ArtPrize international art competition! Enjoy this lively atmosphere with beautiful scenery and dive into studies in a city that nurtures creativity and that anyone would be happy to call home.
Kalamazoo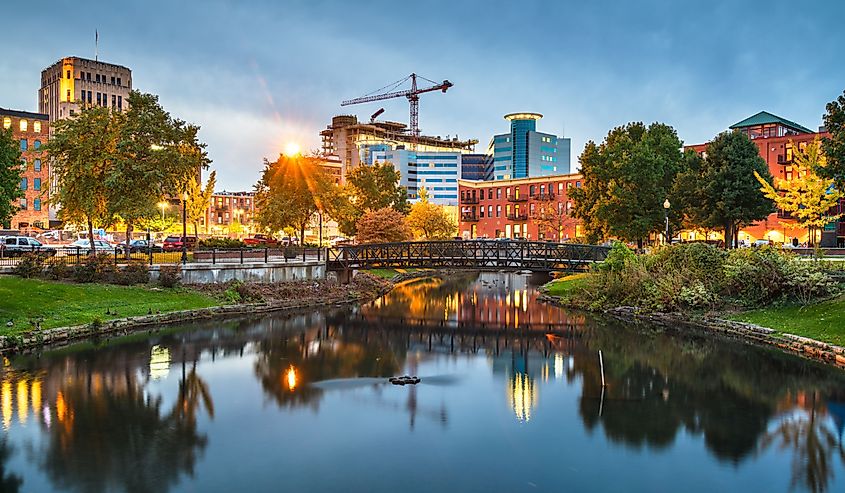 Kalamazoo is not just a pretty city to visit for a dose of eclecticism, it is also a popular college destination with three schools: Kalamazoo Western Michigan University, Kalamazoo College, and Nazareth College. With the cost of living 16.9% lower than the national average and 13.6% lower than the state's average, it is one of the most affordable towns to settle in for college in Michigan. Aside from the plentiful low-cost attractions, Kalamazoo boasts a beautiful and natural setting to explore, with stunning places like Kalamazoo College's amazing 180-acre arboretum—perfect for lounging, jogging, or walking the dog!
Take summertime strolls through the renowned Kalamazoo Farmers Market with the family and explore the scenic Kalamazoo River Valley Trail. The river that meanders right through the city is a breath of fresh air right at your doorstep, with views and recreation opportunities along its banks. The unique city is a hub for education and creativity, evident in the lively downtown scene full of trendy cafes, quality storefronts, and entertainment venues that mirror the thriving arts culture present here. Check out the Kalamazoo Institute of Arts, which has an extensive collection of contemporary and historical works.
Mount Pleasant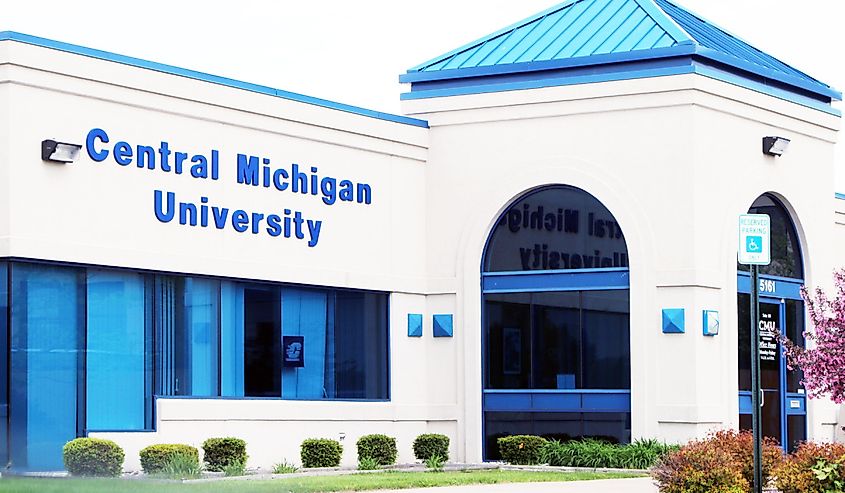 Mount Pleasant is a northern college town in the state, home to Central Michigan University. It really is a pleasurable destination to visit and spend college years, with friendly residents, a diverse culture, and delightful outdoor pursuits for post-study exploration. Mount Pleasant is really a no-brainer, with a median rent of $759; a 15.2% lower cost of living than the national average and 11.9% lower than the state's. Mount Pleasant is an idyllic town which sits along the vast and beautiful banks of the Chippewa River, right in the middle of the Lower Peninsula.
The river connects five beautiful parks throughout town to enjoy the refreshing outdoors by the water which transitions to gorgeous fall-time scenery for when school is in session. The idyllic town of 25,290 boasts a 73.6% undergrad population for a lively atmosphere and safe streets to explore with low crime. With parklands, lakes, and rivers all around, Mount Pleasant is a fresh-air playground for all-season pursuits, such as tubing or kayaking down the Chippewa during the summer.
Conclusion
Choosing a college is one of the most important life decisions that takes research, but when looking at the state of Michigan, look no further than this list. Avoid the harrowing search and check out these creme de la crème college towns in Michigan. What parents may see as an ideal college experience may not be what a kid is solely after. This list compiles towns that will make everyone happy, with an emphasis on peace of mind, fun, and a bright future. These towns are some of the most culturally diverse in the state, and with a large student body, students are sure to easily make friends!
Move in on a budget with a low cost of living, employment opportunities, sports teams to join, and an active nightlife to spend quality time after classes. There are plentiful arts and culture venues such as museums, libraries, and theaters, as well as festivals, farmers markets, and live music on the streets. These towns are much more than just college destinations; they are full of family-friendly attractions and unique sights that continue to attract visitors with endless opportunities for study and relaxation. Visit one of these towns and fall in love with the atmosphere, and stay for the next five years for school and maybe stick around after graduation!