Justly called the Wolverine State, Michigan comes with rugged shorelines and wild forests, inspiring artists and nature lovers who seek adventure. Take a summer vacation in one of these cute towns to experience a whole other side of Michigan. Each town with a unique character blends the state's best qualities and local nature into wholesome sights that unfold effortlessly on a stroll. Michigan is also the Great Lakes State, so choose your favorite lake town from the list below, where lakes and even shorelines of Lake Michigan come with different personalities, including scenery and surface quality, to give you exactly what you desire through activities or relaxation.
Charlevoix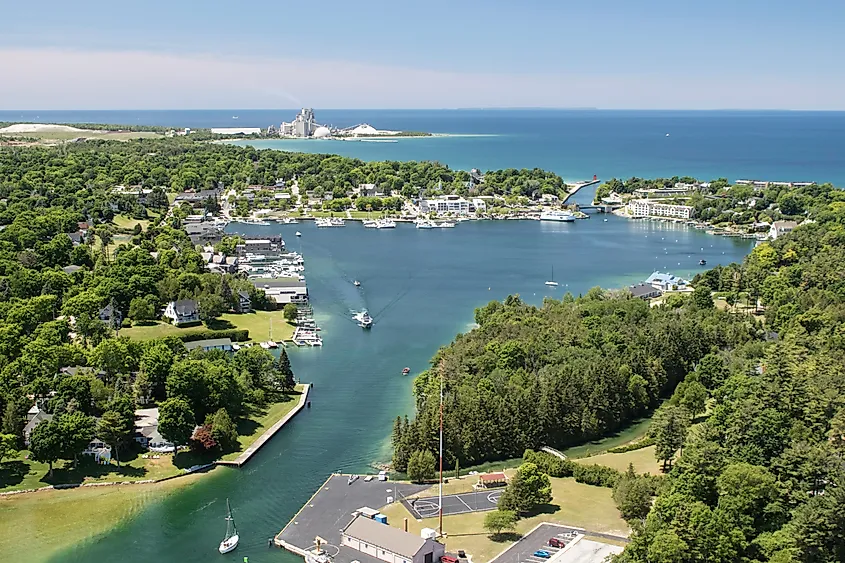 The small, charming laketown of Charlevoix sits spoiled by nature along the immensely scenic Lake Michigan and with big Americana charm. Check out its claim to fame: 27 distinct Hobbit houses were designed by architect Earl Young from limestone, fieldstone, and boulders sourced from the region. Drawing visitors from around the nation, these "mushroom huts," complete with cedar shake roofs, look as if they have grown themselves in the Charlevoix forest and give off major Lord of the Rings vibes.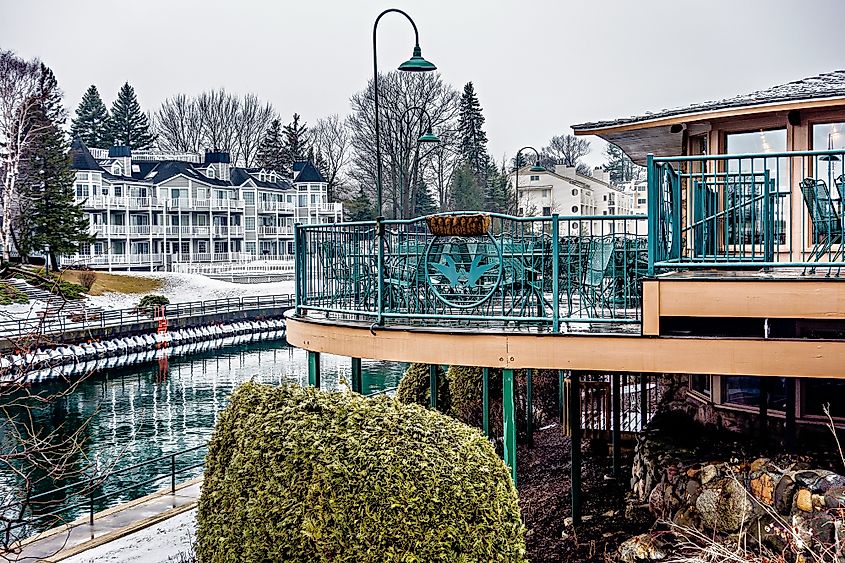 Snatch a place at the Young-built Weathervane Terrace or Hotel Earl for a whole summer vacation along the shore and ventures through Fisherman's Island State Park with picnicking and swimming. Join others for the elusive Petoskey Stones hunt and visit Castle Farm, a popular pastime for families and sightseers. Its impressive, 1918 castle-like stone facade is complete with turret towers and magical gardens for scenic strolls and relaxation.
Frankenmuth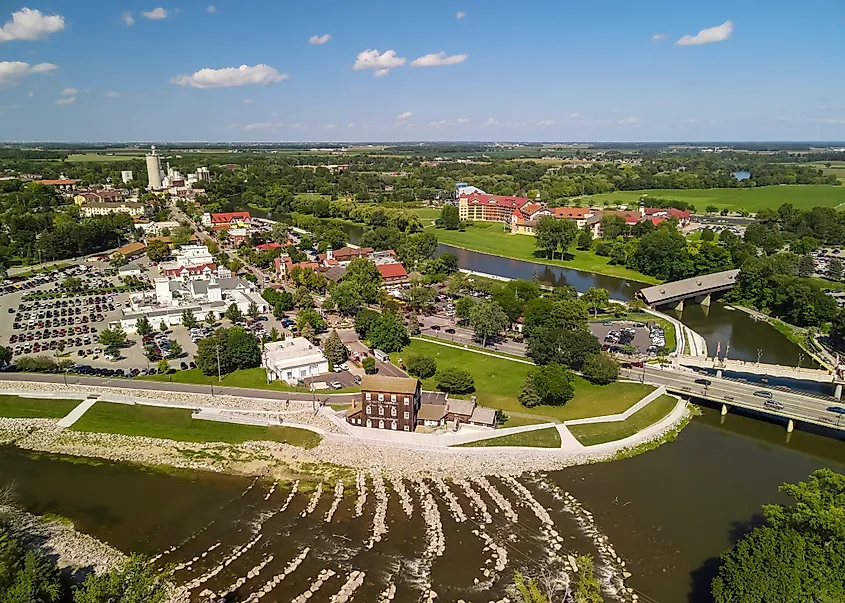 One of the state's most unique towns, Frankenmuth draws a ton of annual visitors for its pronounced Germanic vibe that transports you right to the old European continent. You will feel a world away not just from your daily routine but from life as you know it once you step into this historic Bavarian village, complete with traditional architecture, whimsical design, and quirky attractions. Frankenmuth was first settled in the 19th century by Lutheran immigrants from Germany and has been a satellite community for German expats ever since. It is an evocative small town today with a historic covered bridge, themed restaurants, and lodgings.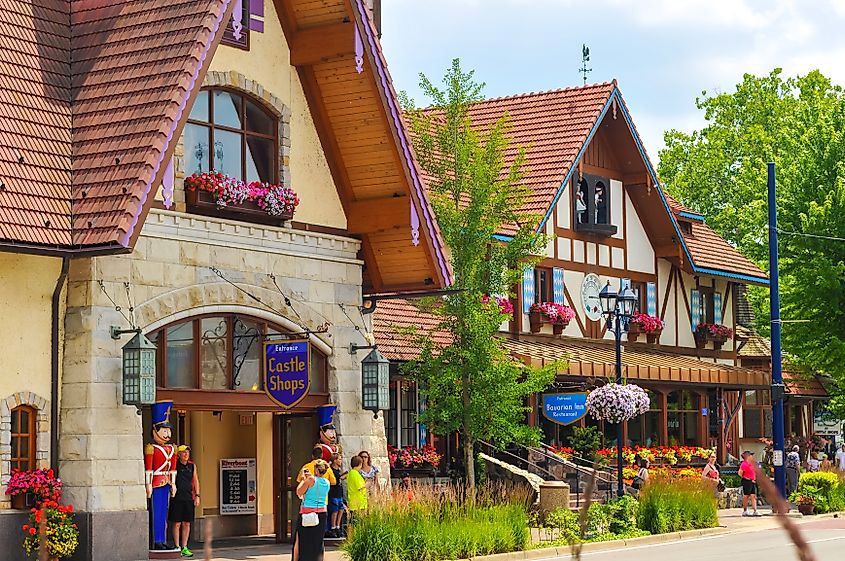 Stroll downtown to hear German widely spoken, as well as see signs and witness a local church service in the other language. Visit anytime for the special sights and atmosphere, but come for the holiday season and immerse yourself in one-of-a-kind Christmas cheer. Check out the world's largest Christmas store, Bronner's Christmas Wonderland, open year-round as a massive shopping complex. Browse through tens of thousands of Christmas trinkets, from twinkling lights and ornaments to trees, nativities, and collectibles.
Harbor Springs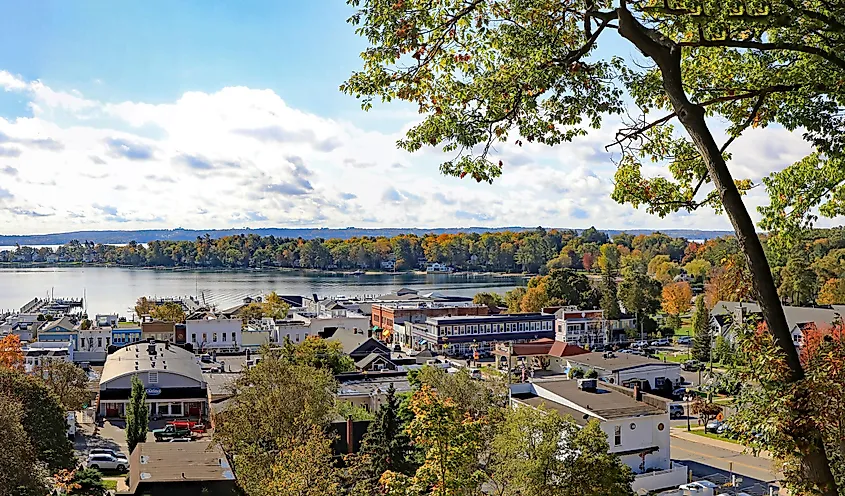 This cute town for every taste is a great weekend escape and has enough activities to linger for a fun summer vacation. Harbor Springs is an under-the-radar town with a relaxed vibe, perfect for a family-friendly destination in Michigan where you can immerse in your favorite pursuits with your favorite squad. Enjoy an easy weekend morning on a gallery stroll in Harbor Springs, like Tvedten Fine Art, Hanni Gallery, and Elizabeth Pollie Fine Art, and stop by Stafford's Pier Restaurant along a gorgeous dockside for some fresh oysters, crab cakes, and more seafood delicacies for brunch.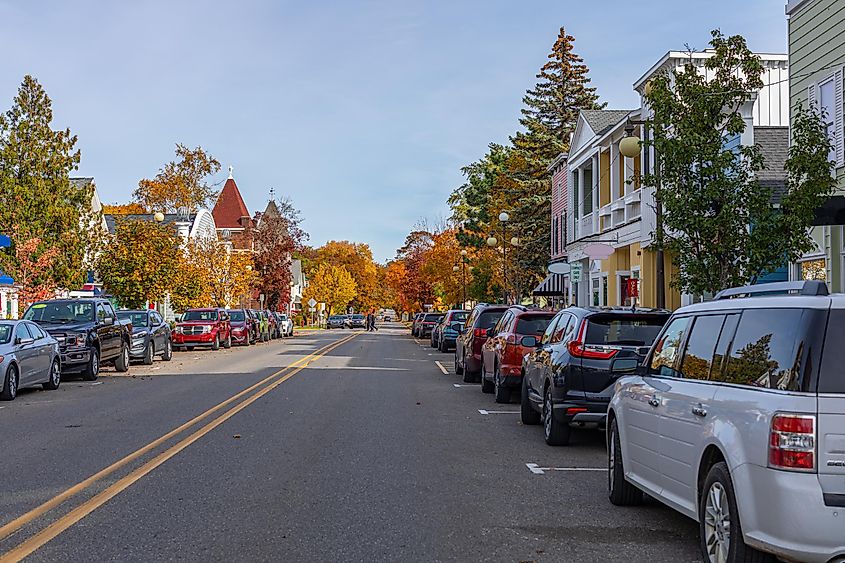 The town, spoiled with scenic sights at the deepest harbor in the Great Lakes, is perfect for setting summer sails, so choose a spot along the shores and spend endless summer days on the water. Harbor Spring is home to a number of great beaches for strolls, sprawls, and soaks, like Zorn Park Beach and Cross Village Beach, each with a unique character and scenery. The dedicated Zoll Street Beach is an idyllic pet-friendly sand stretch to relax on, launch small sailboats, and kayak.
Hillsdale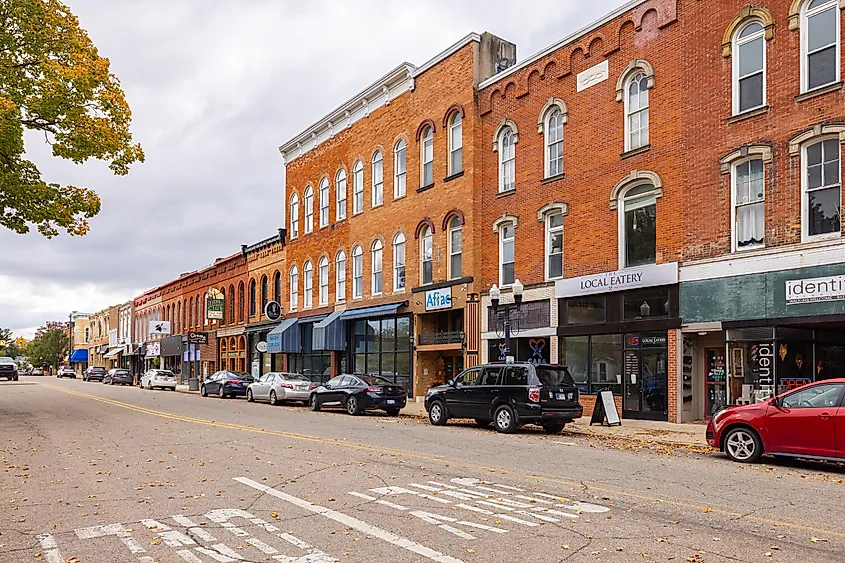 Find this idyllic college town nestled along the verdant rolling hills in the corner of the state, near Indiana and Ohio. The historic Hillsdale College, founded in the mid-1800s, is a highly influential institution with sought-after liberal arts programs that give this town more than just a bustling vibe. You will meet many progressive minds on the streets, amid the grand Victorian homes and manicured, tree-lined lawns. Take an architectural walk downtown, with a stop at the historic courthouse, and visit the college.
Chat up some friendly locals or the over-caffeinated students at one of Hillsdale's cute cafes, many eateries, or bars for requests of what to get up to in town. You will likely hear, "Take a hike"—along the Baw Beese Trail, through Hillsdale to the Sandy Beach Park with the Baw Beese Lake. Spend days on a stroll along the sands and in the waters, and take a relaxing bike ride further down the trail along the lake's perimeter. This easygoing town will relax you, refresh you with nature, and reenergize you with good food, even during a quick getaway.
Ludington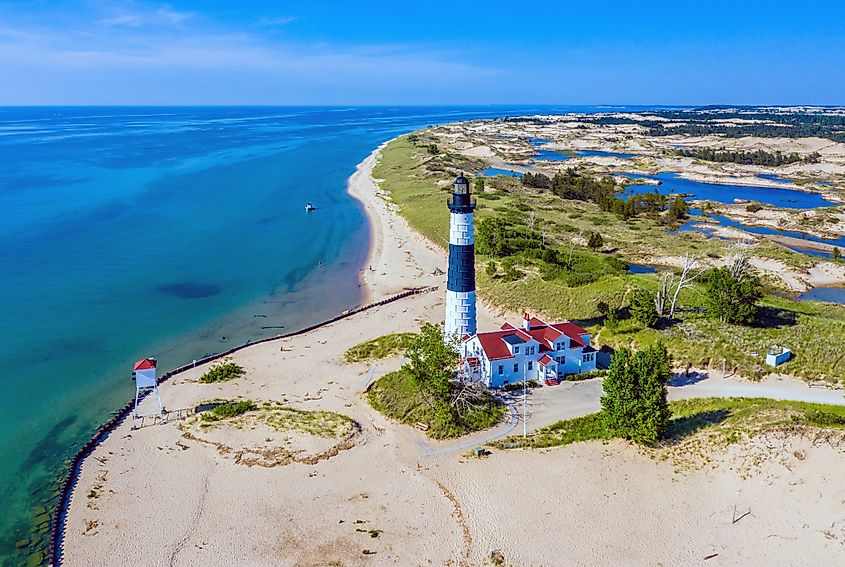 This cute lakeside town is your destination for the real, endless summer by the waters. Find the harbor town of Ludington along the crossroads at the mouth of the Pere Marquette River flowing into the stunning Lake Michigan. Check out the waterfront, with its laid-back beachy vibe and some of the state's most beautiful beaches, like Stearns Park. Take a nature stroll and enjoy watching its vast stretch of sand, envaded by the rolling cerulean waves, along with concessions, a playground, and a skate park.
Take Ludington's own S.S. Badger, the largest car ferry on the Great Lakes, for a scenic ride to Manitowoc, Wisconsin. Stay put, though, and first check out the town's icon, the North Breakwater Light. Seek out the other Big Sable Point Lighthouse on a hike through Ludington State Park, one of the state's best parks.
Petoskey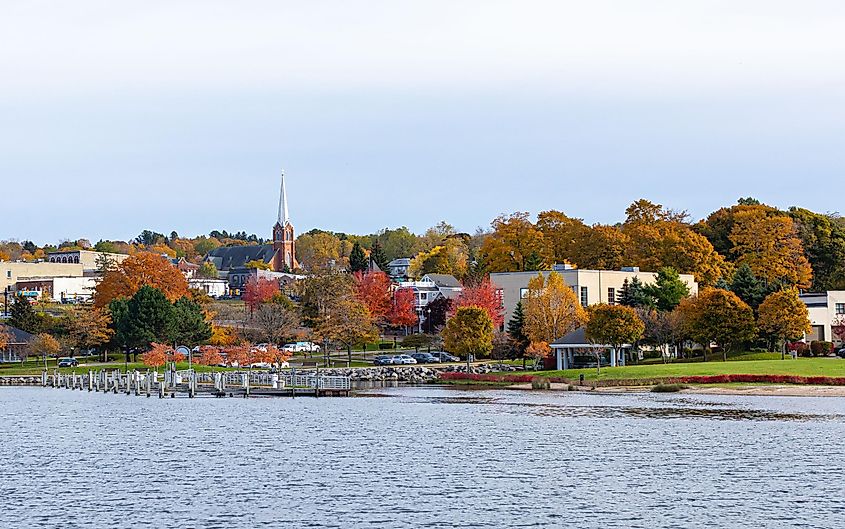 Petoskey is a cute yet vibrant town with historic architecture and a lakefront vista that will make you want to stick around for more than your allotted weekend escape. Check out its many fine attractions, like the cool lighthouse and the Mighty Fine Pizza mom-and-pop pizza joint for homestyle pies, flatbreads, and fresh sauce that combine in explosive flavors.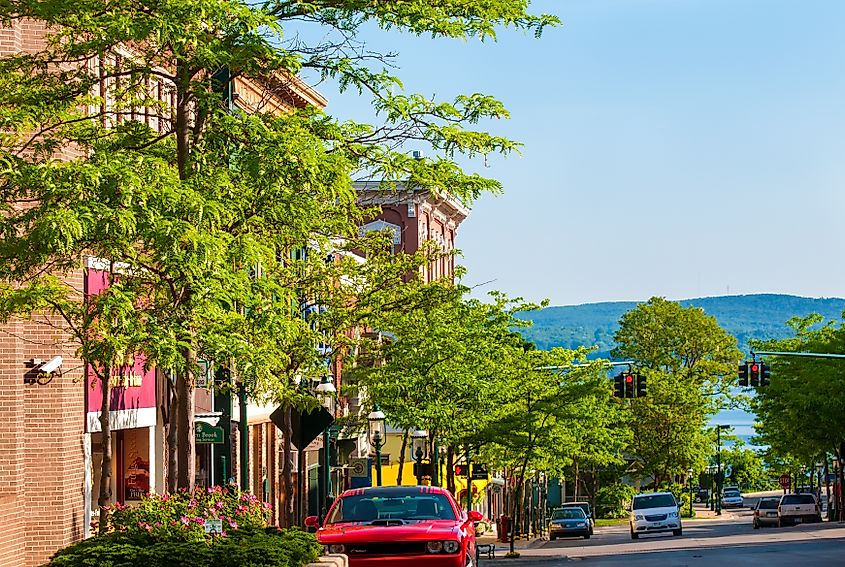 Enjoy all the watersports to your heart's content, but return to the compact, bustling downtown for its many breweries in the evening. The town is an affordable lakeside vacation destination, including some popular wine spots that reign supreme in the region. Check out the lovely indoor Maple Moon Sugarbush and Winery or the outdoor deck of the Petoskey Farms Vineyard and Winery.
Saugatuck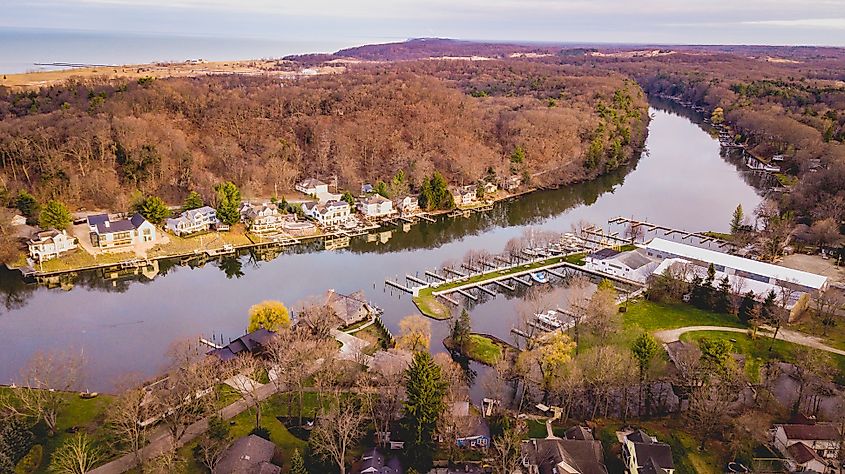 The cute town, as its name suggests, and its leafy, tree-lined perimeter lined by historic homes inspire the best summer vacation. Find Saugatuck, charmingly perched on the Kalamazoo River, with its flourishing riverfront arts community seeking constant inspiration through the views. Saugatuck, a town of many personalities and a population of under 1,000, is a tourist magnet that attracts tens of thousands with interesting things to see and do for all. One of the smallest towns in Michigan with fiercely proud residents, the town's cultural offerings include many quirky shops, a harbor, the outdoors, and beaches along Lake Michigan.
Long a colony of artists and creatives, Saugatuck's energy permeates the city today, like along Butler Street with a slew of galleries and the Saugatuck Center for the Arts, among the state's top performance venues. Head to the Kalamazoo River, lined by consecutive parks, for days of immersive activities like hiking, kayaking, and canoeing until the stunning sunset takes over the waters. The notable Saugatuck Dunes State Park, one of the best in Michigan, is just a stone's throw away for a real naturalist's playground to enjoy recreational pursuits.
South Haven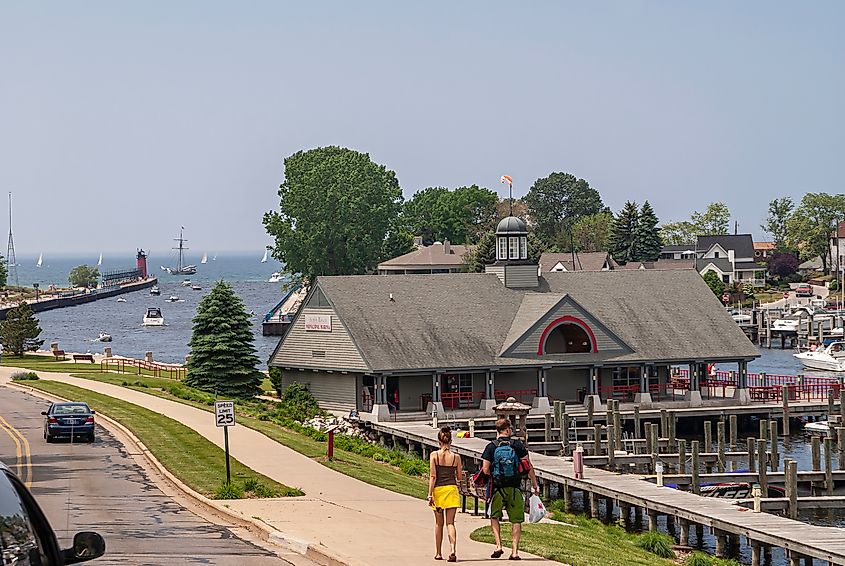 Much like its name implies, South Haven is home to quality beaches along the southeasterly shore of Lake Michigan in the south of the state. Find wide stretches of sand and dunes like the best South Beach, complete with a charming set of blue stairs over the dunes, with sands on one side and majestic waters on the other. Visit the cute town with its high marks for the splash pad and enjoy the glittering lake in any style you like. Hike through the nature preserves and protected waterfront parks and find the red lighthouse on a jutting outcrop in Lake Michigan.
The Aqua Park at Lake Arvesta Farms offers sports fans wakeboarding, water skiing, and kneeboarding, along with a unique and challenging obstacle course along the waters. Families love its pickleball courts, mini golf, and a disc golf course under the verdantly lush tree tops. Head downtown for a shopping spree that includes a few farmers markets and a stop at Clementine's Bar, which is housed in a historic bank from 1896. Its old-timey, Instagram-worthy vibe and restaurant-style food will relax you in a bar setting with caramel and chocolate martinis amid century-old sights.
Empire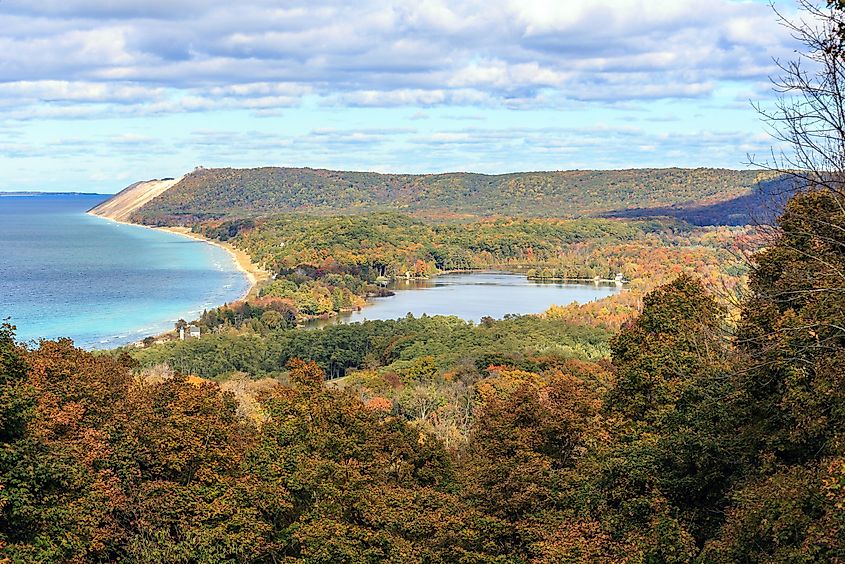 This town along the vast Lake Michigan shoreline in Leelanau County justifies its pretty boisterous name by being the center of Michigan's most treasured park, Sleeping Bear Dunes National Lakeshore. The park, an empire in itself, is a stunning place for strolls to reconnect with nature over panoramic coastline views, immersive trails, and summertime camping under starry skies. Check out Lake Michigan's 450-foot-highest cliffs set here, dominating glittering blue. Take the easy hike through the beech maple forest along the Empire Bluff Trail for epic views, rent a paddleboard, or take the well-marked Pierce Stocking Scenic Drive.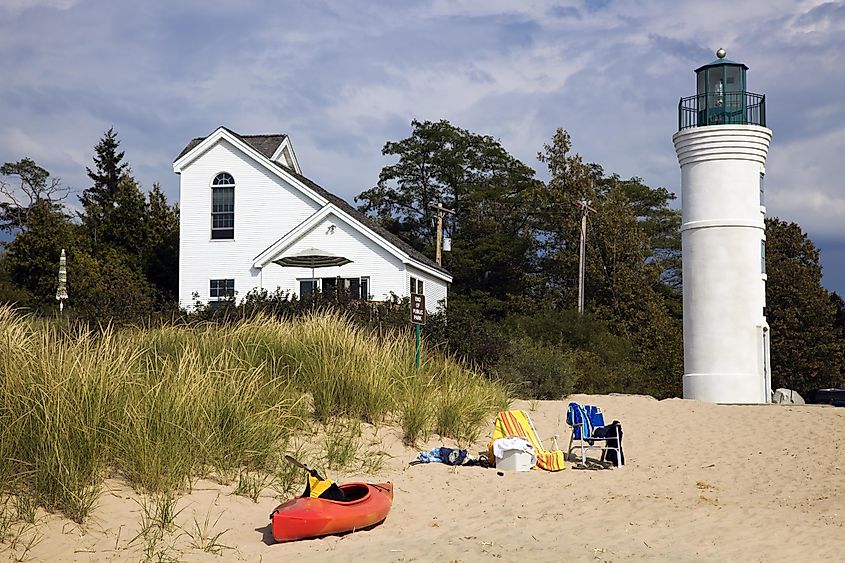 The small but growing town of just over 1,000 is a destination for all seasons, including fishing, nature trails, beaches, kayaking, and ice trekking, just 30 minutes north of Frankfort. Kayak from Sleeping Bear Surf & Kayak during the summer and return for the most spectacular colors that saturate the town during the fall season, and enjoy the variety of shopping along the compact and very walkable downtown. You will find art, artisanal handmade chocolates, and bustling restaurants all within a stroll of the beautiful Empire beaches, the Empire Area Museum, and South Bar Lake.
The beautiful state of lakes, fruit, and fishing is also home to cute towns set near verdant parks and along the endless beaches surrounding Lake Michigan. Choose any of these towns and find yourself at the mercy of cuteness through scenic nature, friendly locals, and attractions like fresh markets and cafes.
The state for all the active inspires outdoor adventures with wet and dry pursuits and scenic views in your constant shadow. With so much water around and easy access from the big cities, you can spend a whole vacation on the shores or enjoy the weekend escape you dream of in no time.